June swept by me and now July promises to do the same. However, right now I have a quiet moment so I can get to a few updates.
Let's start at The Monmouth Museum – From June 1 to September 3 they have a timely exhibit for all of us home decor addicts. They are showing artwork with sofas and while the official stance is the art stands alone, the sofa is secondary, personally, I like it when it all matches. Here is what they paired with our British Cottage entry. Nice huh? Try to get there. The museum is in Lincroft on the Brookdale Community College Campus and there is a great children's wing so maybe pop in on a rainy day.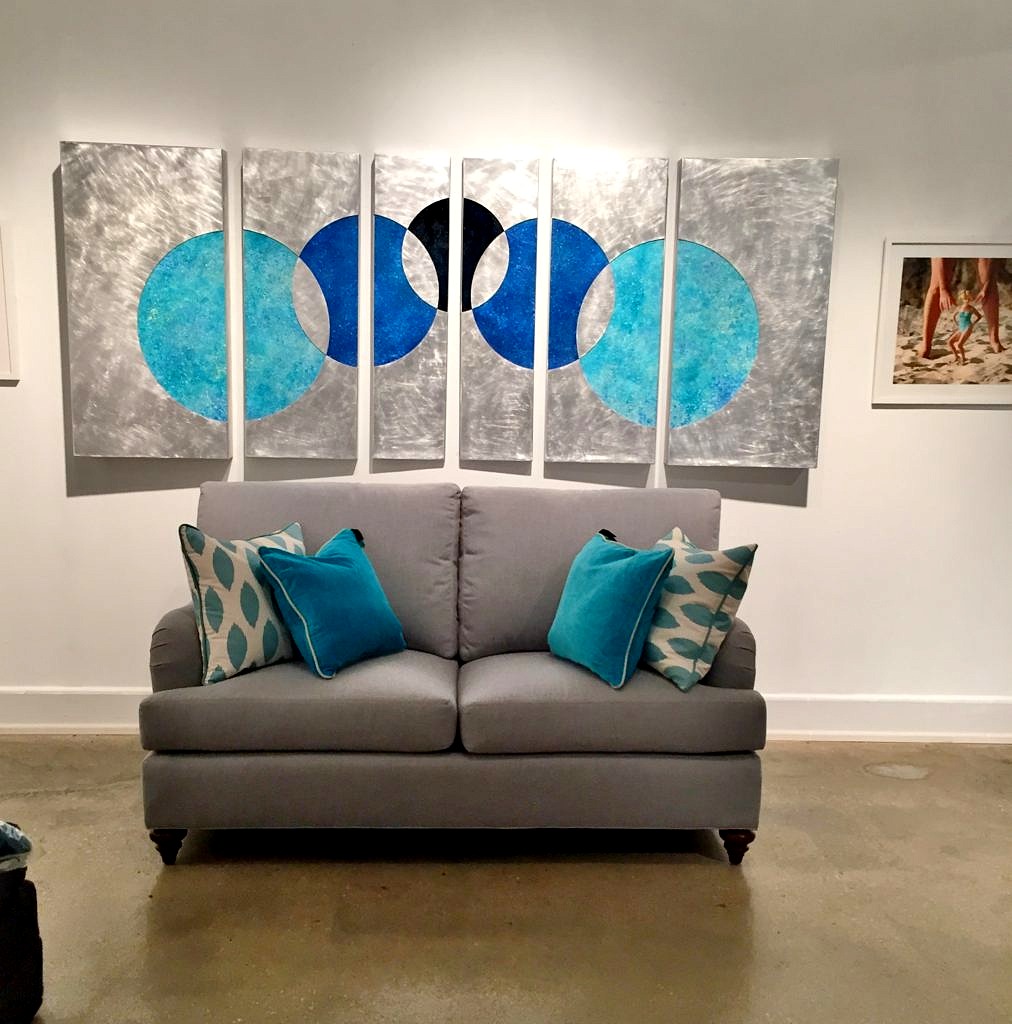 Meanwhile we are assisting on a mixed bag of design projects that showcase the variety of living situations in our two rivers area.  First there is the Alderbrook update, where a very young at heart senior is curating a lifetime of possessions into a thoroughly up-to-date transitional interior.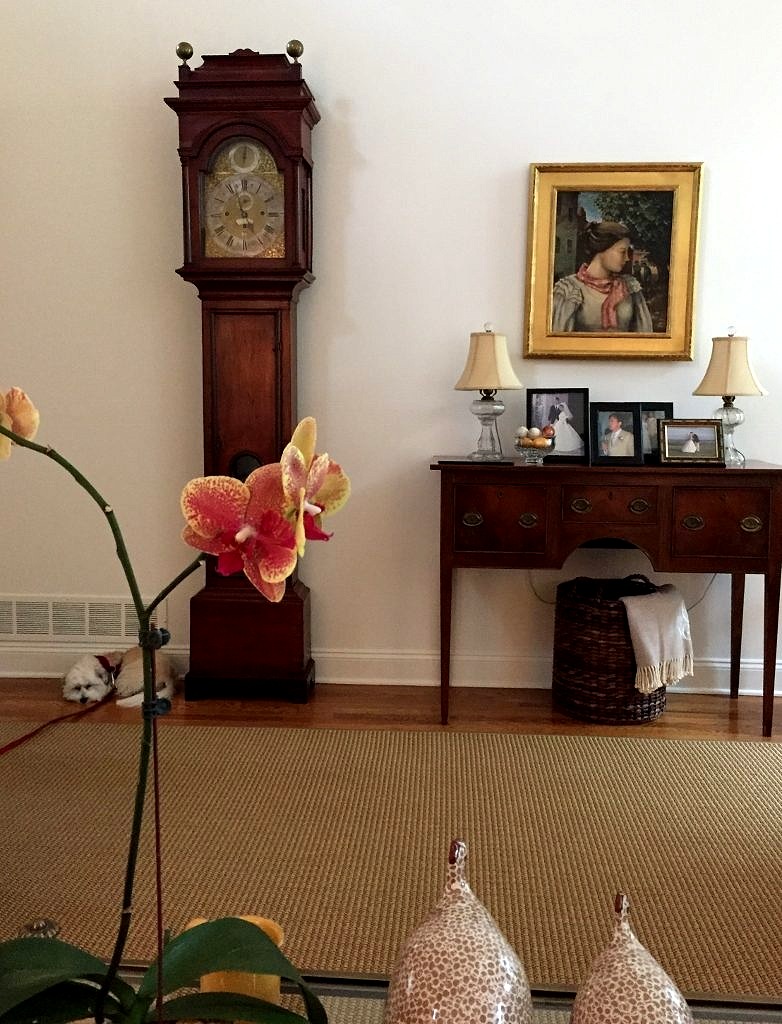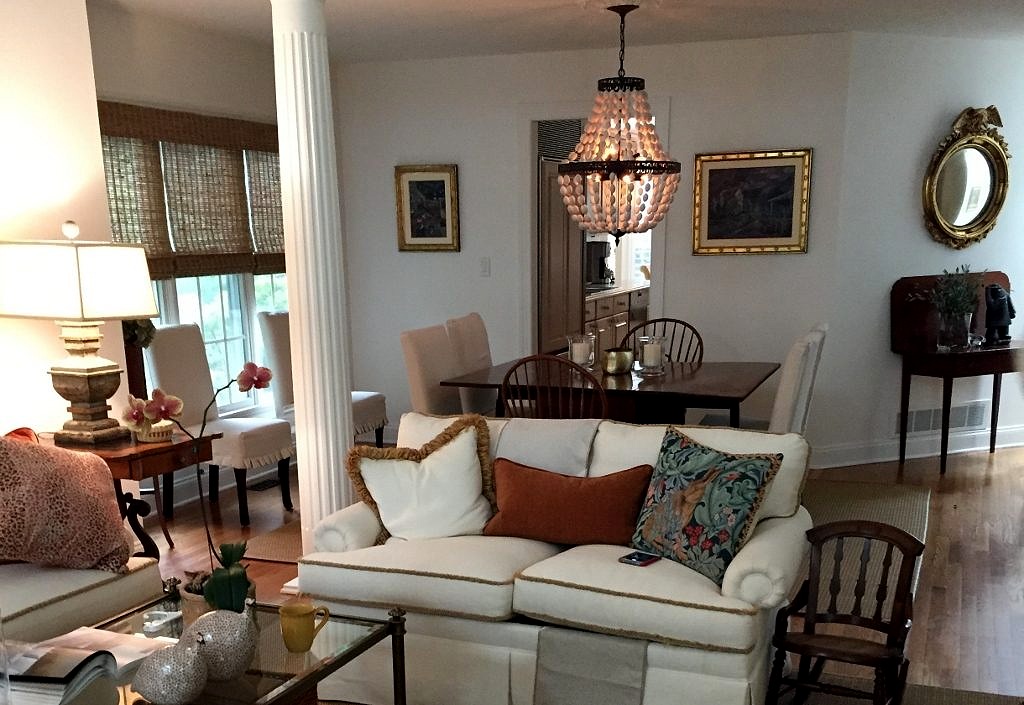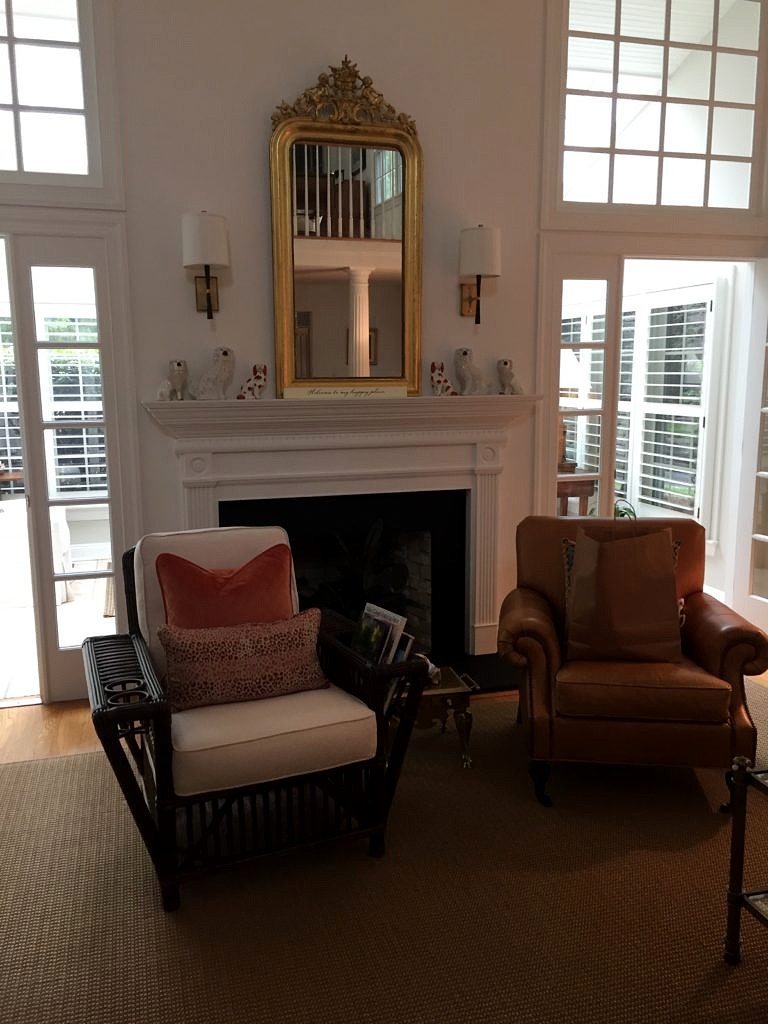 Then there is the Atlantic Highlands petite chateau where the owners have reclaimed their second story from their young son.  And are in the process of transforming it from a playground into a sophisticated master bedroom suite and home office for the work at home most days professional mom.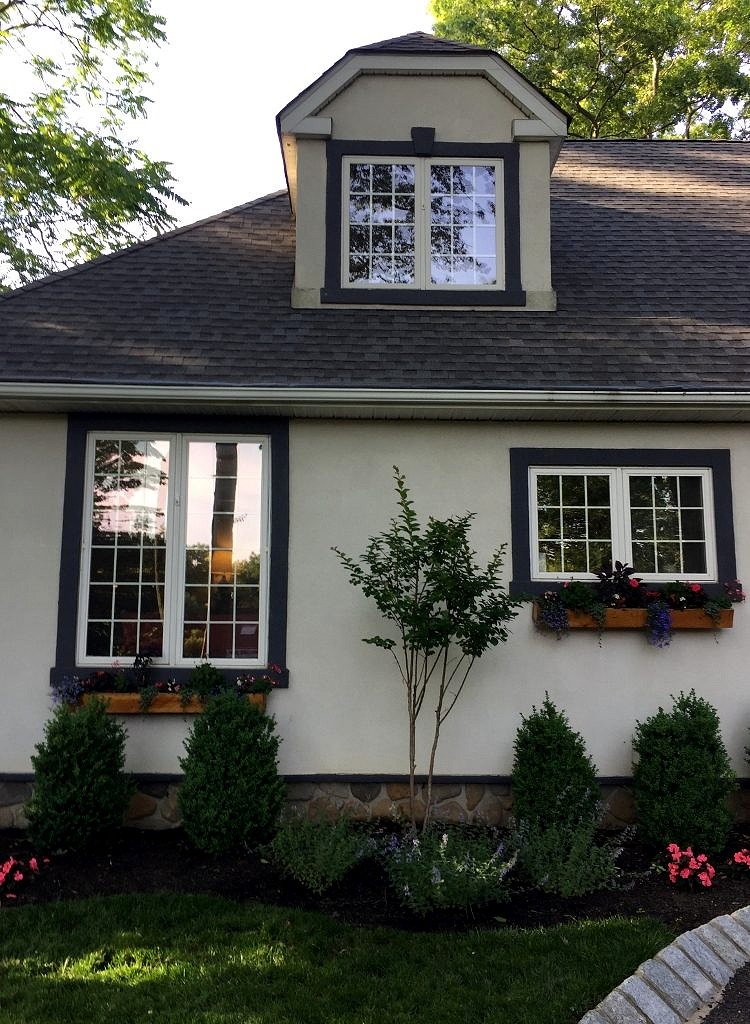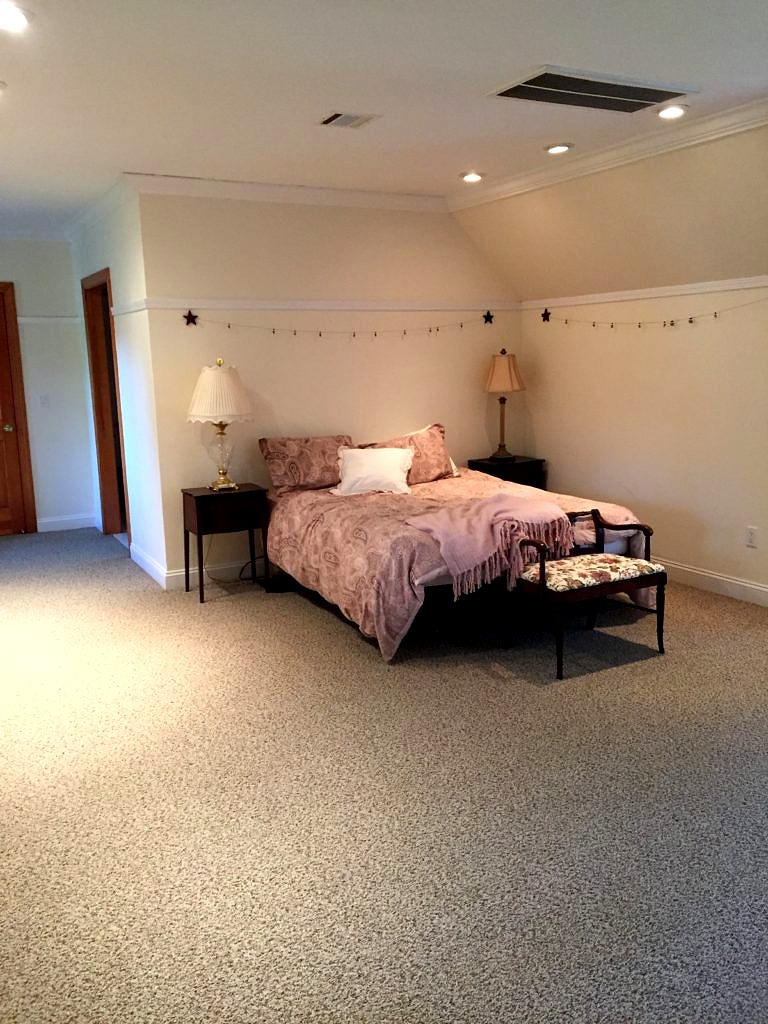 This is the before. You are not going to believe the after but because this is a work in progress we all have to wait for the wallpaper to arrive…
Keep your fingers crossed. We're counting on fabulous wallpaper from Thibaut and a to die for bed from Century  to make this transformation a success.
Meanwhile who wouldn't welcome an excuse to hang out at this updated Shingle Style home in Fair Haven, literally steps away from the Navesink River, where almost empty nesters are creating a sophisticated coastal haven?  Think first-class berth on the QE2, no starfish and fishing nets here!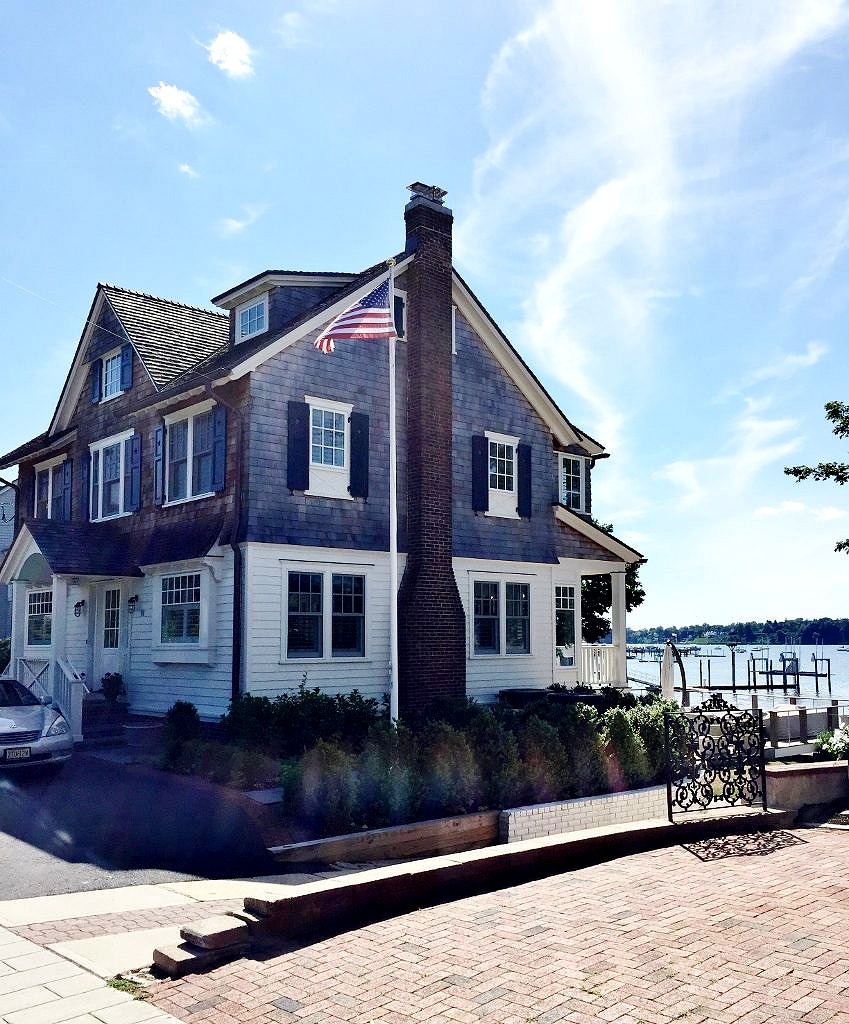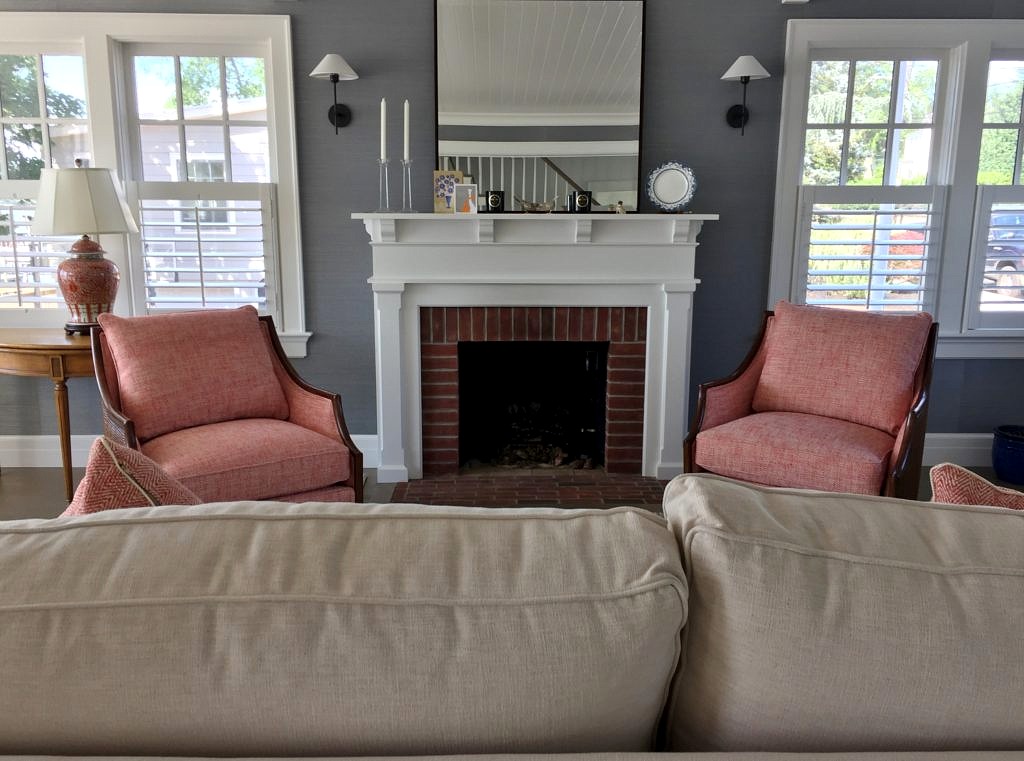 While we are not designers, after thirty years of shifting furniture around we've developed pretty good eyes and are usually happy to weigh in if asked.  At the store we marry the new with the old, casual with chic, and farmhouse with modern every single day so we are well aware of the challenges you face.  It is all about showing the things you love to their best advantage whether you are just starting out, or easing into retirement.

Speaking of taking things you love and mixing them up; who doesn't love chicken, shrimp, or mashed potatoes?  We watched this recipe being made on Simply Ming   the other night and guess what we are having for dinner?
Chicken with Shrimp
Chicken
1 whole chicken cut up into pieces
Canola oil
Salt and pepper to taste
1 cup All-purpose flour
Sauce
5 cups lobster stock (Bar Harbor Certified Maine Lobster Stock available in grocery stores)
3 cups chicken stock
2 each beefsteak tomatoes, diced
½ cup shallot, sliced
½ cup onion, sliced
2 tablespoons tomato paste
1 tablespoon cognac
1 ½ cup white wine
5 tablespoons unsalted butter
4 cloves of garlic, sliced
½ pound fresh cleaned morels
2 each sprig of tarragon
½ cup crème Fraiche
salt to taste
lemon juice to taste
Shrimp
12 shrimp (16-20)
3 skewers
lemon juice, freshly squeezed
Kosher salt
Directions for Chicken and Sauce
1.  Season chicken parts with salt and pepper and lightly dust
with flour.
2. Sear the chicken in a sauté pan with canola oil until golden brown over medium-high heat.
3. Once the chicken is browned, remove the pieces to a tray with a rack.
4. In a large saucepan. Add some additional canola oil as needed to cook the vegetables for the sauce. Add shallots, onions, and garlic to the pan over medium heat.
5. Cook until the vegetables are tender and translucent, and then add tomato paste and cognac.
6. Allow the tomato paste to brown slightly and deglaze with white wine.
7. Cook the wine until the alcohol is gone and add chicken, lobster stock, and fresh tomatoes. Allow the sauce to cook down by ¼ over medium-high heat.
8. Flip the chicken pieces and allow to brown. Meanwhile, preheat the oven to 350F. Once ready, move the sauté pan with the chicken from the stove to the oven and allow to finish cooking in the oven for 10-12 minutes or until fully cooked.
9. Add the morels and tarragon to the sauce. Stir to combine. Add the crème Fraiche and season the sauce with salt and pepper to taste.
10. Finish the sauce with lemon juice and season to taste.
Directions for Shrimp
1. Clean and devein shrimp.
2. Season with salt and skewer the shrimp about 4 per skewer.
3. Lightly dress the shrimp with canola oil and grill over medium-high heat.
4. Once the shrimp has some nice grill marks giving a lightly smoky char, remove from the pan and season with freshly squeezed lemon juice.
Directions for Potatoes
1. Boil potatoes in a large sauce pot until tender. Skins can stay on if desired or can be peeled for a smoother texture.
2. Drain the potatoes once tender and add them to a large mixing bowl and begin crushing them with a large fork.
3. Fold in all of the remaining ingredients and season with salt and pepper to taste.
To plate
Place mashed potatoes in a serving bowl. Add chicken around the edges of the mashed potatoes. Top with the sauce and place shrimp on top. Add lemon wedges to finish.