It seems every other day I get another Restoration Hardware catalogue in the mail featuring some guy in blue jeans standing or kneeling in front of a cabinet or a table.  It's making me crazy.  It's not that I resent the attempt Restoration Hardware is making to transition from a retailer of mass produced, assembly lined products to one offering inovative items bench made by craftsman.  After all it is something we have been doing at British Cottage for over 25 years.   I just wish I had their budget!
But alas I don't.  So I just had to make my own cover,  one featuring Keith as the cool European guy in old blue jeans and tell the British Cottage story…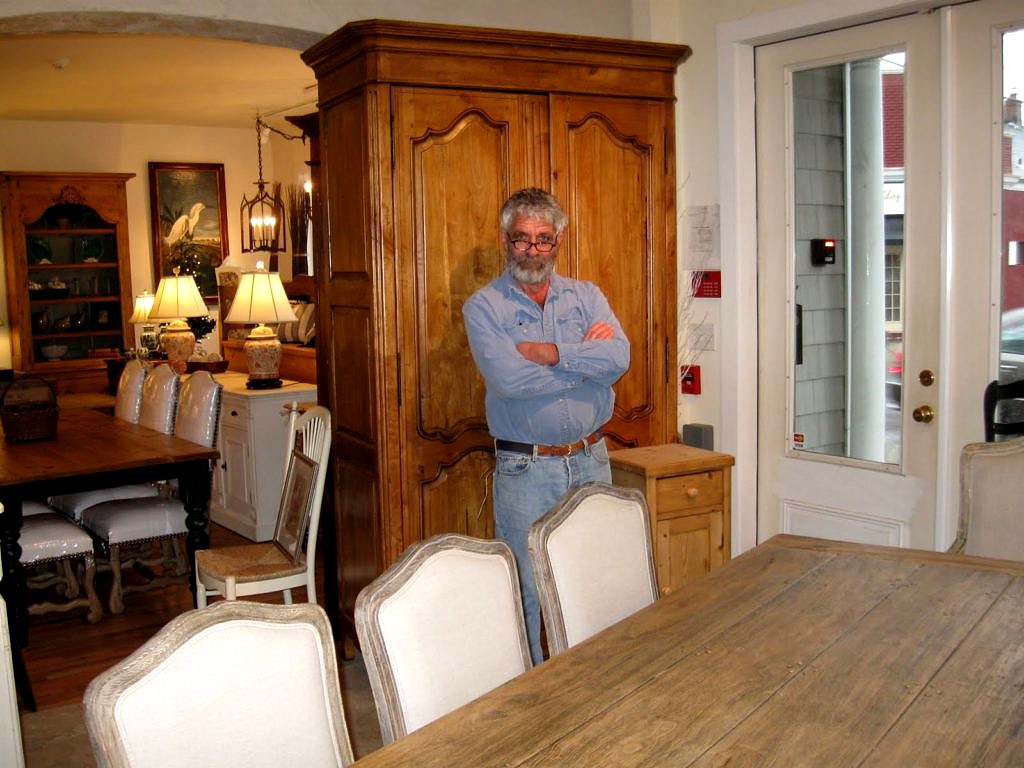 Artisan/Entrepreneur/Reproductionist
The US & the UK
In the mid-eighties Keith was traveling around England buying antique pine furniture to sell in our Red Bank, New Jersey store when he stopped at Anthony Clark's small shop in Ringwood, a small village just outside the New Forest.  When he saw the farmhouse tables Anthony was making out of old pine floorboards, he bought the lot and immediately put in an order for 10 more.
Not long after that Keith and Paul Wilson, who owned an amazing antique pine furniture company in the North of England, figured out how to make tables from re-milled, centuries old pine beams.  This was an improvement over the floorboard tables because this wood still had a great patina, but was not as likely to crack and splinter like the floorboard tables did.   Over the years we must have sold hundreds of these tables.  And when Paul expanded his production range of old wood furniture to include hutches and armoires…we carried those too in our Red Bank store.  Most of these pieces are still being used today and will most certainly be the antiques of tomorrow.
Sadly, due to bad planning and worst luck, Paul lost his business but fortunately we were able to happen upon a wholesale warehouse that was selling antique pine furniture in Hungary.  The borders of Eastern Europe had just opened up to the West and we were able to buy great antiques, and also have tables and cabinets made to our specifications in  their workshop.
Handmade, bespoke, custom, one-of-a-kind is what we do at British Cottage.  All day, every day.  Come in and see for yourselves.