10/08/2015    
We love blogs and magazines about design.  We love Pinterest and Houzz.  We love catalogues even from stores we don't like because we love to see how they style their products.  We watch HGTV all the time.  But let's face it there are only so many hours in the day.  At some point the laundry has to get done, a trip to the gym is crucial and nobody is cooking you dinner.
    So in the spirit of Twitter and Instagram we are shortening our blog.  Less talk, more action.  Because we have been in the home furnishing business for almost 30 years we have a pretty good idea of what works and what doesn't.  Let's start with A.
       A is for artwork.  
Every house needs some.  If your budget precludes Picasso don't despair.  Art is everywhere, but not always where you think.  Large black and white photos, when matted and placed in simple black frames count as artwork and will look fabulous on your walls.  Meanwhile take the 8 x 10 glossy the school photographer took that you have been displaying front and center and send it to your mother-in-law.  The same goes for your wedding pics–rarely are they a great look for over the mantel.  Put some 5x 7's in silver frames and find a shelf.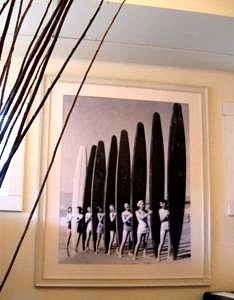 Check out these babes with boards, in a large format they make quite an impact.
      If you don't have a clue about what you are doing one image will be easier to manage than a number of items.  And, often it is a question of scale; one oversized print, a large map, or photograph will command a wall more than a grouping.
 When combining images, select a theme and group them all together for maximum effect.  This isn't rocket science; it does goes a bit smoother if you use a tape measure before you pop in a nail because alignment is key.  There are some who advise taping templates to the wall but at some point you will have to put hammer to nail and  just go for it.
Night and day views of a lighthouse in Bermuda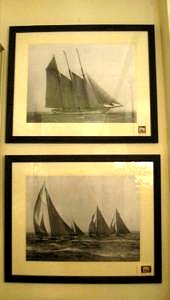 America's Cup Contenders
      
Remember to keep your frames simple.  One of the premier photography galleries in the world uses only white, black, mahogany, silver or chrome frames with white mats.
You get to decide what art is: it doesn't always have to be a landscape over the mantel.  Maps when framed, and even better if vintage,  not only look great on your walls but also are educational, and happy memory triggers of trips past and future…you might not be going back to London any time soon but you can always enjoy seeing the roads you traveled.