Red Bank, NJ April 4, 2020
Sidetracking from British Cottage for a moment so I can post this infomercial about our Maine cottage. We have decided to sell and think this edited version of a much earlier post, "On Golden Pond" will be helpful to prospective buyers.
In 2013 we bought our cottage on Biscay Pond in Damariscotta, Maine. Although my husband and I have a home and business in New Jersey we thought that this would be the perfect spot to connect with our children, and grandchildren, and their cousins and aunts and uncles who live in Maine. For quite a while it was, but now our children live out west and we find it hard to go north as much as we planned and our home is for sale.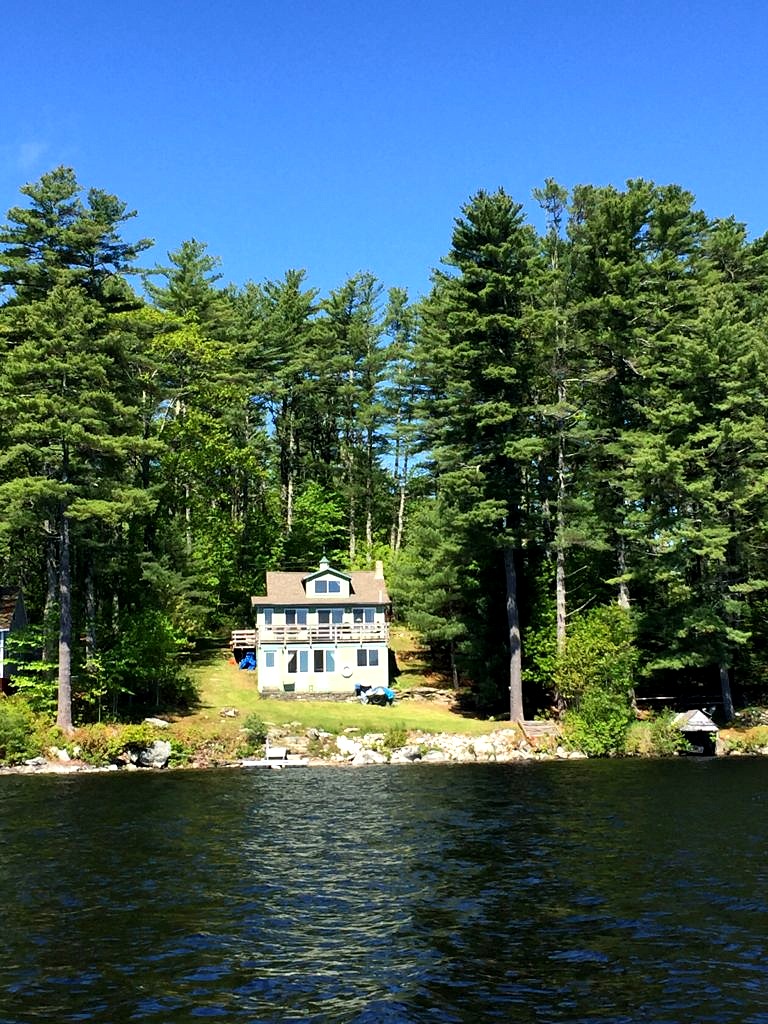 As much as we love the Maine coast, we opted to buy on Biscay Pond  because it warms up enough so we can comfortably swim all  summer but, just shy of five miles long, it is still large enough for a sail or power boat. Directly opposite our cottage is an inlet that leads to Pemaquid Pond, which is even larger body of water and great fun to explore, and both ponds are home to a delightful mix of eagles, ospreys, great blue herons, and, my absolute favorite, loons.
We even have a little island to explore right across the pond from our house, which is just the right size for picnics and rock diving!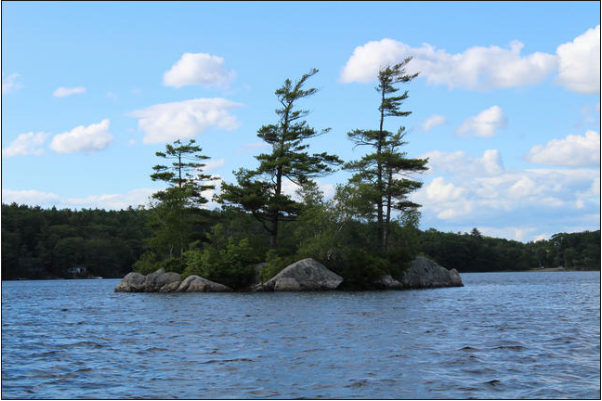 The first thing we did after buying our cottage was paint all the original knotty pine paneling Benjamin Moore's China White and all the fir trim White Dove…. Yes, sacrilegious to some, but fully supported by legions of Scandinavians  who know how best to live in northern climes. White makes smaller spaces live larger, reflects light and makes the daylight brighter. We restored the floors to their natural pine color, leaving them light so they hardly show the dust or dirt or wear, and when they do one swish of the mop and they look as good as new. 
The galley kitchen was revamped with new cabinets from the factory in Hungary that builds the furniture for our store, British Cottage in New Jersey. We replaced the window over the sink with one double in size figuring washing dishes is much more fun with a water view. 
A large farm table was a must, and this one is 96″ long and can seat twelve–squished–but still,  the more the merrier!  Our chairs are upholstered in black linen; not the fabric you would think of for a lakehouse but I thought they would have to do double duty as extra seating when entertaining a crowd so they may as well be comfortable.  And what else is Scotchguard for?
Cheap couches are a false economy.  Usually, the fabric choices are awful; the cushions are made of synthetic materials that are (besides being toxic) either too dense or too sloppy and breakdown quickly. So we have a really good couch, with two slipcovers (just in case we wear one out)  made in a cotton blend that looks like linen and wears like steel.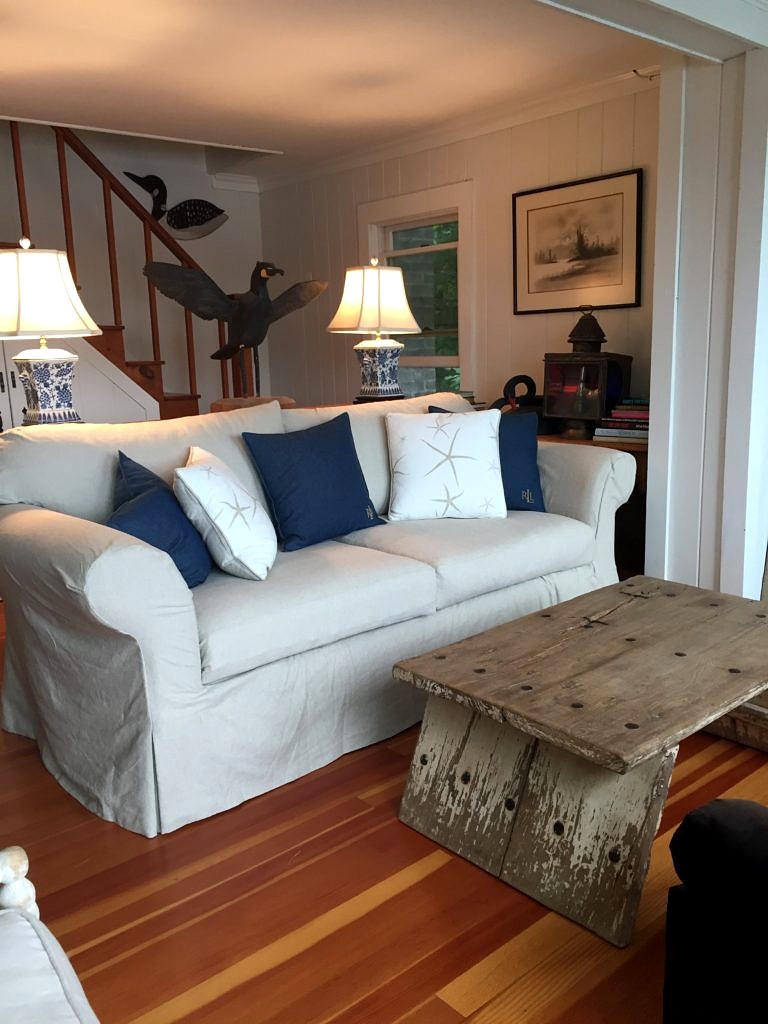 The armchairs in the room are…black velvet?  And who doesn't love that fabulous coffee table with traces of off-white paint made from antique doors? It looks great but can take a beating, just what you want for a vacation home. For accessories I mostly rely on a lot of lamps, everything from faux bamboo candlestick lamps to classic blue and white ginger gars, they literally light up the room and give it warmth.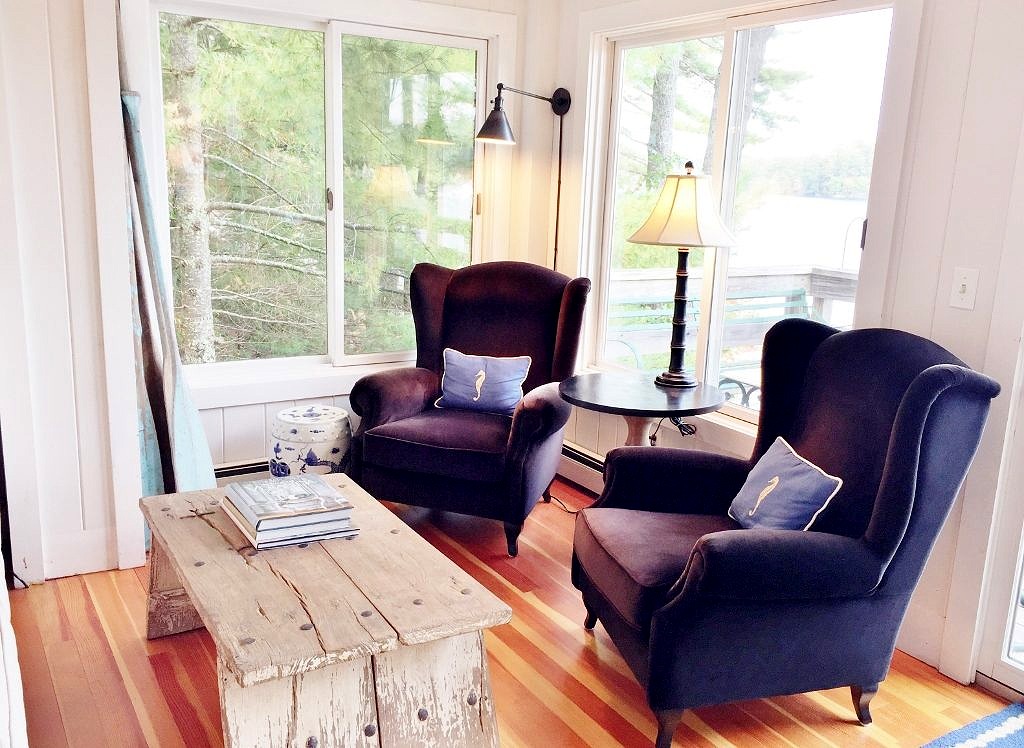 The cottage has three bedrooms; a large open space on the uppermost floor that has room for three beds plus a crib, all tucked neatly inside the dormers. That means everyone is guaranteed a bed, even when the children visit with their children.  Which is really what it's all about, isn't it? Family time. When no one is visiting I can channel E.B. White and write at the little desk by the window.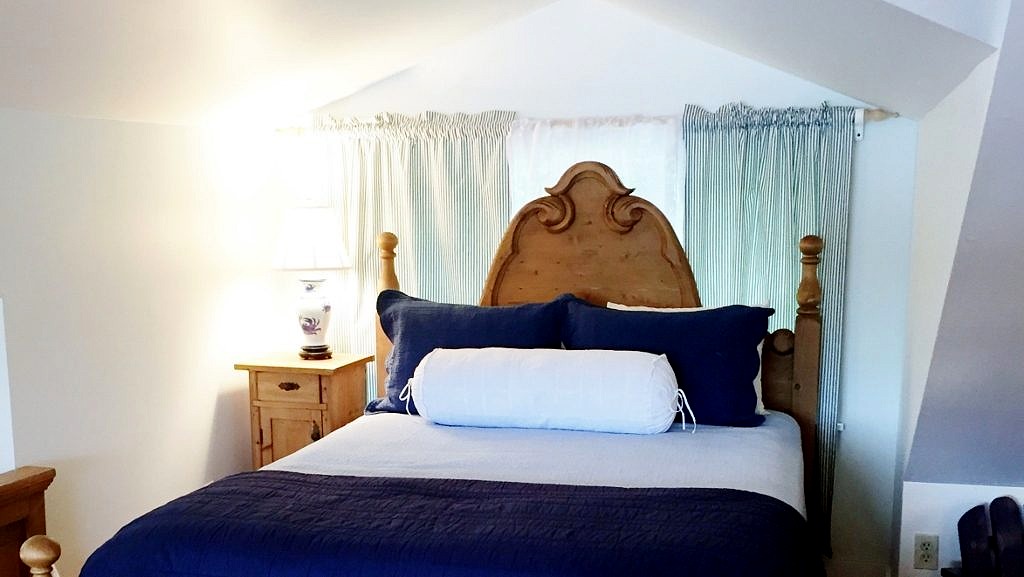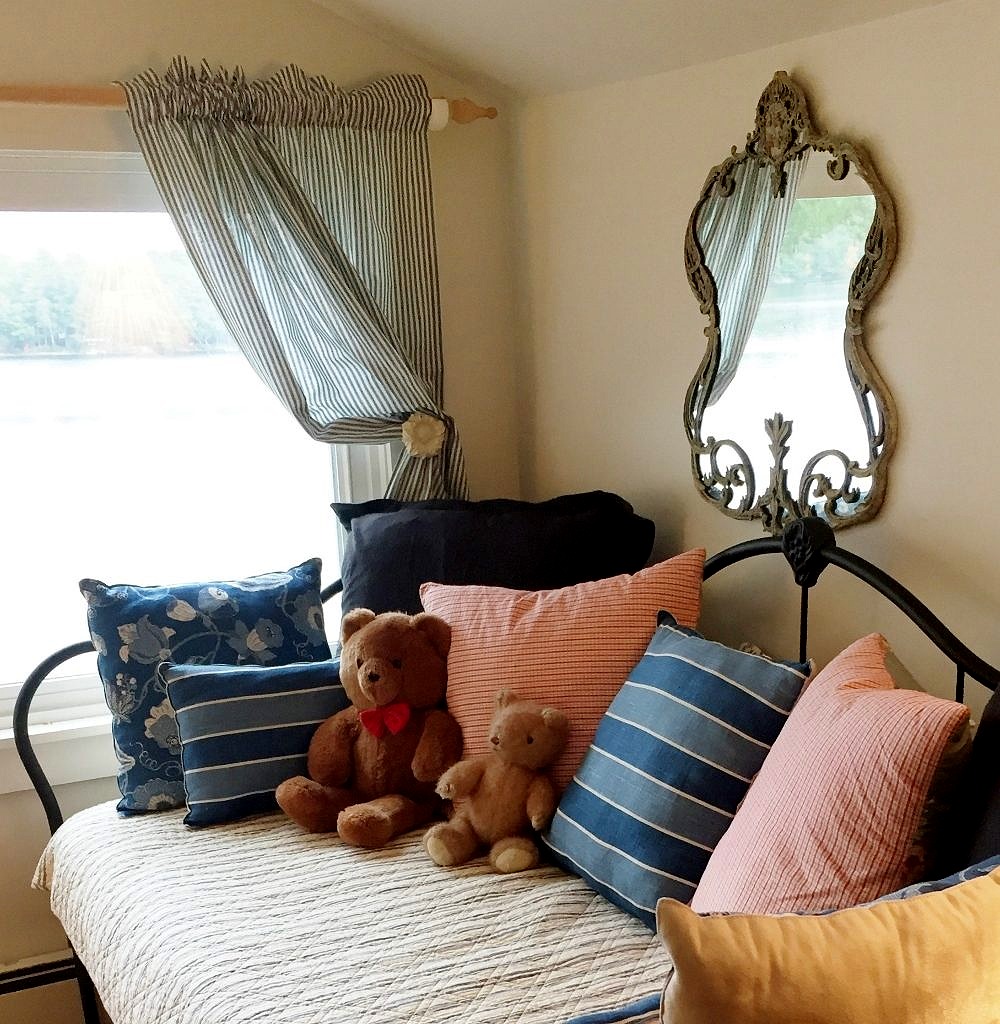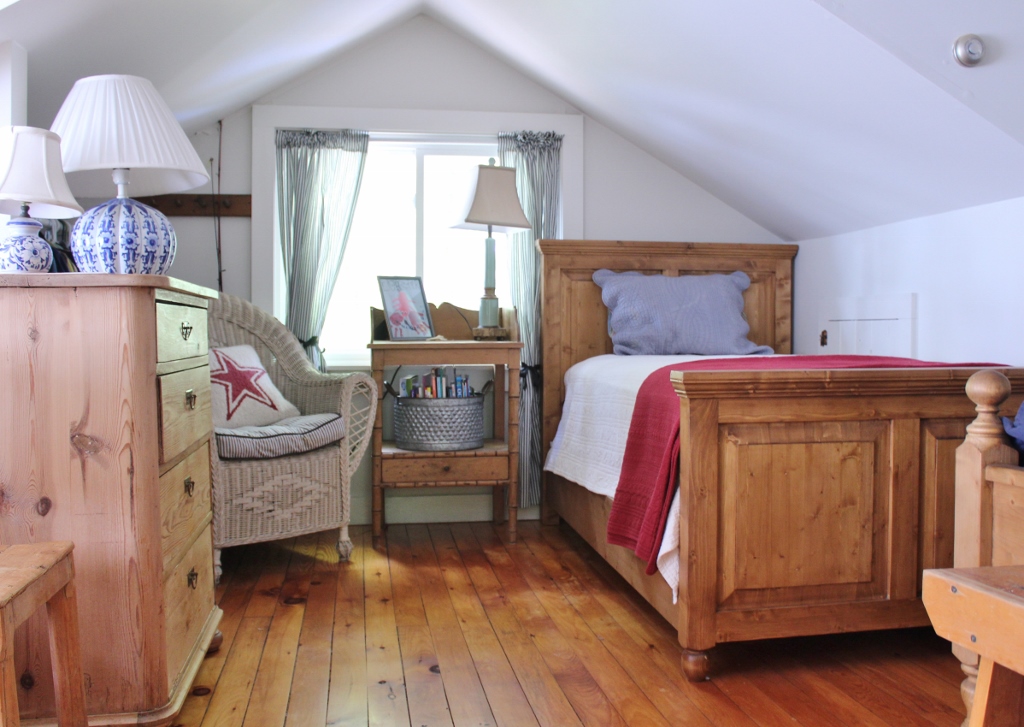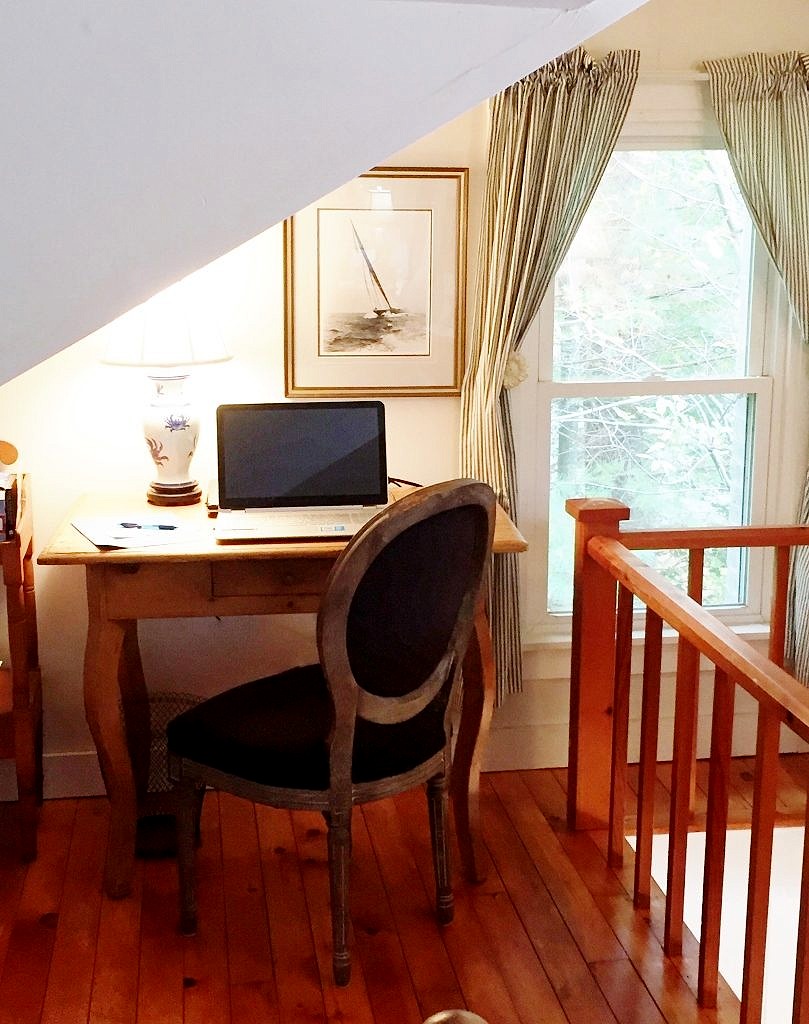 There is a another small bedroom on the main floor and then downstairs there is a master bedroom with room for our king size British Cottage bed and the en suite bathroom even has a Jacuzzi tub!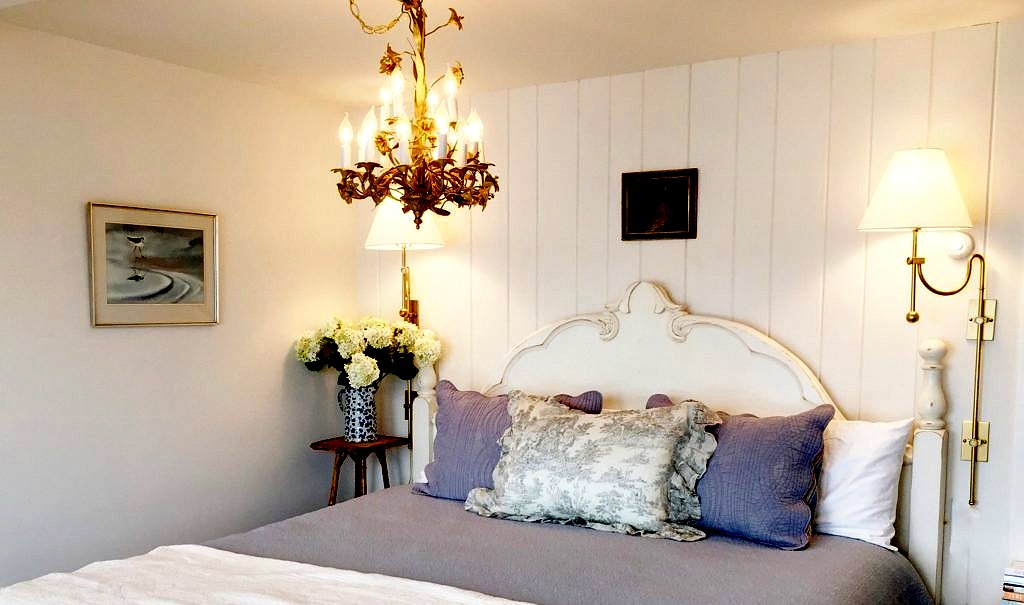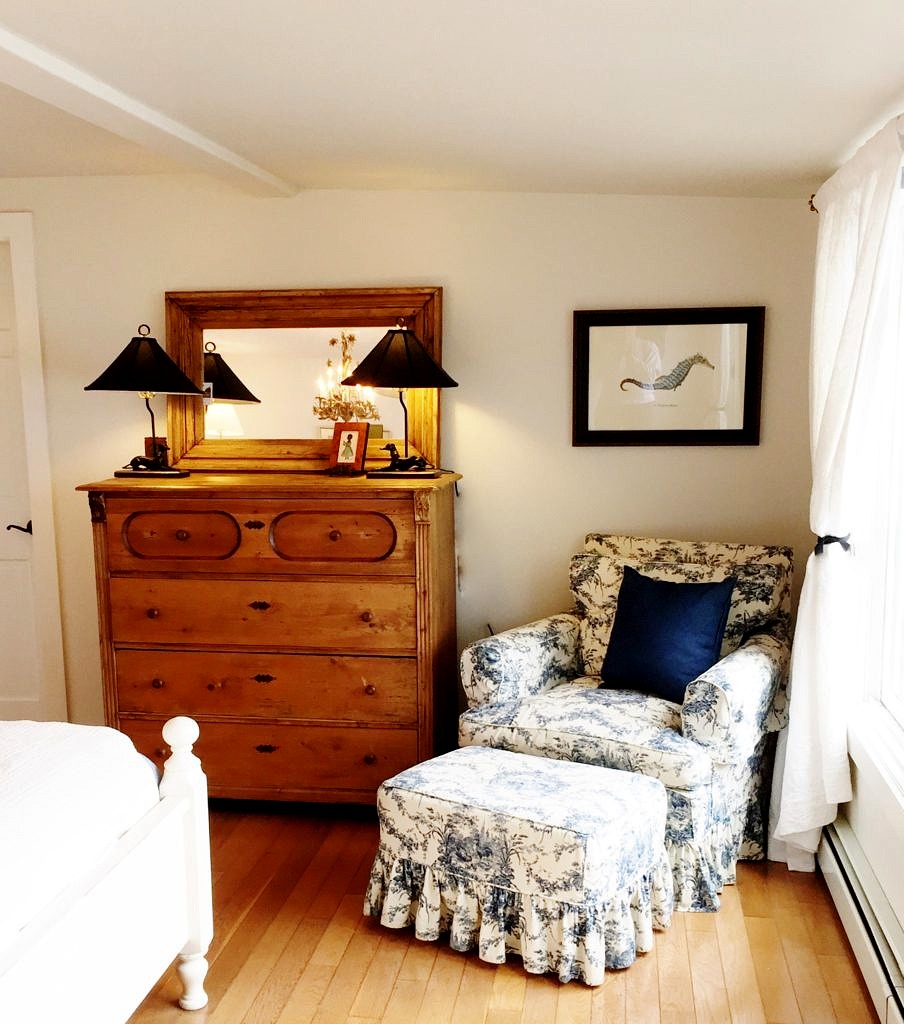 But, let's face it, the whole point of a vacation home in Maine is not the interior–it's what's outside that counts. As I said in the very beginning, Biscay Pond is just the right size, not too big, and with very few power boats beyond the occasional grandpa revving up his engines so he can tow his grandchildren around the pond. There's a nice fleet of small sailboats setting sail on windy days and of course there's plenty of kayaking and paddle boarding too.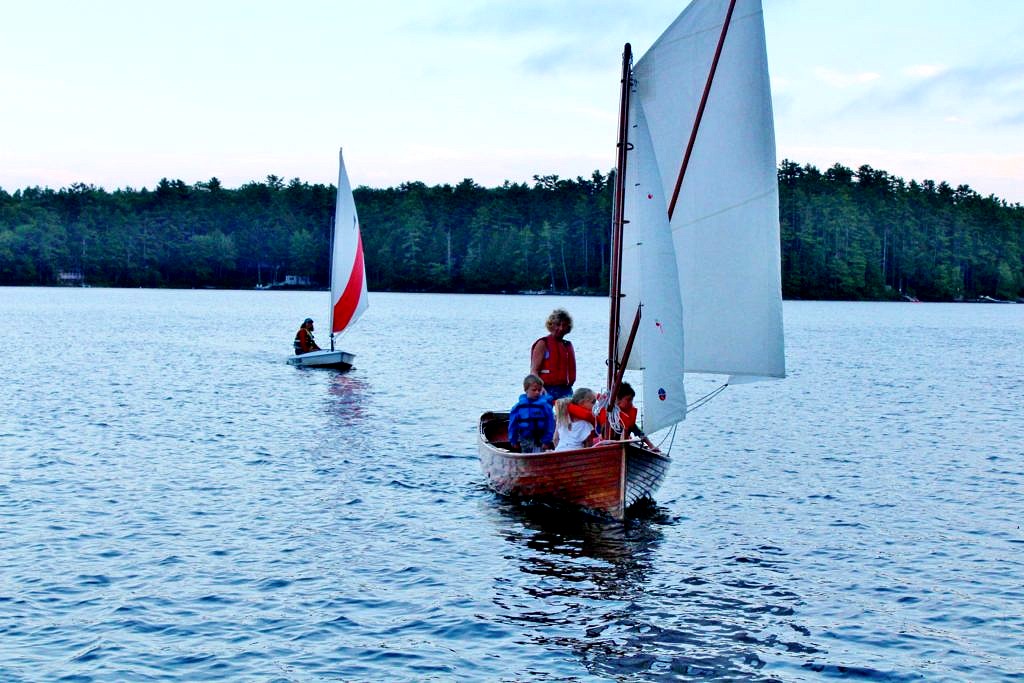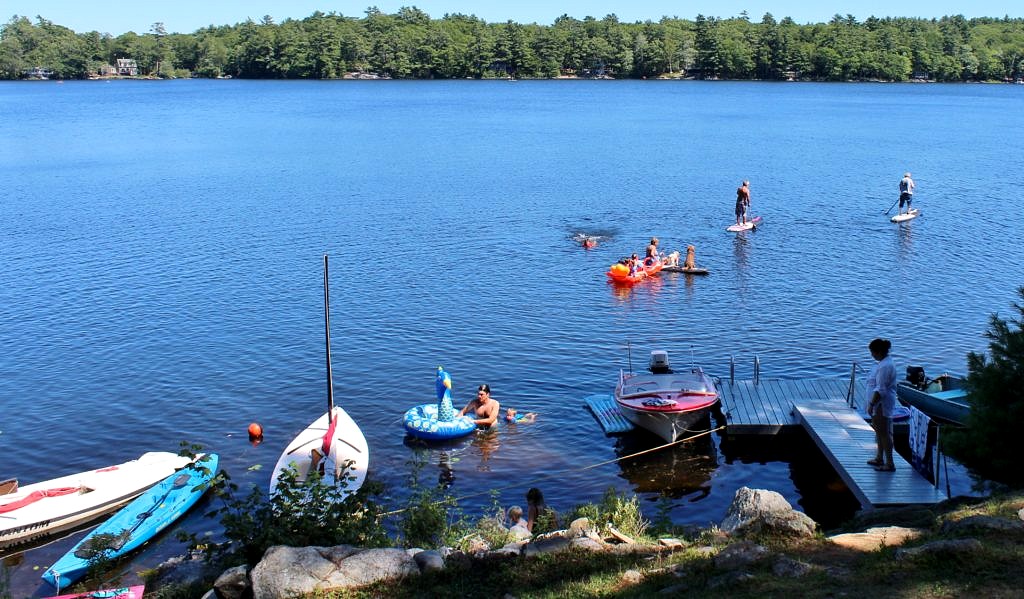 We spent many a glorious day at Biscay and hope to sell our cottage to someone who loves Maine just as much as we do. With an abundance of fresh air, clean water, sunshine and family time; what's not to love?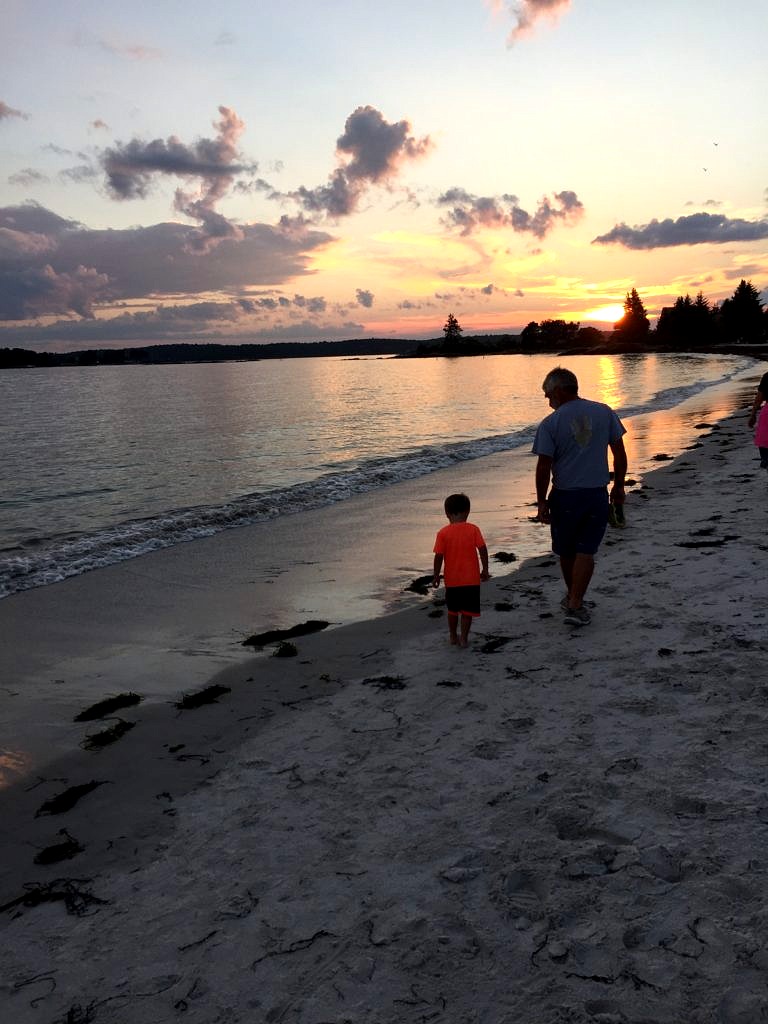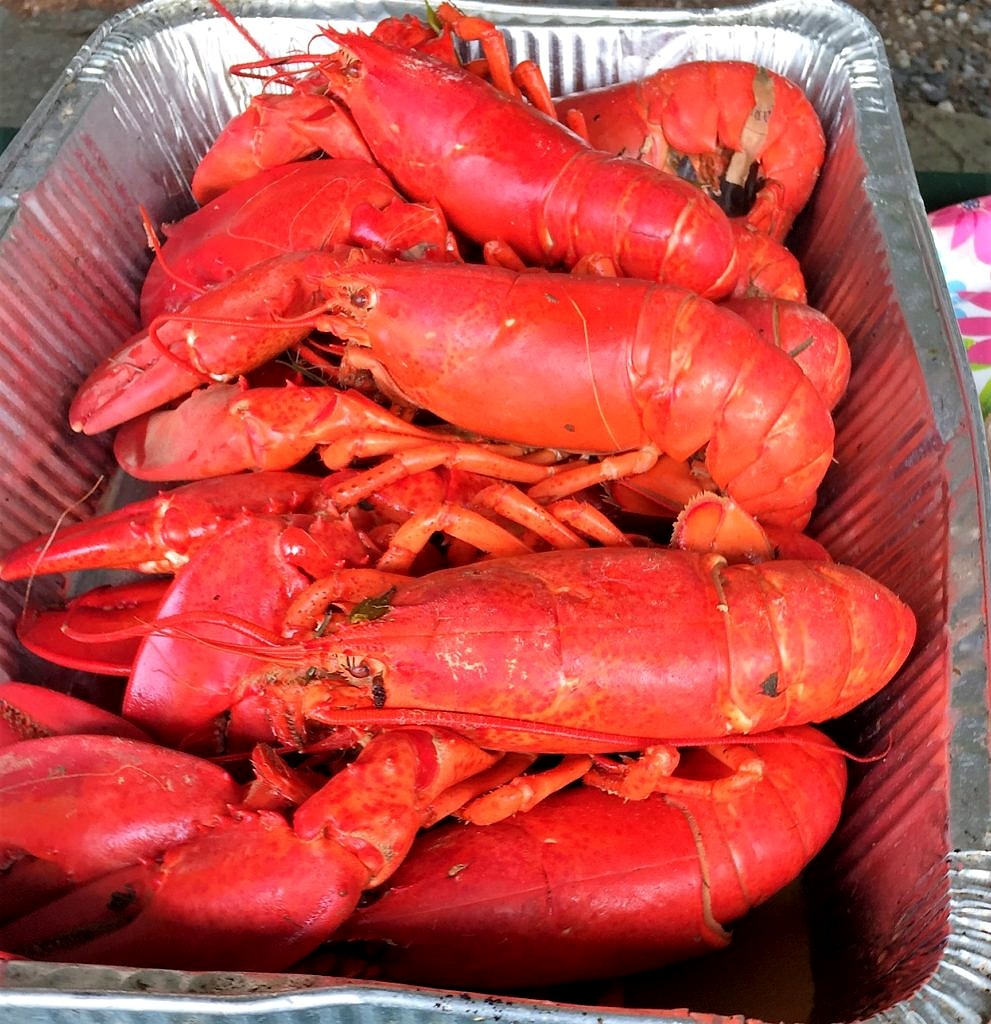 And did I mention lobster?