How cute is this?
Grilled Zucchini Roll-Ups With White Beans and Arugula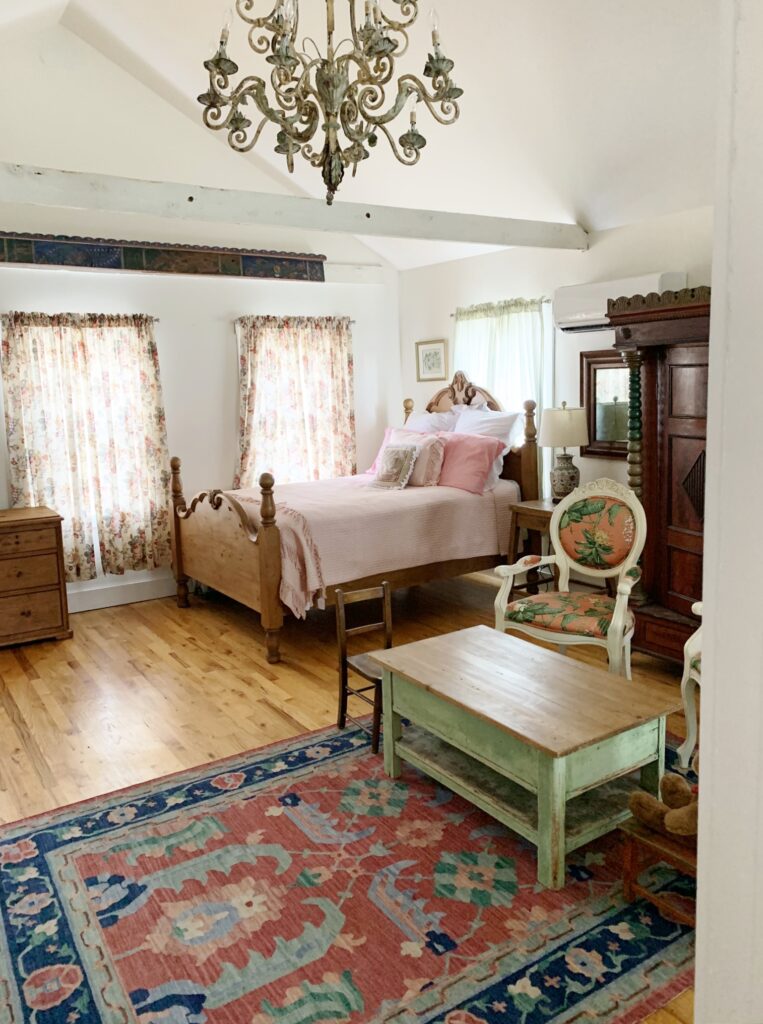 Back in 2005 Keith and I bought the building right next door to British Cottage, 130 Shrewsbury Avenue. The front area was a storefront and in the back was a small, two story, three bedroom house. Renovating the store section was easy; we just put in a new hardwood floor and replaced the existing windows. The house part was a bit trickier with three teeny bedrooms and bath upstairs complete with the original plaster and lath crumbling hither and yon. In the end, we decided to gut the whole thing right up to the roof and create one large lofty bedroom area.
When we moved from our house in Rumson to the apartment above the British Cottage store after Sandy in 2012 (we did not flood but our neighbors did and the people who bought their property built a Tuscan mansion literally on top of us which meant it was time to bid adieu), the space at 130 became a perfect spot to park visiting children and friends. We never really decorated–just filled it up with stuff. Some stuff we liked but could not use in our current situation, other items were just too valuable to leave in the warehouse, and the rest was just clutter.
Fast forward to this benighted Summer of 2020 when we invited one of our long time customers, stuck between rentals in the red hot Jersey Shore real estate market, to crash there for a couple of months. Yikes! What were we thinking? And they needed to be in by August 1!
Some people have junk rooms–this had turned into a junk house. We needed to get it cleaned out and cleaned up–stat. One good thing is we pretty much know what furniture our lodger is bringing, seeing as we sold it all to her in the first place. Her antique pine table with extensions would be perfect for this spot in the kitchen area; then we added one of the pine cupboards we have made at our factory in Hungary to serve as a pantry/storage cabinet.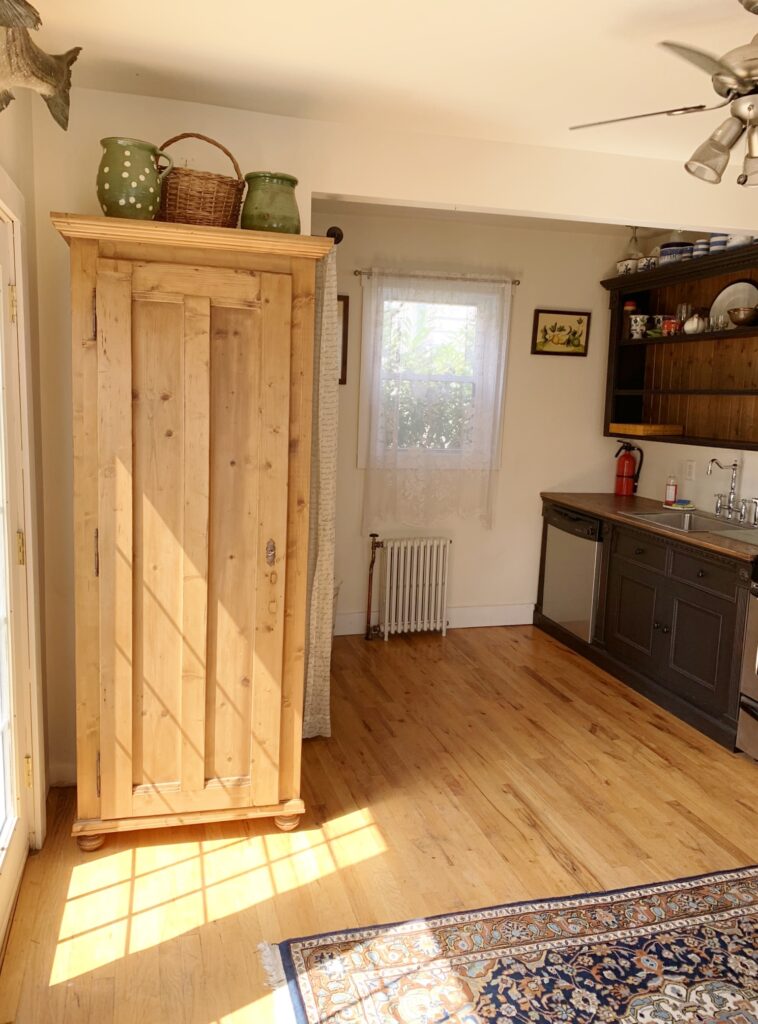 Sadly her navy blue Hickory White sofa won't fit through the narrow doorway into the living room so for now we left the Biedermeier sofa we bought at the fabulous antique store, Green Square, in Copenhagen. (The map above the couch is an original 1900's map of the area our Maine cottage was located.)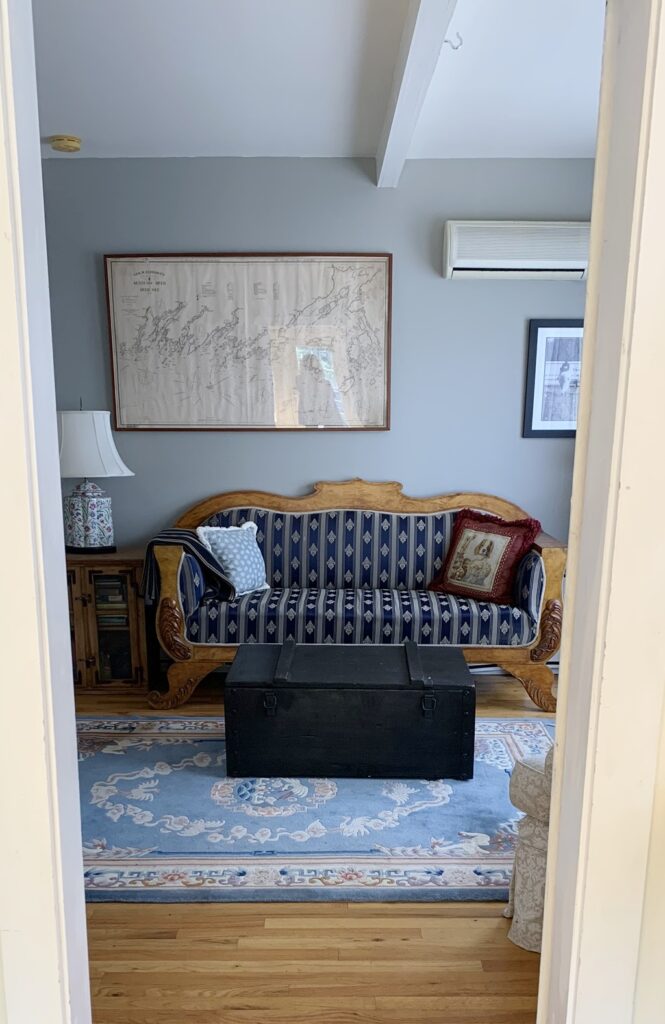 Directly opposite the sofa is a long wall for her 84″ pine sideboard also from our factory in Hungary and above that she can hang the tv. (I am hoping there will be a Part Two to this blog when we see how the lodgers put their own stamp on our little abode).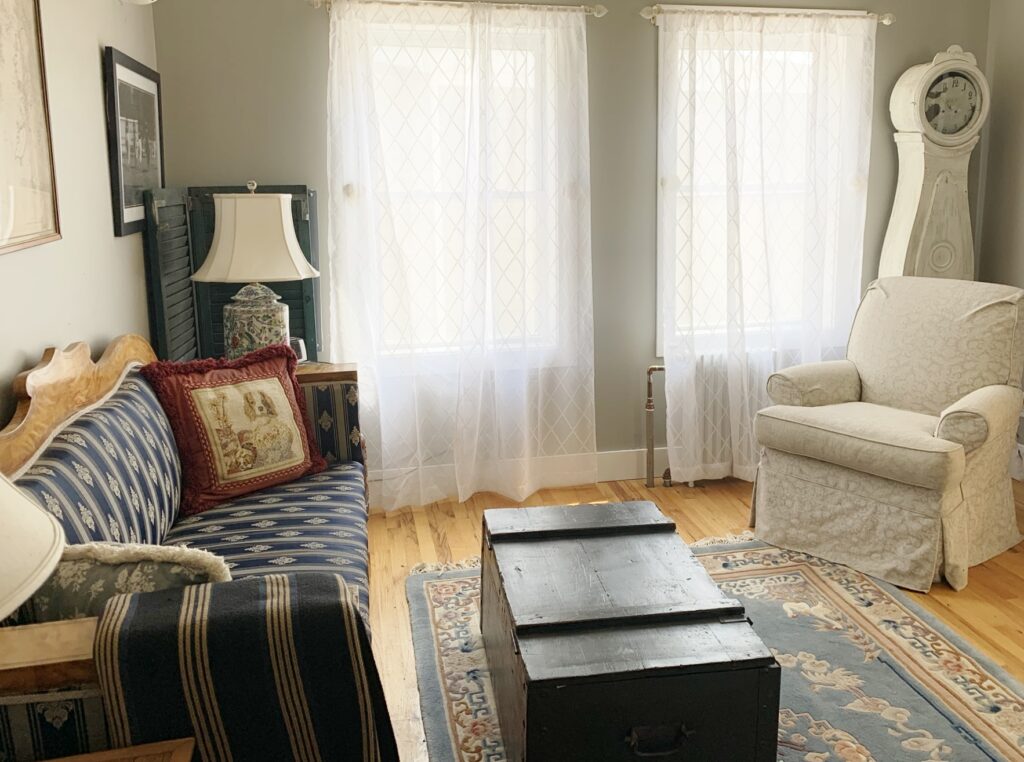 In the corner is an armchair from The Best Slipcover Company, a leftover from our first foray into upholstery sales. For years and years I never wanted anything that was not slipcovered but now, with the new performance fabrics, upholstered furniture is a breeze to care for and certainly easier on the eye.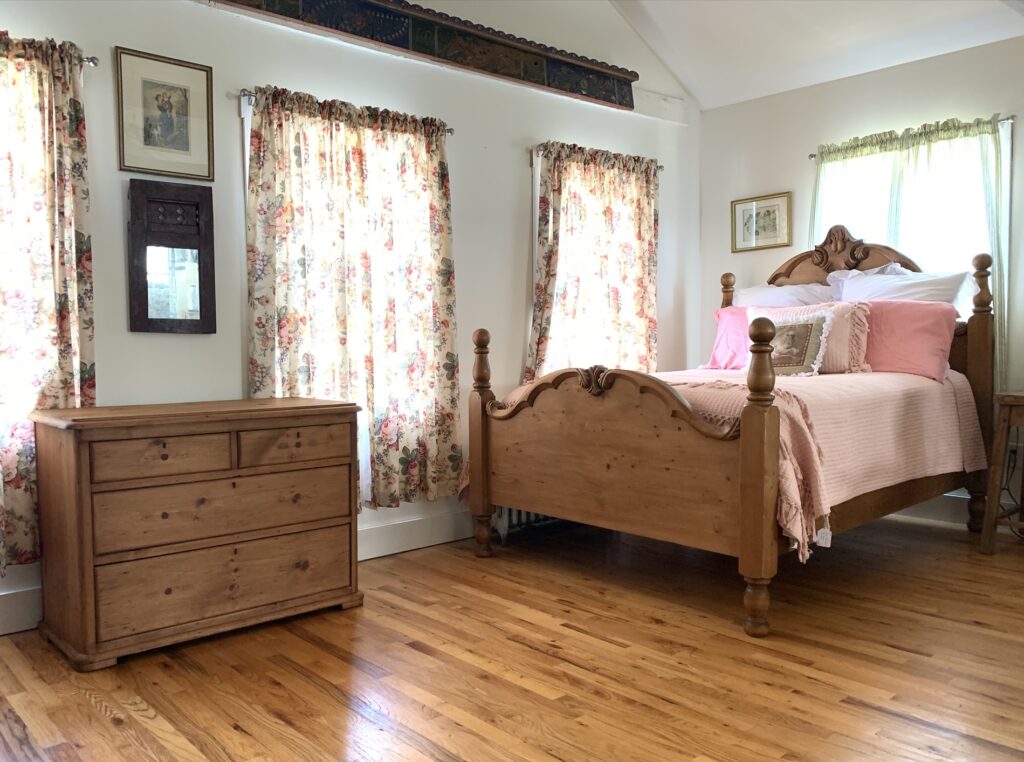 Up the stairs is the loft bedroom which will be shared. Here is the little girl side featuring an original British Cottage pine bed from the very first factory we worked with in England way back when, and an antique pine chest of drawers, also from the UK, that Keith fished out of the depths of the warehouse. Hopefully he will find the knobs soon.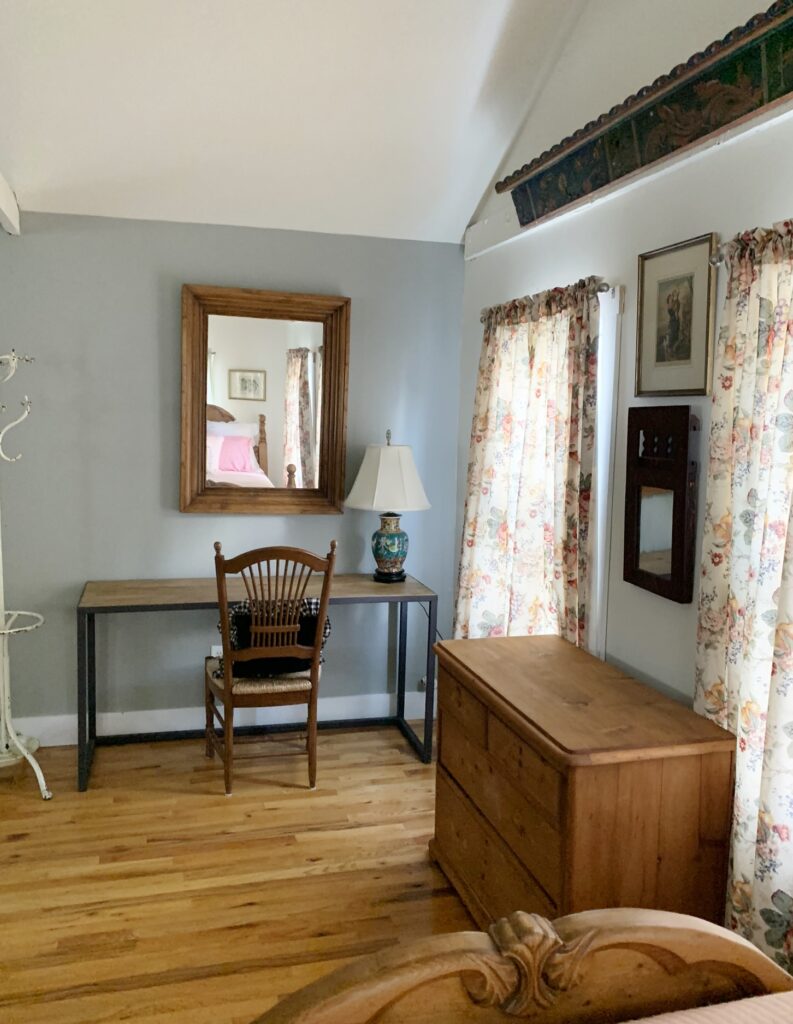 With everyone working–and studying–from home we thought this corner would make a perfect work/study area. We grabbed the table from the store, mostly it is used as a console table behind a sofa or in an entryway, but in this case it should be just the right size for a lap top–or desk top for that matter.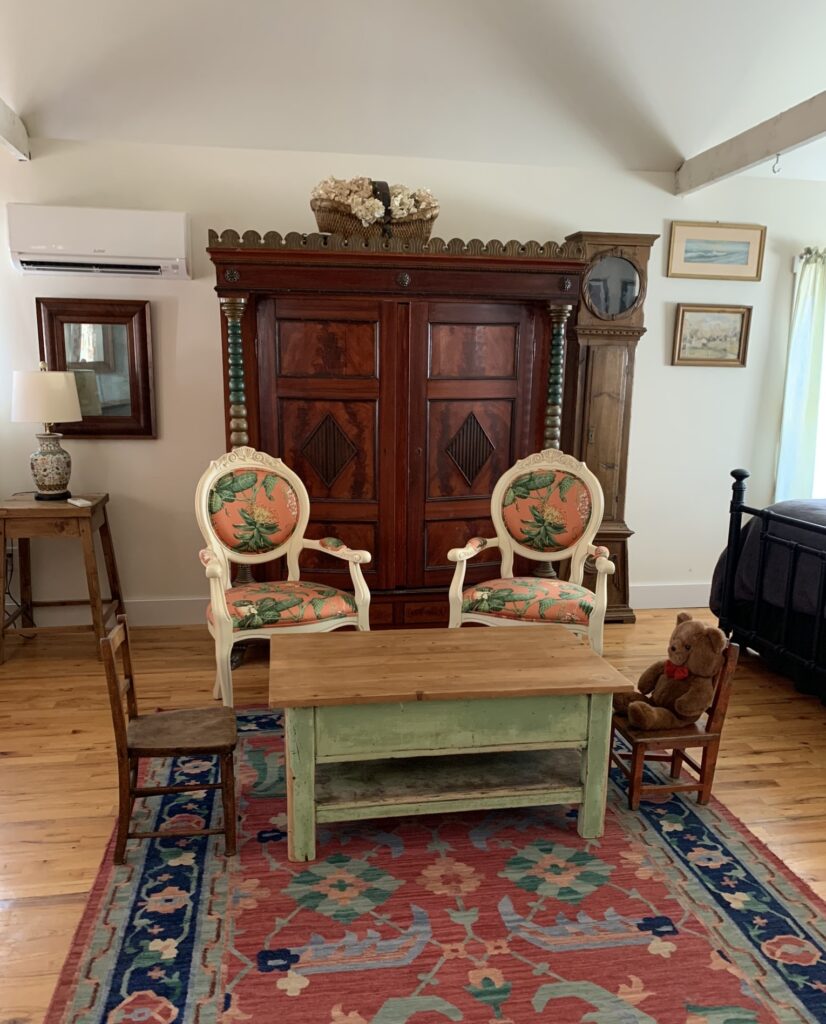 Then we made a little sitting area in front of the great kas–also purchased from Green Square many years ago–that we cannot bear to part with. A kas, (pronounced kaz) is a massive cupboard of Dutch origin similar to an armoire that was popular in the 17th & 18th centuries. Used to store linen, clothing, and other valuables, they were status symbols and family heirlooms in the Low Countries. (Thank you Wikkepedia). We knew we would never find another one we could afford so stashed it up here until the right room comes along.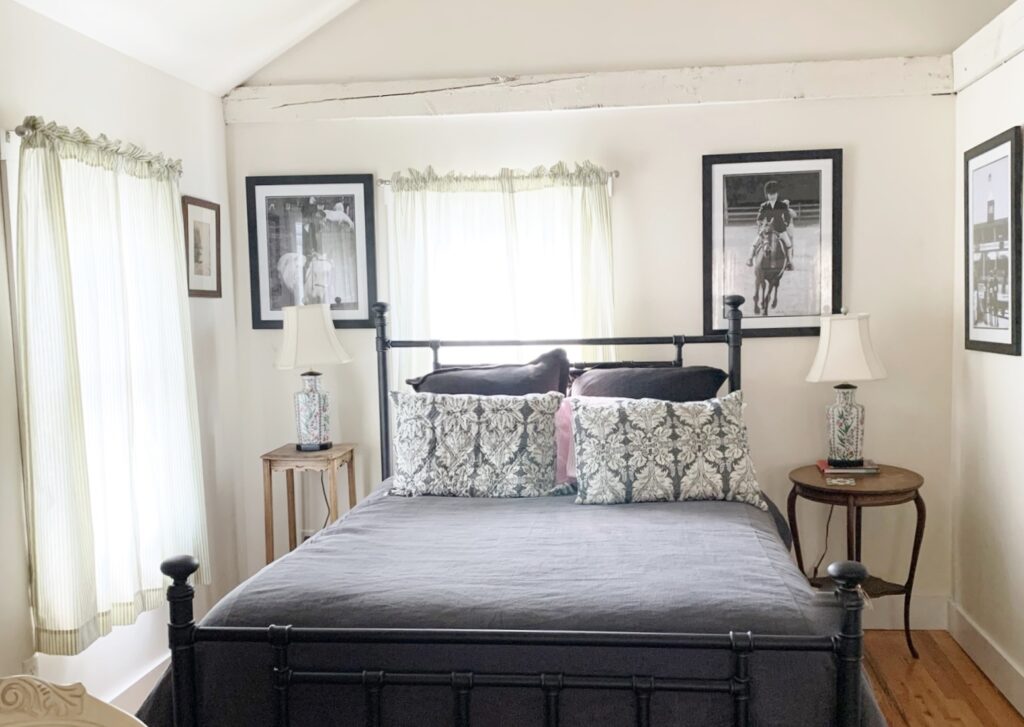 Tucked snugly in an adjacent alcove is a queen bed in a matte, black metal finish from the Californian company, Wesley Allen. We find a metal bed fits into most decorating schemes and like to have one on hand to show customers when our British Cottage beds are not a go. The photos over the bed are from a series of black and white images of our daughter and her friends and their ponies taken years ago. (This is a great thing to do if you are looking for artwork; everyday images, when enlarged and printed in black and white become much more visually interesting).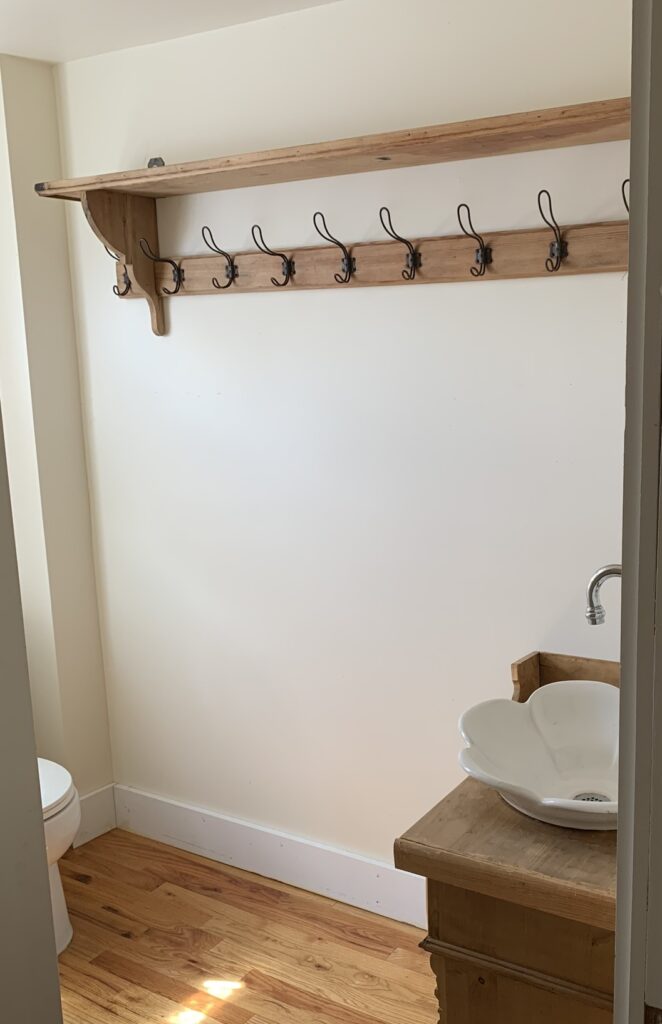 The bathroom area is not huge so it was lucky we had this shelf, originally purchased at Schwung Home for the Maine cottage. Then it didn't fit into the Fair Haven house either; happily it works perfectly here.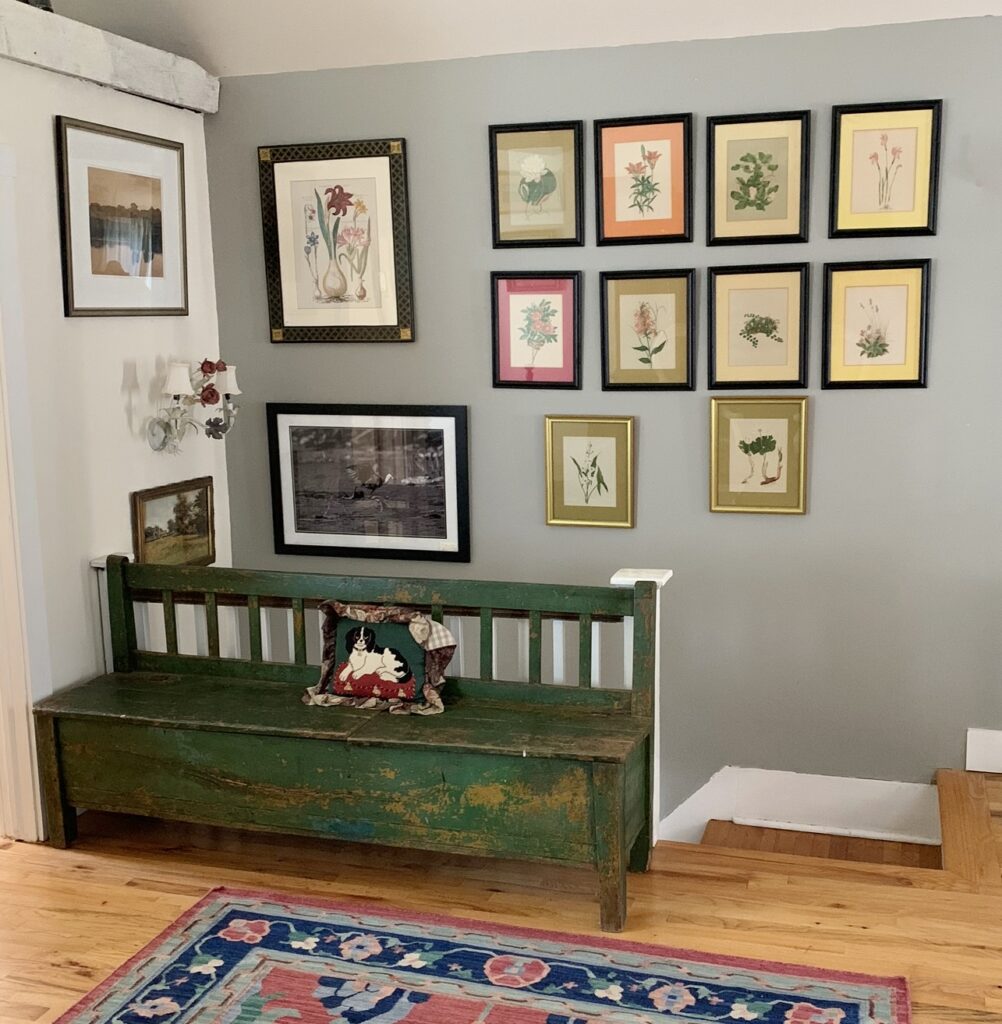 Over the years we have sold dozens of benches but there was something about this homely antique, Hungarian bench in the original paint that was charming so we held on to it. Above it, on the gallery wall is a set of botanical prints we bought at our neighbor and renowned local artist, Barbara Cocker's yard sale 35 years ago that Keith discovered in the painted armoire where they'd probably been languishing for at least a decade. Surprise!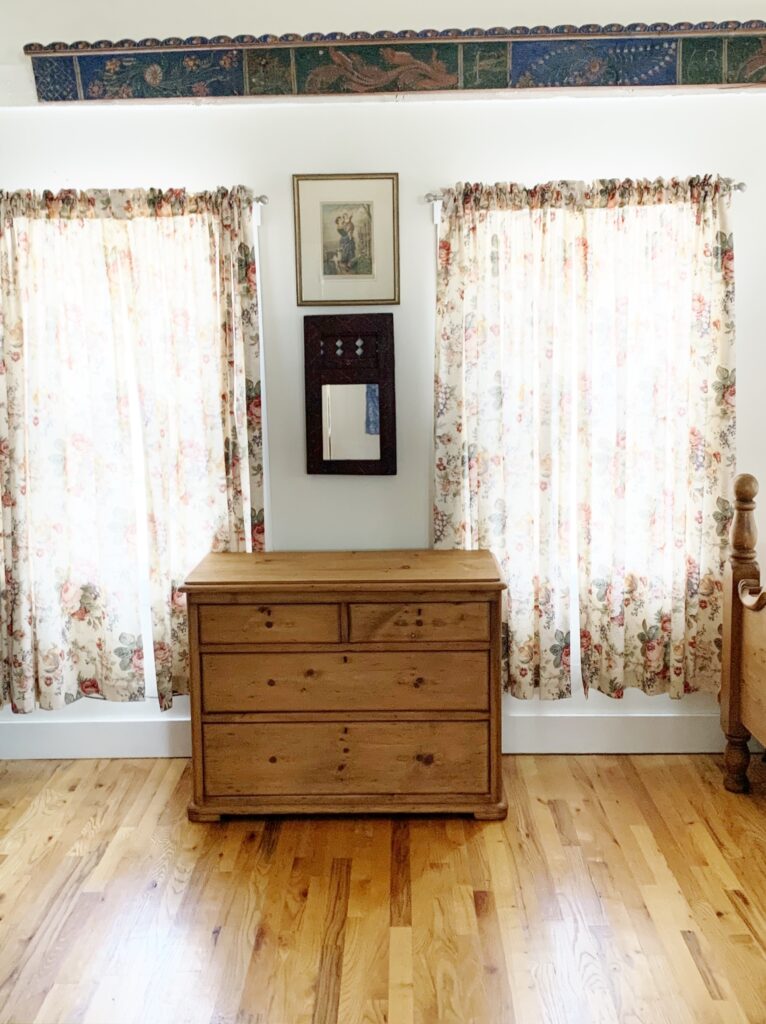 So what happens if all you have is mismatched curtains, furniture and artwork? Try taking a deep breath and tossing it all together. As long as your walls are bright and your floors clean, anything can happen.
So it is boiling hot and who wants to cook? Not me. Fortunately Laird surprised us with a mid-summer visit from Seattle and she is more than happy to take charge of the kitchen. On the menu tonight courtesy of The Washington Post:
Grilled Zucchini Roll-Ups With White Beans and Arugula
Here, grilled zucchini is served up in an exciting new way: Rolled into bite-size bundles filled with lemon and garlic-seasoned mashed white beans, peppery arugula and floral basil. Light and fresh, the roll-ups taste of summer and are filled with garden flavors. With the substance of creamy beans, you can savor them as a snack, starter or as a spread of small plates.
---
SERVINGS:  
Tested size: 4 servings; makes 12 roll-ups
INGREDIENTS
3 medium zucchini (about 8 ounces each)

2 tablespoons olive oil, divided

1/4 teaspoon plus 1/8 teaspoon kosher salt, divided

1/4 teaspoon freshly ground black pepper, divided

1/2 teaspoon finely minced garlic (1 clove)

1/2 cup low-sodium canned white beans, such as cannellini, drained and rinsed

2 teaspoons fresh lemon juice

2 cups (2 ounces), lightly packed, baby arugula

1/3 cup fresh basil leaves
---
DIRECTIONS
Trim the tops and bottoms off the zucchini, then slice them lengthwise into 1/4-inch thick slices using a sharp knife or mandolin. Set aside the outermost slices of zucchini for another use. Brush the center slices on both sides using 1 tablespoon oil and sprinkle with 1/8 teaspoon each of the salt and pepper.
Preheat a grill or grill pan over medium-high heat. Grill the zucchini until tender and grill marks have formed, about 3 minutes per side.
Place the garlic onto a cutting board and sprinkle with the remaining 1/4 teaspoon salt. Using the flat side of the knife and dull edge of the blade, mash the garlic and salt together to form a paste; transfer to a small bowl. Add the beans, lemon juice and the remaining 1 tablespoon oil and 1/8 teaspoon pepper. Using a fork, smash the ingredients together to form a chunky mash.
Spoon about 1 teaspoon of the bean mixture 1/2-inch from the end of a zucchini slice. Top with a few arugula leaves and 1 small or 1/2 large basil leaf. Roll the zucchini slice up and place seam side down on a platter. Repeat with the remaining zucchini, beans, arugula and basil.