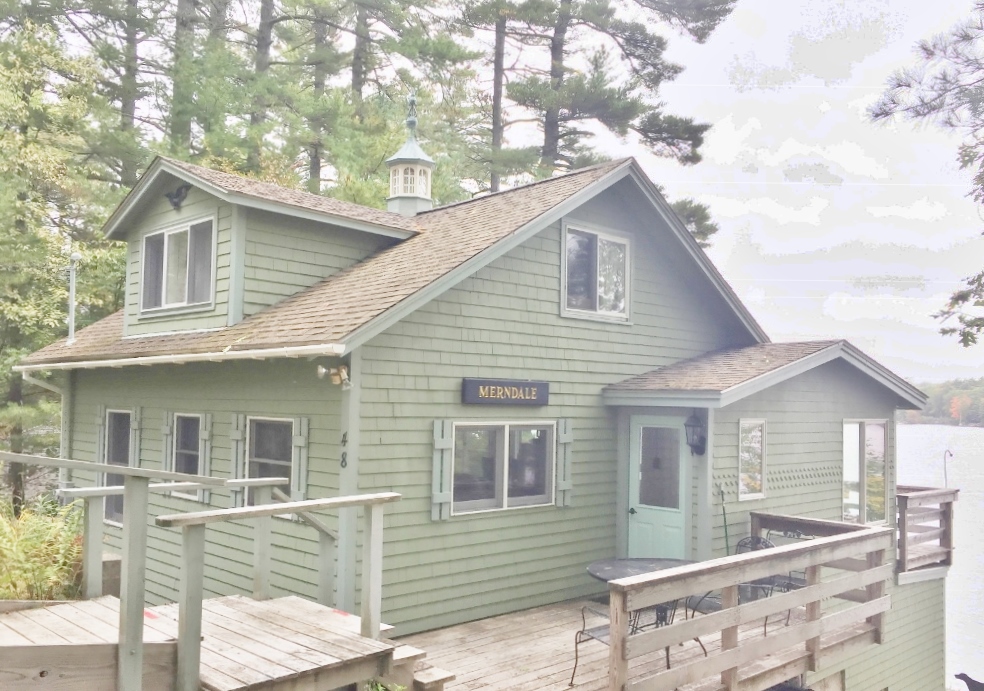 We really do have a British cottage–it just lives on a lake in Maine.  The outdoor recreation there is fabulous but every so often you just have to put the paddle down.  Fortunately our next favorite thing is interior design so we are always tweaking the decor.  And now, at the end of our fourth season, it is really coming together.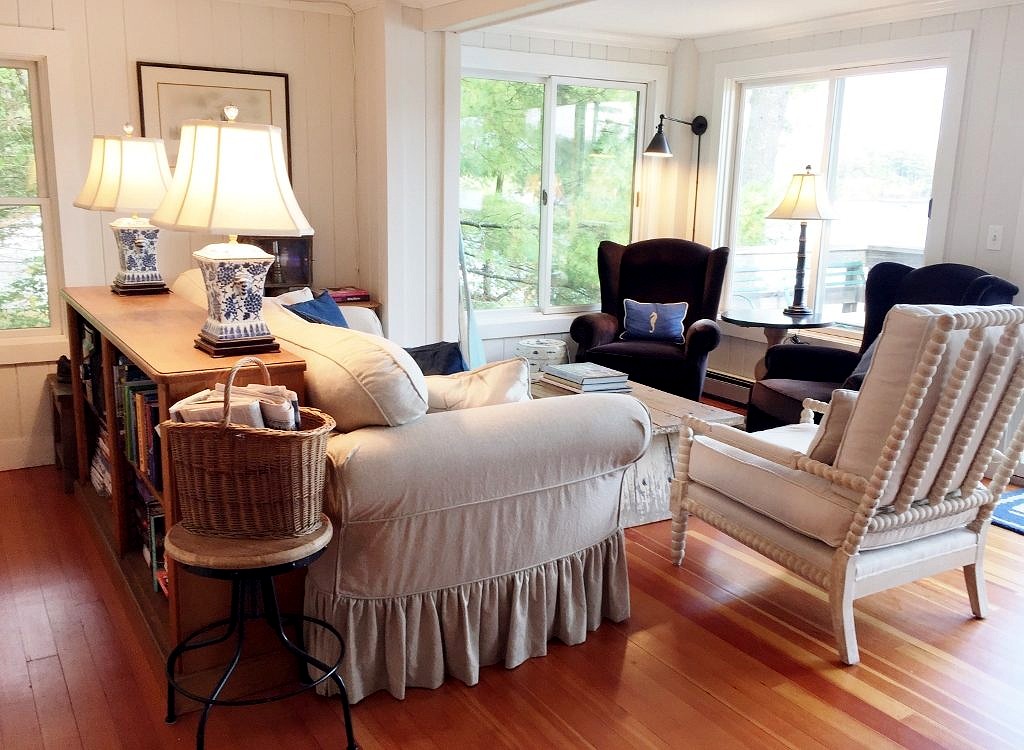 Crammed or cozy–it is a fine line.  But painting the walls and ceilings a luscious BM Dove White makes the rooms seem twice as big and almost airy. Large windows and a super simple color scheme keeps your eyes on the view, which is right where it belongs.  Like living on a boat, it all works because there is a place for everything.  Instead of a console table there is bookcase (from our factory) behind the couch.  The vintage black velvet armchairs add some zip to the room without taking up too much floor space leaving room for an overstuffed slipcovered couch that is perfect for schmoozing–or snoozing.  And we just had to squeeze in a spool chair for balance.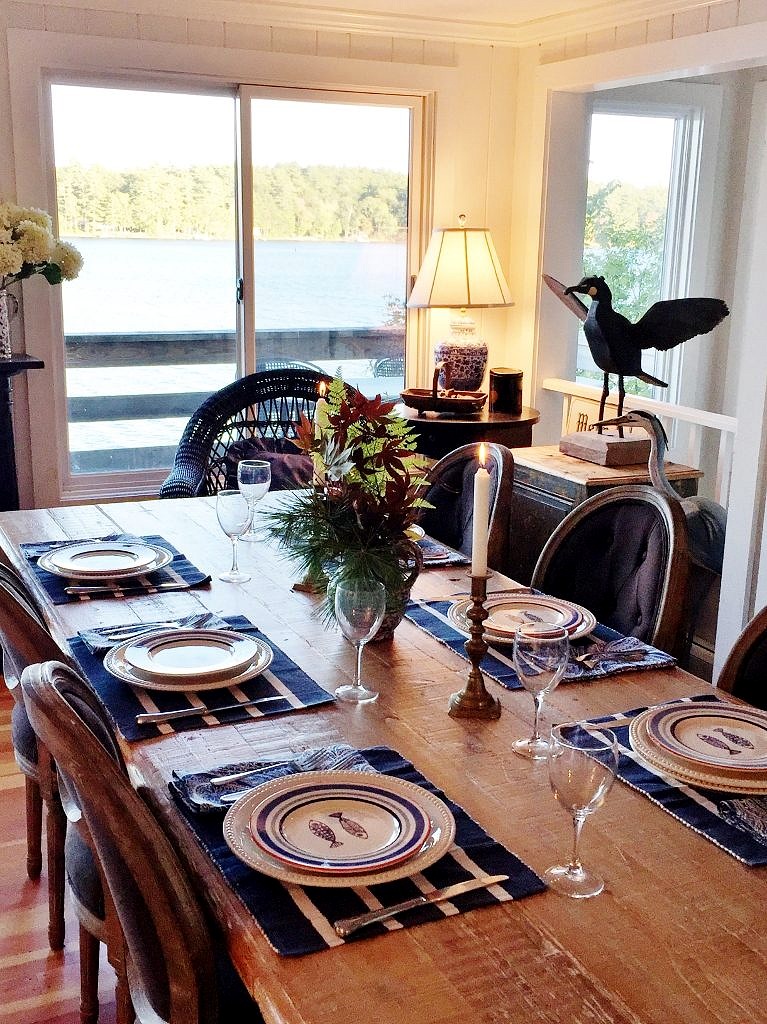 We knew we wanted a large, rustic dining table so we could play games, do puzzles, and fold wash there, as well as dine elegantly.  This one works because the wrought iron base, while decorative, is minimal, making it seem a lot smaller than it really is.  Upholstered chairs might seem an odd choice for cottage living, but I figured if we had a crowd they could do double duty as extra occasional seating.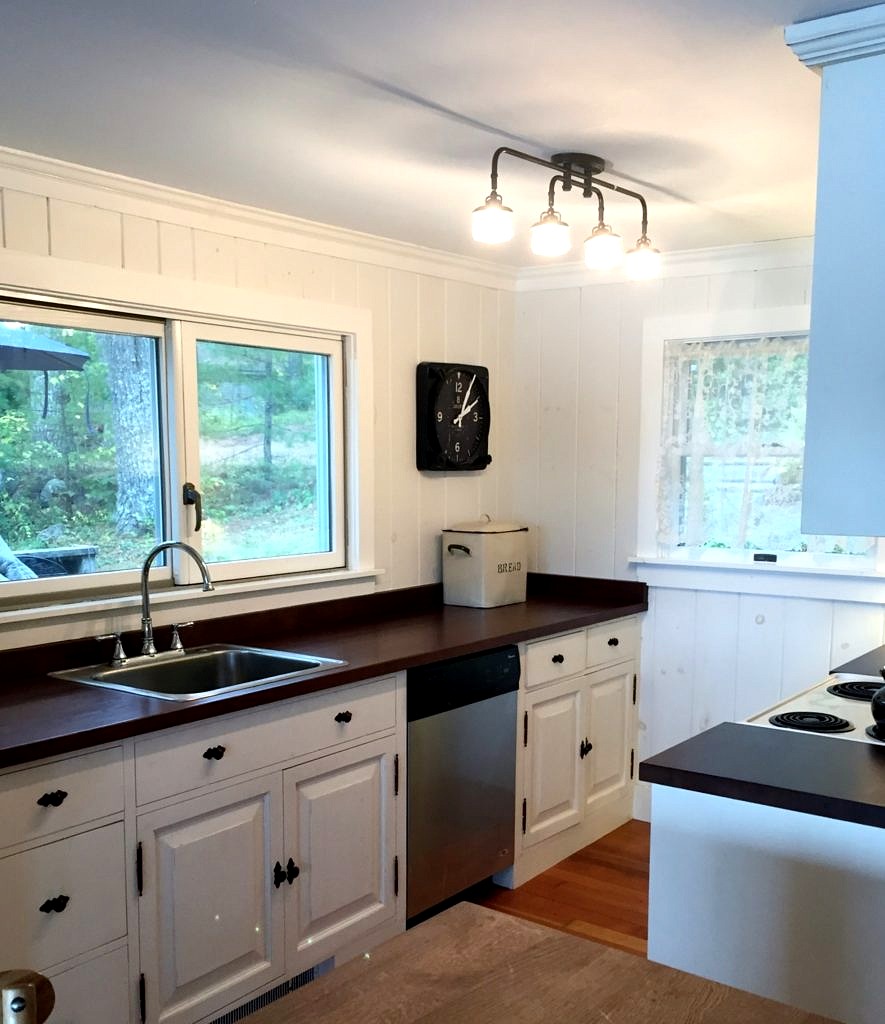 The kitchen was made by the factory in Hungary that makes all of our bespoke furniture.  It is plain and simple and that is the way we wanted to roll.  Dining is important to us, especially when on holiday, but nobody wants to spend time cleaning and fussing.  The two inch thick oak counter tops and painted cabinets are basically spray and wipe which works for me!  The lack of upper cabinets and shelves makes the space feel more open and the fact that everything is put away always makes it look tidy.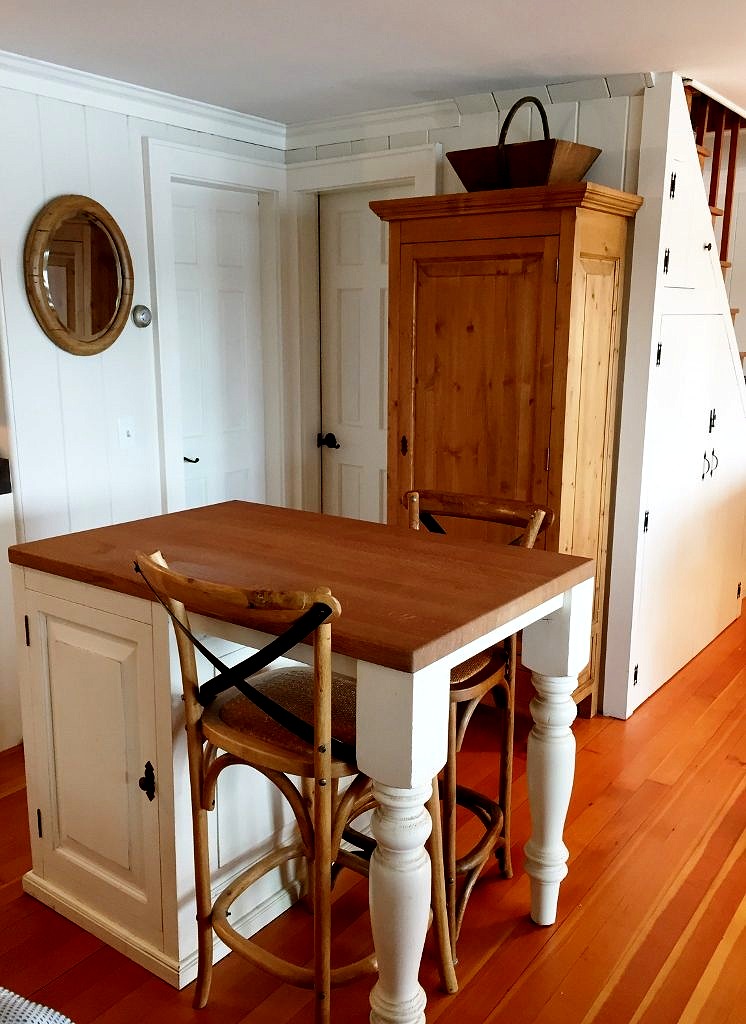 We had just enough room to squeak in an island and a pine pantry cupboard–also from the British Cottage oeuvre.  It is nice to have the extra storage and seating, and space to put things away.  Clutter is the enemy of tight quarters!
The master bedroom is down below the main floor in space that was probably carved out of the basement.  It was paneled in floor to ceiling knotty pine, and it felt like you were living in a man cave from the  1980's.  Once again BM's White Dove came to the rescue.
A king sized British Cottage bed, flanked by brass sconces from Currey and Co along with an antique chandelier make for a cozy, light-filled retreat, which is all I want when I am on holiday.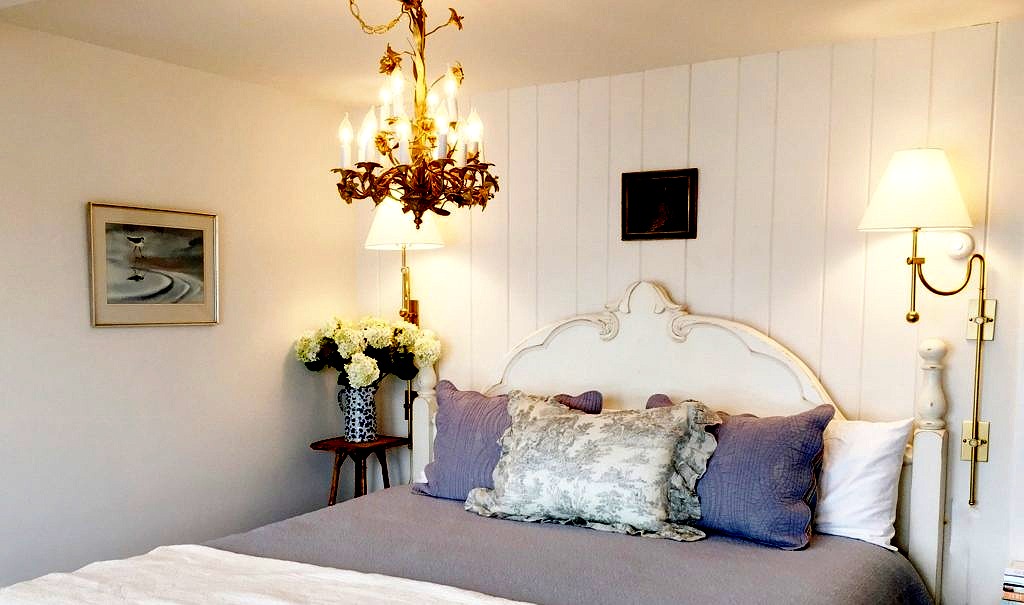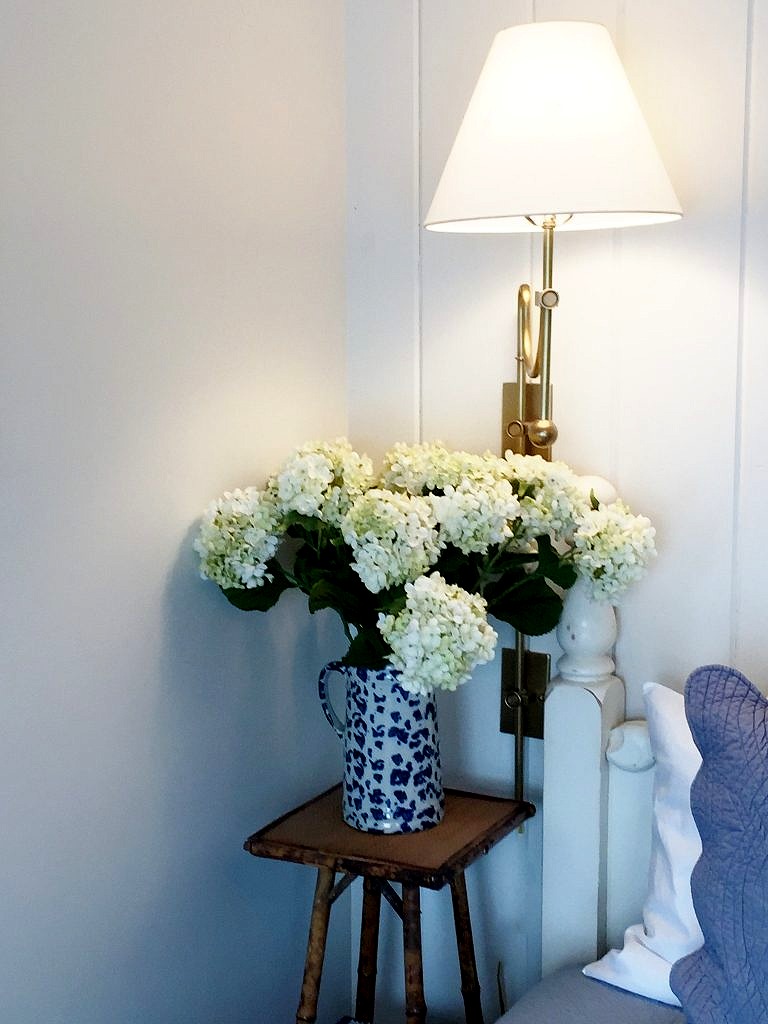 The other furniture in the room is a large antique pine chest of drawers from Hungary–which is big enough to share–and a toile slipcovered armchair that came from Domain twenty years ago.  It is the perfect spot to repair to when the gang is in town.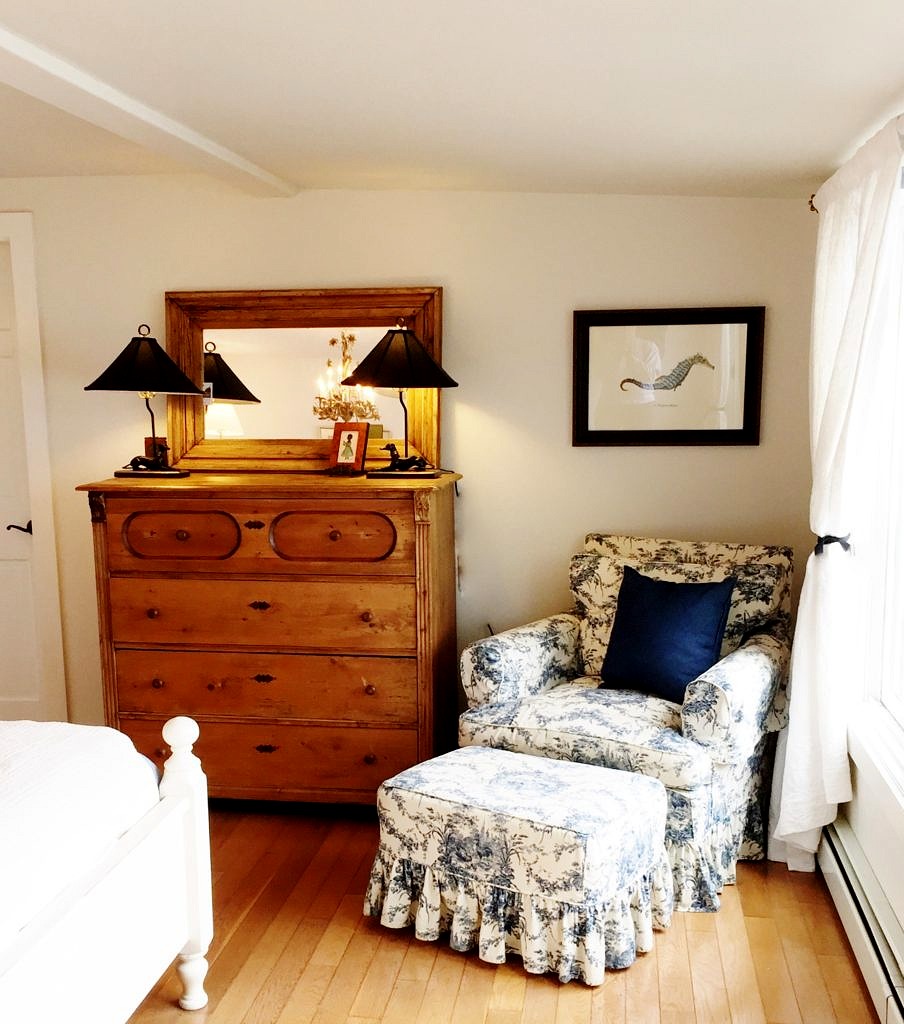 They reside in the loft on the third floor where we have squeezed in a queen bed, a day bed and a regular twin.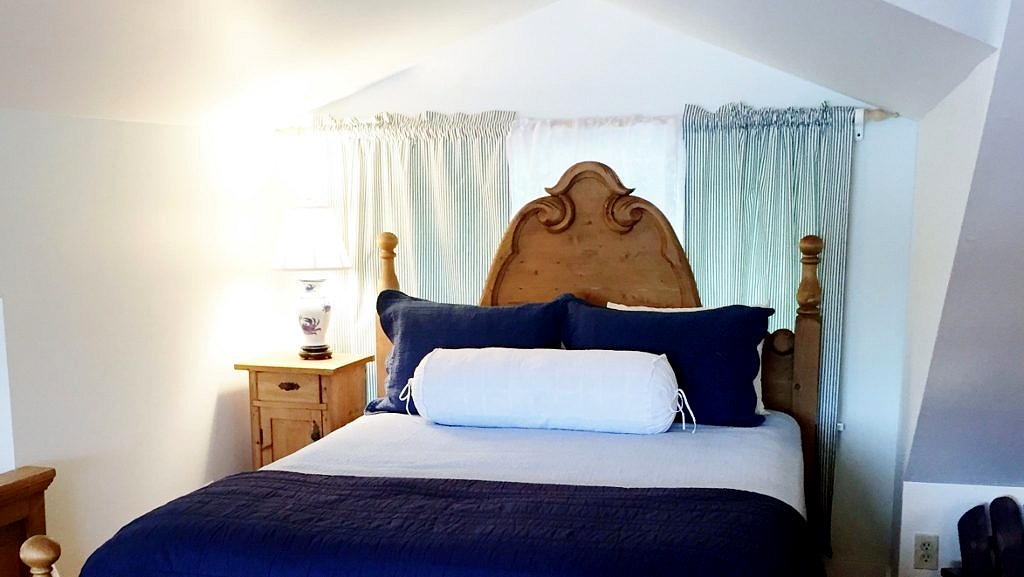 The queen is a British Cottage reject–we were fooling around with changing the headboard shape and it did not come out right.  But all was not lost because it fits perfectly into this alcove with just enough space left for an antique pine nightstand.  We have been selling versions of this for over thirty years and they never fail to deliver.
Our British Cottage twin pine bed with the squared off headboard is tucked away to one side. It makes a fine little nesting place for our six year old grandson.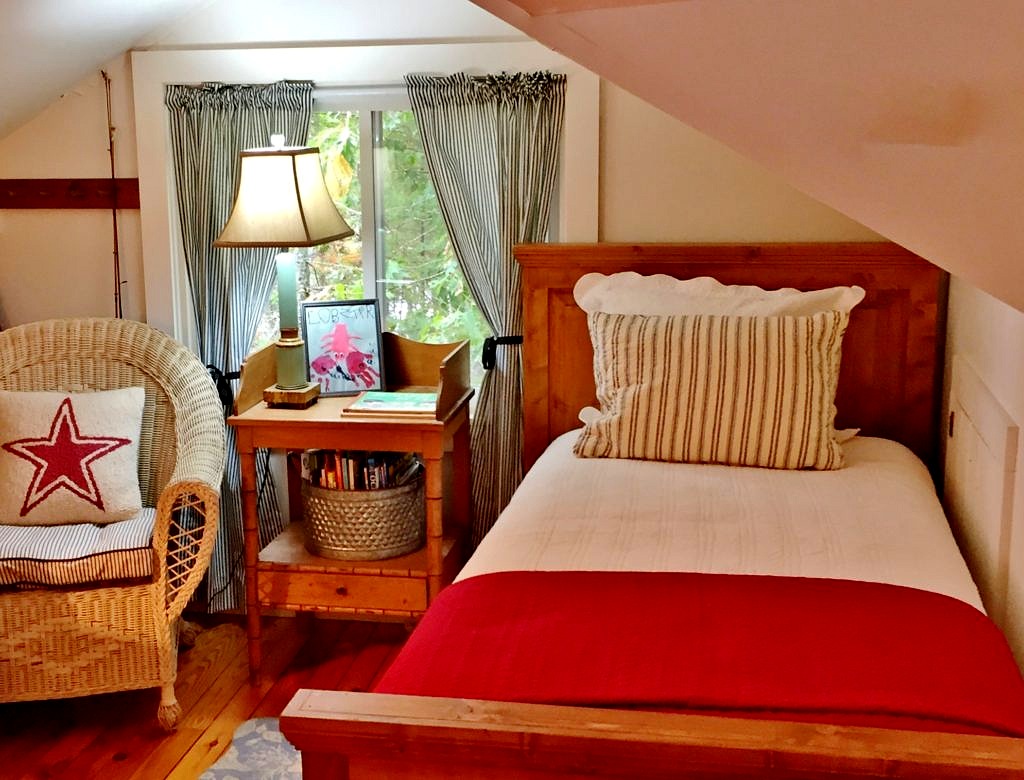 The metal day bed is for his little brother.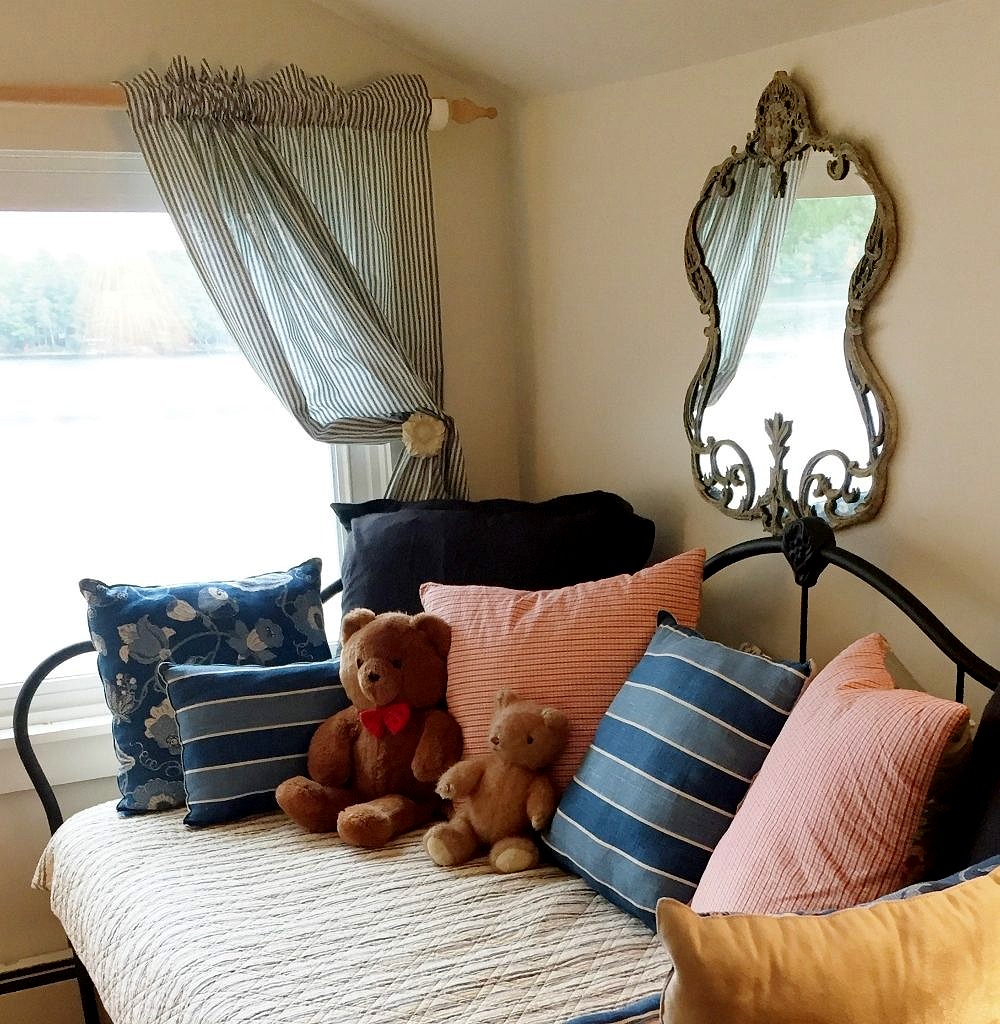 And there is still room for a little office space for me.  Some people don't like to work on vacation but having the internet available 24/7 makes it possible for us to get away as often as we do.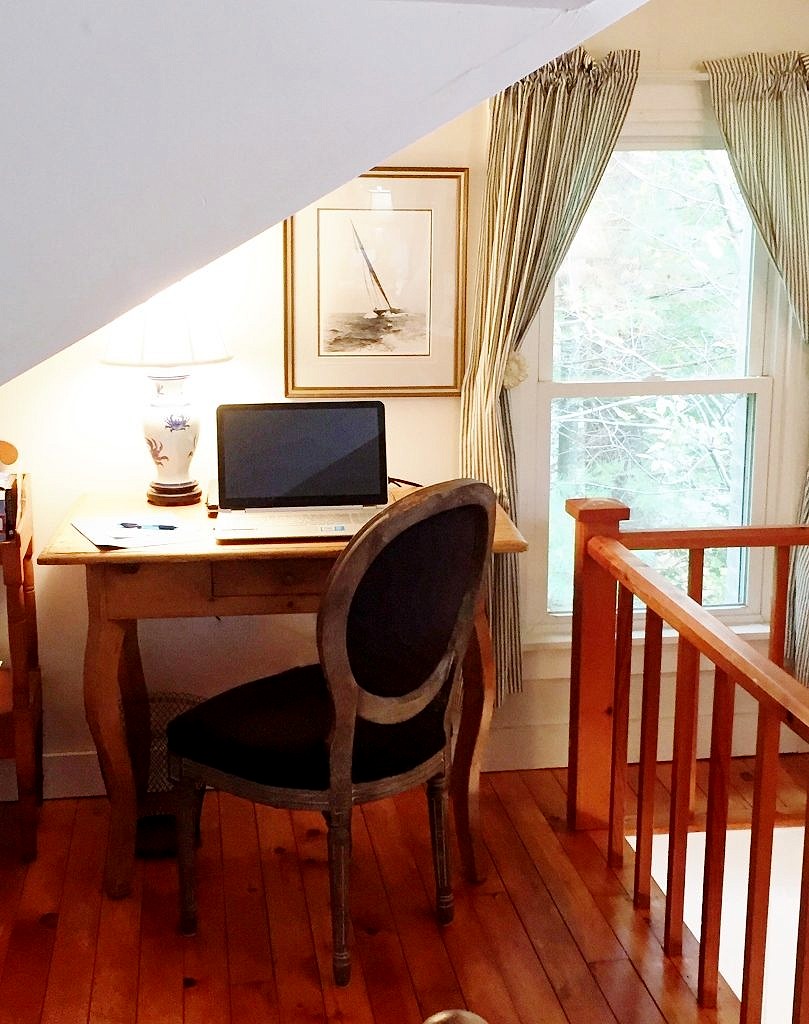 Naturally when in Maine you want to be outside.  But sometimes the rain falls, or the snow drops or the fog rolls in.  Then it is nice to have places to curl up with a good book, sip a cup of strong, sweet tea, or cuddle a small child.  And that is what this cottage living is all about–making time for family, for reading, or even–heaven forbid–a nap!
But soon, always, it is time for dinner.

Mussels Marinara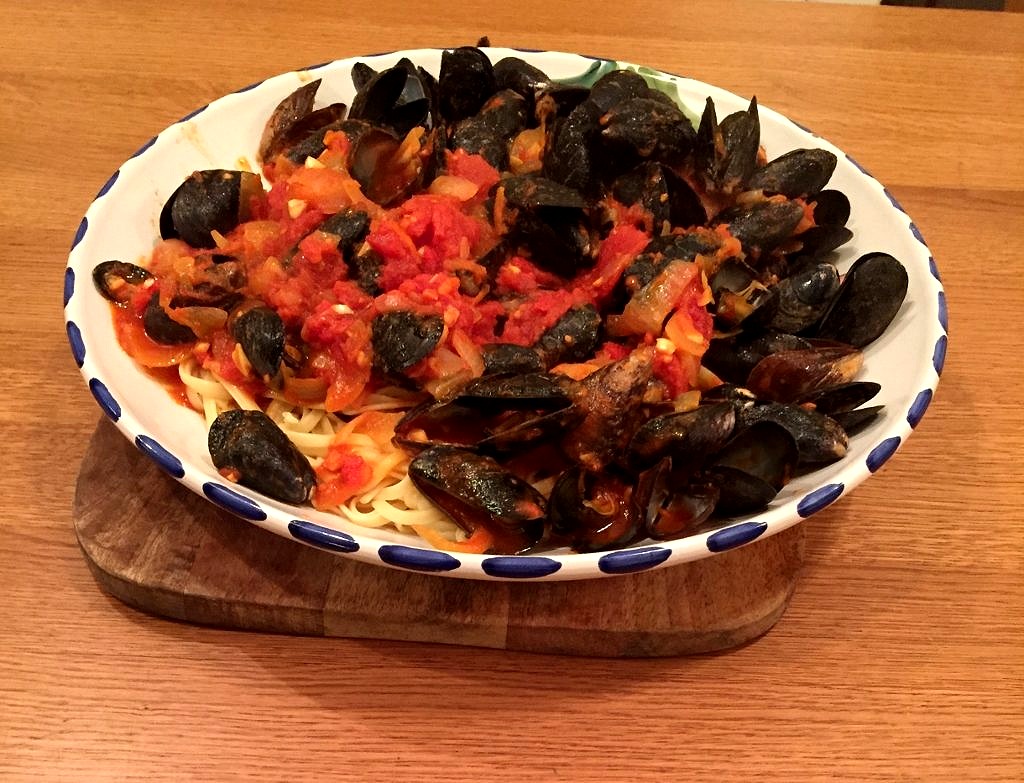 This recipe is for two.  Buy one sack of the freshest mussels you can find.  Then make a marinara sauce–do not use jarred or canned sauce.  If you can buy a prepared sauce, you can make marinara sauce.
Chop up an onion and toss in a saute pan with a glug of olive oil.  Then put in three (or more) cloves of garlic–dice as desired.  Saute until the onion is translucent and add a 28 ounce can of whole tomatoes.  You can chop these up before you put them in a pan but I think that makes a mess so I mostly just squish them with my fingers quickly in the saute pan–before they heat up too much.
If I remember I like to add some grated carrot–you really can't taste it but I think it adds a bit of texture and extra nutrition to the dish.  Red pepper flakes, oregano, thyme, basil–all or none of the above can go in your sauce.  Keep smooshing the tomatoes; I don't mind if they are a bit lumpy.  I might add half a can of tomato paste now also because I want a fairly thick sauce to hang on the mussels. (And I can thin it out later with the liquid left over from steaming my mussels.)
And that is where I differ from many recipes for Mussels Marinara.  I don't like to cook my mussels in my tomato sauce–instead I steam them in a separate pan in a half cup of white wine, a crushed garlic clove, and a knob of butter.  They only need to cook a couple of minutes until the mussels open up.  Strain your mussels, reserving the leftover liquid, and add them to your marinara sauce.
Serve over a warm bowl of hot linquine and garnish with chopped parsley and serve.   I like to add lots of freshly grated parmesan to my portion–but that is clearly a matter of taste–some say you should never sully seafood with cheese.  Either way enjoy!