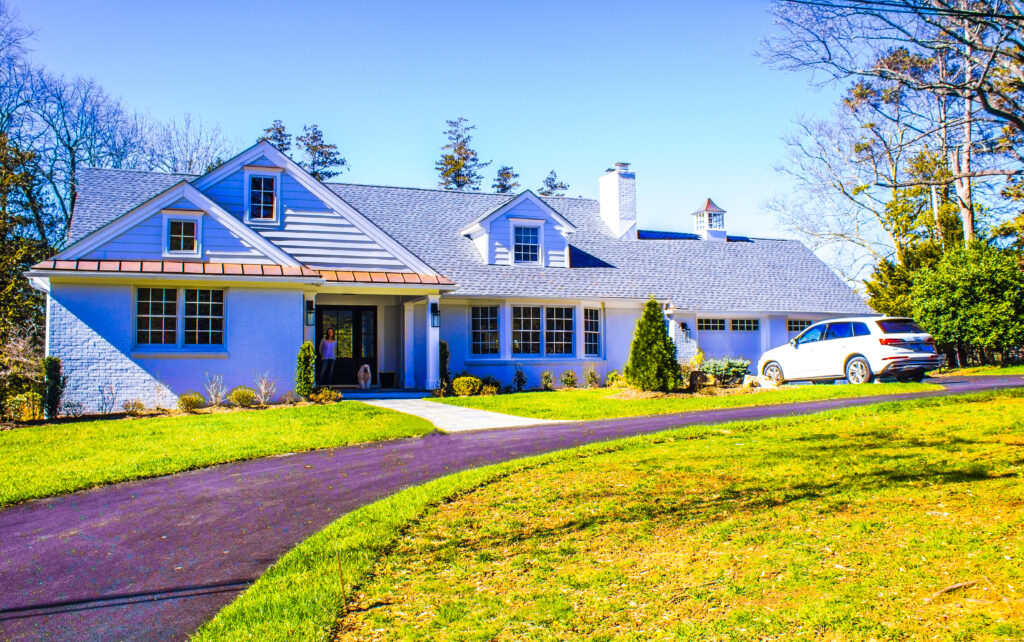 Originally from New Jersey but living west of Chicago and suddenly (it just seems to happen) empty nesters, a nearer-to-retirement couple was faced with a major housing dilemma. Clearly, their home with its thousands of square feet and multitude of rooms was too big for two (heads up: you can get a lot more bang for your buck in the middle of America).
They had tried Florida but that was not floating their boat, and with all their kids happily settled across the heartland–been there, done that– they happened to hear the siren call–of the Jersey shore. Let's face it; it's why we all still live here. There's easy access to the beach, golf enough if you do, only 45 minutes from Newark Airport, an hour from the city, with a temperate climate (especially when compared to Chicago) and with siblings galore already in situ they decided yes, you can go home again.
Making this kind of move mid-Covid was not the easiest but they lucked upon a 60-ish cape on a large corner lot on a little hill in Little Silver and pounced. It needed work–I believe the term is gut renovation–but with the help of their architect, local hero Steve Gassert and the team at Continental Construction, they have a lovely new home in just under a year.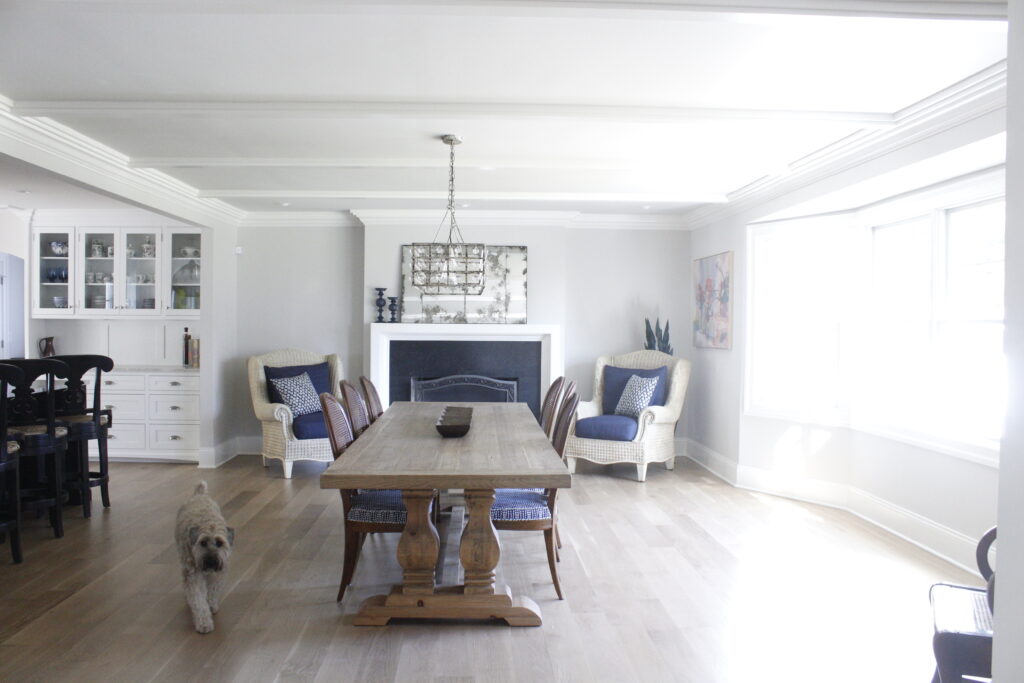 First off they jettisoned the formal living room, combining it with what was a congested kitchen and adjoining laundry room to make one open, unified space. He's the cook with an Italian pedigree so space for family dinners, breakfasts, lunch–you name it–was not negotiable–there had to be room at the table for everyone. And I admit to feeling a bit skeptical when they said this ten-foot table would work in the space but clearly there was nothing to worry about.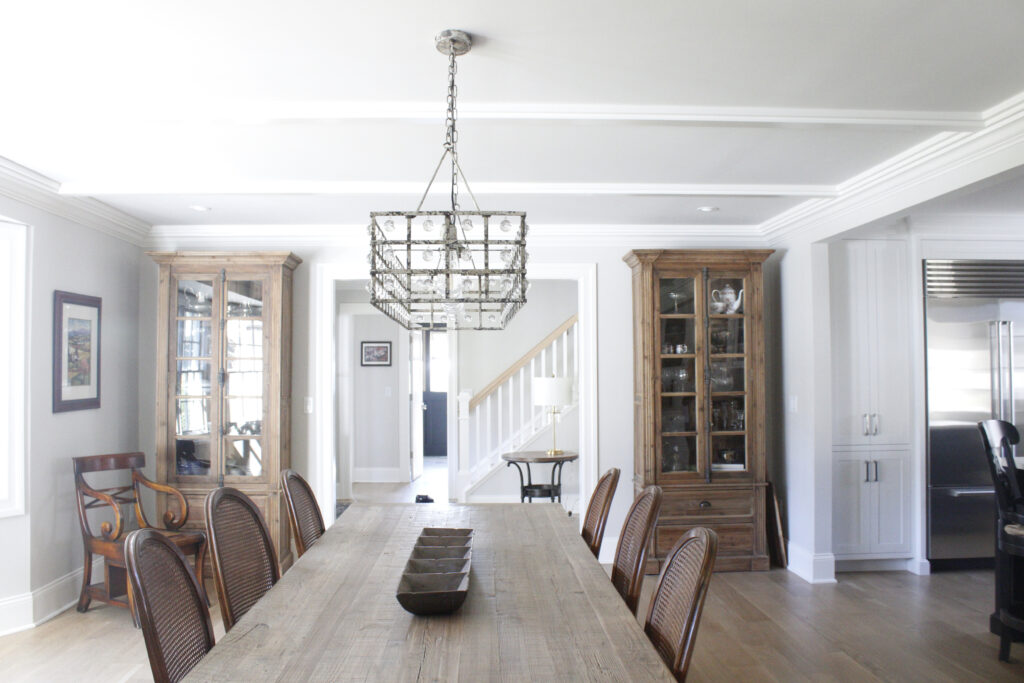 It's tempting to bring the kitchen cabinetry into the dining area for additional storage, but if you can find furniture (like these pine cabinets from British Cottage) you get a decorative boost without sacrificing function.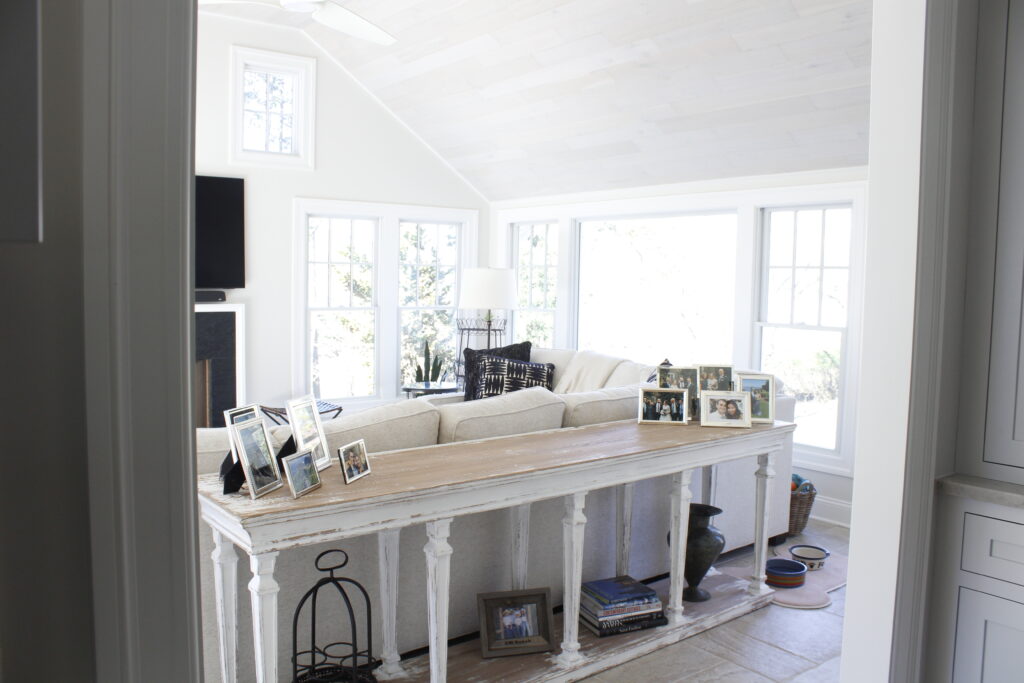 The kitchen was stunning, with a massive island and gorgeous appliances and I apologize for so few photos of it but my eyes were on this generously sized sofa/console from our store. No one wanted to look at the back of the sofa, which is all you saw upon entering what I believe to be a newly added great room, but what size and sort of table would be best in the space? As part of the discussion, it was great to see the solution. There's nothing like a bit of distressed paint to add some charm to a newly built, light-filled room.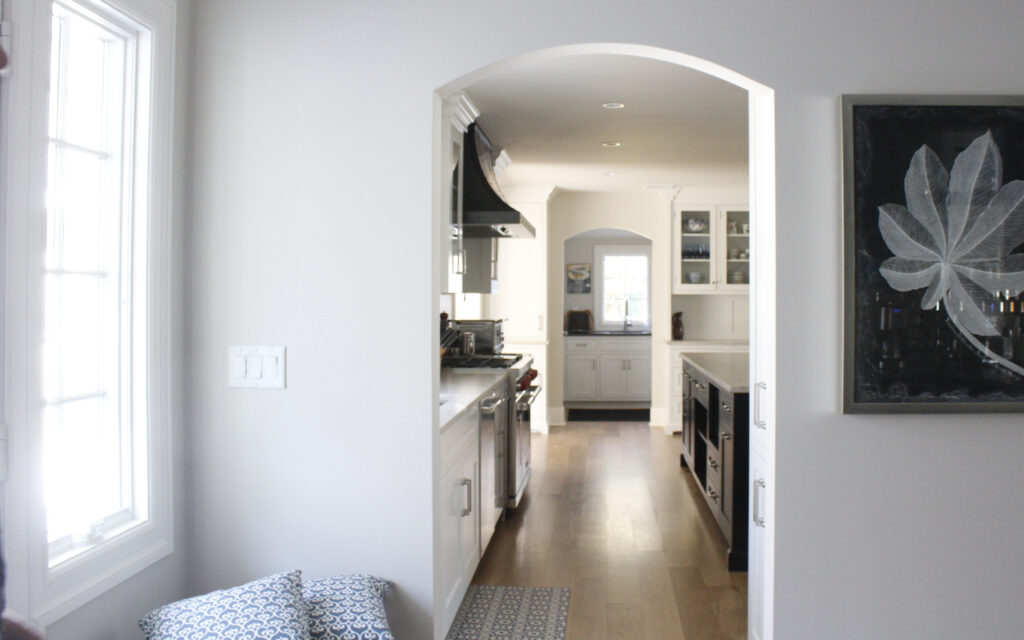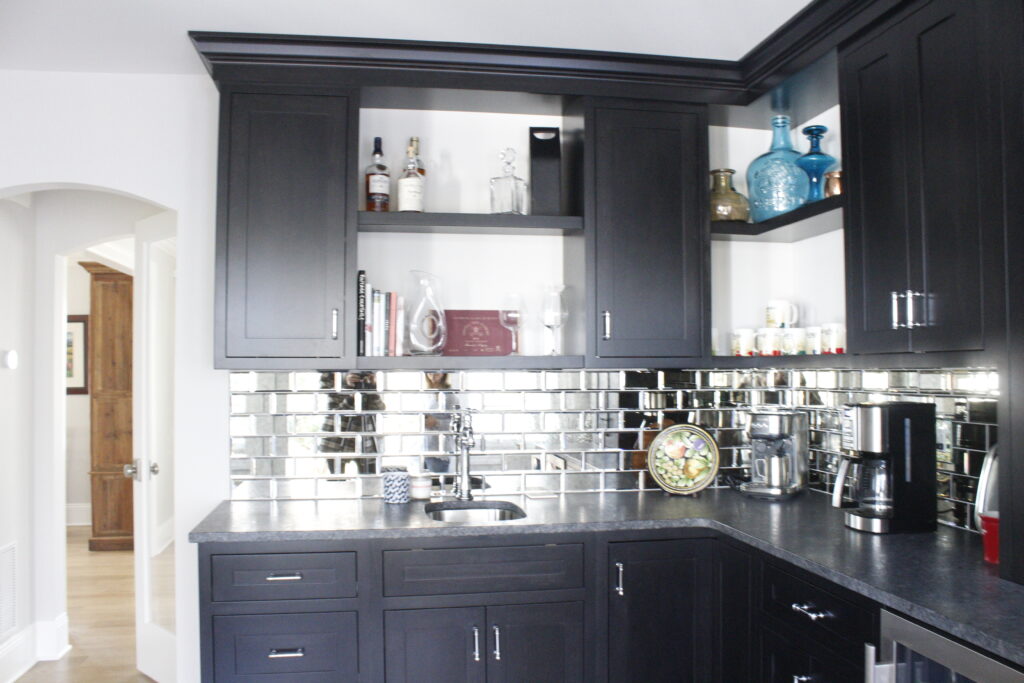 I couldn't stop marveling over this gorgeous pantry/wet bar area. Not that fabulous, state of the art kitchens aren't to die for, but seriously I have never seen anything like this generous space, located right next to the kitchen, just a stone's throw from the dining room, and open to the back veranda. Genius. Not only is it a killer bar, (love that mirrored subway tile) but it also serves as a way station to make entertaining al fresco a breeze!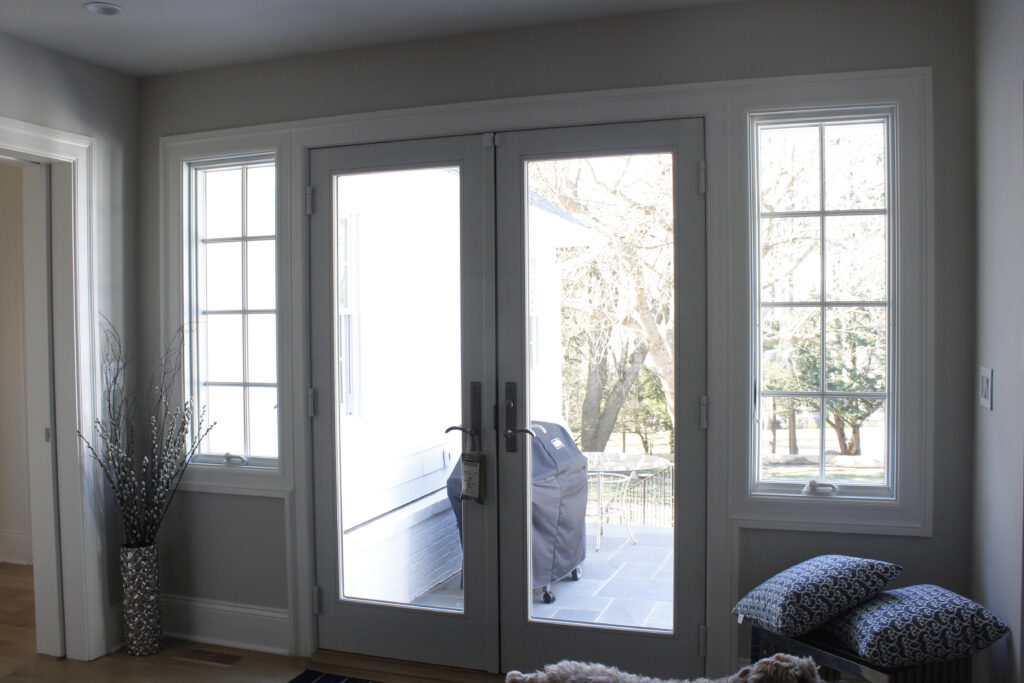 Through the doorway you see to the left is the primary bedroom. While stairs are nary a problem now–it just makes sense to build with an eye toward the future.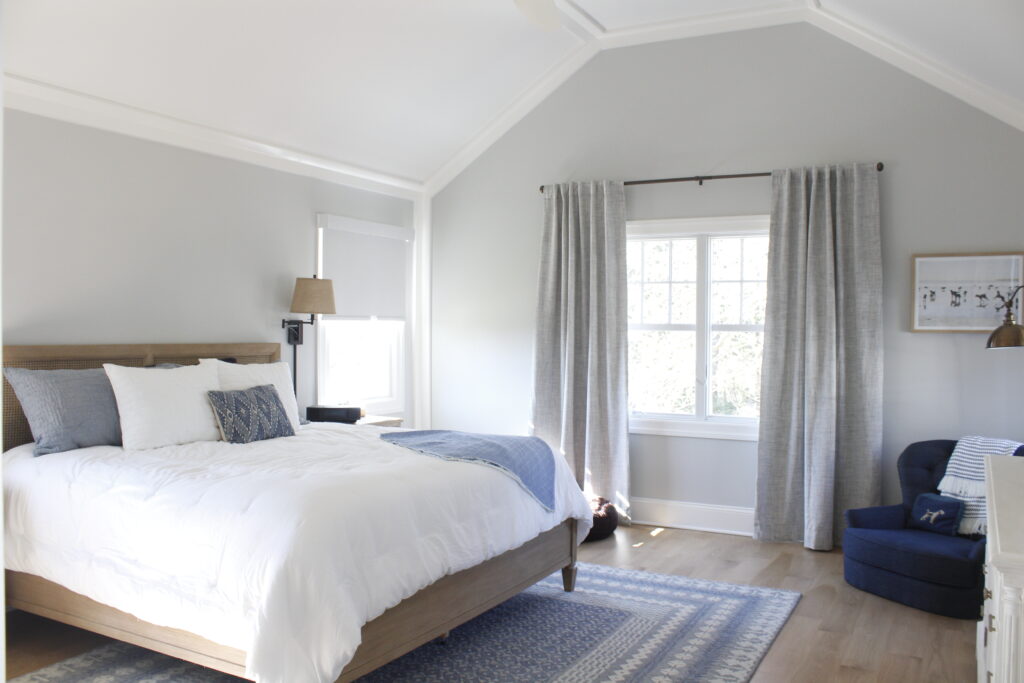 Also vaulting the ceiling here was another great idea–the extra height gives the space room to breathe and adds a spa-like vibe.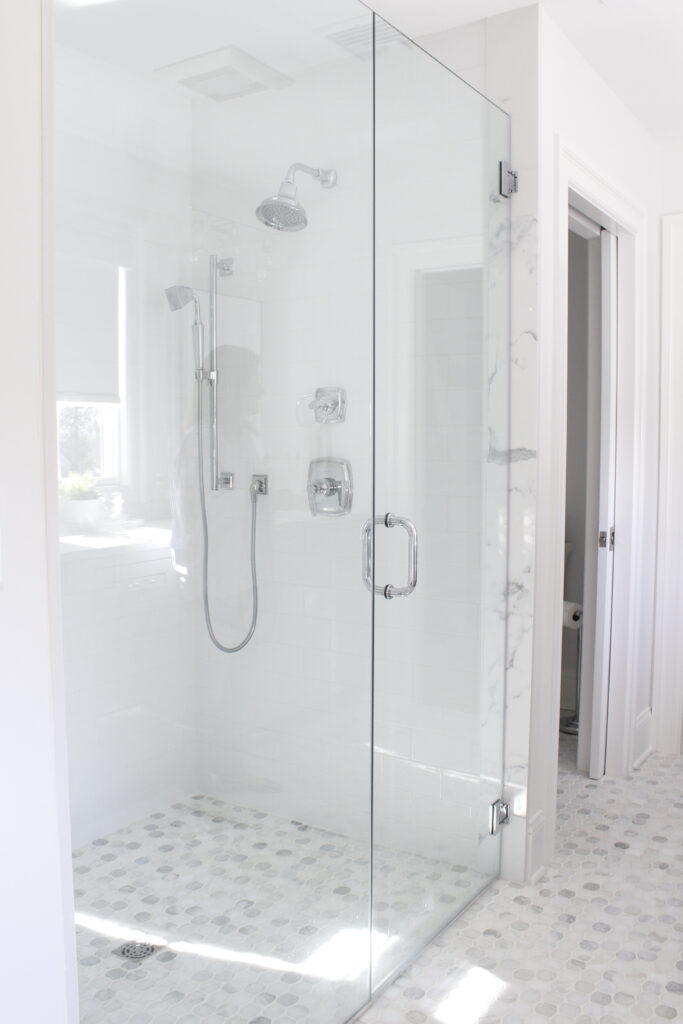 Note how they made the shower accessible–this is just smart. I'll never forget the hurdles Keith's mom had to go through to take a shower when her knees were shot. She was living in senior housing in England, built for seniors, but the shower was in a bathtub. What were they thinking?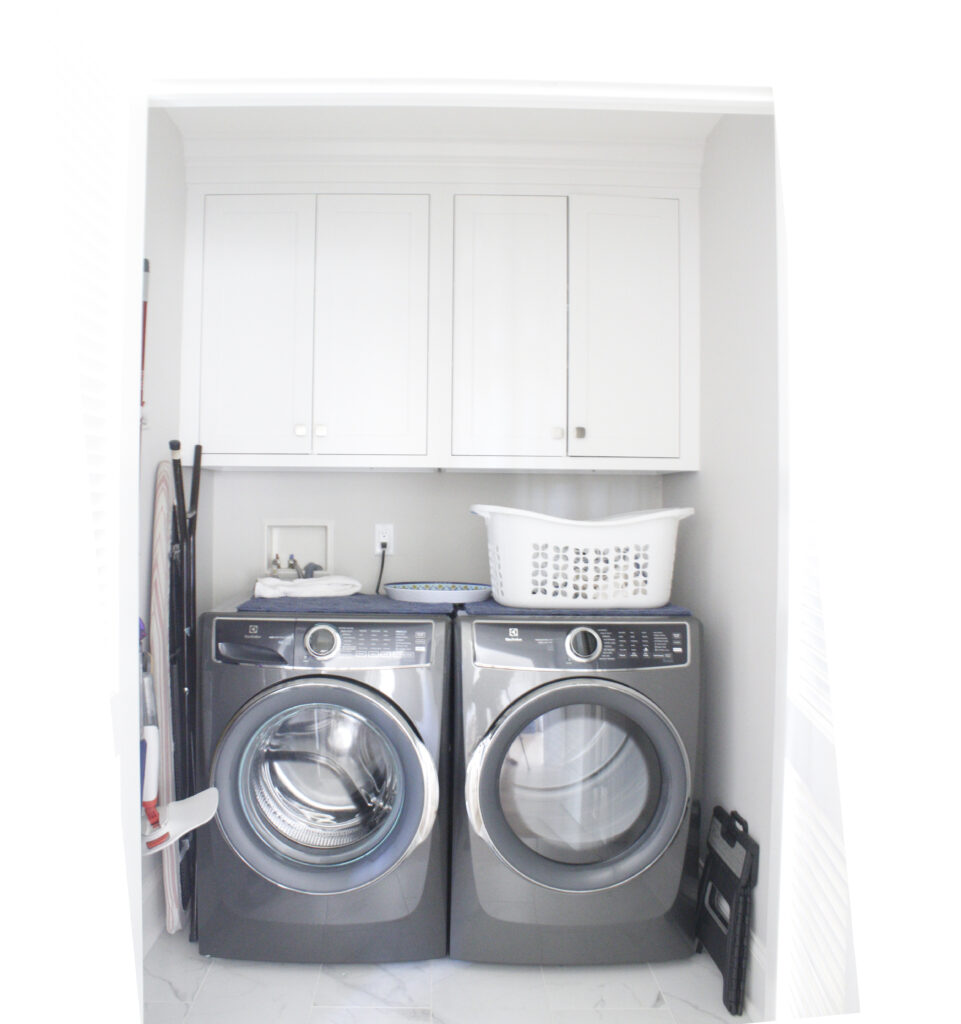 Often I am underwhelmed by the space that is dedicated to laundry rooms these days. I mean the wash goes in the washer, over to the dryer, and back in your drawers. Here the equipment is neatly tucked away in a closet adjacent to the primary bedroom–and home of the primary laundry doers. Perfect.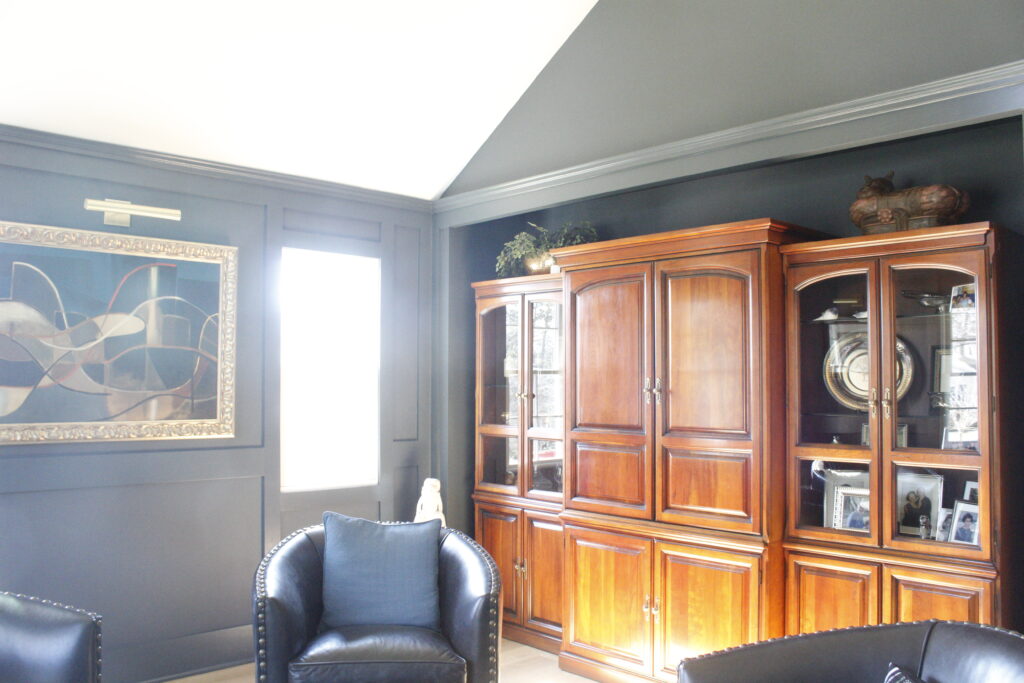 Yet another good idea is this media room/den. Sometimes someone wants to watch football and someone else wants to sip scotch, read a book, or drink tea-toute seul. It's nice to have separate, adult spaces for adults.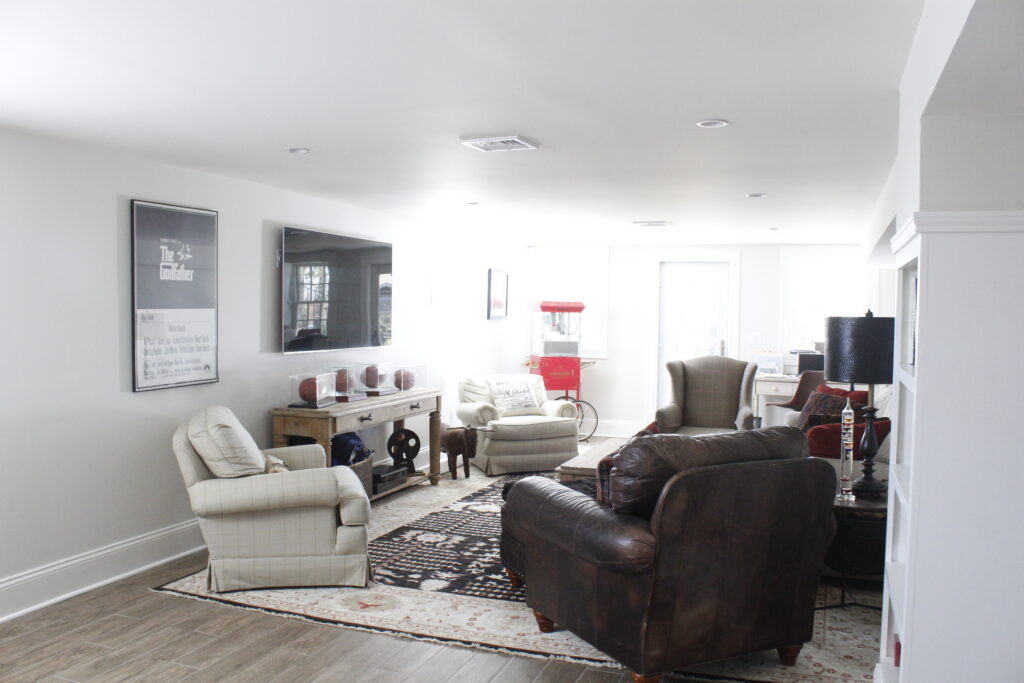 It's even better to have a whole, walk-out basement for when the young adults visit and all the cousins come over. Not to mention it's a handy space to have with a drummer in the house; it's the perfect place to practice without rattling your spouse–too much.
With two more en suite bedrooms upstairs, it's amazing how large this house lives in its deceptively small footprint. In terms of square footage, it might be a big downsize from their old house in Illinois, but in terms of amenities, it gets five stars.
Although the true test of any blog is the recipe I always ask for, a selfish play to enlarge my repertoire as I grow older and tired of almost everything I already know how to make. This could be just the thing for Easter morning. (Via the Food Network Kitchen.)
Coconut-Almond French Toast
The buttery coconut-almond crust makes this French toast casserole truly special and offsets the creamy, fluffy texture of the bread. You'll want to assemble the dish the day before to give the bread time to soak in the custard.
Ingredients
French Toast:
Unsalted butter, for greasing dish
9 slices Texas Toast or other thick-sliced bread
6 large eggs
3 1/2 cups half-and-half
5 tablespoons granulated sugar
1 teaspoon pure vanilla extract
1/2 teaspoon ground cinnamon
Pinch of salt
Coconut-Almond Crust:
1/2 cup plus 3 tablespoons sweetened coconut flakes
1/3 cup plus 1/4 cup sliced almonds
5 tablespoons granulated sugar
5 tablespoons all-purpose flour
Pinch salt
6 tablespoons unsalted butter, softened
1 large egg plus 1 large egg yolk
Confectioners' sugar and berries, for garnish
Directions
Preheat the oven to 300 degrees F. Lightly butter a 9-by-13-inch casserole dish.
For the French toast: Lay the bread slices in one layer (it's OK if they overlap a little) on a baking sheet. Bake the slices (to dry them out a little) for 6 minutes, then flip and bake for 6 minutes more. Set aside to cool.
Whisk together the eggs, half-and-half, granulated sugar, vanilla, cinnamon, and salt in a large bowl. Dunk each bread slice in the egg mixture to coat thoroughly and shingle the slices in the buttered casserole dish. Pour any remaining egg mixture over the bread. Cover the dish with plastic wrap and refrigerate for at least 6 hours or overnight.
For the coconut-almond crust: Put 1/2 cup of the coconut, 1/3 cup of the almonds, granulated sugar, flour, and salt in a food processor and process until very fine. Add the butter, egg, and egg yolk and process well to form a smooth paste.
To assemble the casserole: Preheat the oven to 350 degrees F. Spread the coconut-almond mixture evenly over the soaked bread slices. Top with the remaining 1/4 cup sliced almonds and 3 tablespoons coconut and bake until puffed and lightly golden and the custard is set (the center of the casserole will no longer jiggle when shaken), 45 to 50 minutes. Allow to cool for 1 hour before serving, or serve at room temperature.
Serve with a sprinkling of powdered sugar and berries if using.