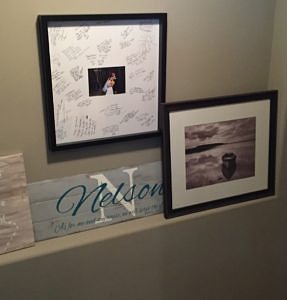 I'm pretty sure the last thing my son and daughter-in-law expected was for me to write about their house after we visited them last week in deepest Nebraska.  With a three week old infant, a toddler and a proud kindergartener just getting three meals on the table and everyone dressed in the morning is challenging enough.  No one has the time, or the inclination to worry about home decor at this stage. But hey, I liked their house so much I couldn't resist.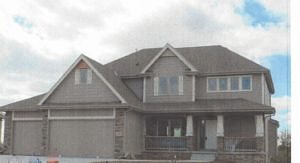 Built just last year in a subdivision outside of Omaha, my immediate thought when I learned of the purchase was great, ho-hum Midwestern tract housing-does it get any worse that that?  Well I could not have been more wrong.  Not only does their house have great curb appeal (even in this photo I cribbed from Zillow), with a lovely stone foundation, rocking chair ready front porch and an interesting roof line.
But also the interior is just as nice with exactly the right amount of architectural details, a thoughtful floor plan, hardwood–not engineered flooring and although not huge, very spacious.  In fact their house amazed me by how livable it was and I realized how having a house that is actually designed for the people living in it, a twenty first century family, makes their life a whole lot easier.
My homes have always been old, requiring tons of imagination, effort and cold hard cash just to make them function. We've turned porches into playrooms, attic space into master bedrooms, added bathrooms and laundry rooms, jacked up sinking garages, and waterproofed basements. We have enjoyed making our houses into homes but we have never had a house that was designed for a modern family.
Our first two houses had detached garages designed to stable the horses! The next house had an attached two car garage in which you could squeeze in maybe one mid-size auto but certainly not two trucks like their house does with its three large car attached garage.  Whoever thought of that was brilliant–space for two plus-sized family cars and all the bicycles, toddler vehicles and lawnmowers.  You, and your spouse, can actually park your cars in the garage and walk straight into the house.
Then you enter an ample mud room and off come the shoes, and jackets, purses and back packs get hung.  Not rocket science but still…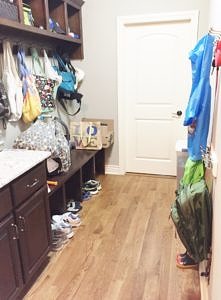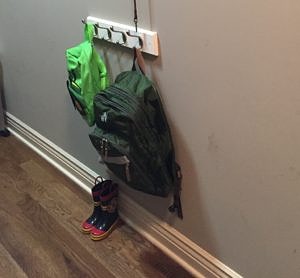 Next up is the kitchen.  Not huge, but with a center island, double ovens, a plus size fridge, a walk in pantry, and still room for a kitchen table, all you could wish for.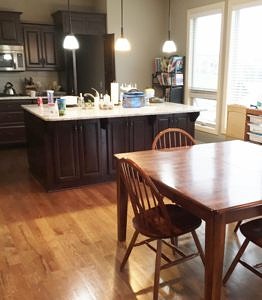 And I loved that there was another, separate dining area. Home office by day for the modern working mom, but just steps from the kitchen to make entertaining a breeze, and a bit more elegant than sitting on top of the actual work space.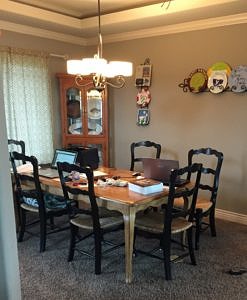 There is no formal living room.  The space off the kitchen is the family room with tv and just enough toys and books to keep the kids busy but not so many that they can't be quickly put away when bedtime approaches or company is coming.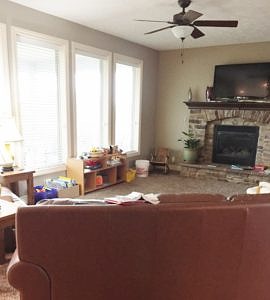 Wisely they opted to finish the walkout basement adding carpeting, a bedroom and a full bath.  Perfect for visiting grandparents and perfect for two little boys stuck inside on summer days when the temperature is over 100 or in the depths of winter when snow and ice reclaim the prairie.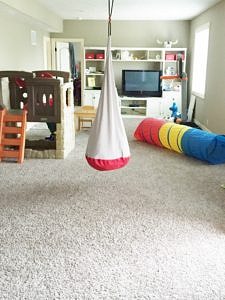 Upstairs there is a master bedroom suite with a fireplace, sitting room (where the treadmill sits), master bath and walk in closets, then three more bedrooms and an upstairs laundry room.  Here is our newest baby modeling the upstairs quest room with all its fabulous British Cottage furniture.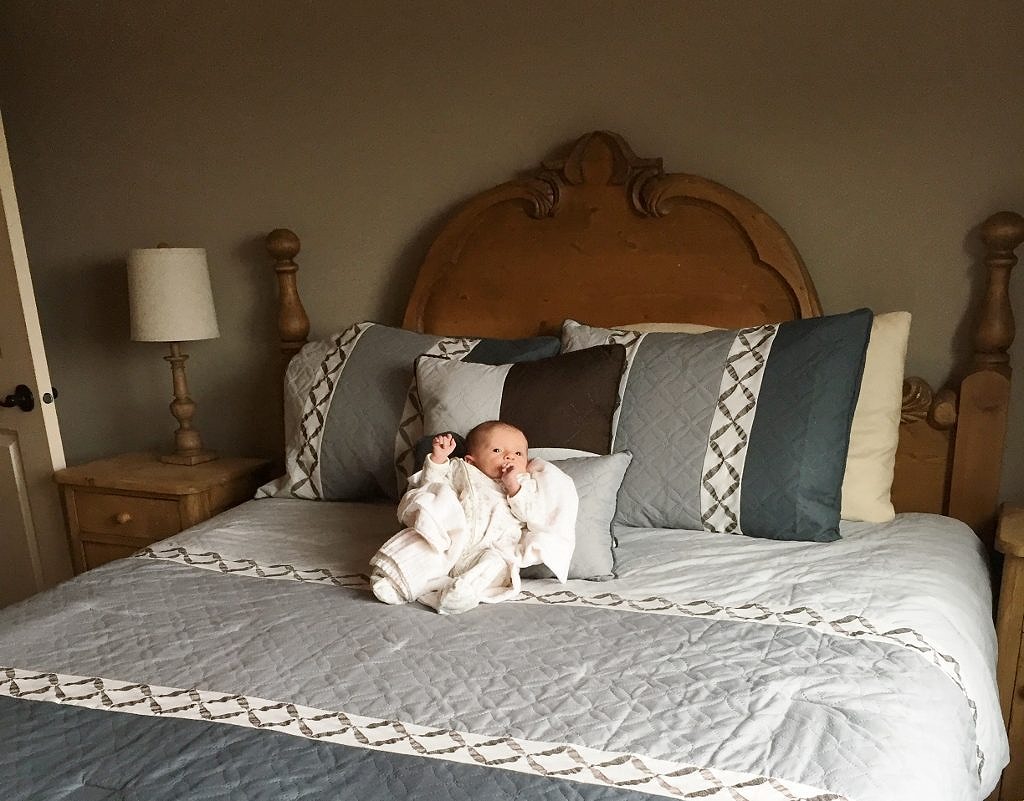 Now, what do you eat in Omaha?  Steak of course.
T-Bone Steak Dinner
Sprinkle T-Bone steaks from your Uncle's farm in South Dakota with salt and pepper and grill. Serve with baked potatoes topped with sour cream and fresh chives, and the last of the carrots from the garden roasted in the oven.
Super!