My clients were devastated to find out that their deposit was being returned and what they thought would be their new, forever home in Sea Girt was sold to someone else. "Sue"! we cried and, trust me, they did consider it but in the end, they bought a vacant lot nearby, hired their own contractor, and built their dream home–their way.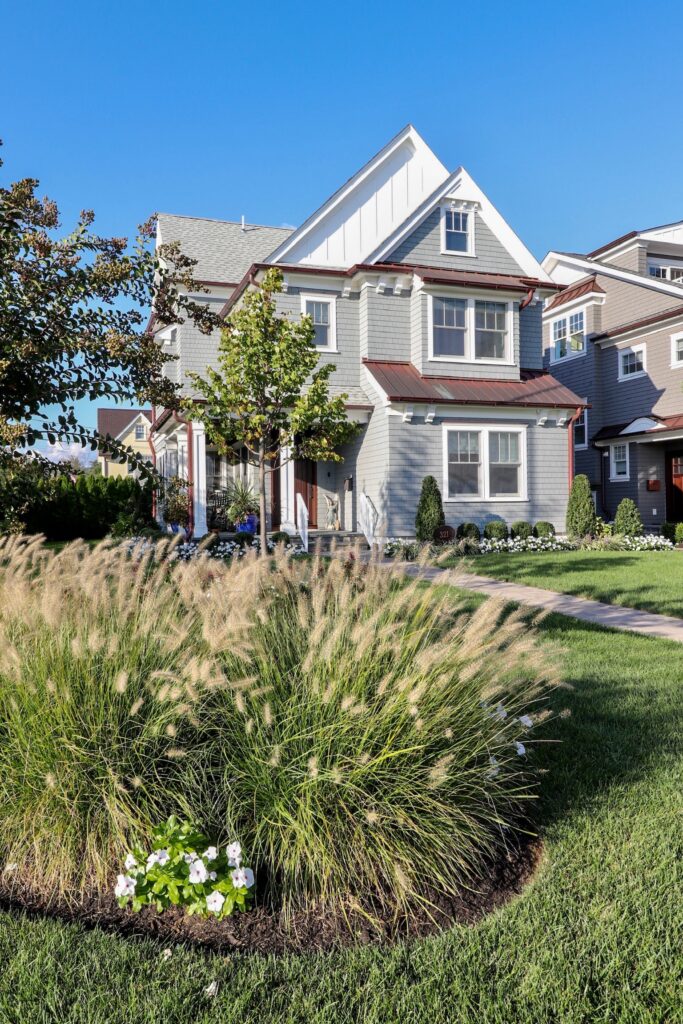 For those of you not in the Jersey Shore loop, Sea Girt is a teeny tiny town of barely one square mile tucked between Spring Lake and Manasquan and the Atlantic Ocean, and only 2000 exceedingly lucky people get to live there. The borough is a lovely seaside community with oodles of small-town charm and scenic beauty–think Nantucket–except you don't need a ferry to get there.
Needless to say land does not come cheap in Sea Girt and if you are fortunate enough to snag a building lot you have your work cut out for you trying to maximize a whole lot of living in a relatively small footprint. Here, I think, getting a corner lot was key and the double exposure that ensures the house is bathed in natural light throughout the day. This is a definite plus because the owners wanted a home to showcase their art almost as much as they wanted one for themselves and good lighting was essential to the plan.
Their intention all along was to shed the Victorian furnishings, oriental rugs, and vintage tchotchkes from their prior abode and start anew with a cleaner, more modern aesthetic featuring American artistry and craftsmanship. So from the moment, you walk through the front door and into the spacious foyer (with ten-foot ceilings and stunning crown moldings) you are surrounded by art.
Not just paintings, but also the lighting and the case goods are all artisan-made. The chandelier comes from Hubbington Forge a company based in Castleton, Vermont noted for its iconic designs, innovative technology, and uniquely American craftsmanship. Meanwhile, the console table is just one of many items in the home created by Huston and Company (makers of fine custom furniture in Kennebunkport, Maine) expressly for this home.
Ok, ok I get it; you are asking yourselves so what the heck did British Cottage have to do with all this bespoke, all-American craftsmanship brief? Well, besides acting as moral support (it is daunting to build and furnish a new home) and a sounding board (there are countless design decisions from the stain on the floors to the paint on the walls to ponder) we provided all the upholstered furniture for the new house.
As most of you should know by now we work with Century and Hickory White Furniture, manufacturers of some of the best furniture made in America today. Where hardwood kiln-dried frames, eight-way hand-tied springs, and custom seat cushions that are a patented mix of down, foam, and springs (so you have bounce without pancakes) are standard. In upholstery it's what's inside that counts so don't be fooled by a pretty package–you have to check under the hood!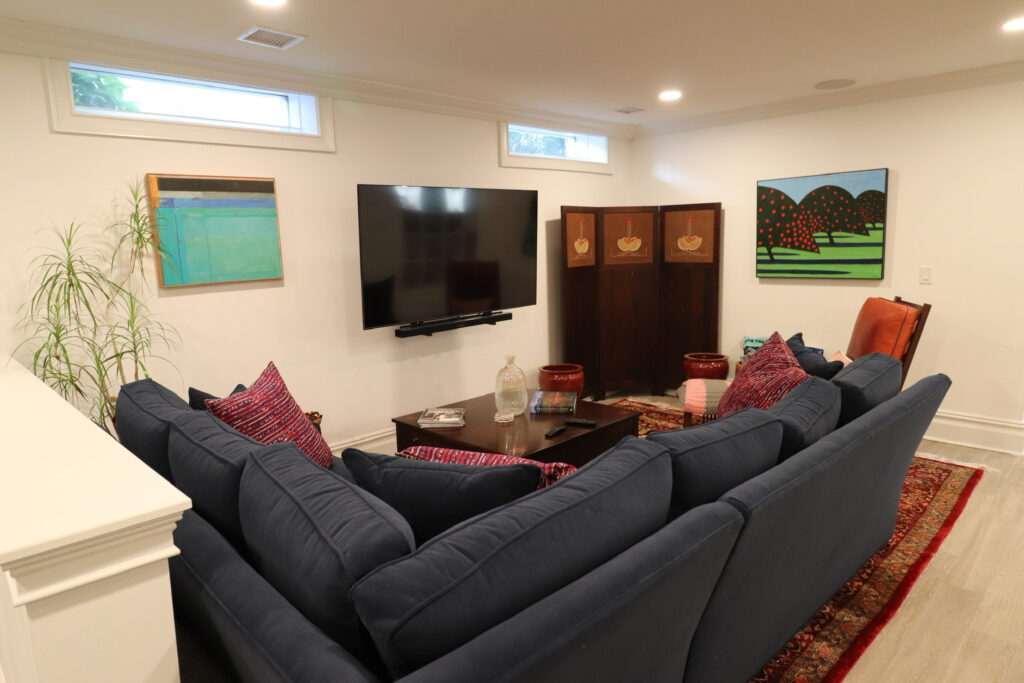 From the sectional in a navy Crypton by Century in the lower level media room to the Hickory White armchair in the master bedroom you'll find something from British Cottage on nearly every floor of this four-level home (yes Virginia, there is an elevator).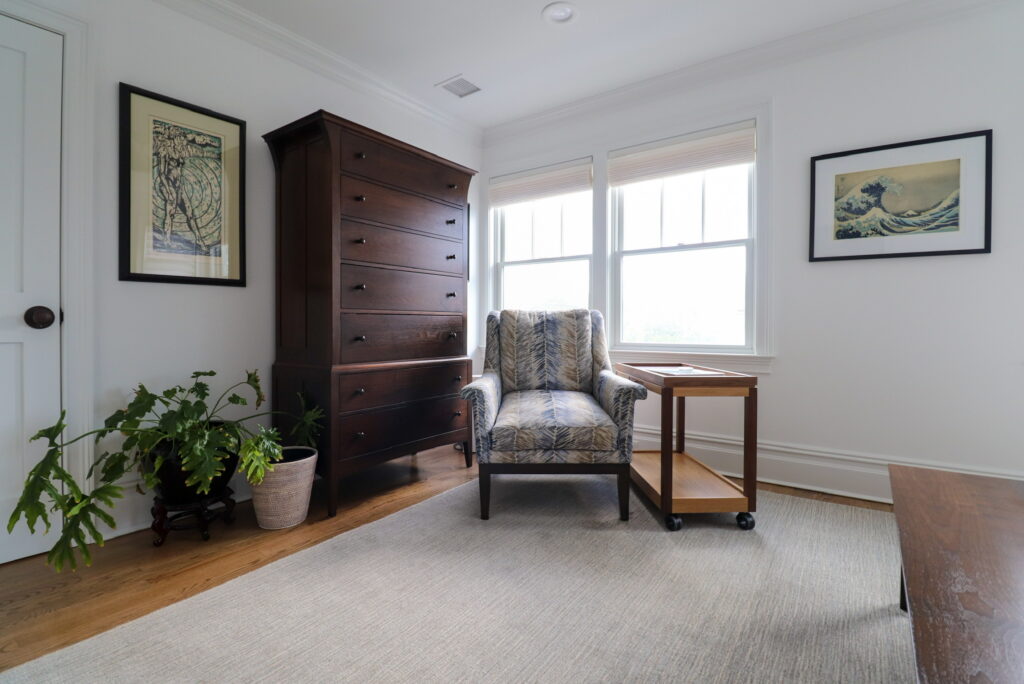 Clearly, this upholstered armchair by Hickory White in the master bedroom is lovely. But note how it complements not only the fabulous chest on chest in solid American walnut from Huston and Company but also the Japanese woodblock print by Japanese ukiyo-e artist Hokusai. Pretty eclectic and super fun.
Then, in an interesting pivot reflecting the homeowner's penchant for things Scandinavian, there is a ground-floor guest room with a Gustavian-inspired four-poster bed (from Century furniture). I'm all in! I've tried and tried again to shoehorn this bed into my own master bedroom but my eaves get in the way. Darn.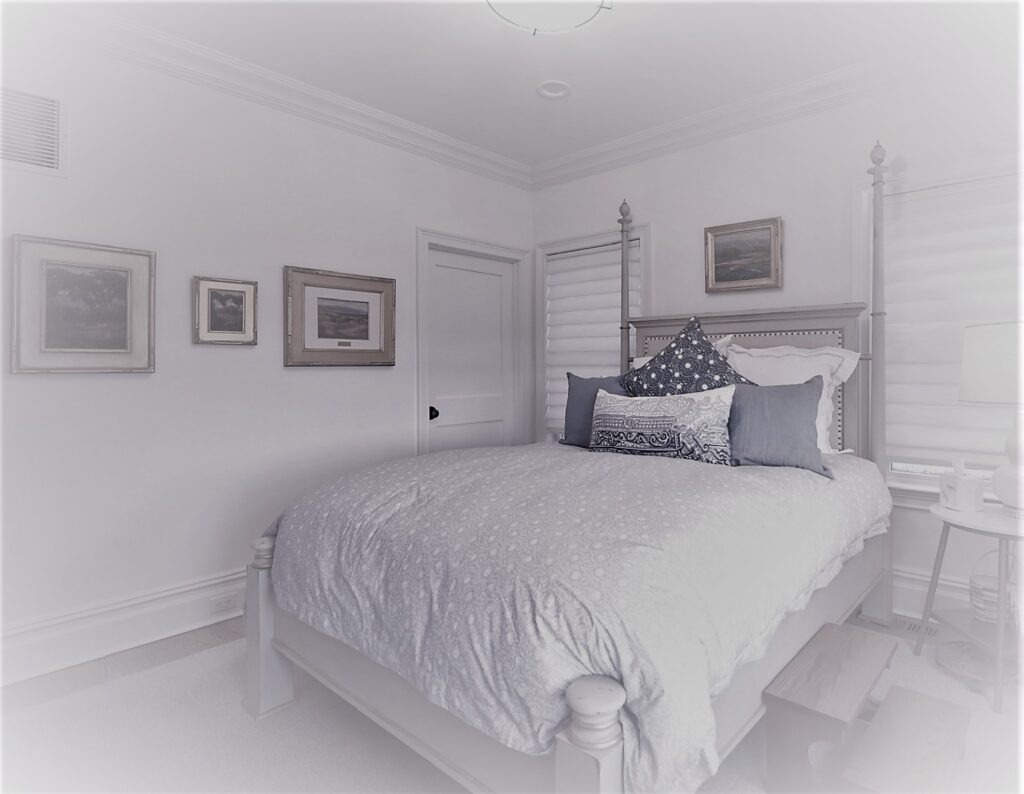 While we may have put our two cents' worth into many aspects of designing and implementing the decor of this lovely home, the kitchen was an in-house collaboration between spouses. The nuts and bolts were all on the husband, a professional chef who had been making do for years in the old 1930s Tudor that could barely fit his professional range.
Clearly, that is not the case here. While the footprint is relatively small, everything you could ever want from the Wolf double ovens to the side-by-side Sub Zero fridge freezer is here. What makes it special, I mean we've all seen white kitchens with high-end appliances before is where the wife comes in. It was she who called for the bespoke backsplash of Motawi tile handcrafted in Michigan and the solid black walnut top on the island handmade by Charles Parenteau, a custom woodworker from nearby Colts Neck, NJ that makes this kitchen a work of art.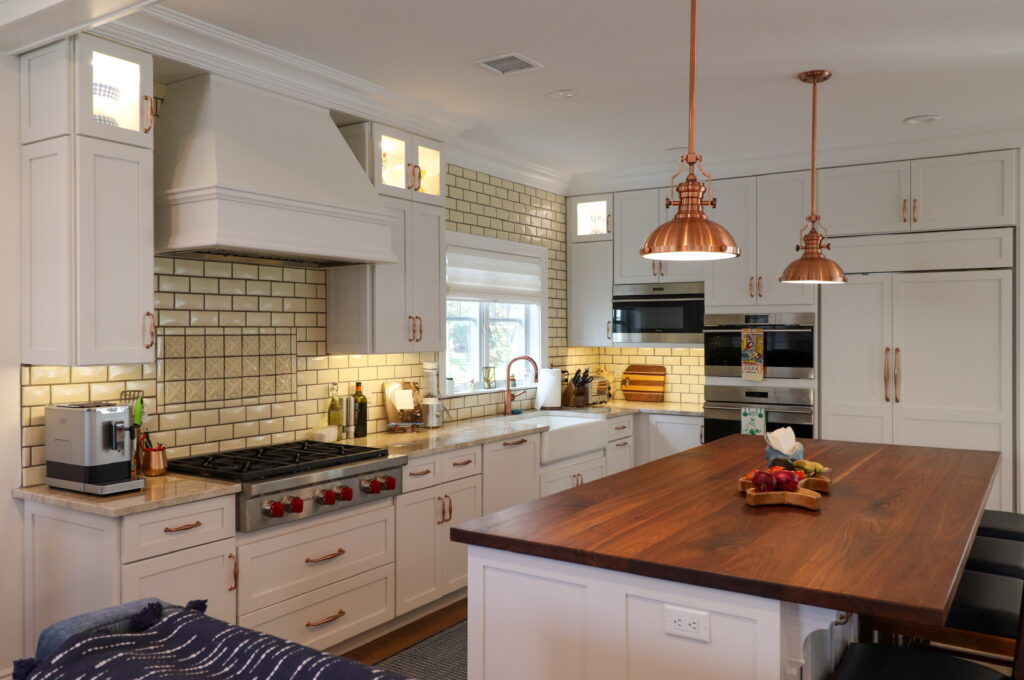 When I asked for a recipe to go with this gorgeous kitchen the chef of the house told me every Thanksgiving he makes Turkey Pot Pies to give to his friends and family. He adapts a recipe from Chef Jean Pierre. Here's his note:
Hi Trish, Here is a link to Chef Jean Pierre for his recipes and videos. He is an excellent teacher and entertaining to watch. I would substitute the chicken with poached turkey. I also make turkey stock.  I omit the bacon and medium dice all the vegetables using carrots, celery, parsnips, and butternut squash, tossed with olive oil salt, and pepper roasting these on a sheet pan to par-cook them. Chef Jean Pierre has all instructions on making the stock, roux, and even vegetable cuts. His video is easy to cook along to.
Below is Chef Jean Pierre's recipe. I used it as a guideline to use up my leftover Thanksgiving turkey. I skipped the bacon, the peas, and the whipping cream and made a broth with Better Than Bouillon laced with more than a few glugs of leftover white wine for good measure. And I skipped the egg wash.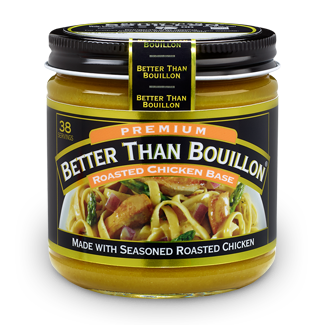 The result was phenomenal. The two of us ate nearly the whole pie!!! I could have this every night for the rest of my life it was so good. Of course the secret is the puff pastry–all the other pot pies in my life were made with regular pie crust that got leaden and soggy. Who knew?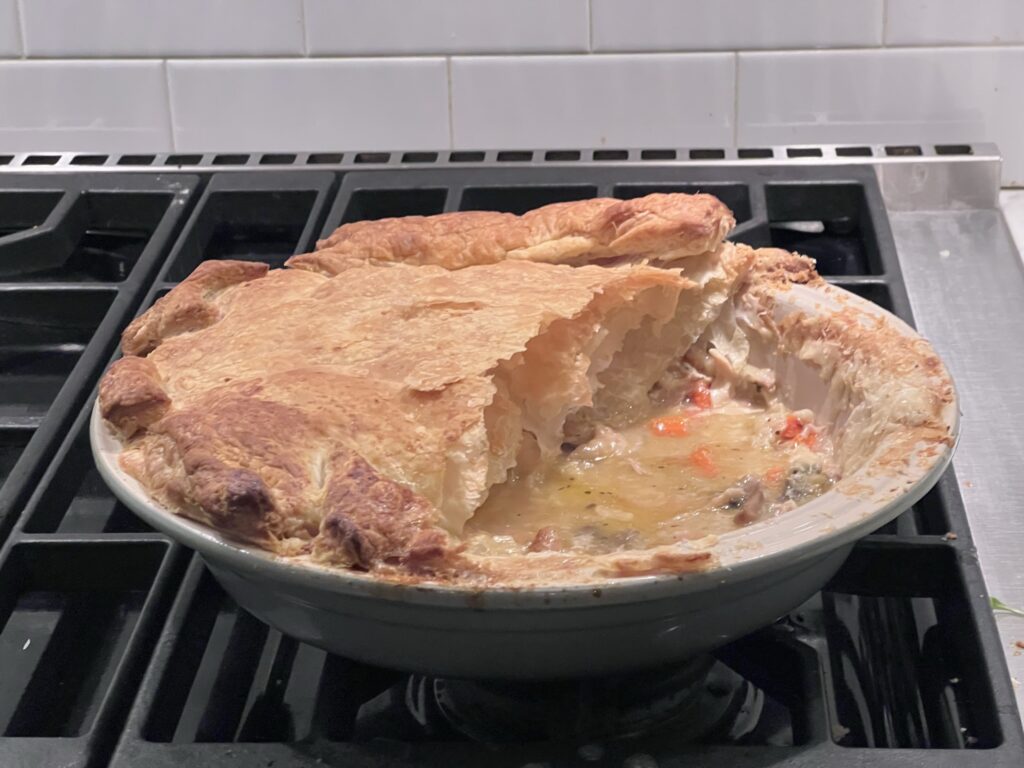 Chicken Pot Pie
Ingredients:
½ pounds Bacon sliced 1 ½ lbs. boneless and skinless Chicken Breast cut into bite size 6 ounces Mushrooms sliced 1 tablespoons Fresh Sage chopped, ½ if dried 1 tablespoons Fresh Thyme chopped, ½ if dried 1/2 teaspoon Cayenne 1 cup defrosted Peas 1/2 cup chopped carrots parboiled 90% 2 tablespoons minced Garlic 1/4 teaspoon ground nutmeg 2 tablespoons Parsley chopped
For the Sauce:
6 ounces of Sweet Butter
3/4 cup All Purpose Flour
1 large Onion cut into small dice
6 cups Chicken Stock, add more of needed
1 cup Heavy Whipping Cream
Prepare the Dish:
1 sheet Puff Pastry Dough
2 Egg Yolks, mixed with 1 tablespoon of Milk
INSTRUCTIONS
Preheat Oven to 400ºF / 205ºC
Make the Pie:
In a deep fry pan (the Chef used a non-stick wok), add the bacon and sauté until it renders it fat. Add the chicken and sauté until light golden brown and season with salt and pepper. Add the mushrooms and cook until they have released their water. Add the remaining ingredients and cook for 5 to 7 more minutes.
Make the Sauce:
In a saucepan add the butter and when melted add the onion and cook them until translucent. Add the flour, mix well, then add the stock slowly with a Wisk. Add the cream and cook the sauce AT A VERY LOW HEAT for at least 10/15 minutes
Prepare the Dish for the Oven:
Add the chicken and mushrooms to the sauce and mix well. Pour in your baking dish and wait at least 15/20 minutes to let the steam out before you put the dough on top. Place the dough like the Chef did in the video! Brush the top with egg wash and bake until the dough is golden brown (about 30 minutes)