Roasted Lemon Chicken Thighs with Artichokes and Kalamata Olives Recipe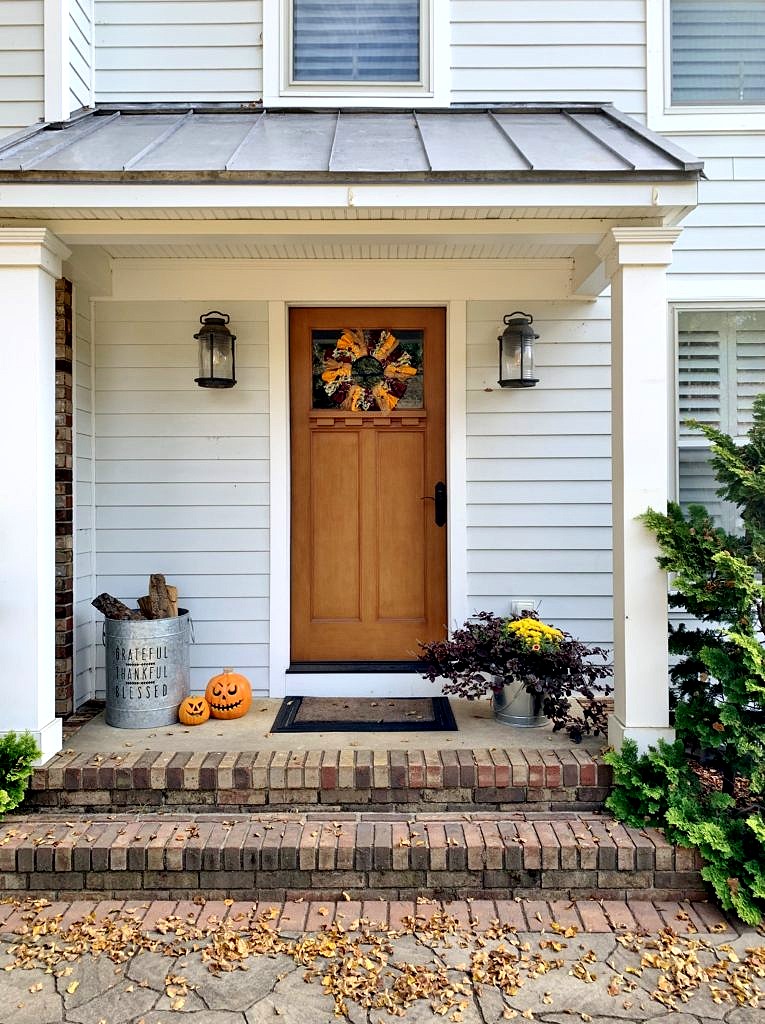 Keith and I have owned our store for 33 years and during that time our customers have had babies, moved, had more babies, moved again and then, the next thing you know, everyone flies the coop and the nest is suddenly empty.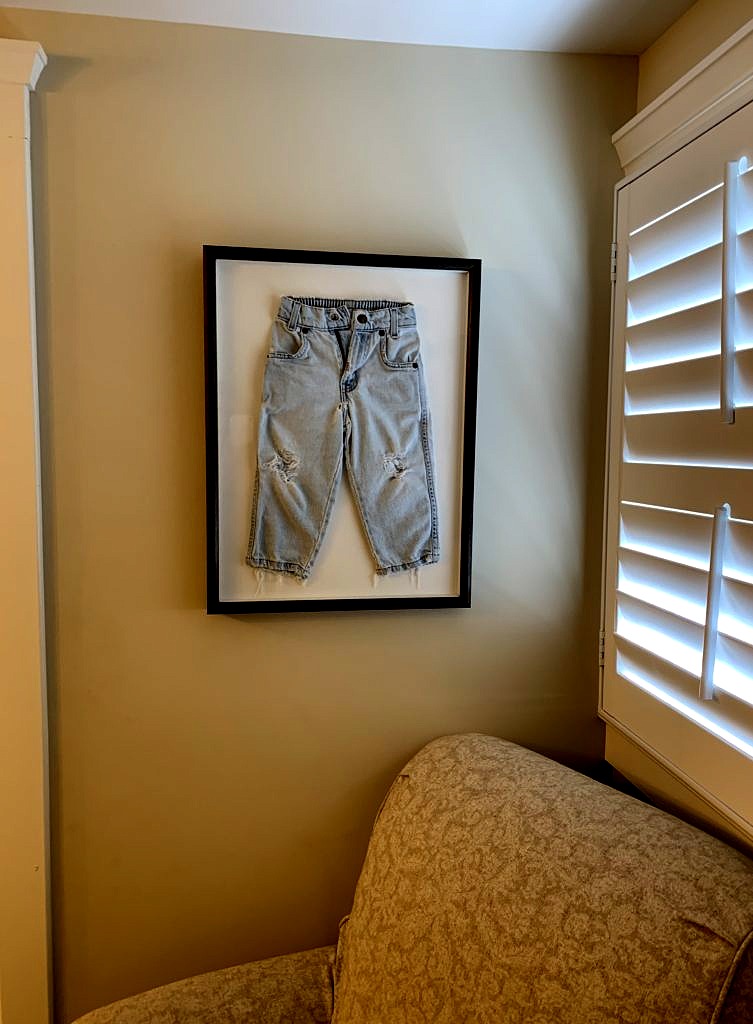 However, for one family in Holmdel, that did not happen. With their kids mostly grown up they downsized from a more or less mansion to a relatively modest farmhouse on a couple of acres down the street–but no one is budging. The upstairs is chock full and there are a couple of more kids living over the barn. Luckily Mom and Dad are happily ensconced in their downstairs suite and convinced the more the merrier.
I can't remember when they first came to British Cottage but I do remember toddlers, and lots of them. The young family had just spent a couple of years in London and were happy to fill their spacious home with British pine furniture. They bought hutches and armoires and large farmhouse tables and lived happily ever after until it was time for a change…
And what a change! On a gorgeous fall day I popped in to see how they transitioned to the new house, which they transformed from a chopped up, timeworn, century old building into a seamless home perfect for modern living. And it was immediately apparent that what they lost in square footage they gained back in charm and function. And I am pleased to say that they managed to reuse most of their British Cottage furniture–kudos to them. (We like to think we sell forever furniture but in this day and age of mid-century modern minimalism I am not so sure about that).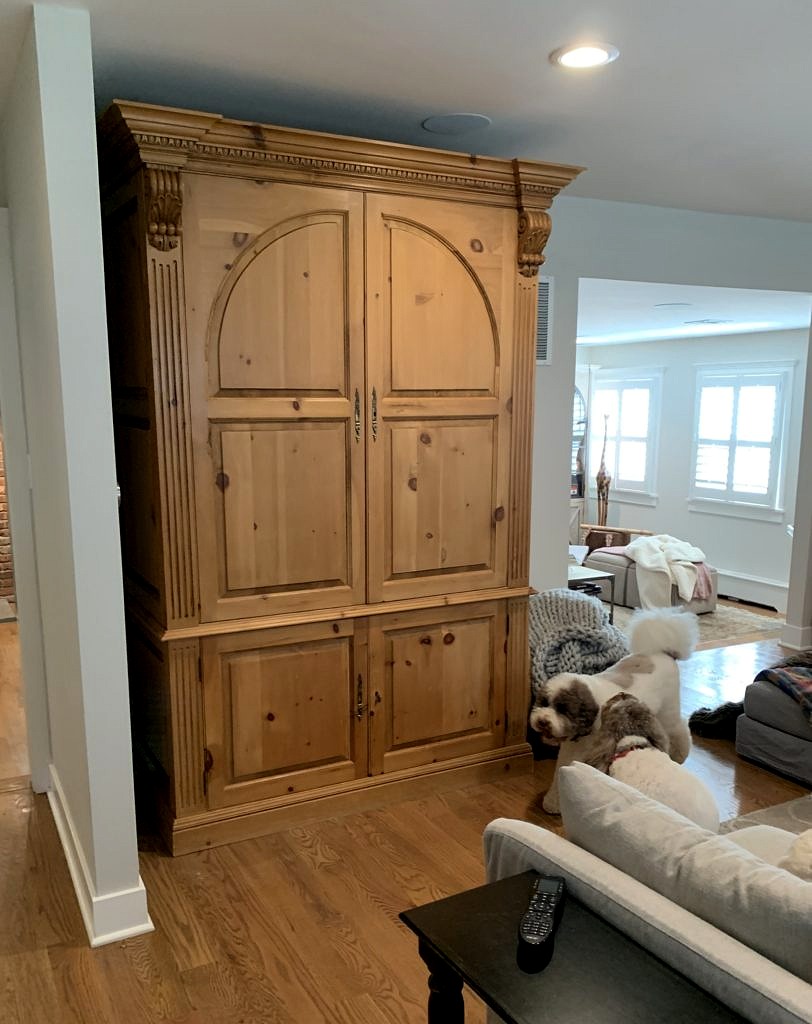 Take for example this television armoire. We still get calls from people who bought one of these  in the eighties asking if we want to buy it back. (The answer is no). But I always say repurpose it; use it to store your office equipment, tools, scuba gear, golf clubs whatever. In this case this cabinet,  from their former gigantic master bedroom functions as the hall closet and is chock full of all the stuff they don't want to see but need to have. Is it big? Sure. But a built-in closet would take up just as much space, and it wouldn't be as near as architectural.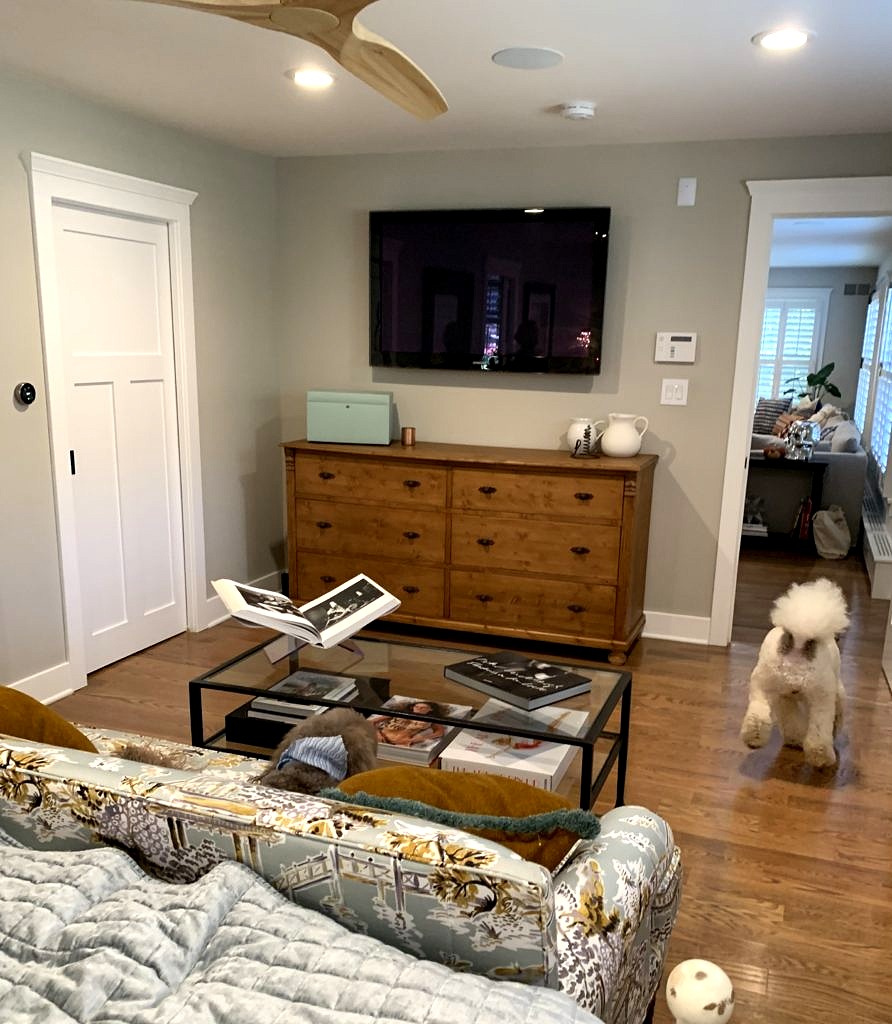 Now, in their much smaller master bedroom, the television is mounted on the wall (over the British Cottage double dresser). Perfect.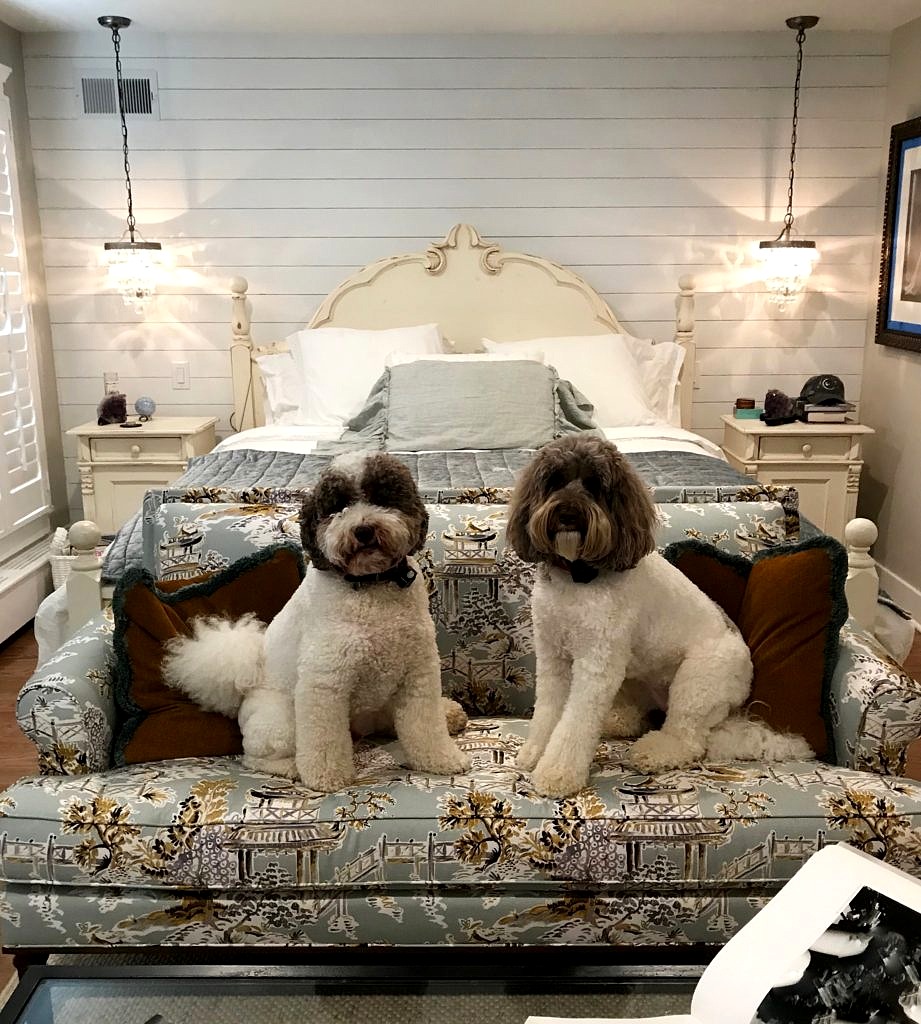 They were able to use their British Cottage bed and nightstands in the new bedroom. Love this modern farmhouse look with the shiplap wall–which is what you might expect to see from a Joanna Gaines fan, and who isn't these days?  Not so typical is the Century Furniture loveseat in the chic chinoiserie print–clearly this homeowner has her own ideas about color and design. Although I have no clue how she got dogs to match the decor; maybe this will be the start of a new trend!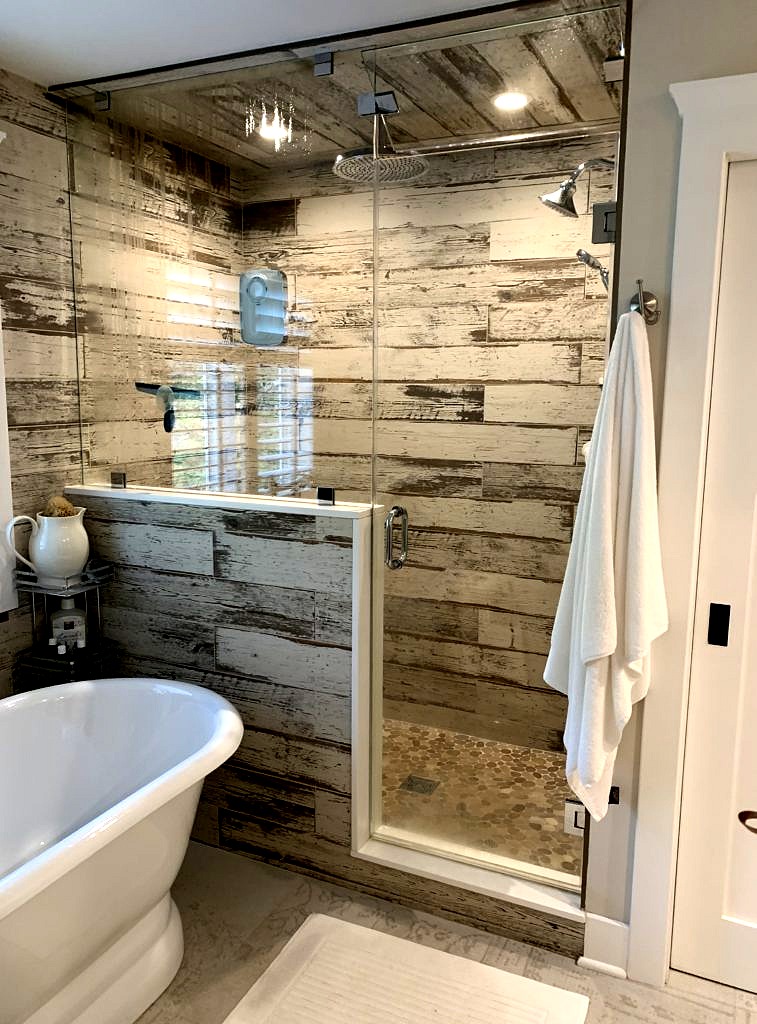 And boy do I love the master bath!
They were able to use the large (nine foot maybe?) zinc top table from their old house by building a banquette into a nook.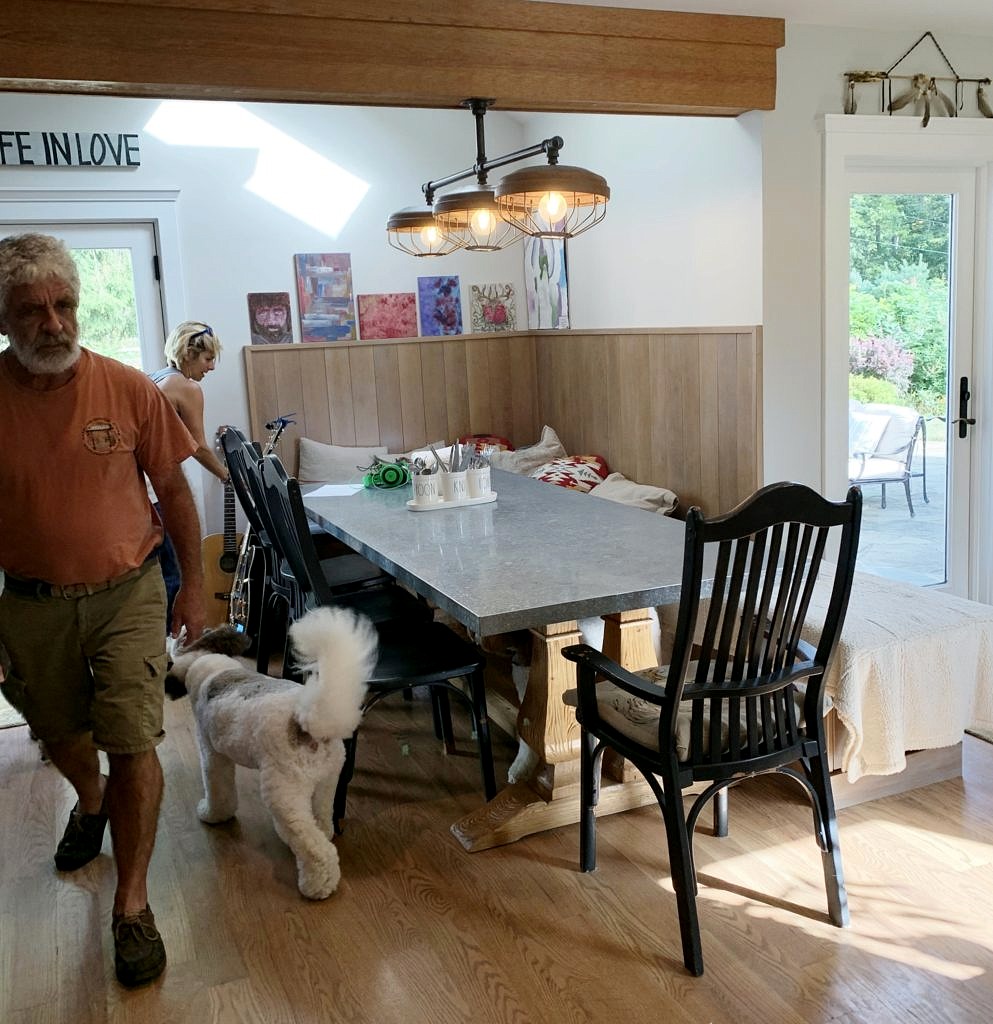 Even though the old house had a kitchen three times larger and a formal dining room, the homeowners like this arrangement much better. You don't need to walk six miles to get to the fridge–everything is one step away–and, like many of us, they hardly used their old dining room so why bother to have one?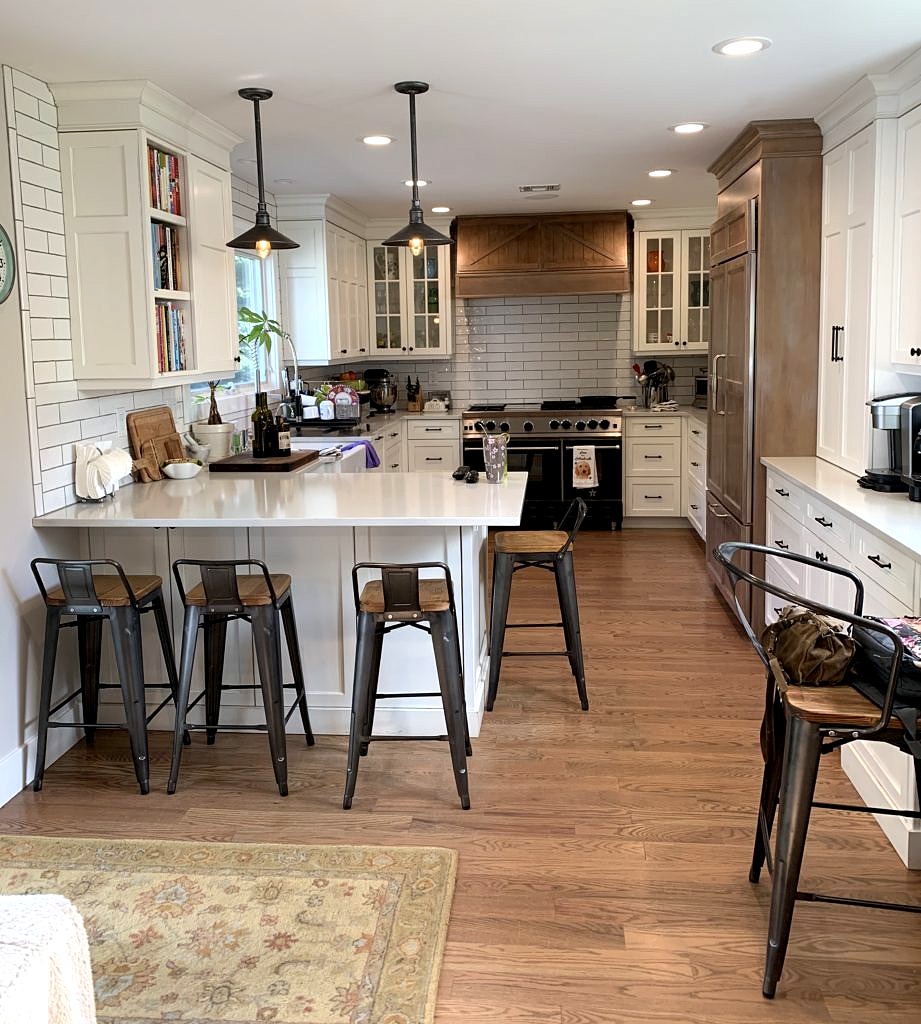 The narrow cabinet from the foyer (I think) in the old house makes a great anchor for the tv –which seems to be an essential element of the modern kitchen.  Cool screen saver!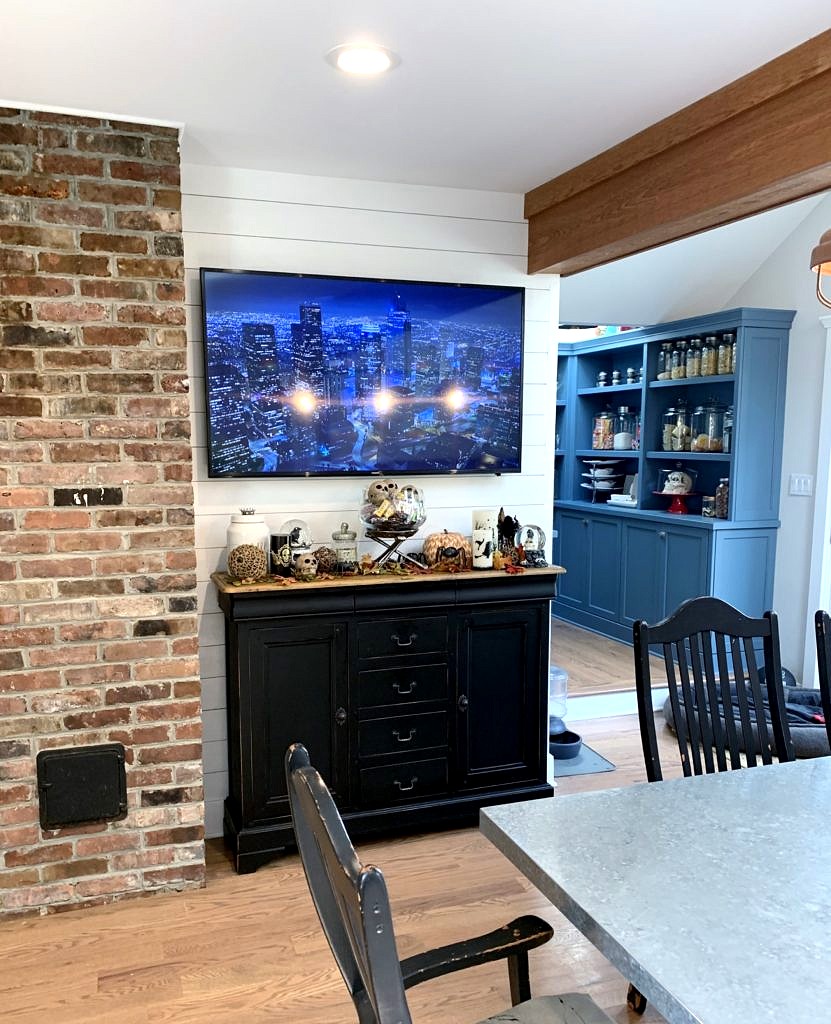 And look how the flip top table that functioned as a server in the old dining room makes a great desk here in the kitchen area.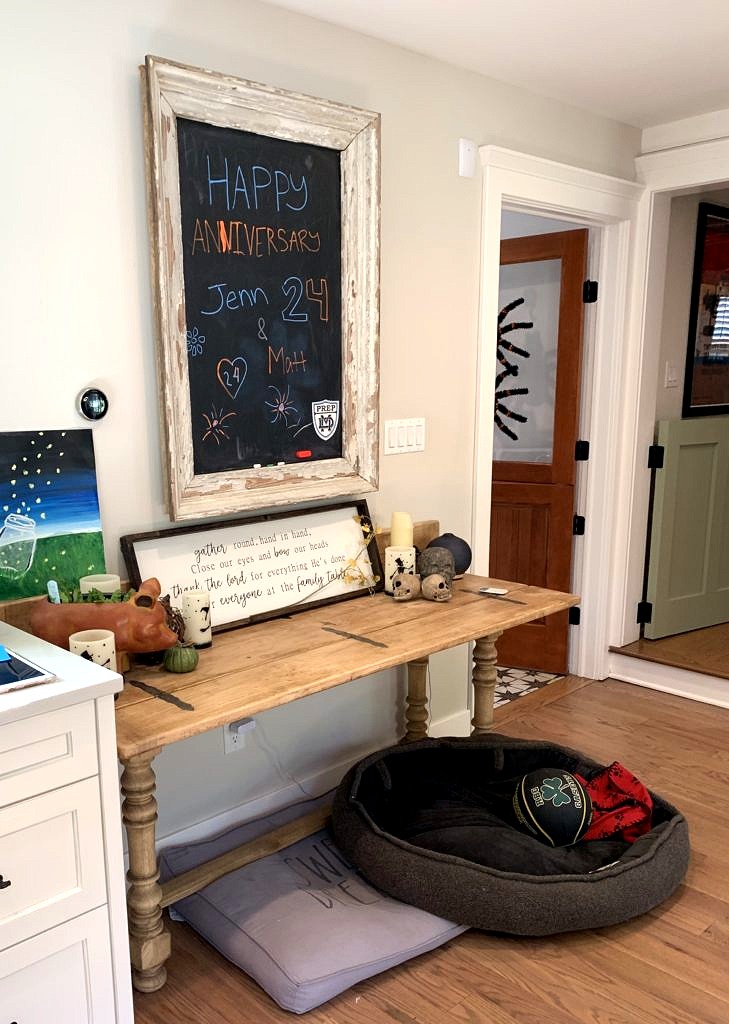 Fortuitously a new leather sofa from Century fit perfectly in between the two matching cabinets that used to be in the second living room in the old house but look like they were made for the new family room.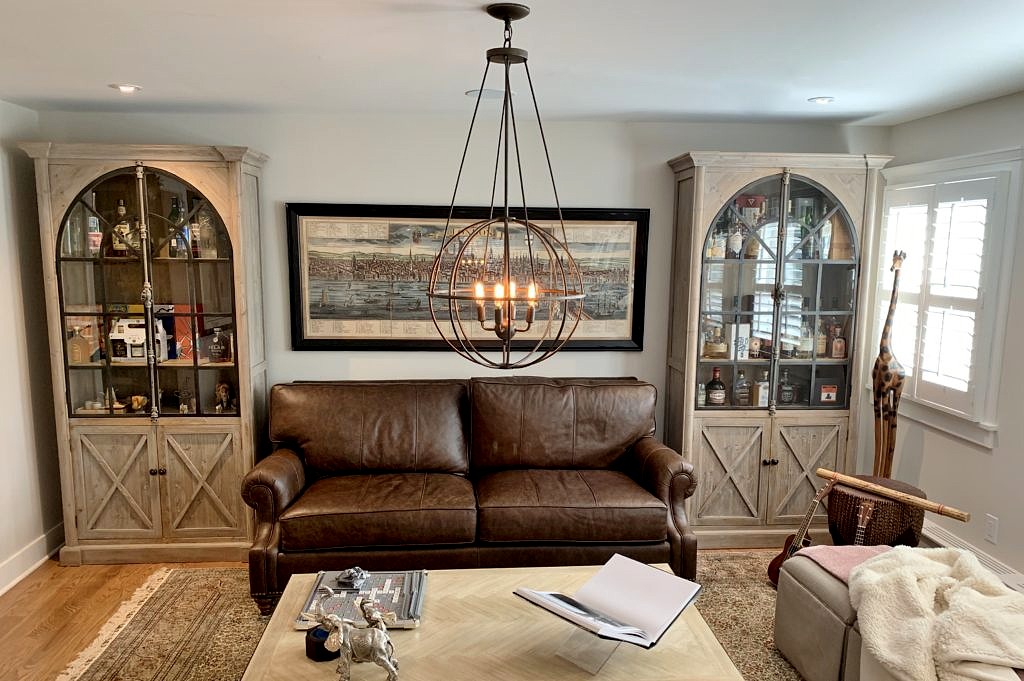 As does the armless wing chair from Hickory White tucked into the corner. Clearly you can see how there is nothing cookie cutter about this house! I love how the rooms ebb and flow every which way. I don't know who the architect was but the builder was Kurt Connor from Fair Haven and he did a fabulous job–this could not have been easy.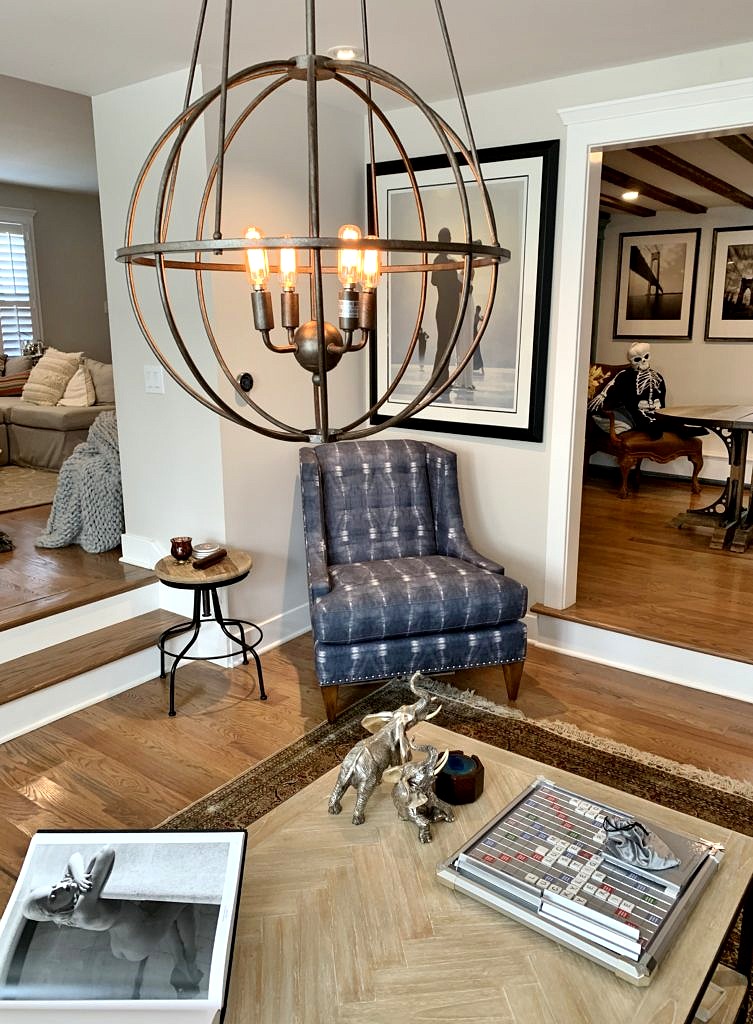 Here we combined two oak demi lune tables by the gang at Schwung Home to make a round table in the center hall for stacks of books or games or dining. I wonder if this was the original kitchen space from 100 years ago?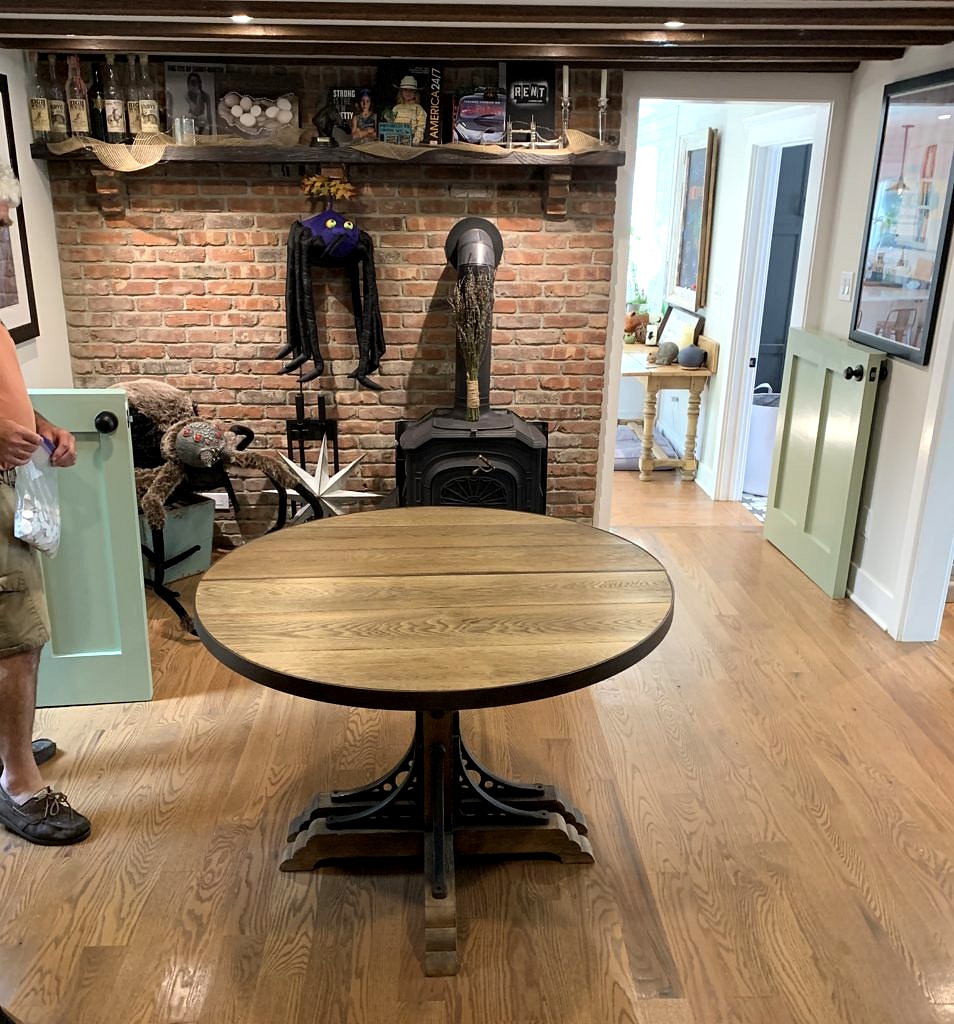 Everything about this house is unique; note the half doors to the kitchen and pantry areas–what a great way to corral all those pups–as opposed to the horrible looking and impossible to maneuver baby gates. And in this day of all white kitchens (guilty) when did you last see a Wedgewood blue pantry? Gorgeous.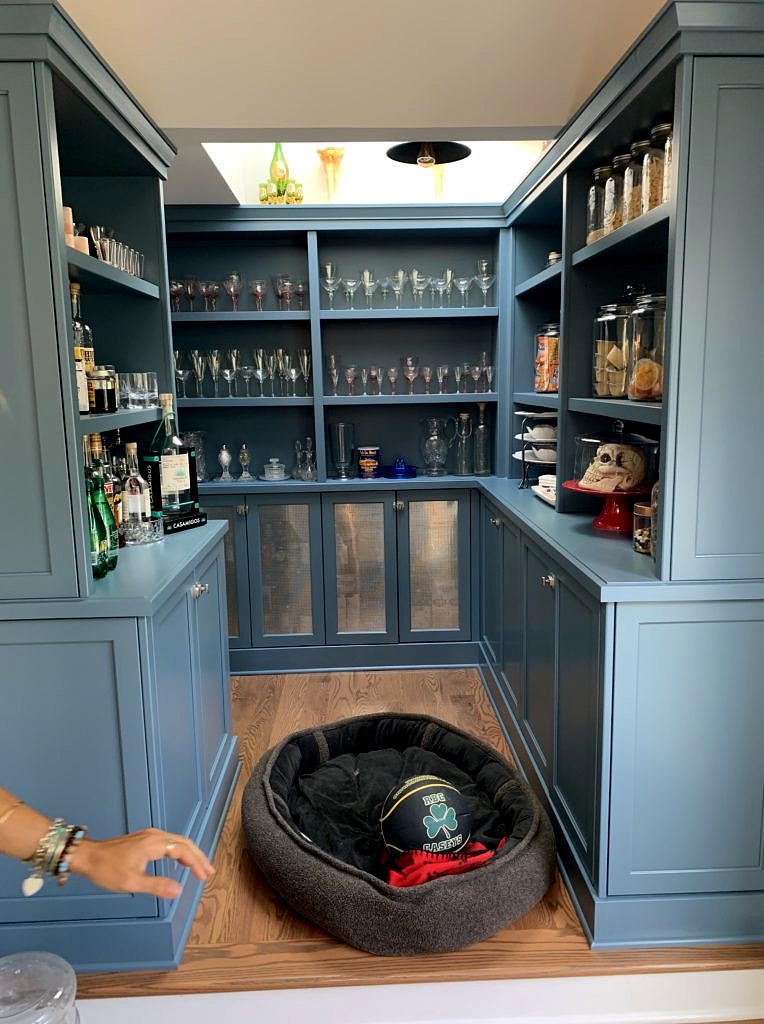 Too much fun. Well almost too much fun. The most fun may be in the barn that the owners turned into a music room complete with a full bar and lounge area. No wonder the kids aren't moving out!  Note how the slipcovered sofa and oriental rug from the old master bedroom look great and add some warmth and texture to the space.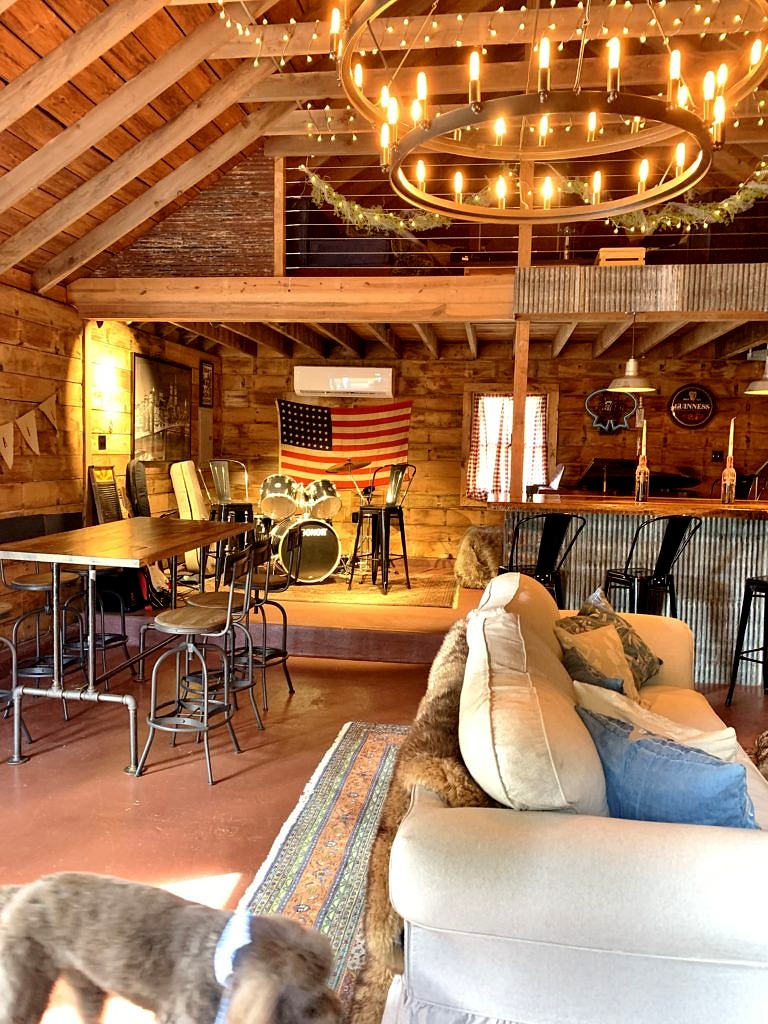 And did I mention the yard yet? The house came with several paddocks and multiple outdoor spaces. So not the ultra-manicured lawn they were used to,  just a great space with room to run around, or sit and enjoy a few brews.

But at the end of the day big kitchen, small kitchen, banquette or none someone has to get dinner on the table. Even with their crazy busy schedules this is one family that makes sure that at the end of the day they all sit down together for a family meal. This recipe for oven roasted chicken thighs is one of their favorites, and now mine too. Just when I think I will never find something new to do with chicken, voila!