Bourbon-Chocolate Pecan Pie Bars Recipe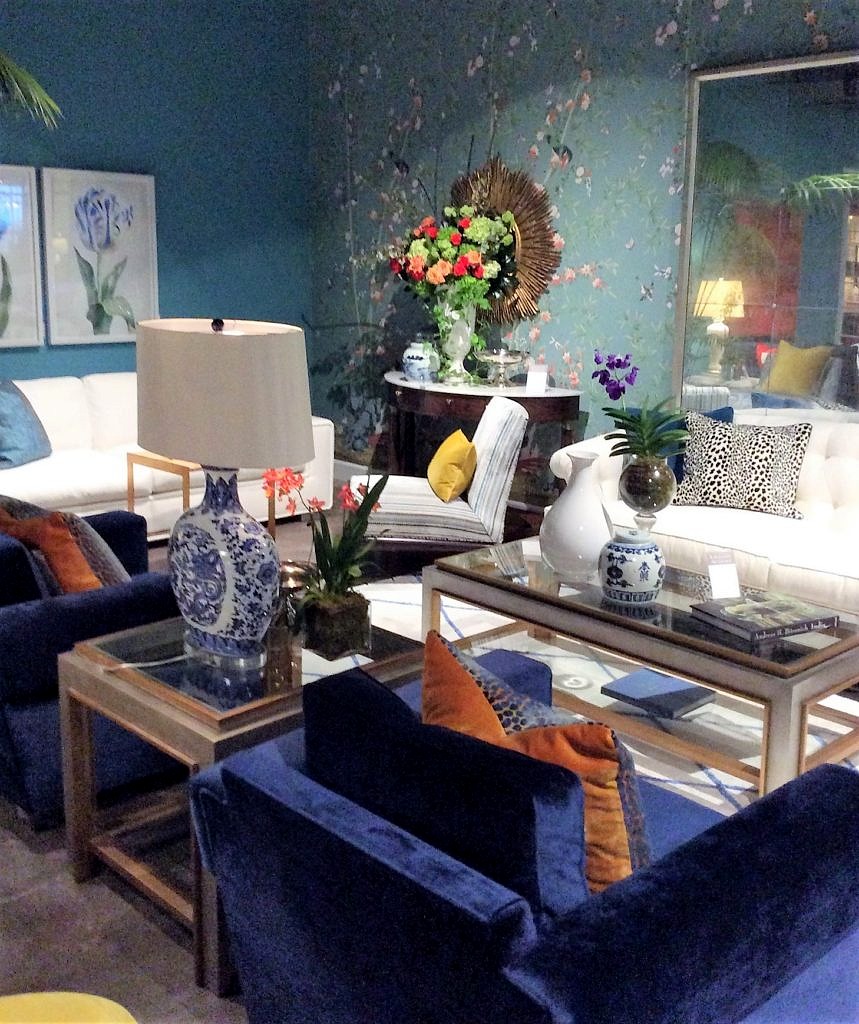 Spring is always a busy time at British Cottage.  Besides the usual comings and goings on at the store, there is the spring furniture market in High Point, North Carolina to look forward to.  This year's offerings did not disappoint.
We started out on Thursday afternoon at the Currey and Company preview party with a Bourbon with Bunny theme (as in Bunny Williams, designer extraordinaire).  We did not partake of the former, nor espy the latter, but we did see a fabulous array of chandeliers.  And you can see them soon, in person, at British Cottage!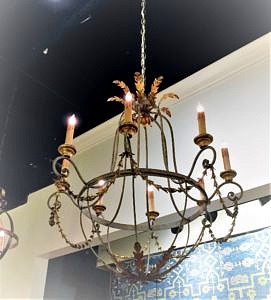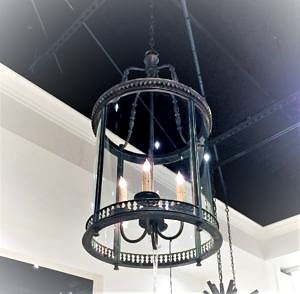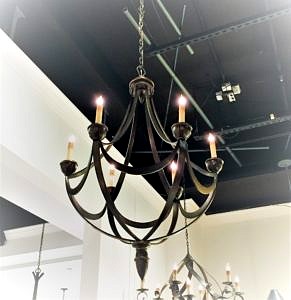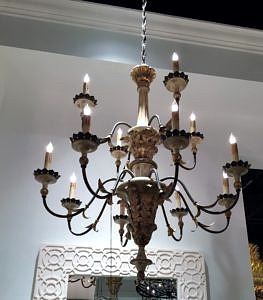 Next up was the hunt for tables.  While we build a lot of our own product at our factory in Hungary, High Point Market gives us the opportunity to augment our inventory with some of the latest designs on the market.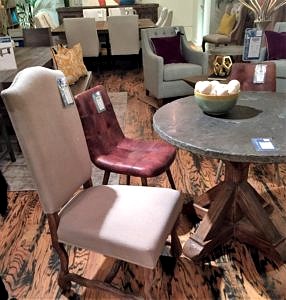 Exhibit A:  we picked up this 41″ round table with a bluestone top.  It's transitional, rustic, and beachy, and would be a winner just about everywhere.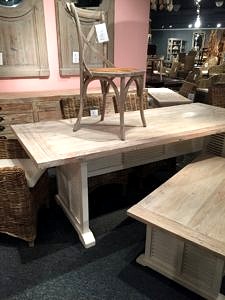 Speaking of beachy, we thought this table was rather fun for those of us who live at the shore.  And at 84″ long by 36″ deep, it's big, but not too big to fit into a banquette area.  Needless to say, you will be seeing it soon at British Cottage.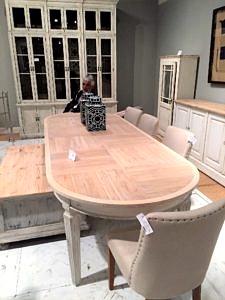 The Gustavian style is near and dear to our hearts, so we just had to buy this 9′ long table in that fabulous Swedish style.  Once again, it is as perfect at the shore as it is in town, and makes a change from the typical muted driftwood hues you see everywhere these days.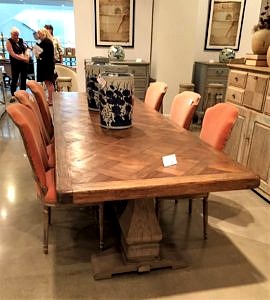 We loved the warm tones of this beautiful table made with vintage oak parquet and a bold trestle support; we even bought the faded rose-colored upholstered side chairs for a fin de siecle kind of vibe.
Next up was upholstery.  For the past several years we've been working with Hickory White, a family-owned company in North Carolina that makes fabulous sofas and chairs with hardwood frames and custom spring down cushions–in the United States!  Our visit to their showroom did not disappoint.
Oftentimes we will snap up the pieces made especially for the show, and in this case, Keith was not going to leave until we bought the chairs and couch you can see in these photos.  I even have a lead on the rug!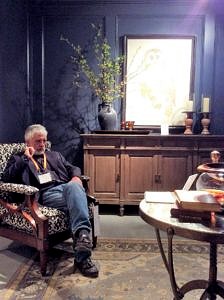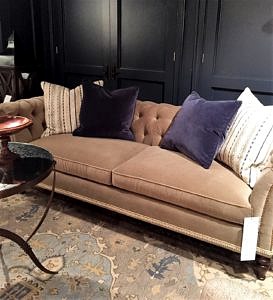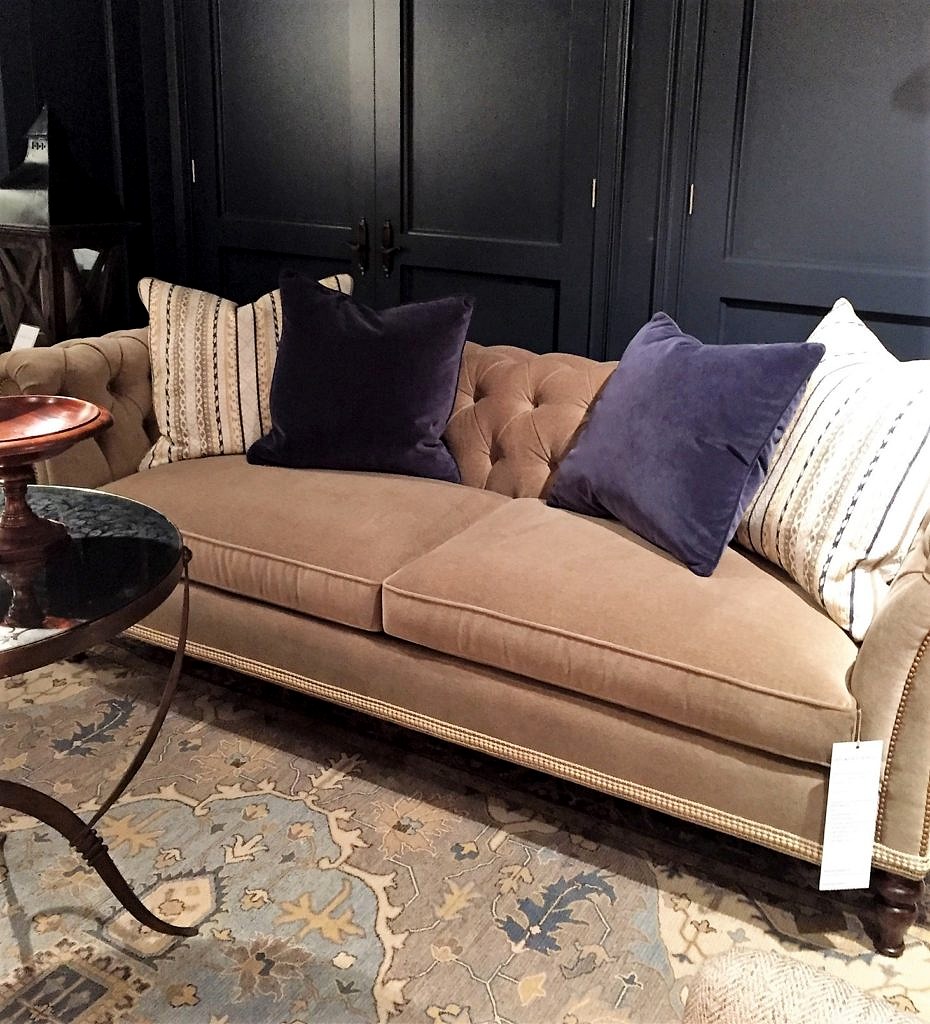 Upholstered in an ecru colored velvet (actually, a fabric blend that wears like steel) this Chesterfield sofa exudes class and comfort.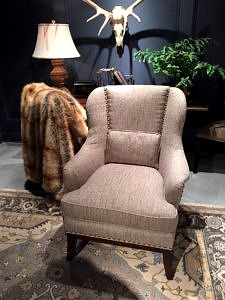 The final piece in our Hickory White trilogy, this upholstered armchair in a tweedy fabric completes the ensemble.  Love the nailheads up top and along the perimeter.
Of course, this is just a taste of what we bought!  Stay tuned for updates on all these items, and more, on our New Arrivals page or on Facebook.

But wait–as usual, we have a recipe to share!  In honor of Bunny Williams (and bourbon), here's one of our favorite recipes, just in time for this weekend's Kentucky Derby.  Recipe courtesy of Joy the Baker's fabulous cookbook "Homemade Decadence".
Bourbon-Chocolate Pecan Pie Bars (AKA Derby Pie Bars)
Shortbread Crust:
2 cups flour
3/4 cup confectioners sugar
1 cup (2 sticks) unsalted butter
1/2 tsp. salt
Filling:
1/4th cup (1/2 stick) unsalted butter, melted
3/4 cup packed light brown sugar
1/2 cup light corn syrup
3 large eggs
2 Tbsp bourbon
1/2 teaspoon salt
2 cups toasted pecans, coarsely chopped (toasted if desired)
1 cup dark chocolate chunks (I used semisweet chocolate chips as I didn't have dark chocolate)
Put a rack in the upper third of he oven and preheat the oven to 350 degrees F. Grease a 9×13 inch baking dish with butter or pam spray.
For the crust, in an electric mixer fitted with the paddle attachment, combine the flour, confectioners sugar, butter, and salt. Beat the mixture until combined but crumbly, about 4 minutes. Dump the mixture into the prepared pan and use your fingers to press the dough evenly across the bottom.
Bake the crust until lightly browned, about 12-15 minutes. Remove from oven to cool but leave the oven on.
For the filling, mix the butter, brown sugar, corn syrup, eggs, salt and bourbon together. Once well mixed, add the pecan pieces and chocolate chips. Pour all the mixture evenly over the baked crust and bake again until set, about 25-30 minutes. The bars will keep in an airtight container for up to 4 days if in the fridge.