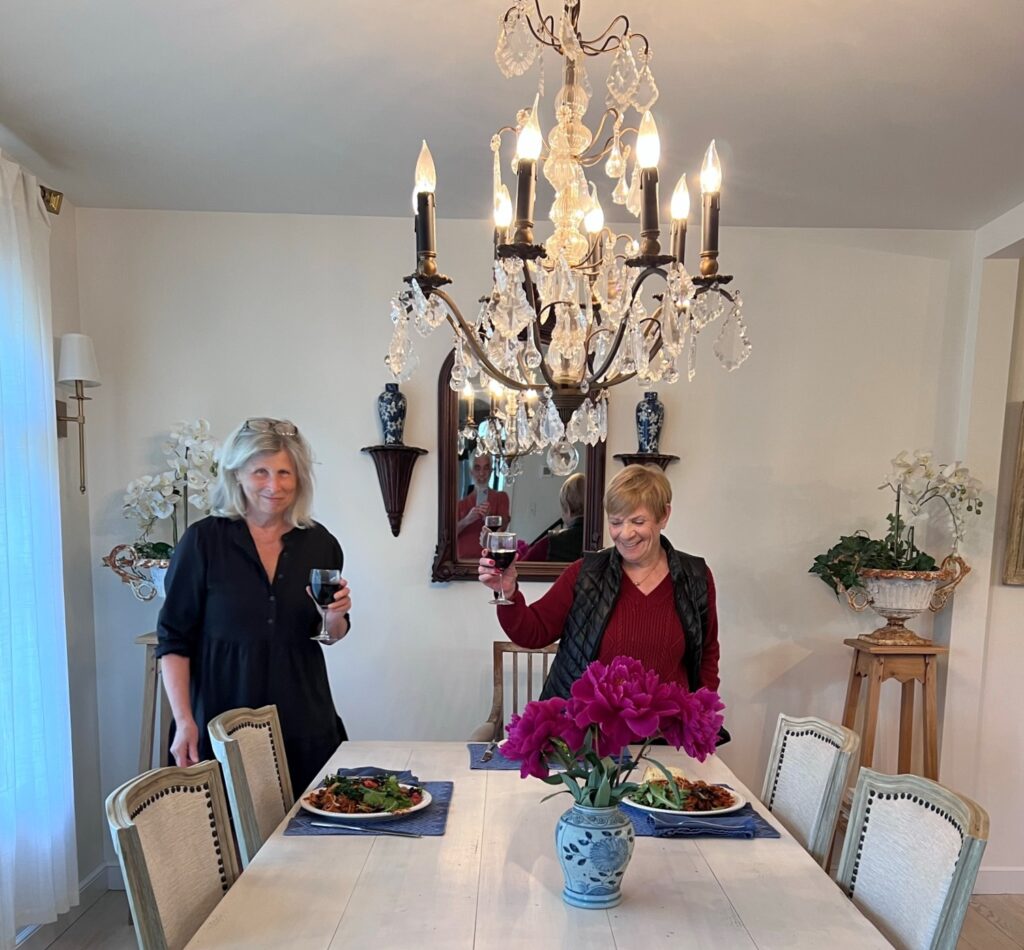 Phew. Is it me or are things really back to normal? Local traffic is terrible so people are clearly out and about again and again. And am I the only who does a double take when I see someone in a mask? All good. Even better, spring is in full swing making now the best time to fly through the house, throw open the windows, literally and figuratively dust off the cobwebs and get that house in shape for summer fun.
Remember fun? Growing up we never had the best house or the best snacks but that didn't stop the whole neighborhood from hanging out at our house. Our house was the fun house. Dogs, cats, hamsters, guinea pigs, even ducks were welcome. Inside and out there was space to breathe. We all need to remember to breathe–just breathe.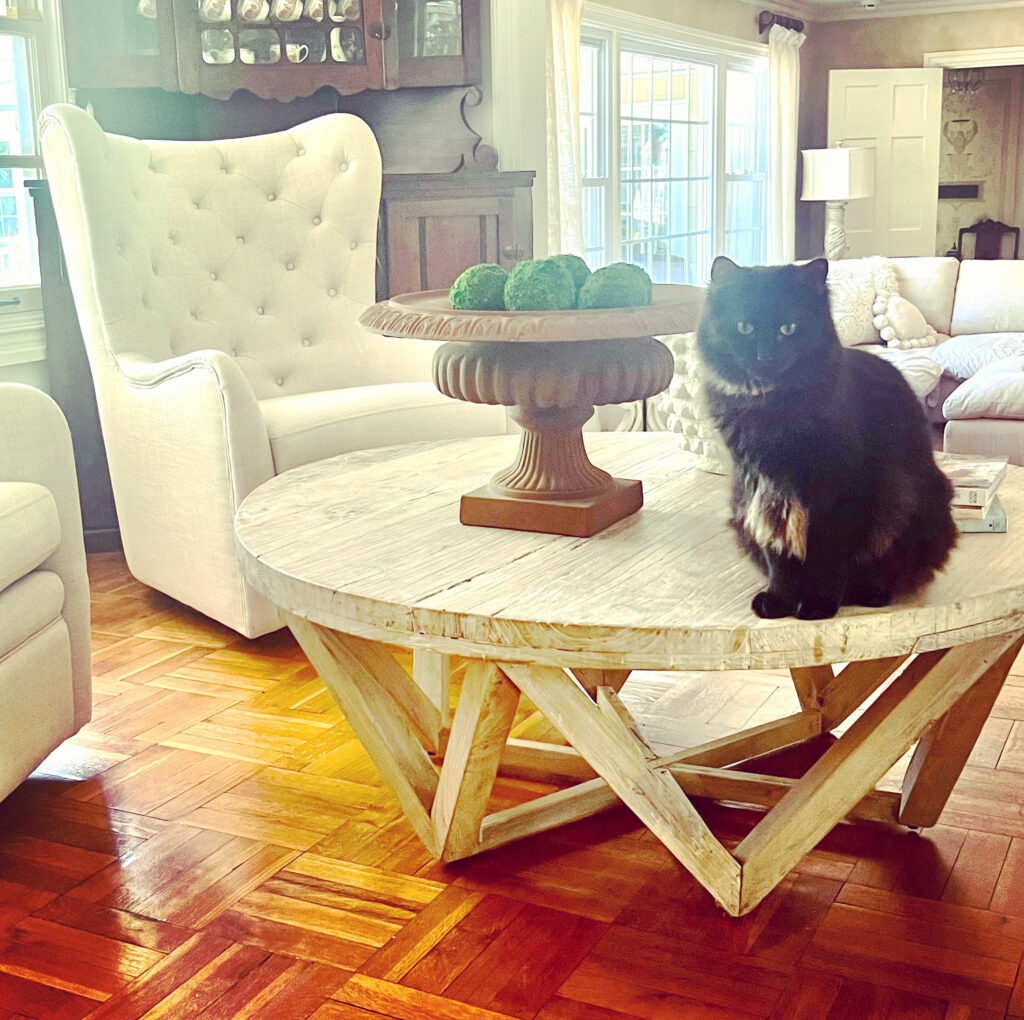 Usually I blog about a whole house but today I'm just going to share some images I've taken or that people have sent to me over the last couple of months. Like this one with a furry cat atop a reclaimed pine coffee table from British Cottage. The chairs are from Homegoods, the corner cabinet vintage and the parquet floors were the cat's meow–in the 1960's! But somehow it all comes together.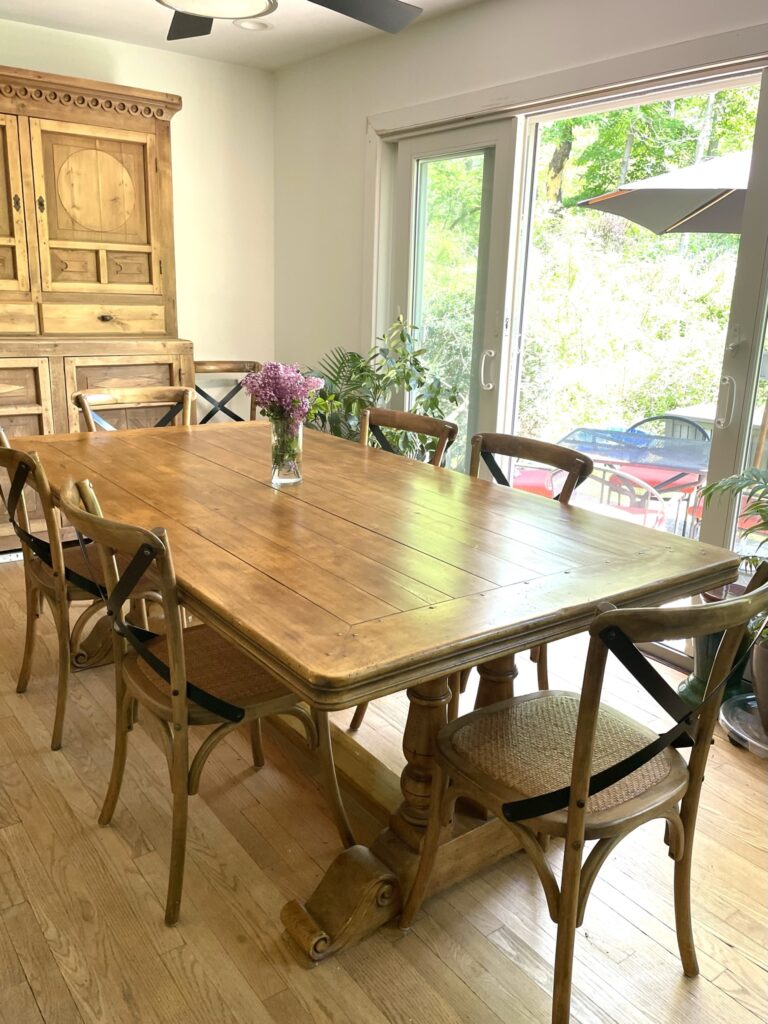 This photo comes from my friend Andrea who cleverly revamped her fifties-ish Colts Neck cape into a light-filled transitional space with a gorgeous open plan kitchen. Anchored by this free standing pine cupboard and farmhouse table from British Cottage. The best rooms are the rooms that everyone uses–and trust me with a family of chefs in the wings, this kitchen gets used a lot!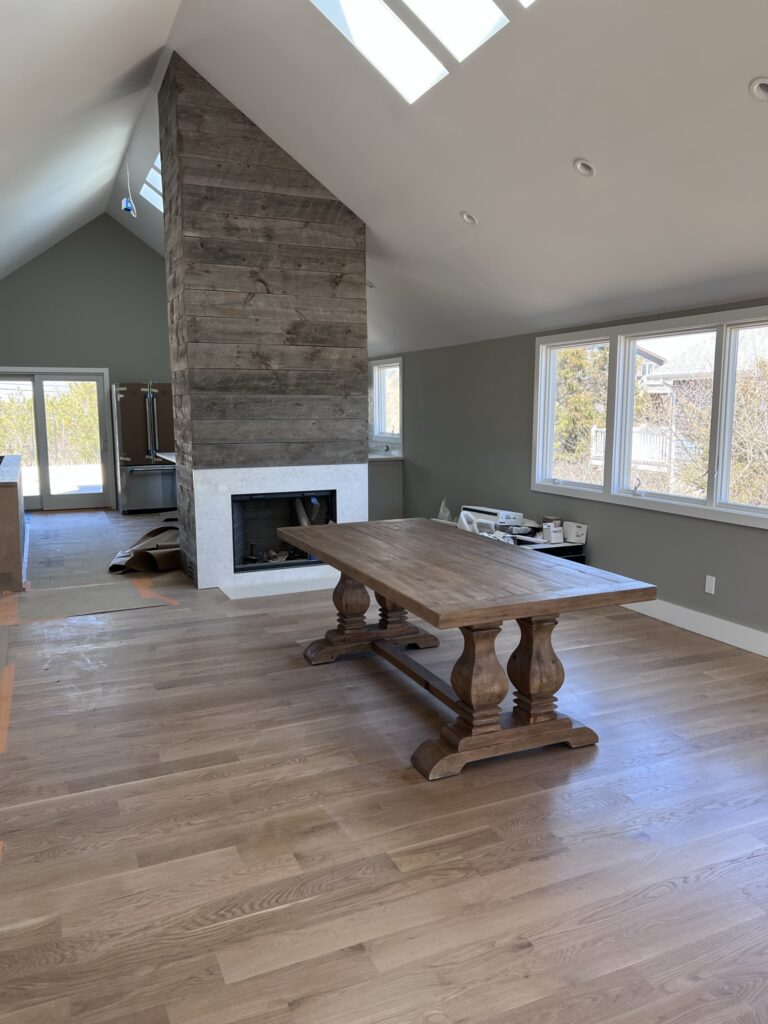 It wasn't so easy getting this British Cottage table to a brand new home just blocks from the beach in Montauk, a vibrant beach community at the way end of Long Island. Montauk has more of a down-to-earth could be Cape Cod feel than the Hamptonesque posh that comes to mind when we think of Long Island, and I can only imagine the multitudes of meals, games and chats that will be enjoyed around this table.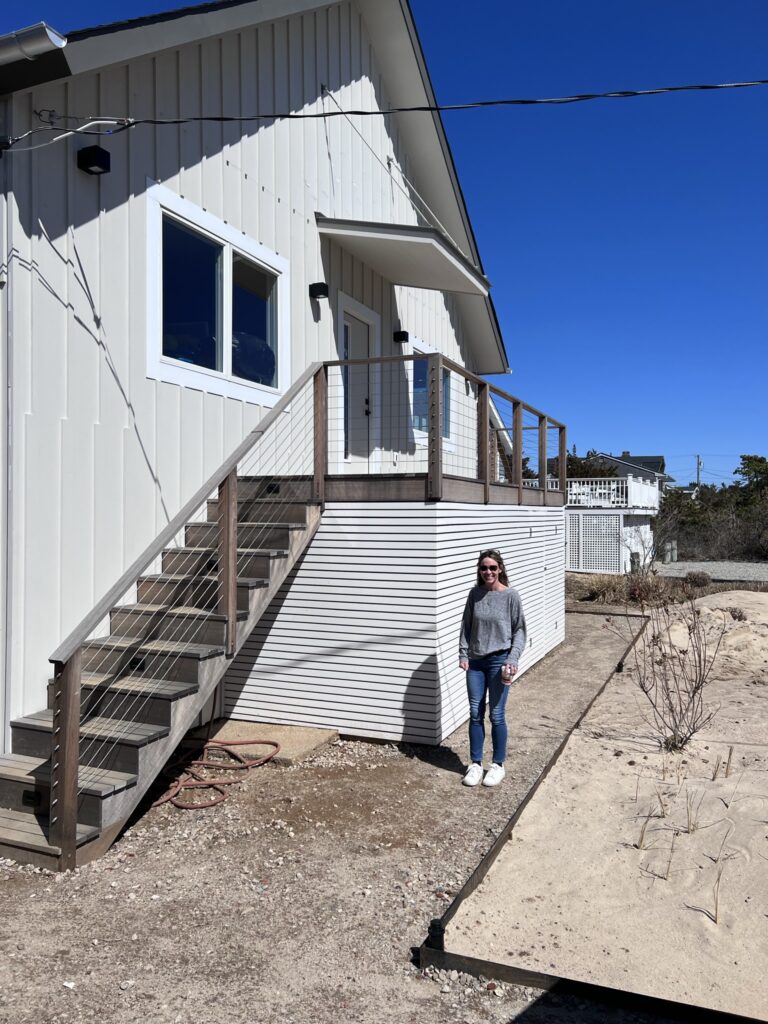 One thing I can never stress enough is the importance of lighting if you want to freshen up a space. And that does not mean turning up those horrendous high hats, cans or whatever you want to call them. (In fact if you are building a new house or renovating ignore your architect, your builder and your electrician and don't put them in).
There's plenty of other ways to get light into your life. I particularly like table lamps for ambient and task lighting. Fortunately many of my customers agree so we sell a lot of lamps–like this pair of blue and white porcelain ones in the cozy living room below.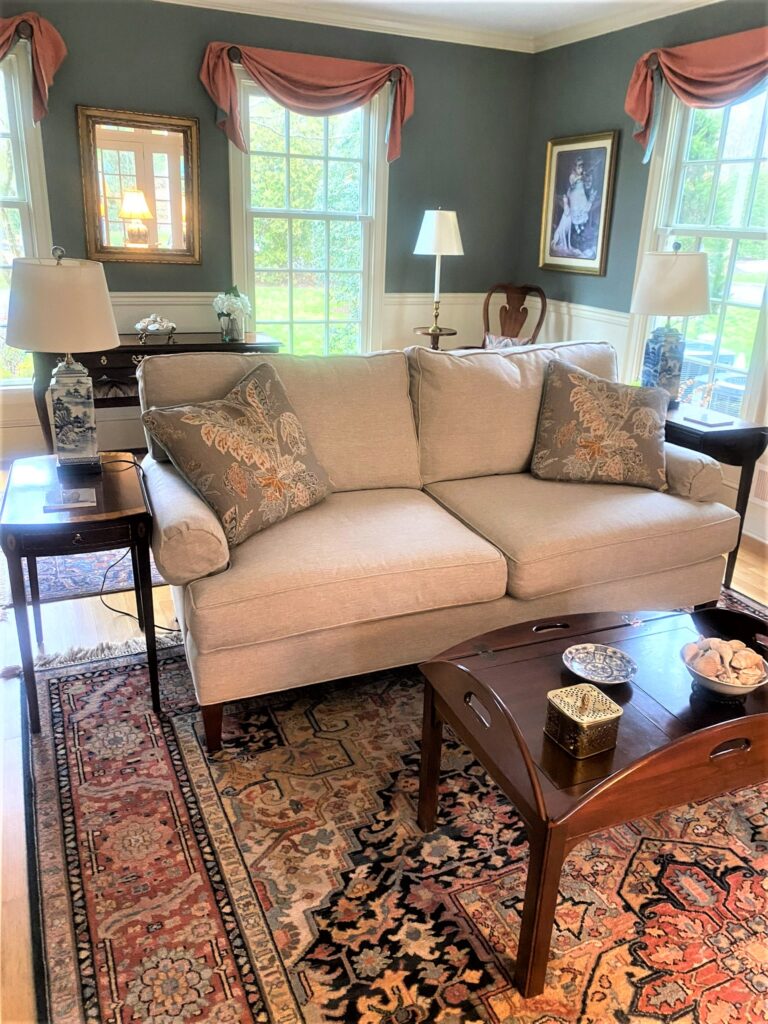 For a more modern take on lighting you can't beat this architectural pendant that is now residing in Fair Haven along with a sideboard, table and chairs all from British Cottage. We love this relaxed country house vibe that combines a ton of pattern with texture to make this dining room truly reflect the homeowners' aesthetic and fun loving personalities.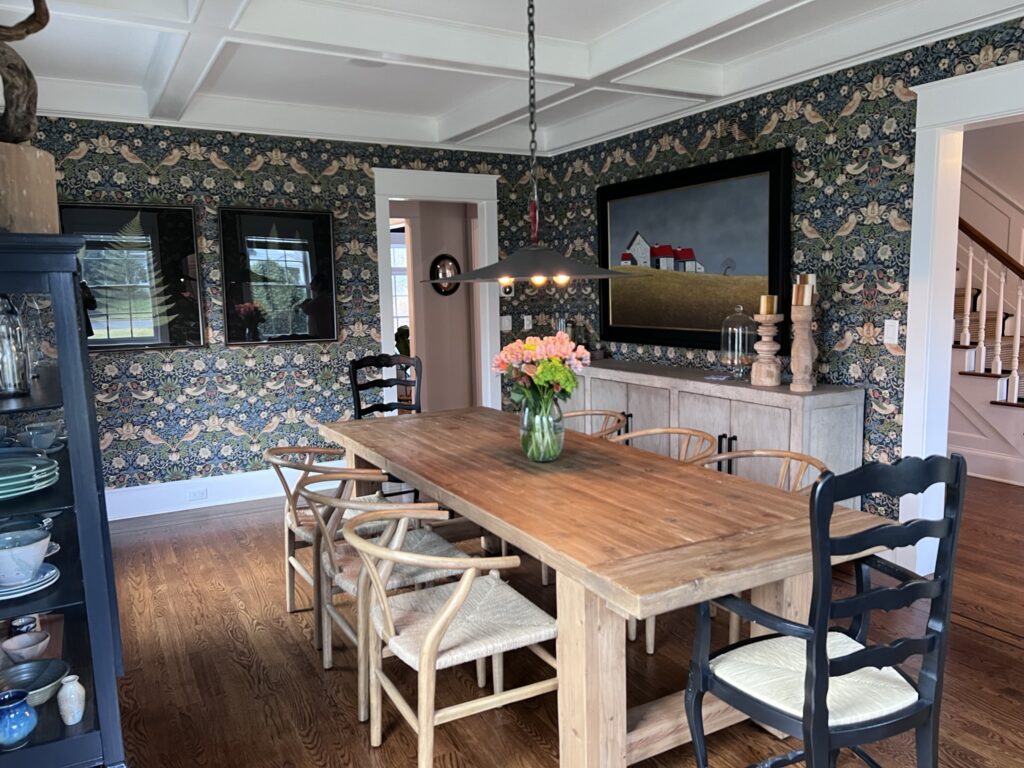 The idea is to make your house your home. There are no rules, or at least none that can't be broken. No matter what day it is, your home is where your heart is so enjoy!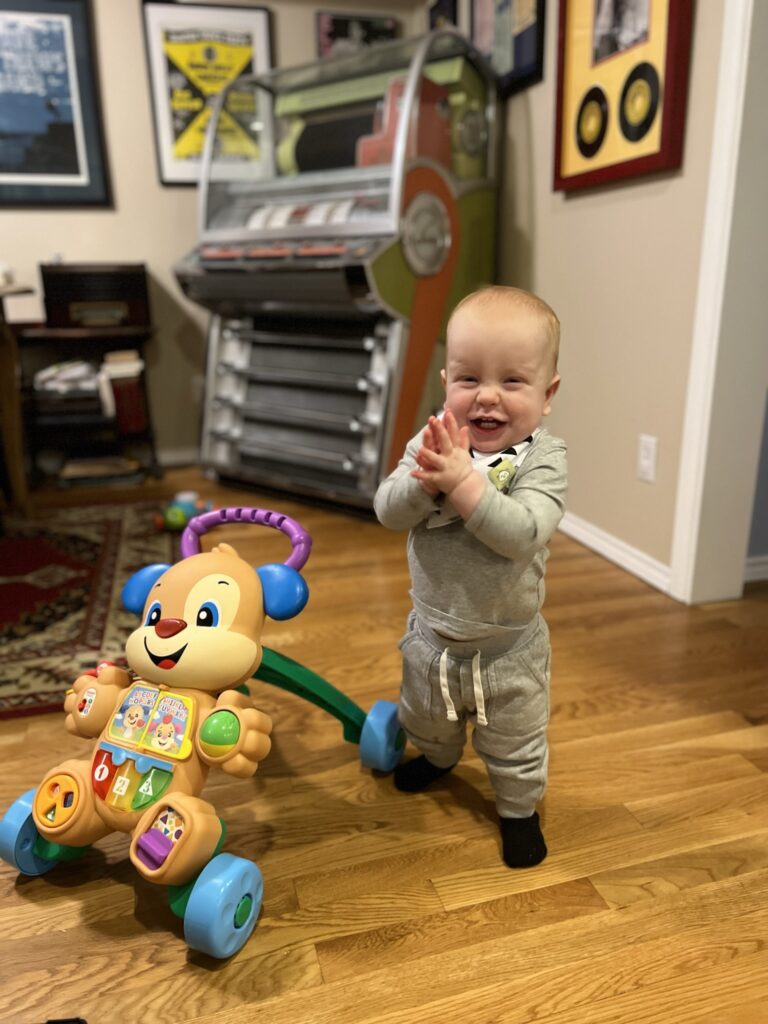 Meanwhile I had to decide what to have for my Mother's Day dinner and found this recipe from the fabulous Ina Garten that combines two of my favorite Italian meals, Lamb Ragu and Baked Ziti into one. Keith signed on as the chef and the result was delish!
3 tablespoons good olive oil
1½ cups chopped yellow onion (1 large)
2 cups (½-inch) diced carrots (3 large)
2 cups (½-inch) diced fennel, cored (1 medium)
1 pound ground lamb
1 tablespoon minced garlic (3 cloves)
1 tablespoon whole fennel seeds, roughly chopped
2 tablespoons tomato paste
1 (28-ounce) can crushed tomatoes, such as San Marzano
2½ cups dry red wine, such as Chianti or Côtes du Rhône, divided
1 teaspoon dried oregano, crushed with your hands
¼ teaspoon crushed red pepper flakes
Kosher salt and freshly ground black pepper
1 pound rigatoni, such as De Cecco
2 extra-large eggs
²⁄₃ cup heavy cream
1 pound fresh salted mozzarella, divided
½ cup freshly grated Italian Parmesan cheese
2 tbsp parsley, minced (optional)
Heat the olive oil in a medium (10 to 11-inch) heavy-bottomed pot or Dutch oven, such as Le Creuset, over medium heat. Add the onion, carrots, and fennel and sauté for 10 minutes, stirring occasionally, until the vegetables begin to brown. Add the lamb, garlic, and fennel seeds and cook for 8 minutes, breaking up the lamb with a wooden spoon, until no longer pink. Stir in the tomato paste, tomatoes, 2 cups of the wine, the oregano, red pepper flakes, 1 tablespoon salt, and 1 teaspoon black pepper. Bring to a boil, lower the heat, and simmer, partly covered, for 40 minutes, stirring occasionally. Off the heat, stir in the remaining ½ cup of red wine.
Preheat the oven to 350 degrees. Bring a large pot of water to a boil, add 2 tablespoons salt and the rigatoni and cook according to the directions on the package, until barely al dente. Drain.
In a large bowl, whisk together the eggs and cream. Add the rigatoni and toss well. Grate half of the mozzarella on a box grater and add it to the rigatoni mixture. Add the lamb mixture, 2 teaspoons salt, and 1 teaspoon black pepper and toss well.
Transfer a 10 × 14 × 2-inch baking dish and sprinkle with the Parmesan. Slice the remaining mozzarella and arrange it on top. Bake for 40 to 45 minutes, until the sauce is hot and bubbling and some of the pasta is crusty on top. Sprinkle parsley evenly on top. Serve hot.