Martha Stewart's Blueberry Buckle recipe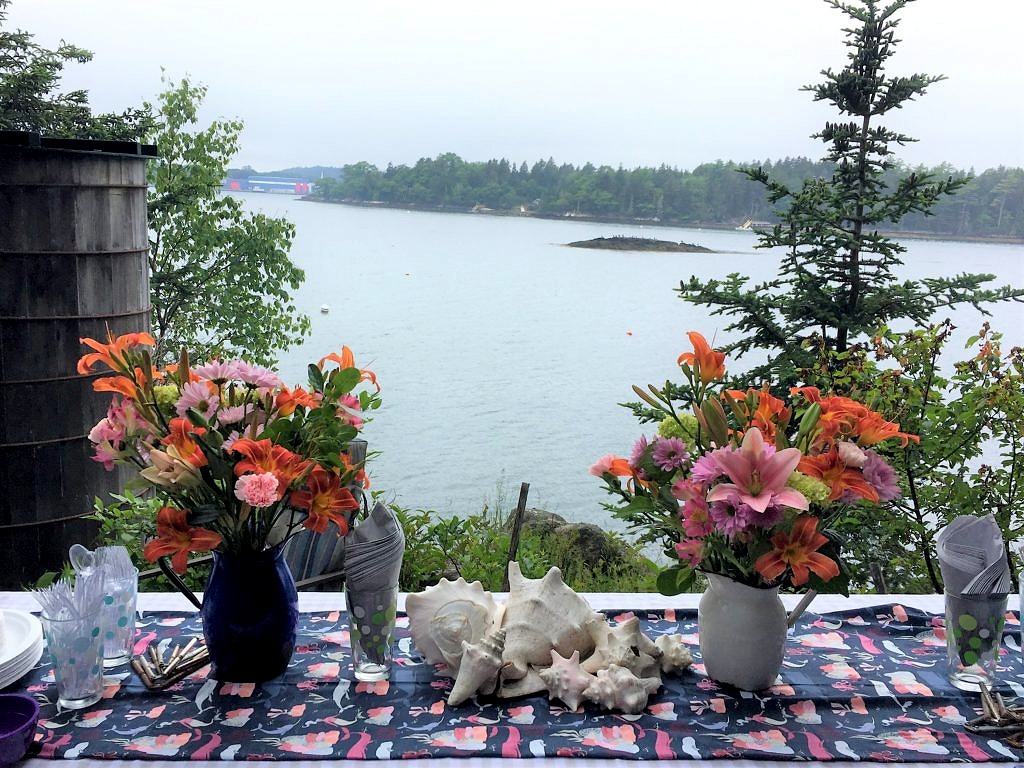 Part of the fun of having a cottage on the Maine coast is connecting with my sister and her family.  She married a Mainer 30 years ago and has happily lived on the Pemaquid Peninsula–a bucolic landmass encircled by craggy clumps of rock and endless sea–ever since.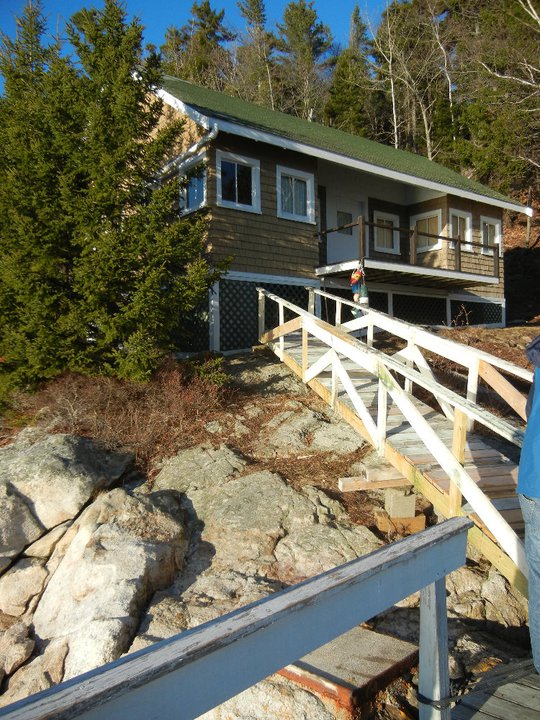 Seven years ago, she and her husband purchased a second property on the peninsula.  Built in the 1920's as a retreat for school teachers on a cliff overlooking the Damariscotta River, and mostly untouched since then, their cottage is a scenic outpost for family and friends all summer long.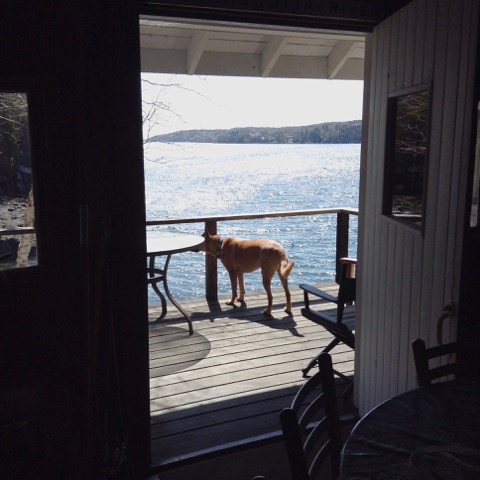 Perched on the cliff's edge with a million dollar view, once inside it feels like you are actually living aboard a ship.  All timber framed with a small galley kitchen, a center keeping room with a large round table and wood stove, with three small bedrooms neatly tucked away in the corners, there is no electricity and water comes from a large cistern attached to the dwelling.
You look out and see what inspired Winslow Homer and the Wyeth men, all of whom honed their artistry on these shores.  Then you feel it in your bones.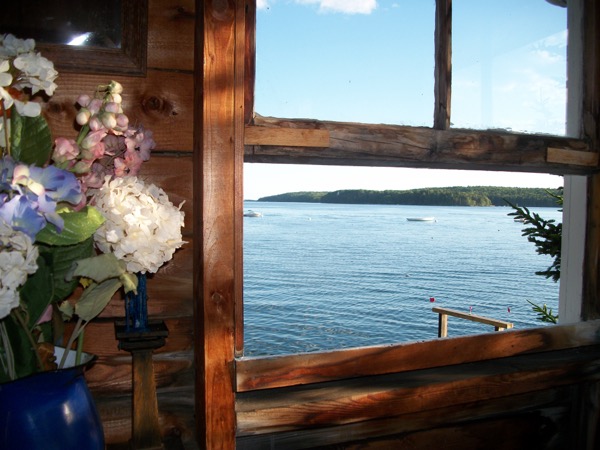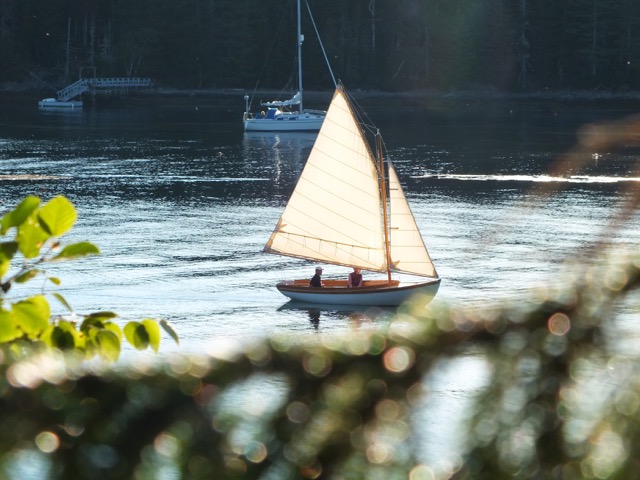 In the bedrooms there are patchwork quilts and lace curtains to soften all that knotty pine.  The daybeds are just perfect for curling up for a nap or reading on a rainy day.  And finally, when darkness falls, it is lovely to open the curtains and lie back and watch the stars glimmer while drifting off to sleep.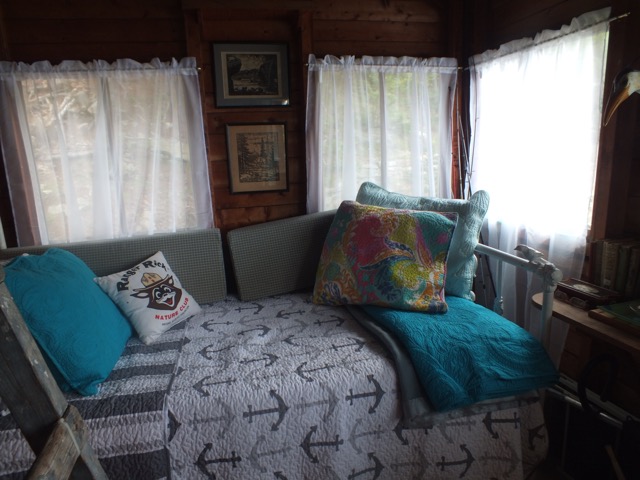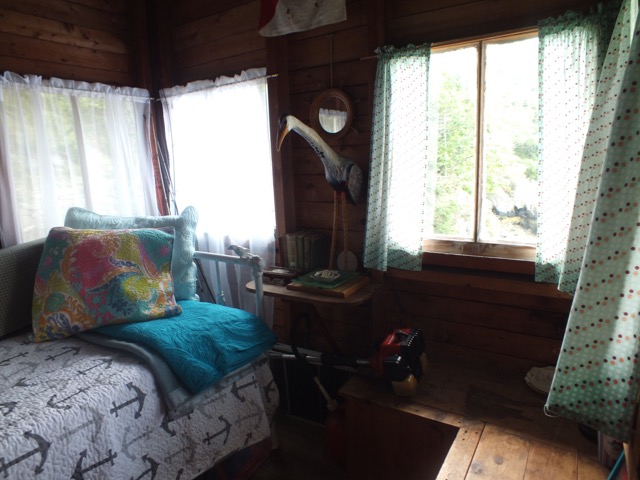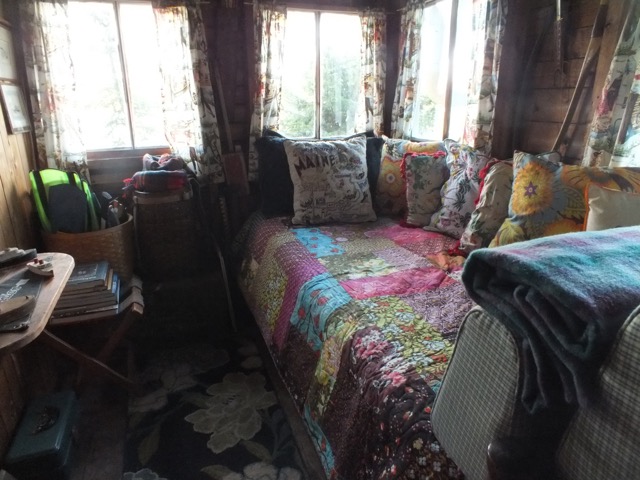 Minimalism is not Laurie's thing and collections abound; from bottles to mermaids, there is something fun to see everywhere you look.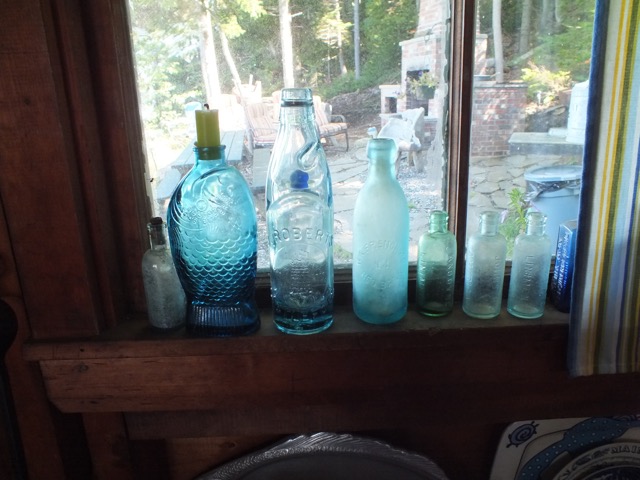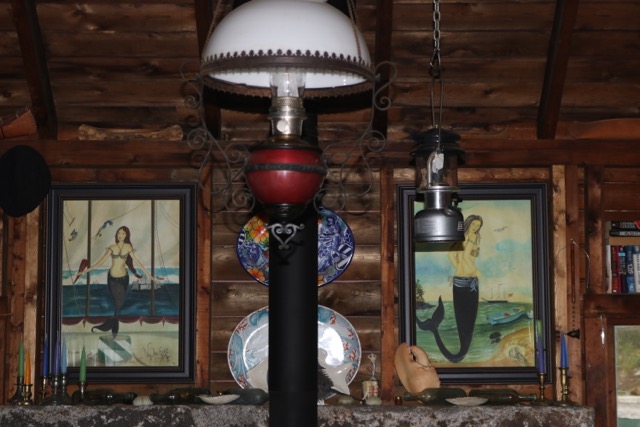 But I digress.  Because on this day we were not here to admire the view, or the eclectic interior, even better–we were here for a Lobster Bake!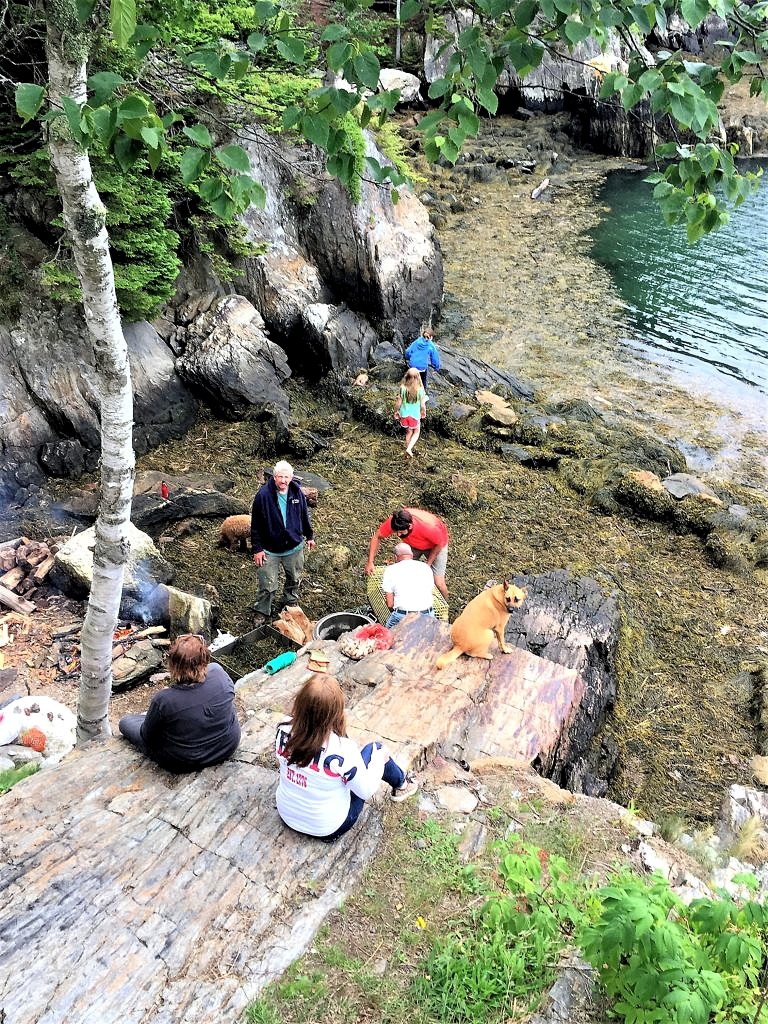 Once a summer they host a Lobster Bake and luckily we were on board for this one.  Trust me, this is not for the faint of heart.  The menu included 48 lobsters, 20 pounds of steamers, 36 ears of corn, 10 pounds of potatoes and 24 eggs!  And let's not forget to mention the hot dogs and hamburgers, steak tips, appetizers and blueberry buckle–there was, no doubt, enough food to sink a battleship!
And just like going to battle, a ton of preparation is required.  First you have to assemble all the ingredients and then cart them down a steep incline to the cottage.  That is all except the lobsters–they come by sea.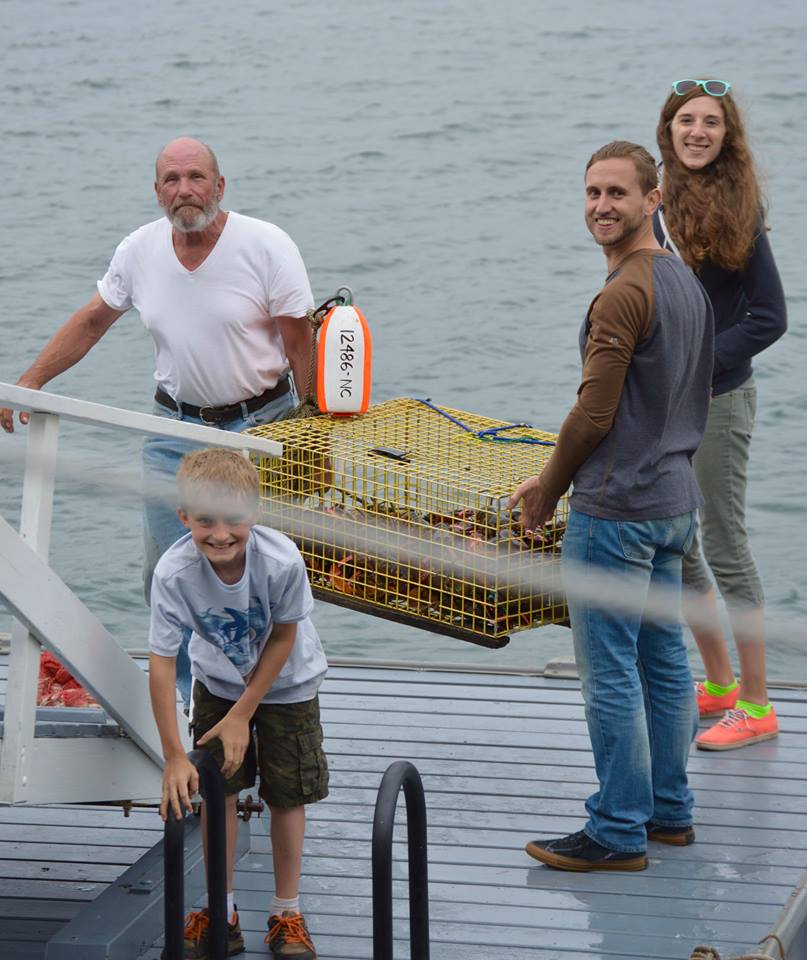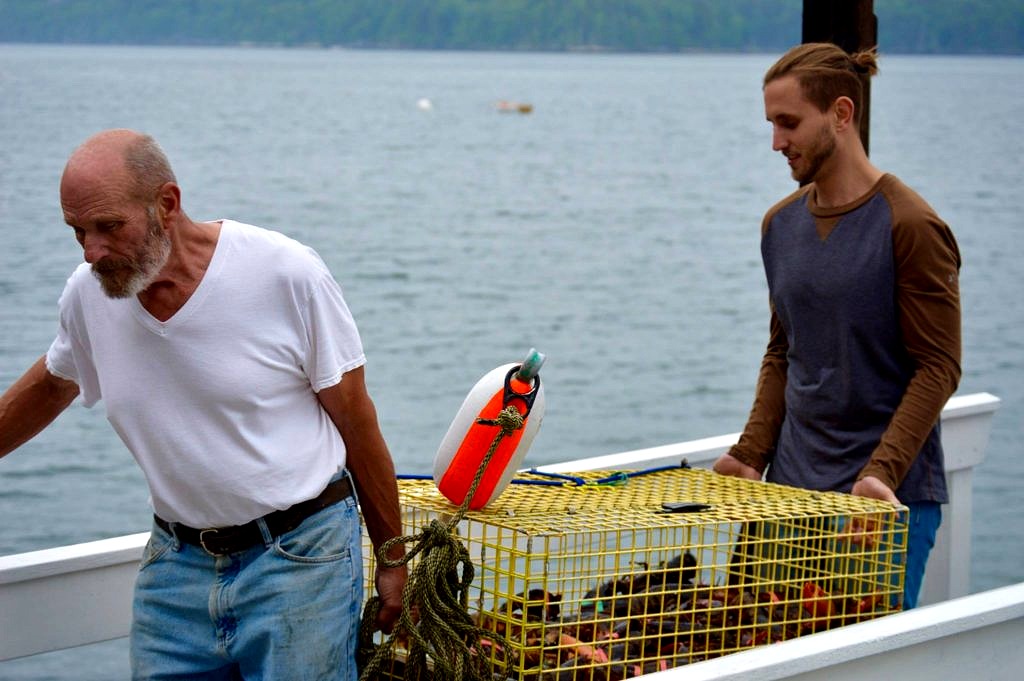 Because this all bakes in seaweed on the shore, timing is everything–you need to do this at low tide.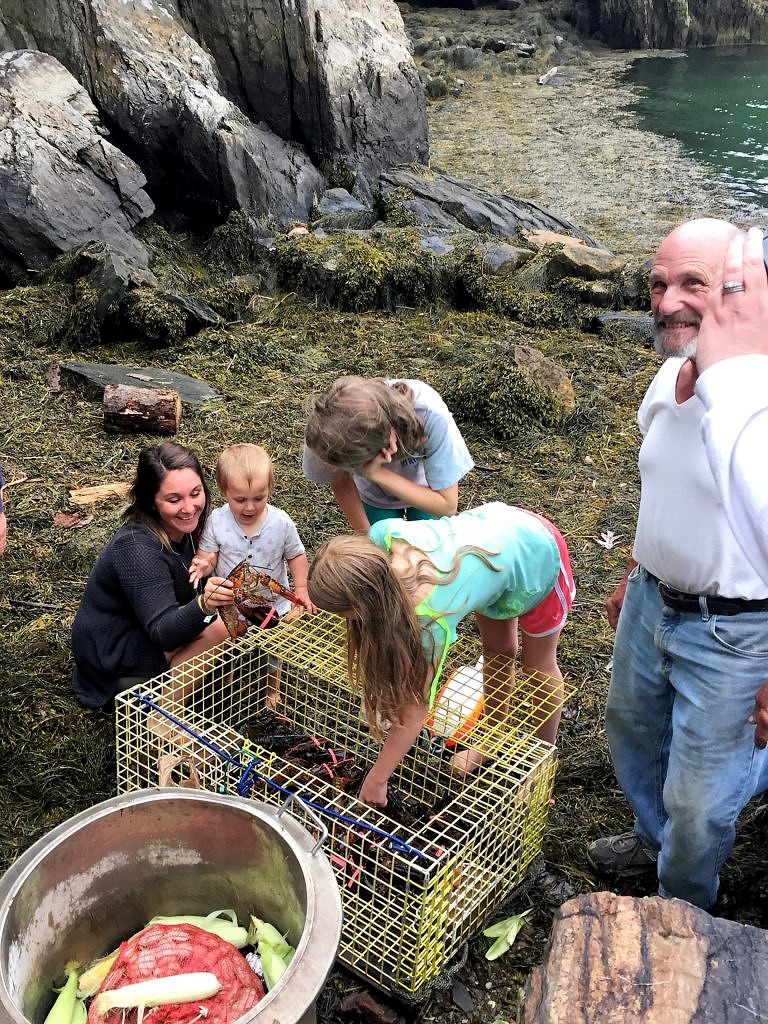 A fair amount of heavy lifting is required so it helps if a few strong men are part of the program.  First a fire is started: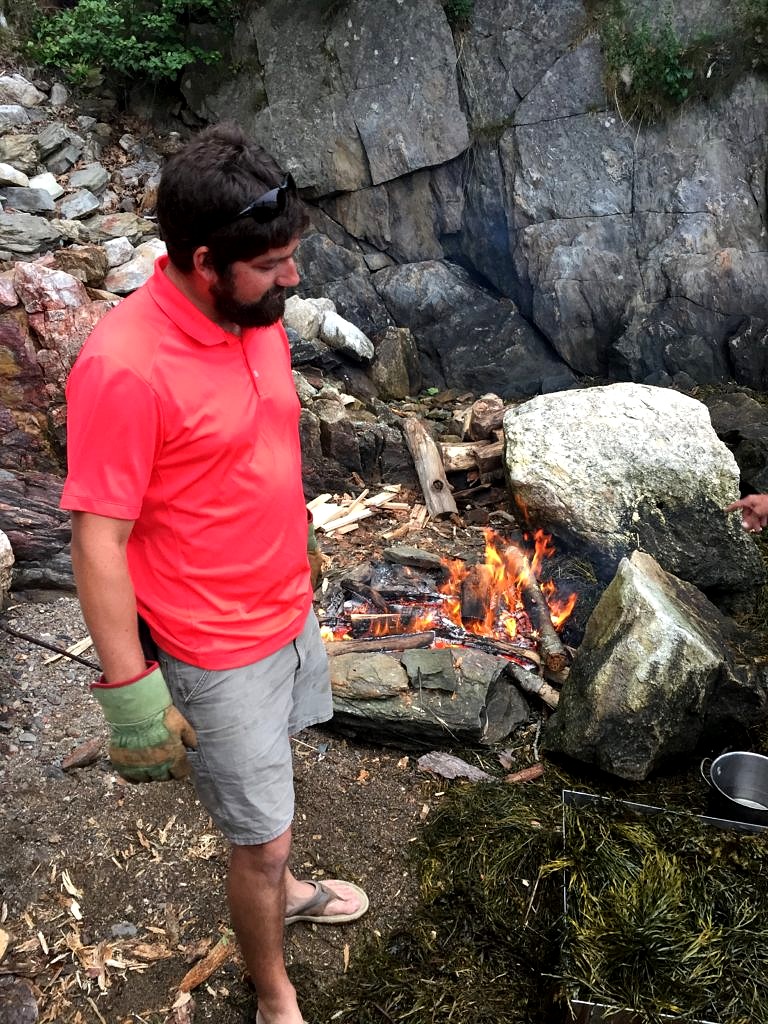 Then the children gather seaweed to line the bottom of metal troughs. Next comes the lobsters.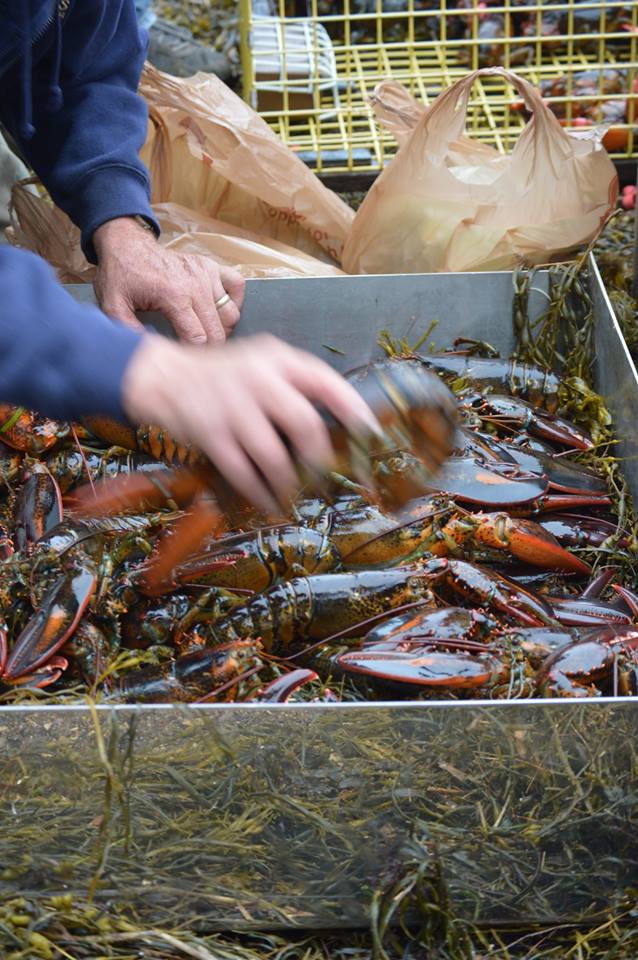 Then potatoes and onions wrapped in foil, and partially shucked ears of corn are added.  (There I am in a key supervisory role on the right).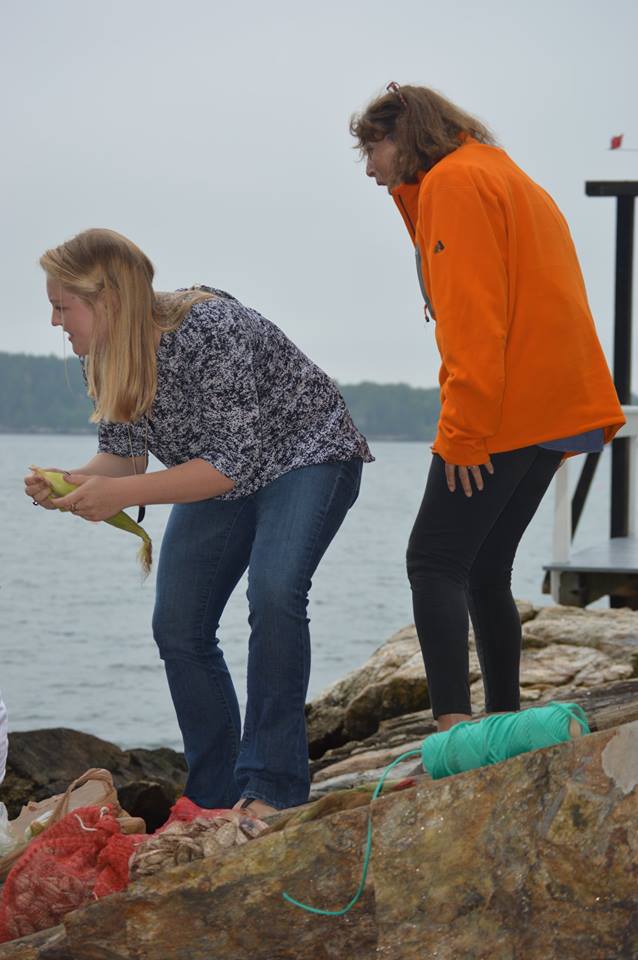 Top with bags of steamers, and a couple of dozen eggs in the carton.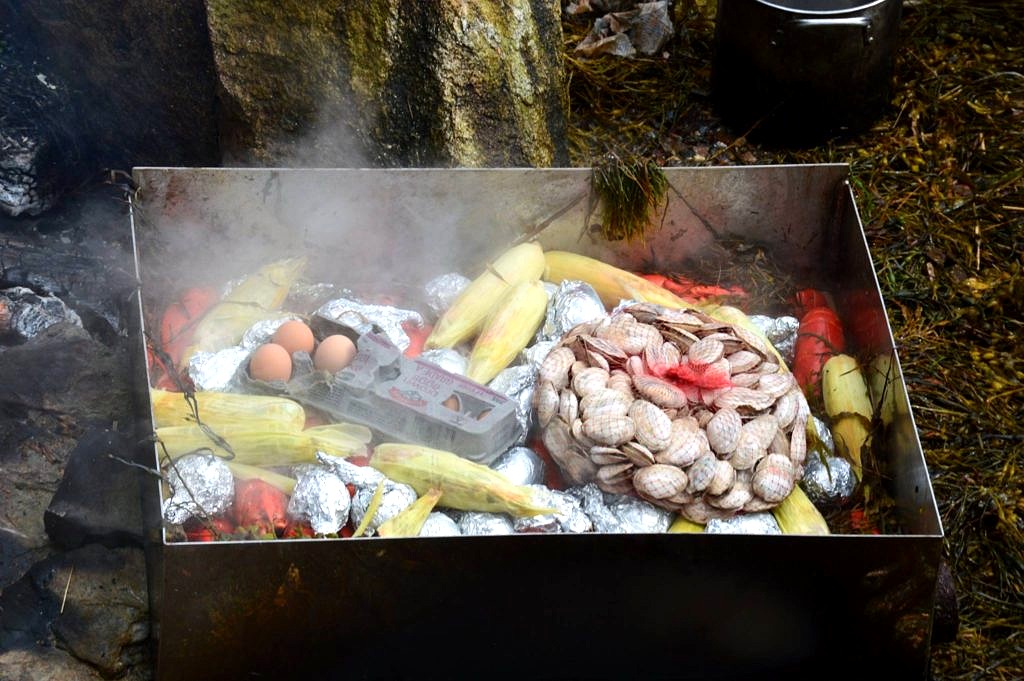 Add the seaweed and lug on top the fire.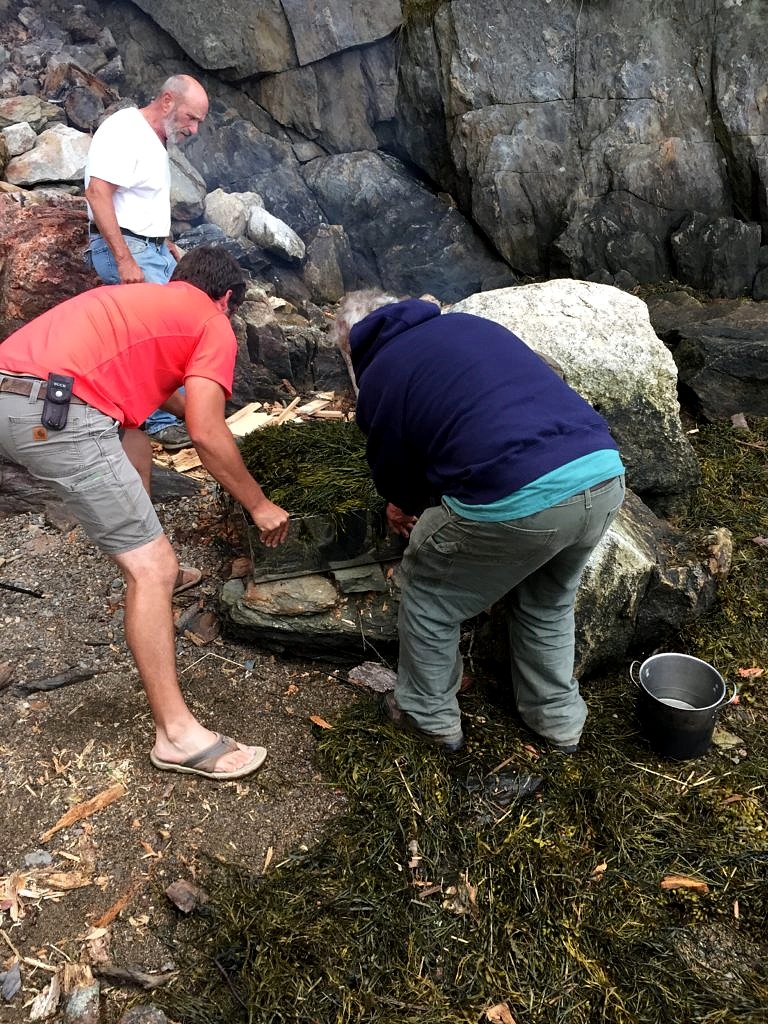 Toss in a few buckets of sea water and 45 minutes later it's all done.
The way you make sure it's all ready is remarkably simple.  You check the eggs.  If they are hard boiled then everything else is steamed to perfection. Serve on huge platters with melted butter and enjoy.  No seasoning is required; the salty ocean water and briny seaweed lend enough flavor.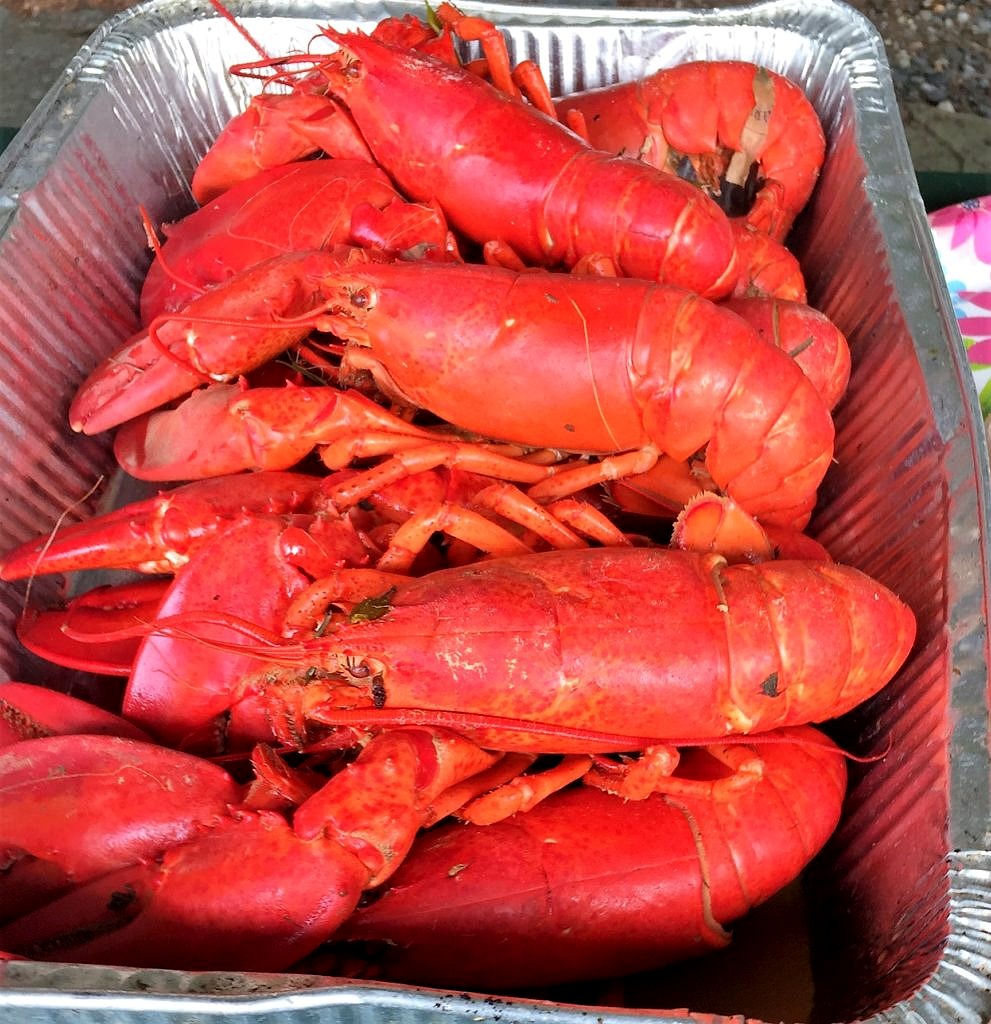 It seems like a crazy amount of work but everyone pitches in from the littlest tyke to the oldest hands and trust me, the effort is worthwhile.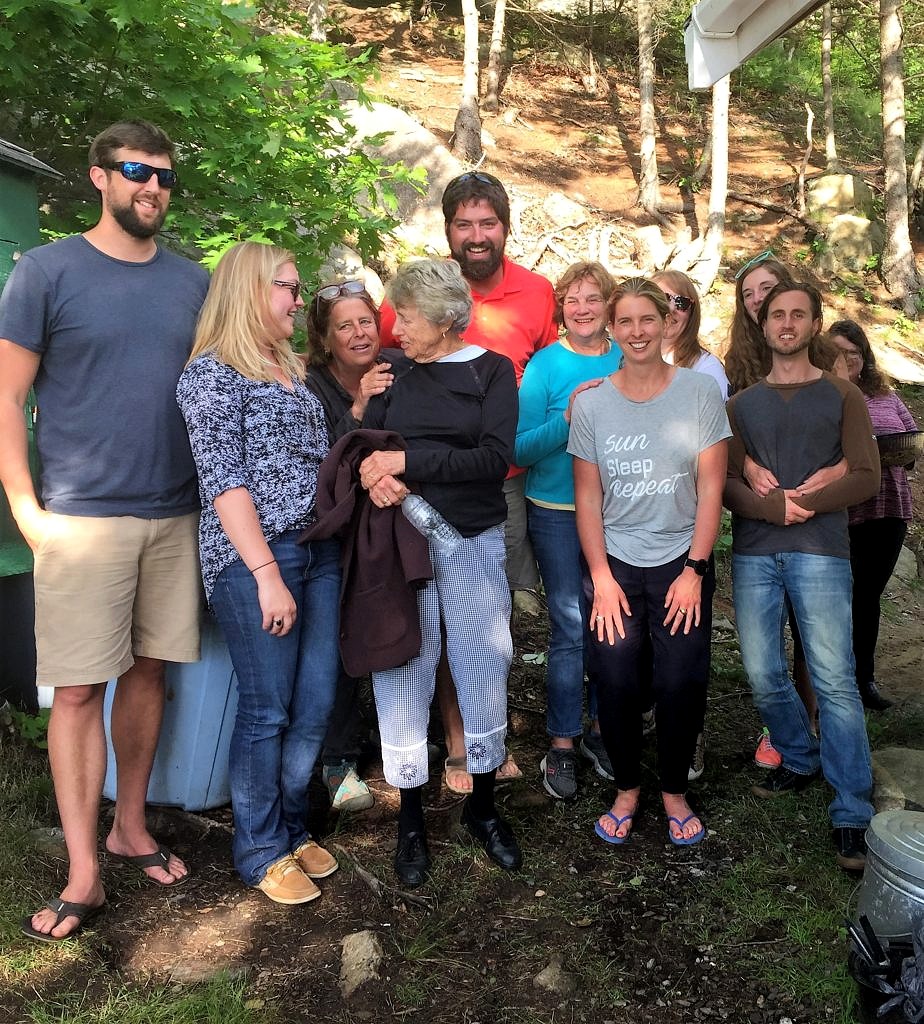 Here is just part of the crew on hand that perfect Maine summer day. From 86 to almost two years old a great time was had by all. Even young Oscar here, who clearly did not appreciate his seaweed chapeau…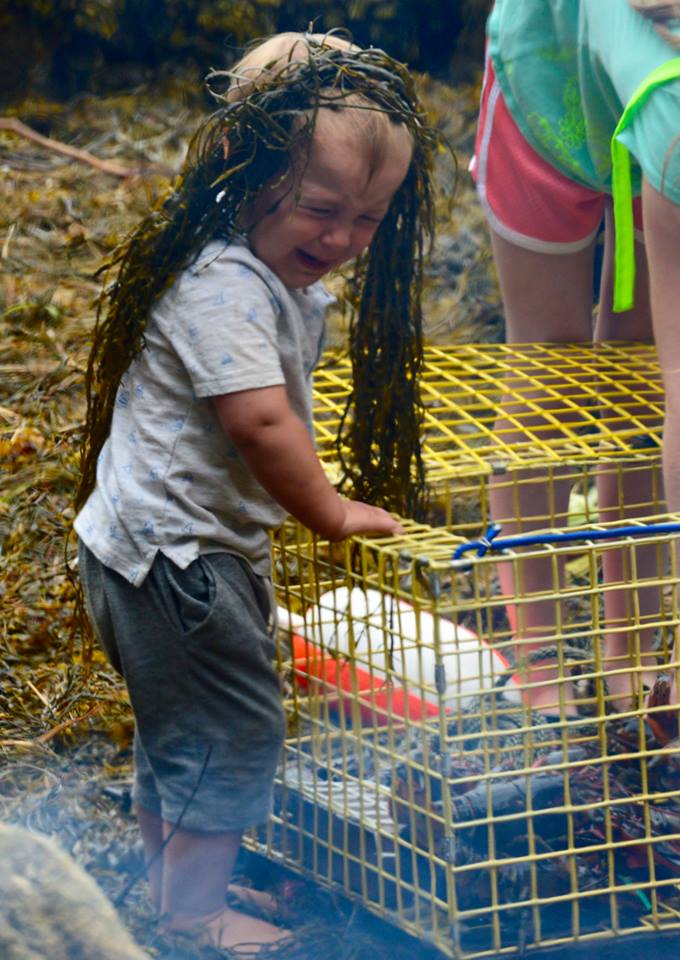 brightened up after an afternoon nap in the arms of his good friend, Laurie.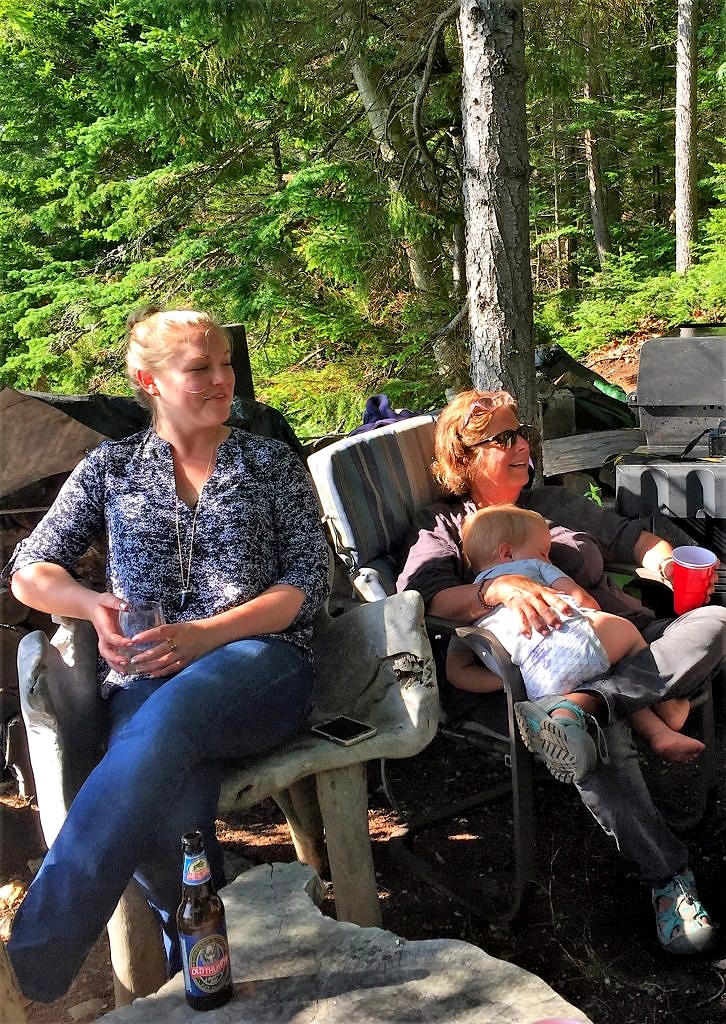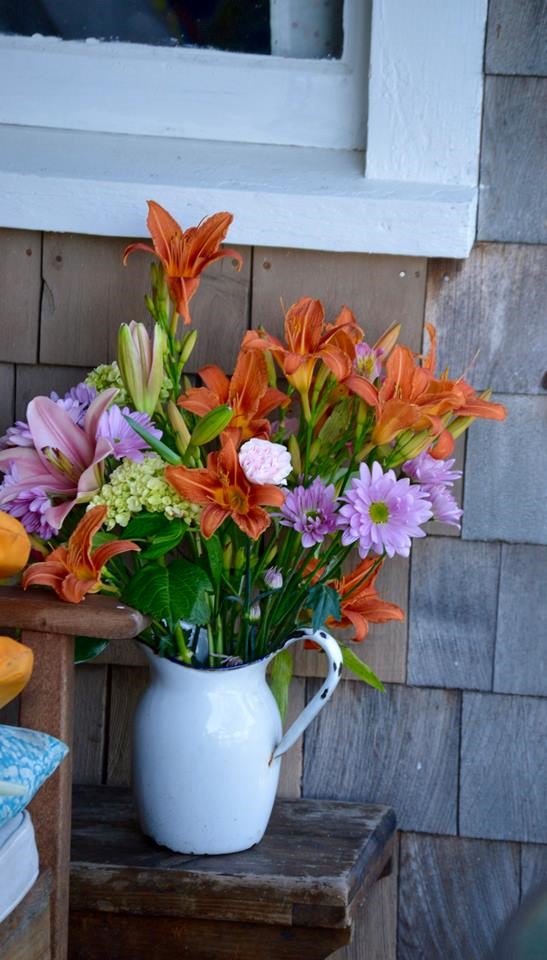 Because most of us are not actually going to host a Lobster Bake I thought I would include a recipe for Blueberry Buckle, which was 12 year old Meghan's contribution to the feast.  She made it all by herself and it was delicious.  I'd never had a Buckle before; we are more of a crumble kind of family.  But I will now.  This recipe is courtesy of Martha Stewart, who has her own fabulous place in Maine, up north in Southwest Harbor.  Let's hope it tastes as good as Meghan's!
Martha Stewart's Blueberry Buckle
INGREDIENTS
1/2 cup (1 stick) unsalted butter, room temperature, plus more for pan

2 cups all-purpose flour, plus more for pan

1 1/2 teaspoons baking powder

1/2 teaspoon salt

3/4 cup sugar

1 large egg

1 teaspoon pure vanilla extract

1/2 cup milk

5 cups wild or cultivated blueberries

Streusel Topping
DIRECTIONS
Heat oven to 350 degrees. Butter a springform baking pan, and dust with flour, tapping out excess. Set aside.

In a medium bowl, sift together the flour, baking powder, and salt; set aside.

In the bowl of an electric mixer fitted with the paddle attachment, cream butter, and sugar on medium speed until light and fluffy, about 3 minutes. Reduce mixer speed to low, and add egg and vanilla, beating until fully combined.

Add reserved flour mixture, alternating with the milk, a little of each at a time, starting and ending with the flour mixture. Remove from mixer. Gently fold in blueberries.

Pour batter into prepared pan; sprinkle streusel topping over cake. Bake until a cake tester comes out batter-free, 60 to 70 minutes. Transfer to a wire rack to cool for 10 minutes. Remove from pan; cool for 15 minutes before serving.

And to gild the proverbial lily, as they say, there was whipped cream on hand to top the Buckle.  None of that store bought in a can stuff for Laurie, we just shook a mason jar full of heavy cream and voila!  Amazing. Just click on the link below to see how easy it is.
Full disclosure: Many of the photos in this blog were taken by Laurie–who, like many people in Maine, wears many hats: artist, chef, childcare specialist, seamstress, and photographer just to name a few.