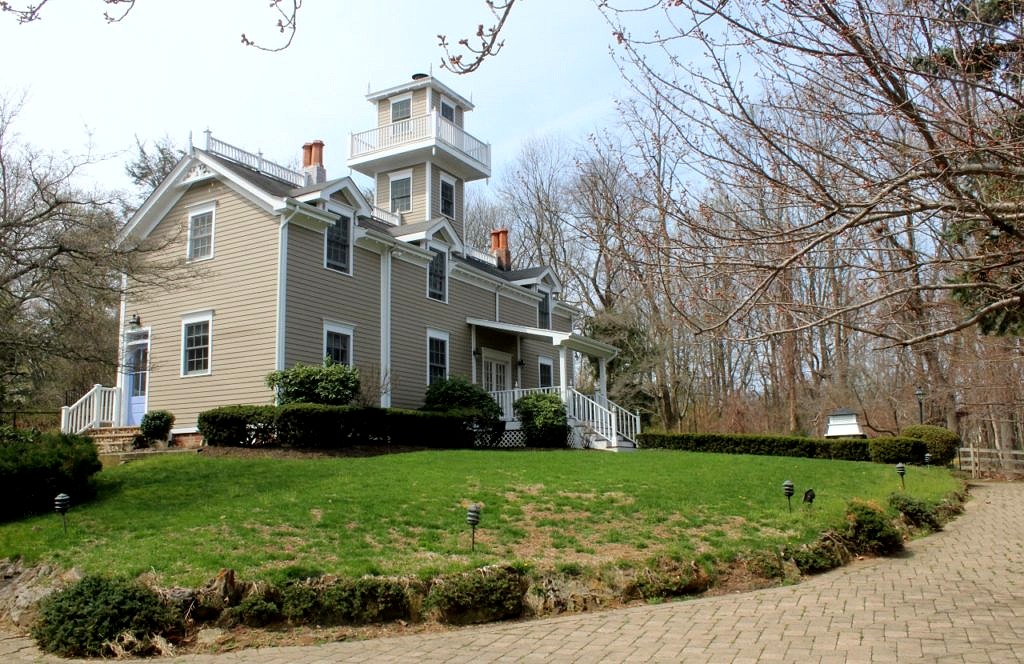 Essentially Keith and I have the best jobs in the whole world.  For the last three decades we have paid ourselves to go shopping–which happily requires rambling throughout Europe and the United States looking for fabulous products to feature in our Red Bank, New Jersey store.
And that's just the beginning.  Because once we're done shopping, interesting people (for the most part) come visit our store in search of the perfect piece for their home, or second home, sometimes even for their restaurant or hotel.  And it is always interesting, even great fun, to learn a bit about their lives, personalities, tastes and vision.  Over the years our client list has grown, and grown and includes rock stars, politicians, plumbers, celebrity chefs, magazine editors, even some of the more infamous housewives of New Jersey–you just never know who is going to walk through the door next.
Usually once something sells, that's it.  When I say adieu I hope for the best; rarely do I get to see how our things look in situ.  So I was quite pleased  to accept an invitation to view the rather myriad British Cottage purchases from over the years, in this home, certainly one of Monmouth County's most iconic properties.  I would have gone even if brunch was not included!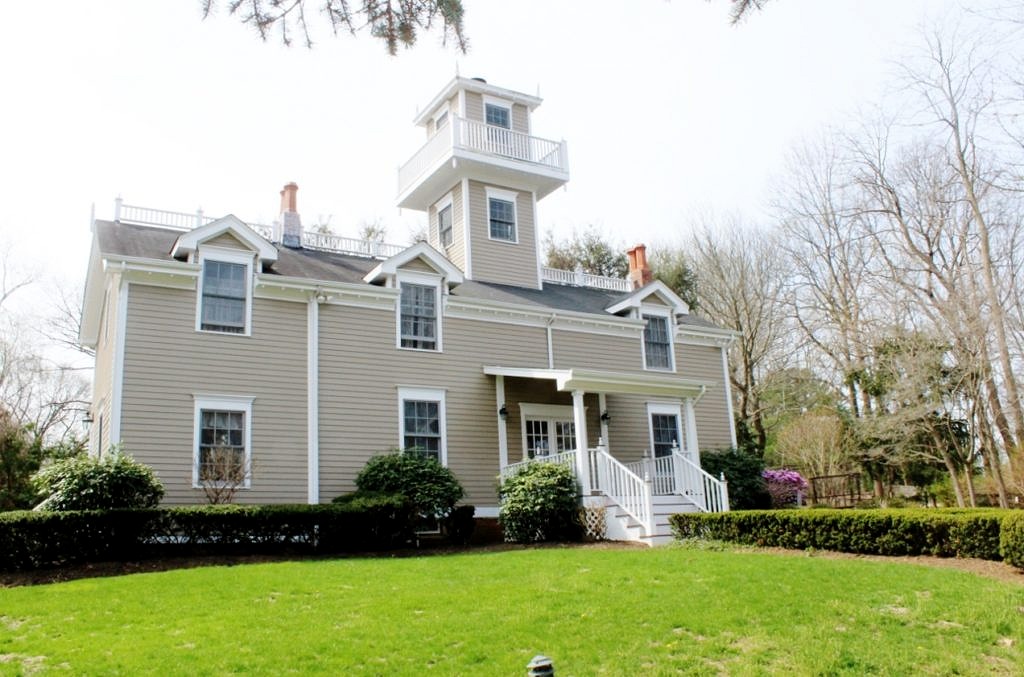 Originally built in the mid 1800's as a lighthouse on a hill on the eastern Middletown border, this house exudes charm and personality.  From the entrancing private lane, you enter through the iron gates to a lushly landscaped, circular drive topped by this simply lovely home.  I want to say it is the icing on the cake, or the jewel in the crown–it is really super.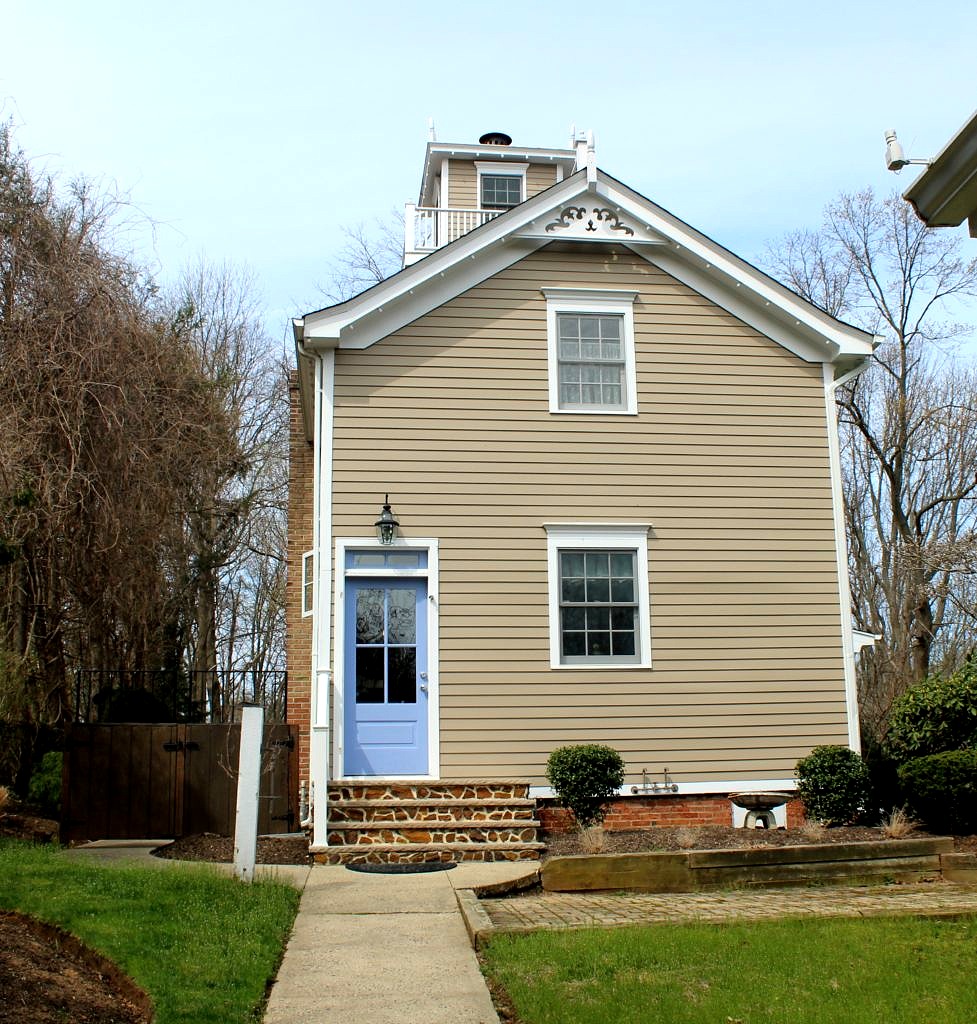 I walked through the periwinkle blue door straight into a kitchen right out of the original Smallbone Catalogue.
Smallbone is an English firm famous for introducing "unfitted kitchens" to the United States.  Totally bucking the trend of build-in, built-up,   over-built kitchens that are now the norm, an unfitted kitchen features freestanding furniture and appliances and a variety of finishes and materials.  Utterly charming, yet totally serious with industrial strength appliances, this is my dream kitchen.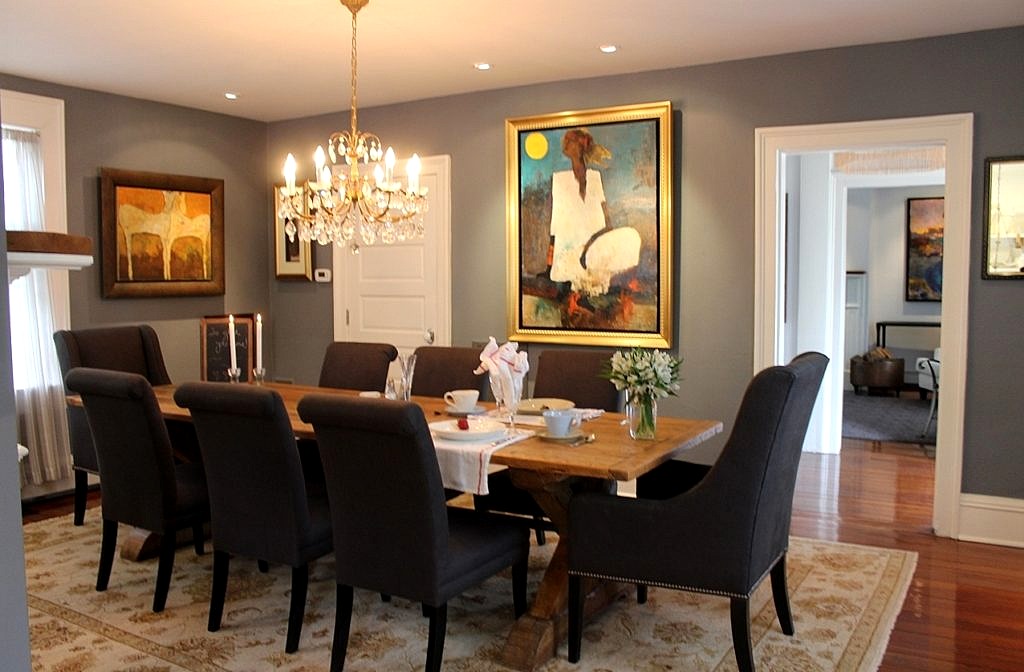 Next up is the dining room featuring a huge farm table from, you guessed it, British Cottage.  The owners were over the traditional polished mahogany look with its requisite pads and table cloths and wanted a table that would encourage lingering dinners and withstand spills and splatters.
The chandelier, also from British Cottage, is a European antique we bought at auction, elegantly bouncing light off the charcoal walls and illuminating the owners' artwork.  This space, which is at once modern and traditional, comfortable and elegant–is the look that defines 21st century decor.  These days nobody wants rooms that are too fussy or fancy, but a touch of class is always welcome.
While my host was putting finishing touches on our meal I ran upstairs to take a peek.  I loved the unexpected punch of color on the landing from the antique chest of drawers in a brilliant shade of original blue paint.  We imported it from Hungary, and it's now looking fabulous right here in New Jersey.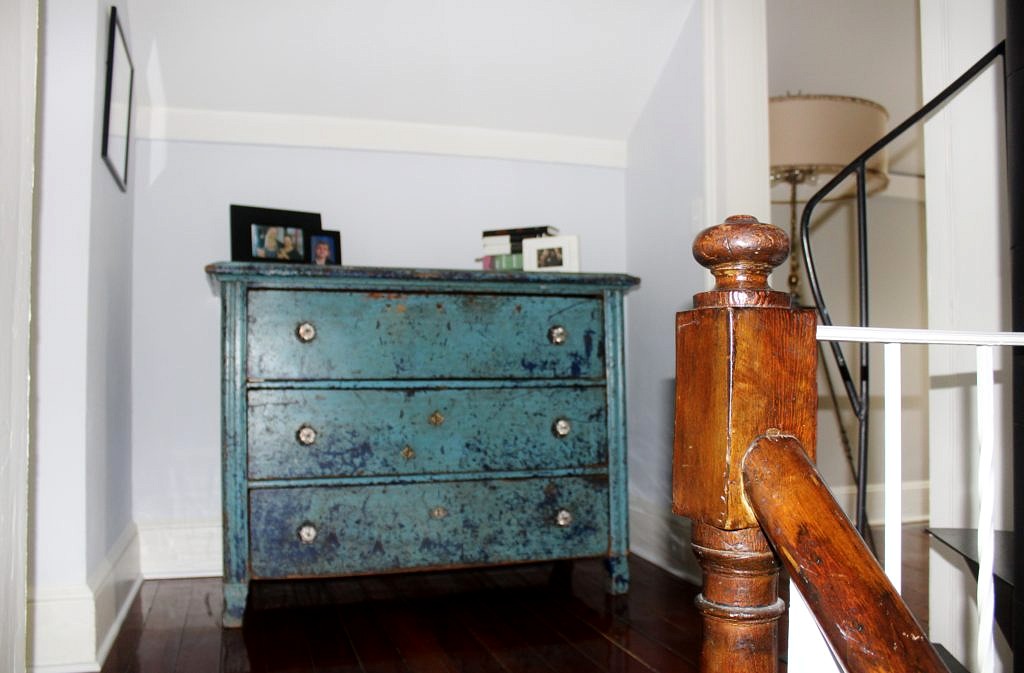 The master bedroom has a British Cottage bed and small dressers that double as nightstands.  When they renovated the house a couple of years ago the owners made a vow to simplify, opting for calm serenity–but, of course, with the aforementioned pops of color to keep it happening.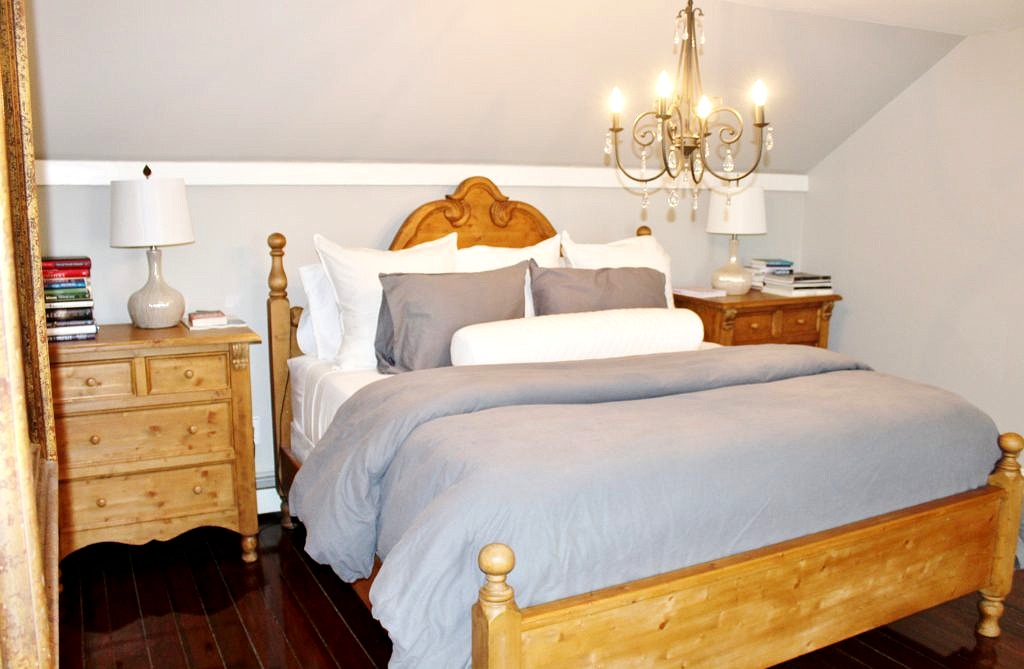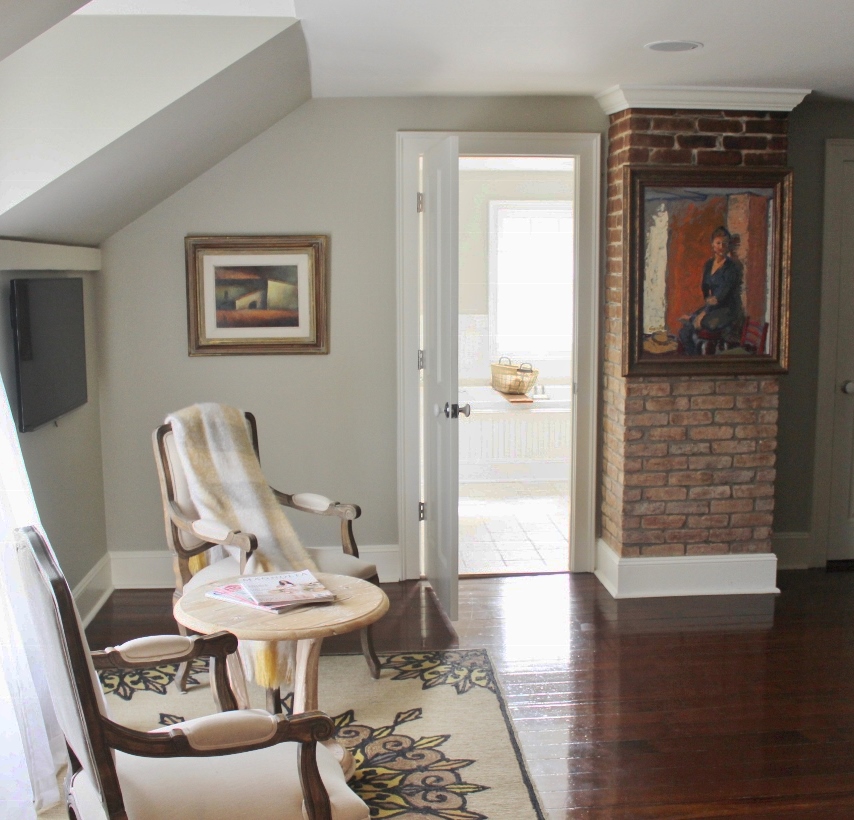 Upstairs, besides the master bedroom (which has an en suite bathroom to swoon over), there is an enchanting guest room and bath, another bedroom they use as a dressing room and a spiral staircase that leads to a ladder that leads to the cupola where the lighthouse used to be.  It is like the stairway to heaven; you keep climbing and climbing and finally you get there.  You can literally see for miles!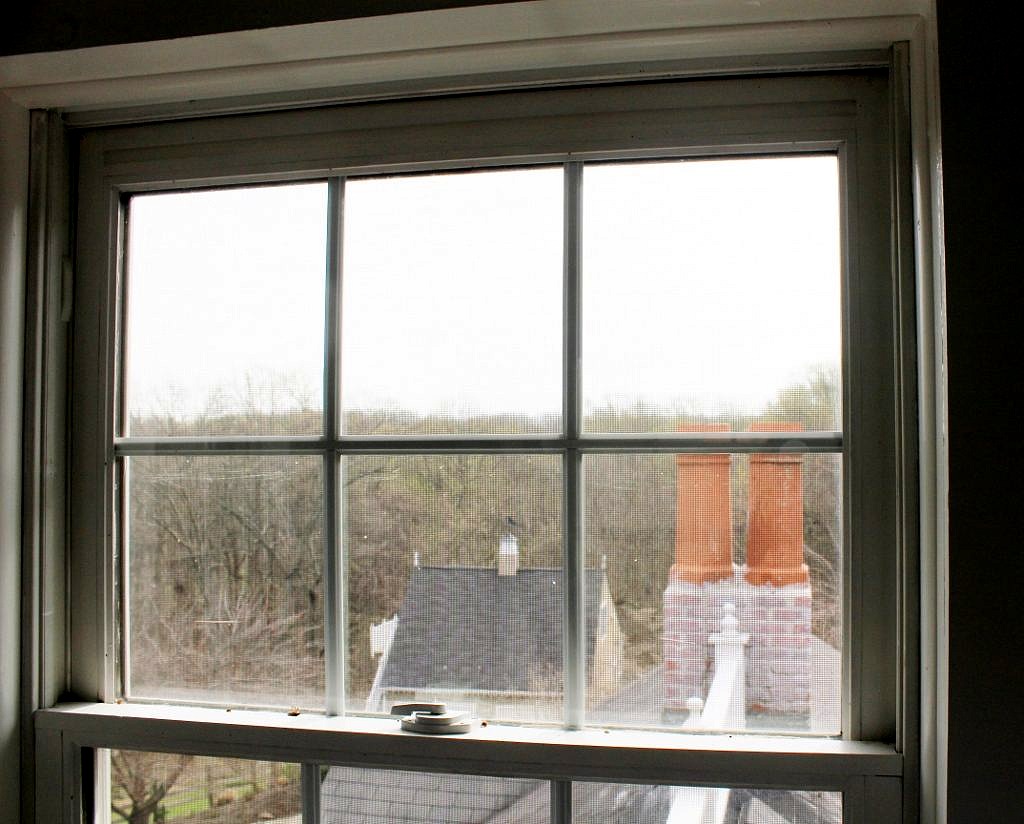 What you see through the window is the barn that houses a full size office space, a gym and a movie theater/media room.  Instead of whacking a full size addition onto the original house they opted to outsource those activities to the existing four stall barn and keep the original structure intact.  No McMansion here and what a relief it is.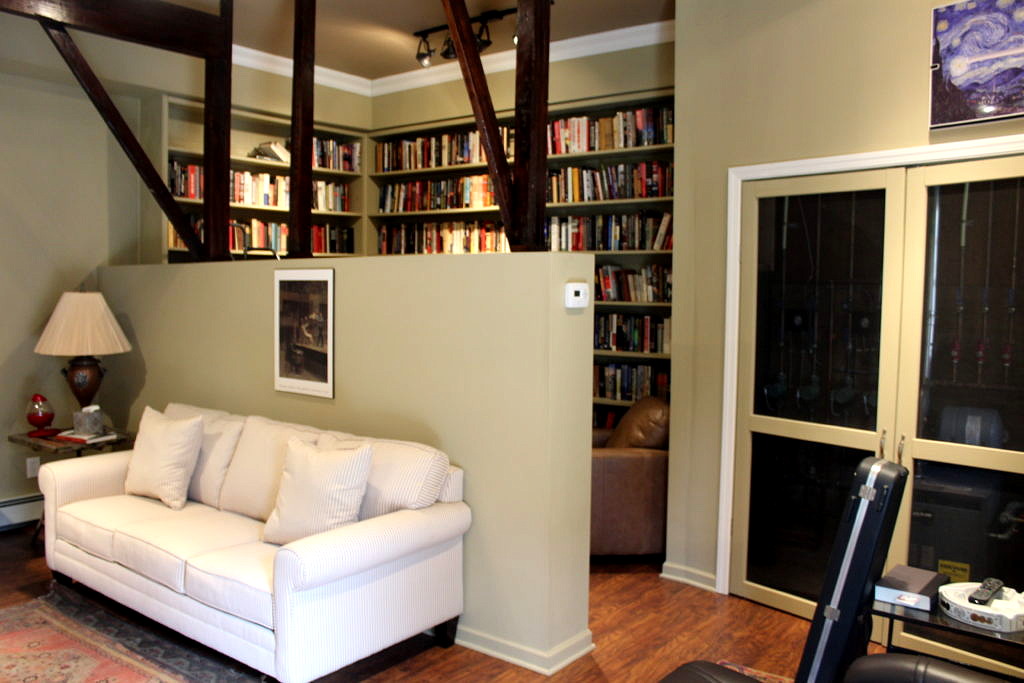 And by the way, as it turns out, this property is for sale. Trust me, if I hadn't already gone through the throes of downsizing, empty nesting and purchasing a cottage in Maine, I would be seriously tempted. For anyone in this so-called gig economy who needs a workspace at home, there is no way you would not be productive here.
But enough meandering. I was there for a reason–time to get fed!

Chris's Challah French Toast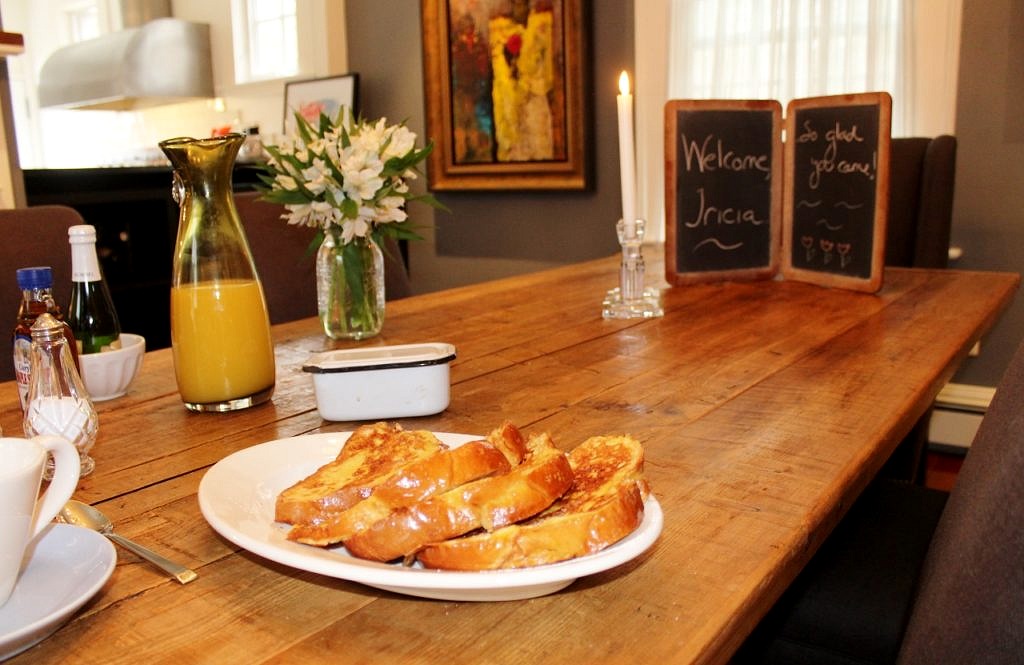 French toast is perfect for brunch.  Bread soaked in egg, later soaked in butter and maple syrup…great.  But challah, soaked in cream and eggs and sauteed in butter is truly ambrosia.  Food for the gods!
Challah (sounds like holla, rhymes with gala) is a fabulous Jewish braided bread made with a rich, eggy dough.  You can find it at Wegman's or Whole Foods (or make your own, if you are feeling ambitious).
To make the French toast, start by slicing the challah in one inch thick slices.  Soak slices in a mixture of six eggs, 1 1/2 cups of light cream, 1 teaspoon vanilla and a tablespoon of sugar for about 3 minutes on each side.
Heat a tablespoon of butter and a tablespoon of vegetable oil in a large skillet over medium heat.  Add your soaked challah and cook for three minutes or so on each side.  Serve with a few pats of butter and maple syrup.
Fresh fruit, bacon, scrambled eggs and mimosas all added to the fun…I was invited for breakfast and almost stayed for dinner!