Herbed Mozzarella Bread Recipe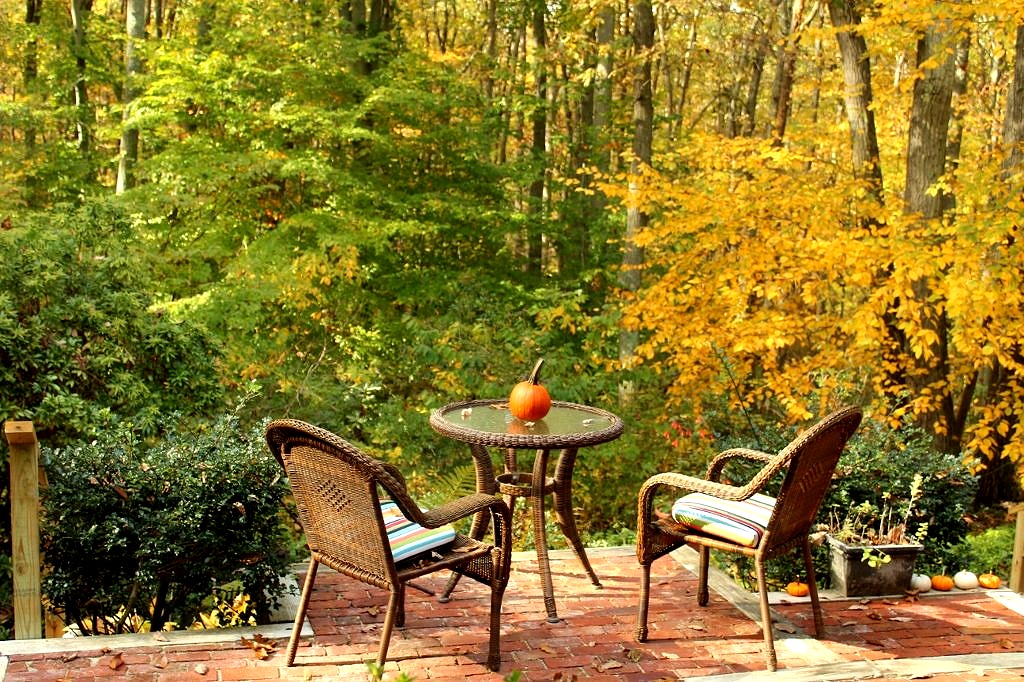 Monmouth County never fails to deliver when it comes to home design. There's the eastern seashore with its mix of vintage and ultra-modern roosts built to embrace coastal living, and then out west lie the century old farms that made New Jersey the Garden State.
In between you can find everything from marvelous stately homes to garish McMansions, acres of subdivisions from every era, and finally, hidden in the hills and dales of Middletown, just forty miles from New York City, a slew of fabulous estates. Over the years many of these properties were subdivided but, by and large, the wilderness was left intact.
When recent transplants from West Virginia had the chance to purchase a house in this section of Middletown, they were hesitant at first. Empty nesters–they wondered–did they really need five bedrooms and four and a half acres? Despite these initial misgivings they ultimately seized the opportunity to own an iconic home on a startlingly beautiful property.
Fortunately for us the new owners were in need of furniture and happened upon British Cottage…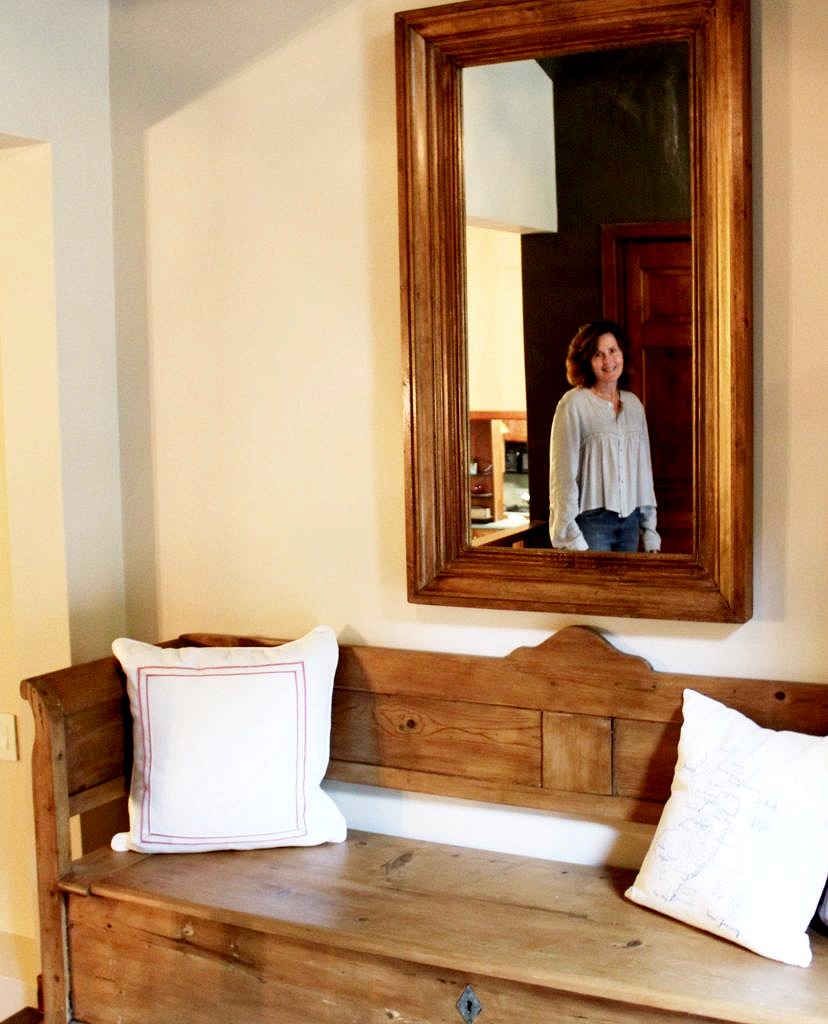 Reflected in the mirror over an antique pine bench (from British Cottage) in the foyer of her new home is Angie Lambert. Angie is a writer and a photographer, Angie Lambert Photography.com and it was great fun to exchange notes. She and her husband, Eric, bought the house in March from the original owners who had lived there for nearly 60 years!
The Frank Lloyd Wright inspired home saw many additions over the years as that family grew. From the original, fairly modest structure wings sprouted, hither and yon, inside and out. There are multi-level decks, bedrooms, offices, suites, great rooms, and a greenhouse. Amazingly, in a relatively short amount of time, the Lamberts have managed to corral all these various nooks and crannies into a cohesive and charming family home.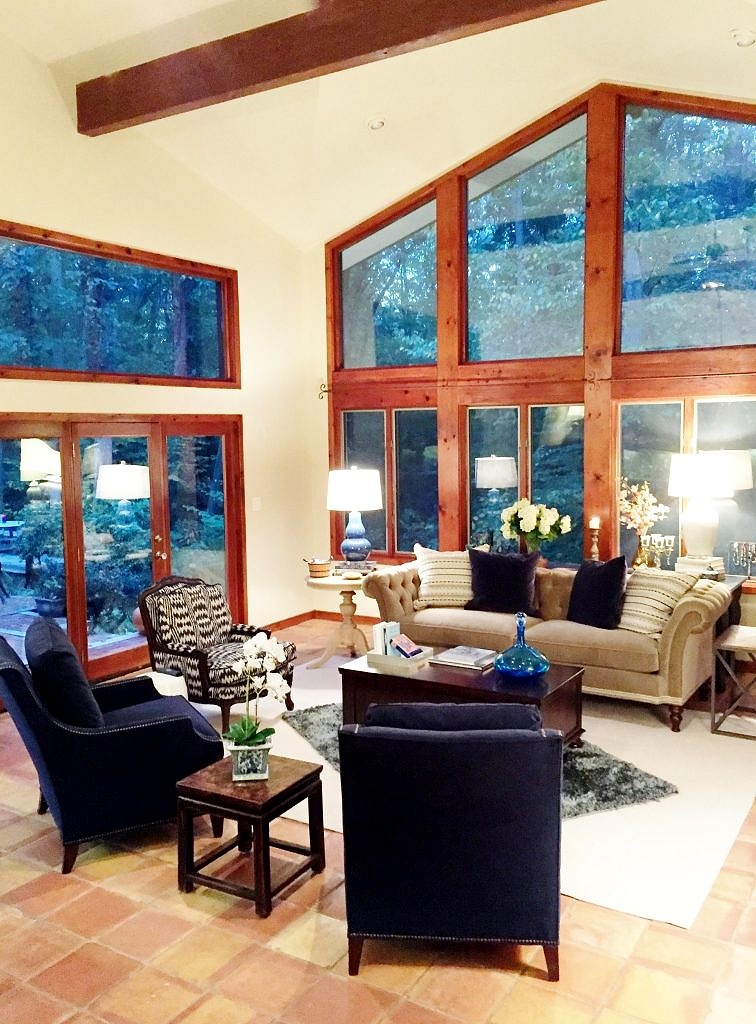 From the foyer, you are swept into the multi-story living room–which until a few weeks ago housed only the family pool table! However, since the Lamberts were planning a Halloween/House Warming bash furnishing the living room became a priority. And one we were happily able to help them with. I love how the custom Hickory White Chesterfield sofa and Bergere chair, plus the two navy Century armchairs, all look like they were made for this room.
As I said earlier this is a house of many levels, and most of the rooms have multiple entrances and exits. The dining room is adjacent to the foyer and steps lead down into the kitchen.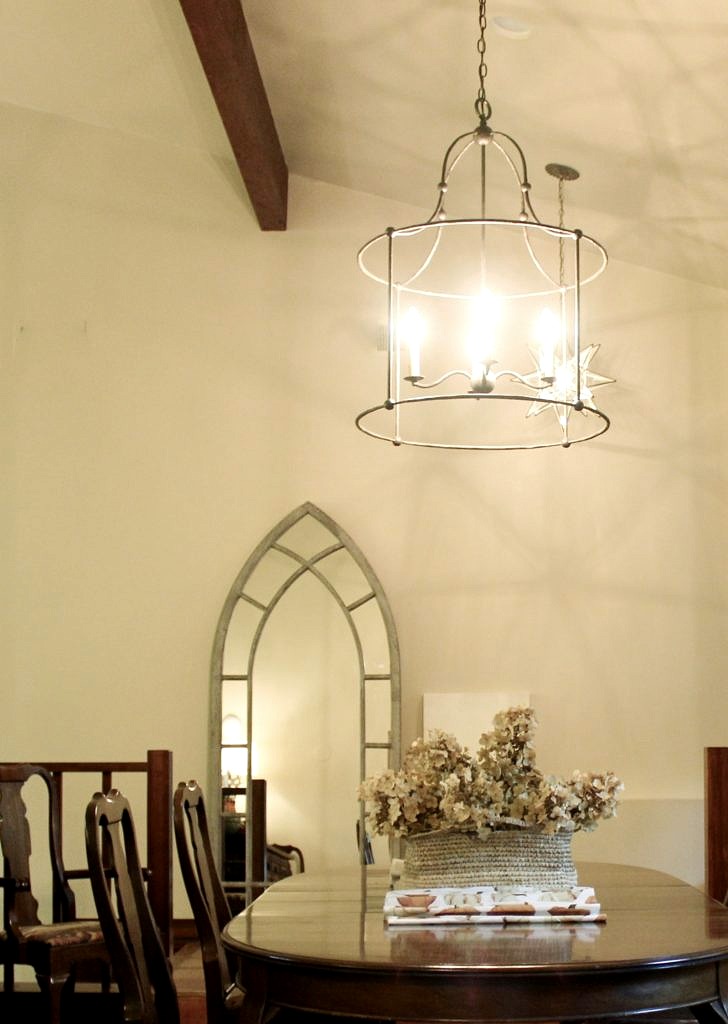 The kitchen was renovated in the late eighties and was probably the cat's meow at the time. Although I am not quite sure about the green countertops–or even what material they are made of–they look nice with the terracotta floor and classic all-wood cherry cabinets. And I mean really, how many all-white bespoke kitchens with Carrara marble will look this good after 30 years?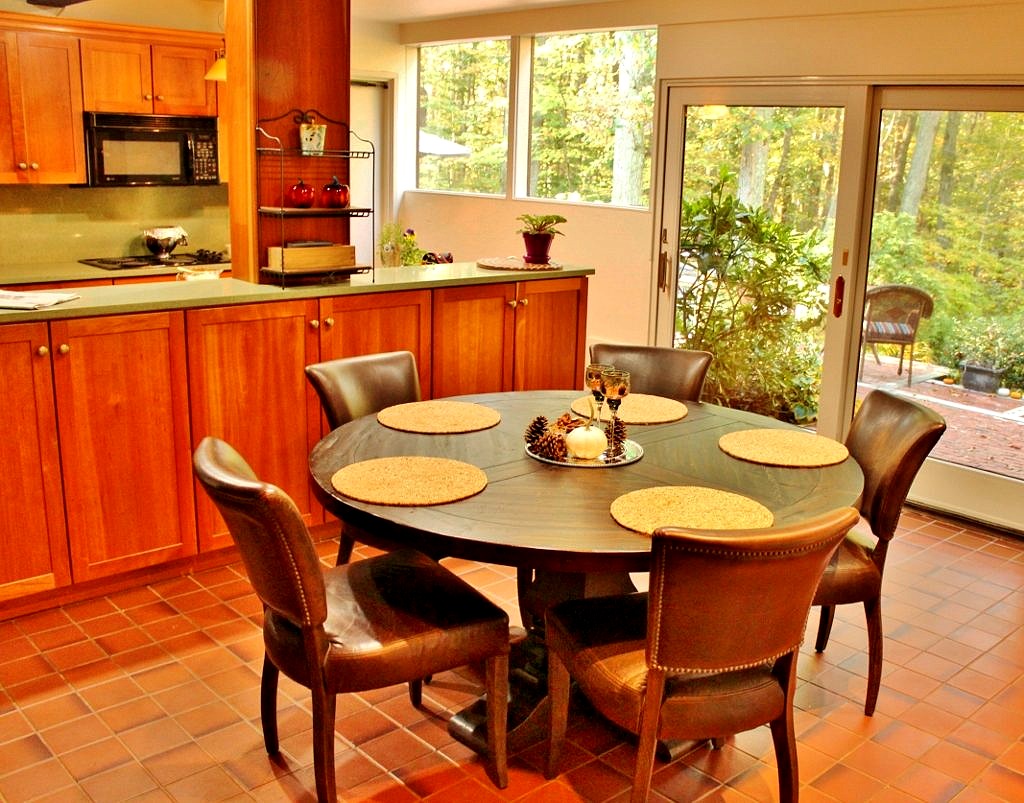 On the other side of the kitchen is the family room, which in case you were wondering, is where the pool table landed.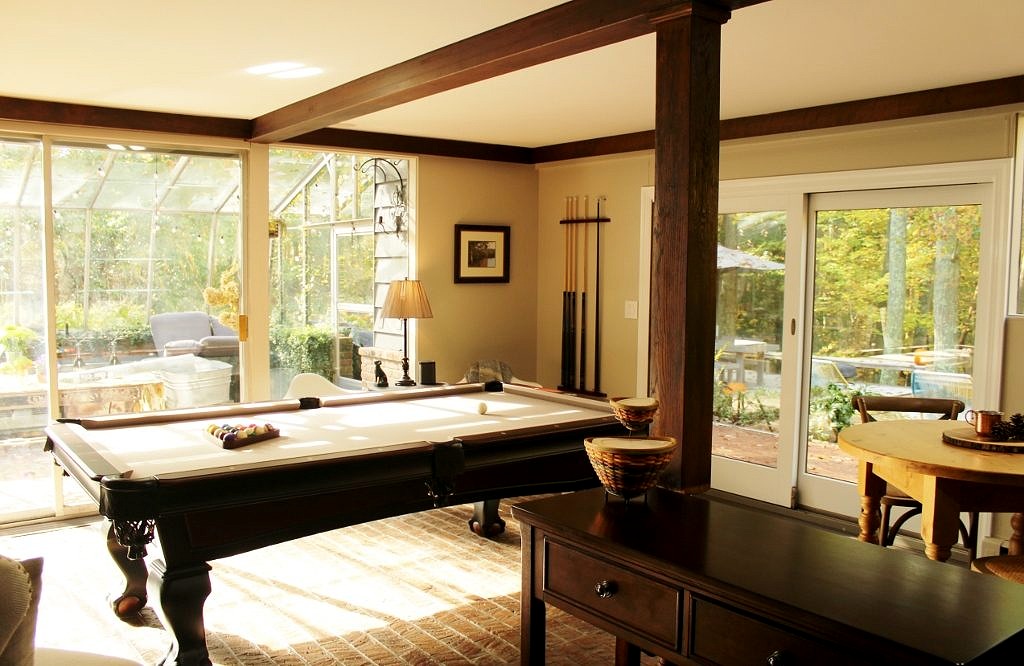 Angie repurposed a huge Pottery Barn hutch to make a fabulous workstation, added a pub table and chairs from yours truly and made another great room for young and old to relax in and enjoy.
Beyond the pool table is the greenhouse that made me–yes–green with envy. Angie was kind enough to adopt four of my super-sized Boston ferns that were never going to survive the winter outside.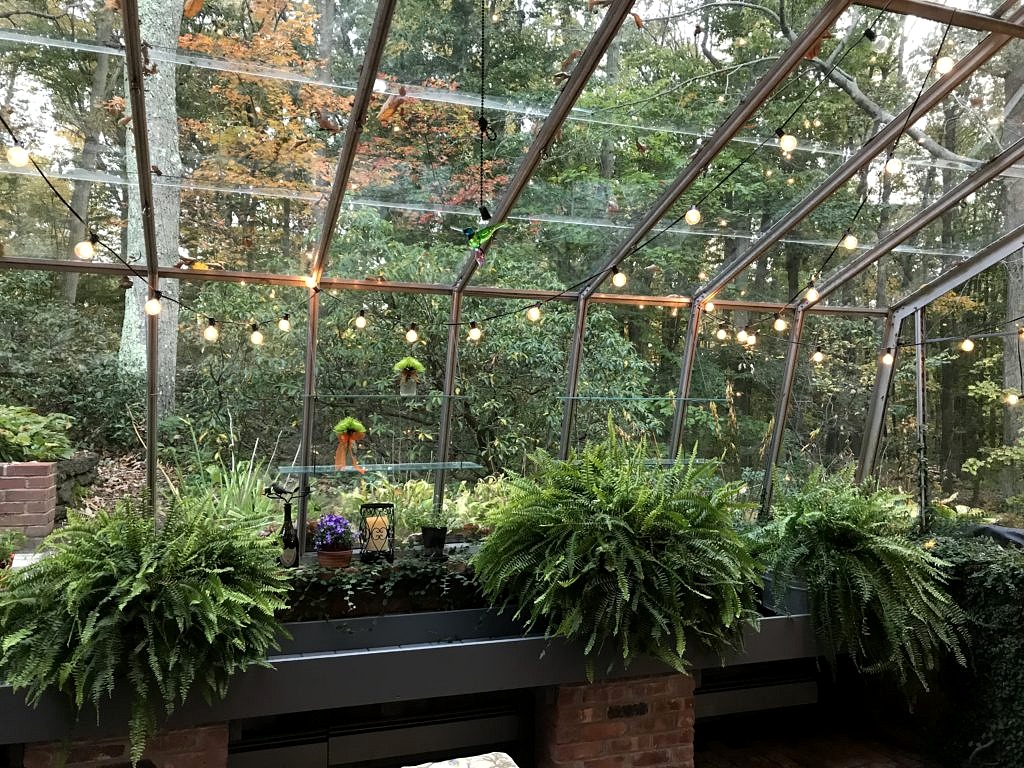 But wait. There is more! If you turn left, you can go back upstairs to another den/family room. In fact, this is the room that first brought Angie into British Cottage. She was searching for items to furnish this space, which her husband had claimed as his own.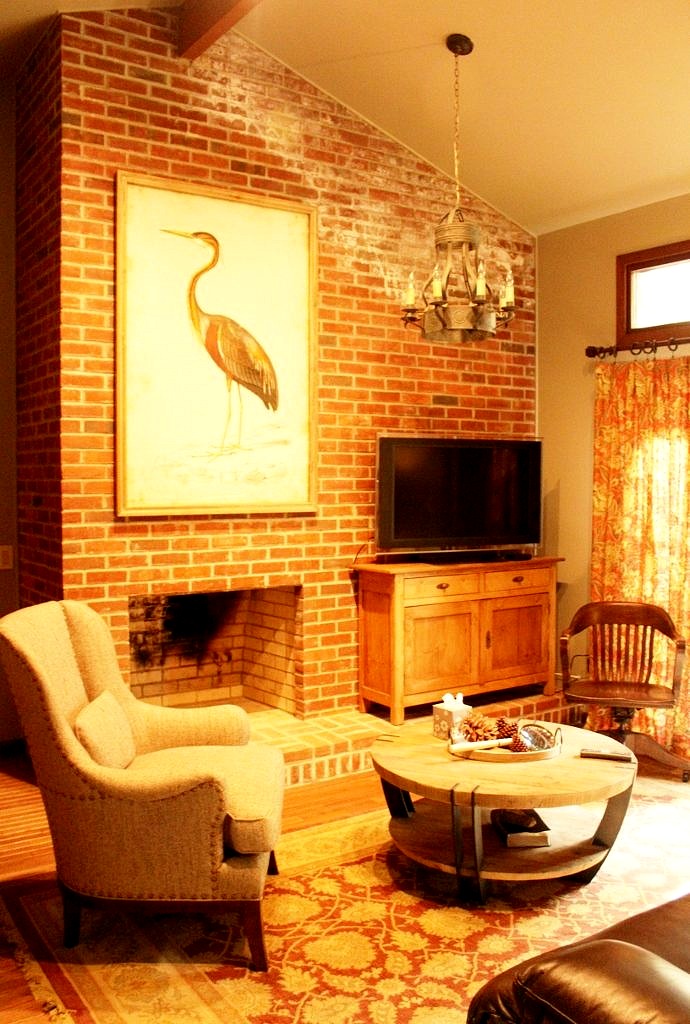 I love how Angie (with a little help from a chum, Denise Dobken) was able to take our large heron print, an antique pine cabinet, a more transitional style coffee table and an armchair upholstered in herringbone and pull it all together. This is a teachable moment for anyone interested in home decor. It doesn't have to match–it just all needs to blend. Don't be afraid to go big and play around with scale.
But enough already. Angie was baking and I needed to pay attention.
Herbed Mozzarella Round Recipe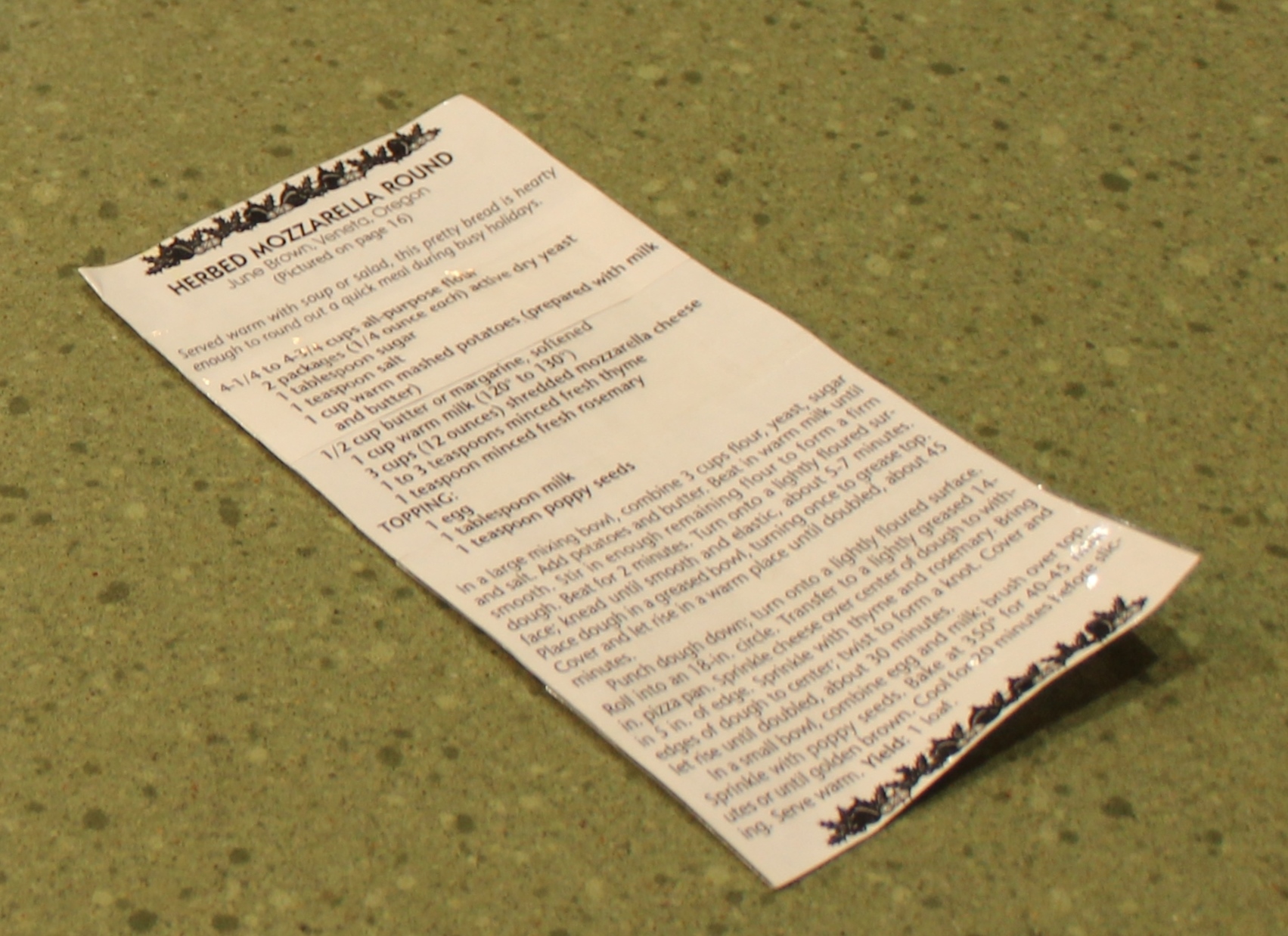 Herbed Mozzarella Round
June Brown, Veneta Oregon
Served warm with soup or salad, this pretty bread is hearty enough to round out a quick meal during busy holidays.
4-1/4 to 4-3/4 cups all-purpose flour
2 packages (1/4 ounce each) active dry yeast.
1 tablespoon sugar.
1 teaspoon salt
1 cup warm mashed potatoes (prepared with milk and butter)
1/2 cup butter or margarine, softened
1 cup warm milk (120 to 130 degrees)
3 cups (12 ounces) shredded mozzarella cheese
1 to 3 teaspoons minced fresh thyme
1 teaspoon minced fresh rosemary
TOPPING:
1 egg
1 tablespoon milk
1 teaspoon poppy seeds
In a large mixing bowl, combine 3 cups flour, yeast, and salt. Add potatoes and butter. Beat in warm milk until smooth. Stir in enough remaining flour to form a firm dough. Beat for 2 minutes. Turn onto a lightly floured surface, knead until smooth and elastic, about 5-7 minutes.
Place dough in a greased bowl, turning once to grease top.
Cover and let rise in a warm place until doubled, about 45 minutes.
Punch dough down, turn onto a lightly floured surface. Roll into an 18-in. circle Transfer to a lightly greased 14-in. pizza pan. Sprinkle cheese over center of dough to within 5 in. of edge. Sprinkle with thyme and rosemary. Bring edges of dough to center, twist to form a knot. Cover and let rise until doubled, about 30 minutes.
In a small bowl, combine egg and milk, brush over top. Sprinkle with poppy seeds. Bake at 350 degrees for 40-45 minutes or until golden brown. Cook for 20 minutes before slicing. Serve warm. Yield: 1 loaf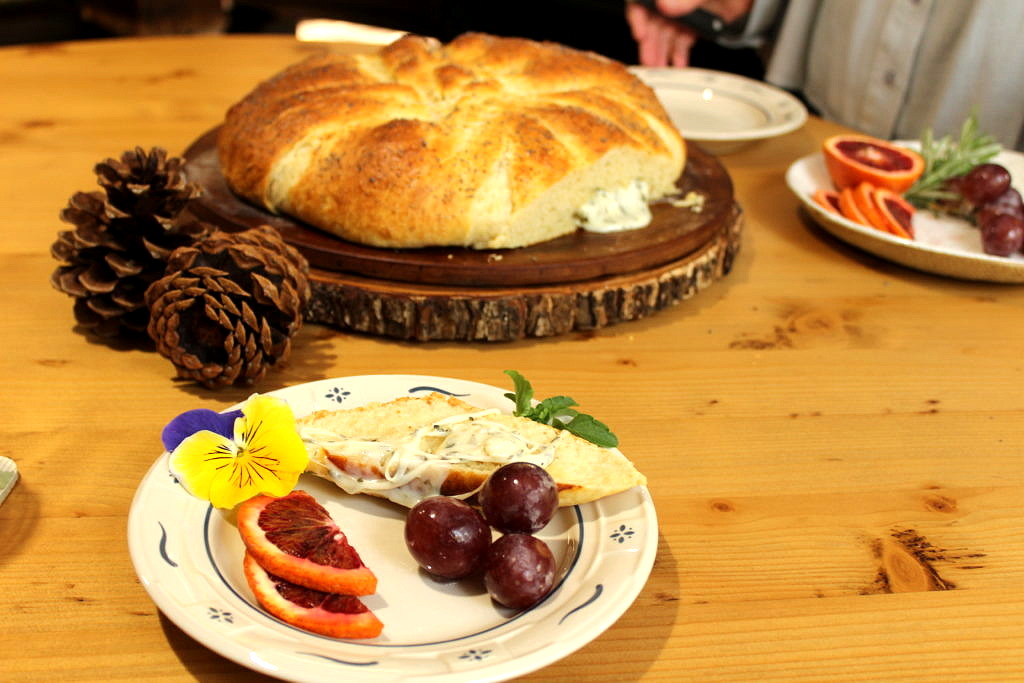 You cannot believe how good this smells and how wonderful it tastes. It was like eating pizza from heaven, a perfect marriage of warm, melted cheese, and freshly cooked bread all enlivened by a dash of rosemary and thyme. I don't bake much but that is going to change!