Who doesn't long for summer, and those lazy days sprawled on the hot sand or immersed in the ocean's salty brine? I hated the summer I had to spend at my landlocked Michigan college but rejoiced when I landed in Sierra Leone for my mandatory foreign study–mainly because it's summer year round in West Africa and the university was minutes from one of the most beautiful beaches I've ever seen.
Even though I continue to reside at the Jersey Shore, as I age I have limited my actual beach days. Wrinkles, heat waves, wrinkles, traffic, wrinkles…I still revel in the sea air, the brilliant blue of the sky, a southeast wind but also take pleasure in the lush green leaves, stunning flowers and velvety lawns found on this verdant peninsula in coastal New Jersey.
And now it's my garden that brings me the most joy in the summer. The neighbors look amazed (or possibly askance) when they see me toil: mowing, trimming, dragging and spreading loads of top soil and mulch, digging in new plants and ripping out old ones. It is hot; I am always sweaty and dirty and I am perfectly content.
Our property was horribly overgrown when we bought it. In fact, our house was actually being consumed by the surrounding vegetation. There was an enormous maple tree close to the house whose roots were growing into the basement while its branches had pierced through the roof and into the attic.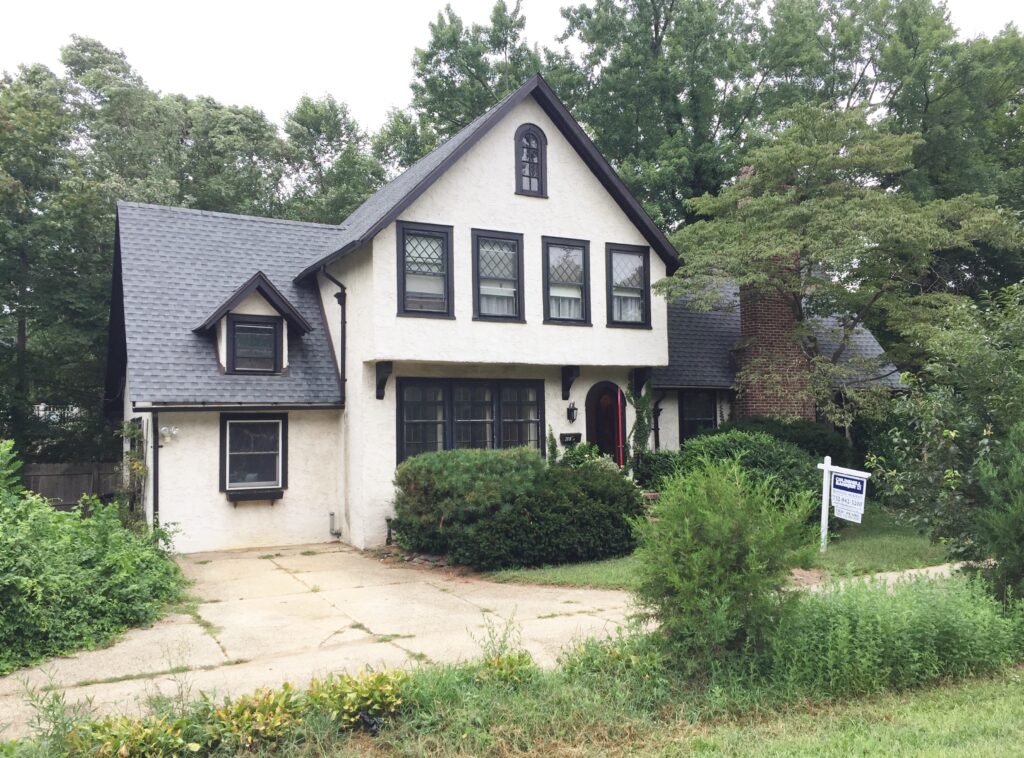 It all had to go–all of it. There was mold and damp and bugs and cracks so the tree guys came, the bulldozers came and in the end we weren't left with anything green.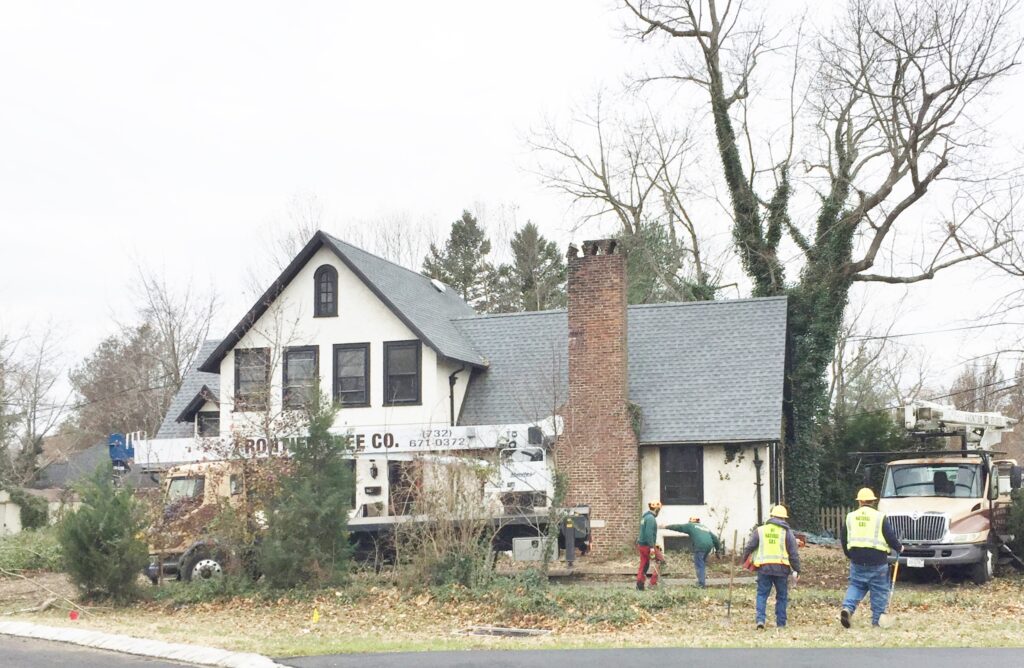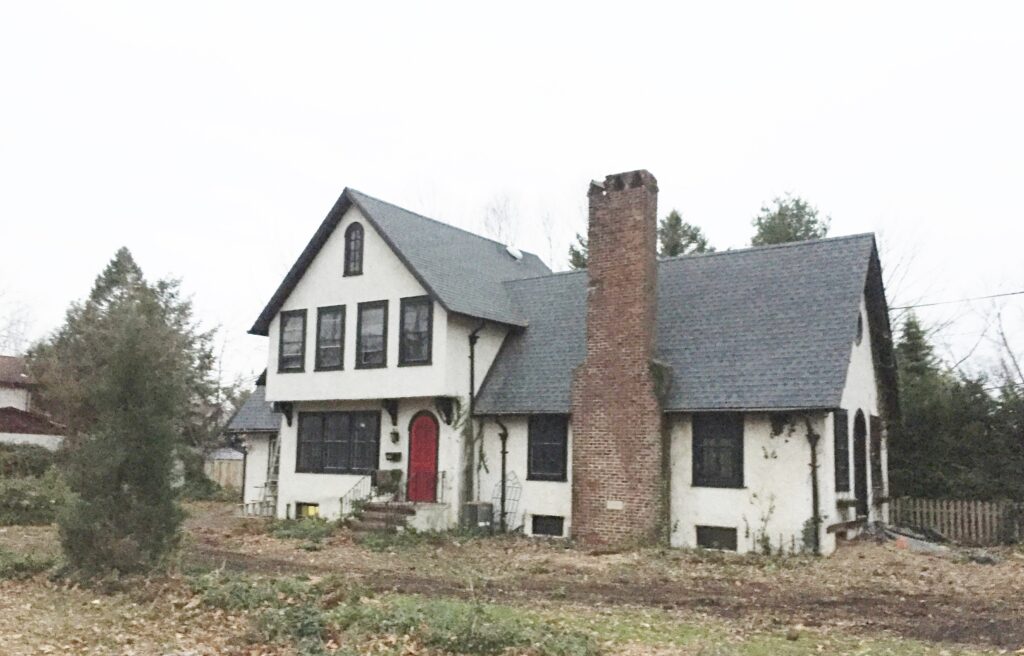 It was hell: you can see it looks like we went through a war. Several truckloads of top soil, hundreds of pounds of grass seed, and a couple of thousand spent on plants, and three years later we have a garden. Proving that old adage true–all it takes is time (and more time) and, of course, money.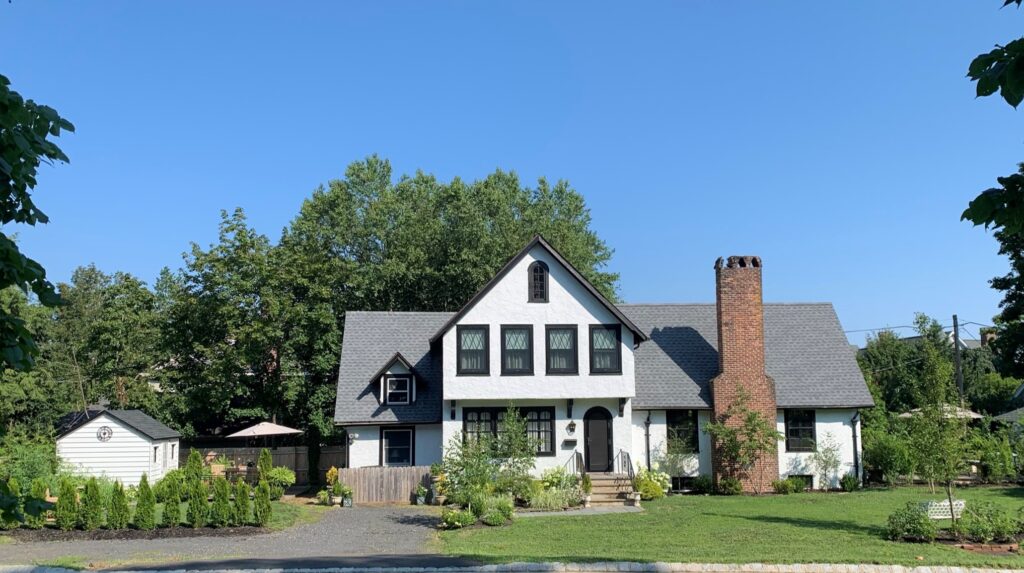 I heeded the advice of our friend, a landscape designer, who, noting the uniqueness of the lot, very long and narrow, with no backyard to speak of, suggested that we make a series of room-like spaces throughout the garden. Areas that would look nice but also function like interior spaces and be amenable to lounging and dining–just outside–not in.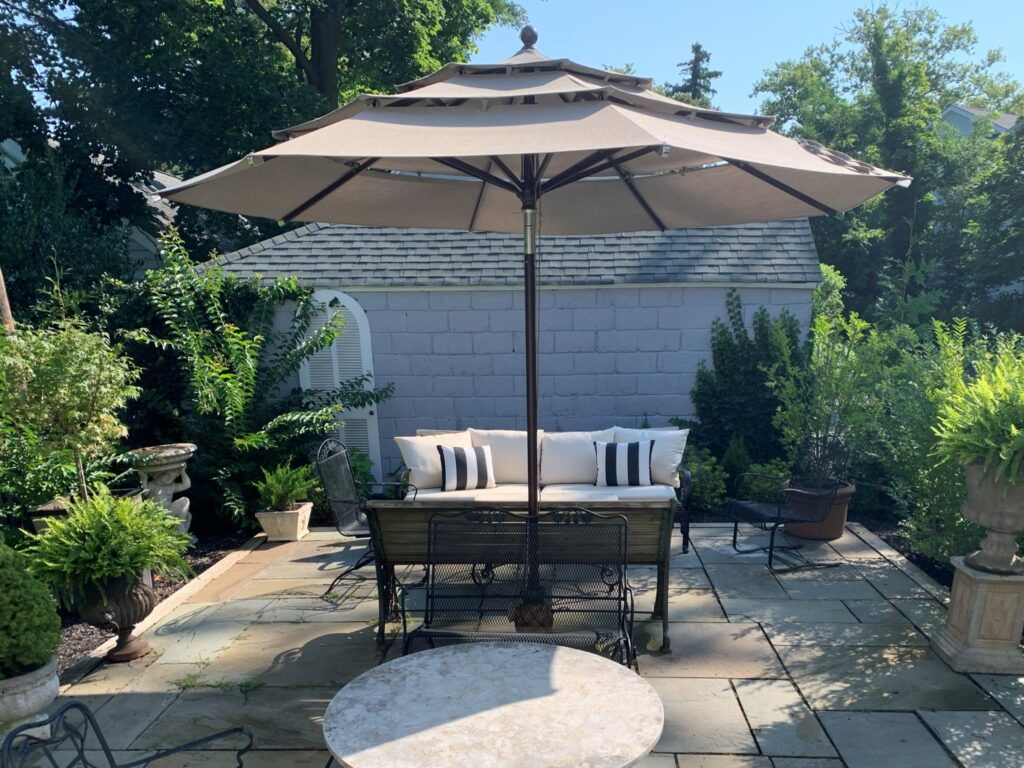 We started by creating a paved area (okay patio) off the great room, with antique bluestone set in a random rectangular pattern that looks like it might have built when the house was, 100 years ago. See how I've anchored the assortment of vintage and antique benches, tables and urns I've acquired over the years with a Century Furniture outdoor sofa.
Who would have thought ten years ago that we could have upholstered furniture outside in the northeast? The secret is in the wide range of weather resistant fabrics (Perennials, Sunbrella, Inside/Out) that are made from solution-dyed acrylic. These fabrics, when combined with quick drying foam inserts, means you can leave your cushions outside all summer long.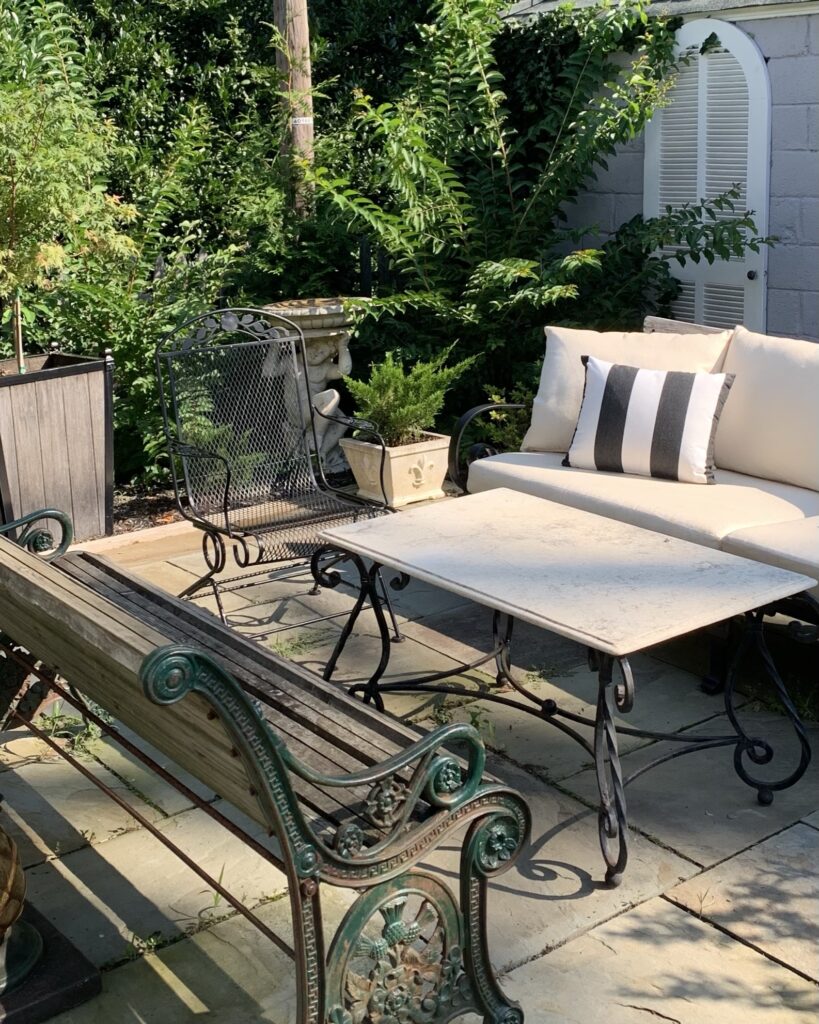 There's a second bluestone patio off the kitchen that leads to our potting shed and the driveway. We partnered a zinc-topped table we bought years ago at an antique warehouse in Holland with new teak chairs, that will weather to a soft, silvery grey. I think the secret to outdoor furniture is to choose natural materials that are not harmed by the elements and, even better, enhanced by a bit of weathering. For the record, outside furniture does not need to be plastic.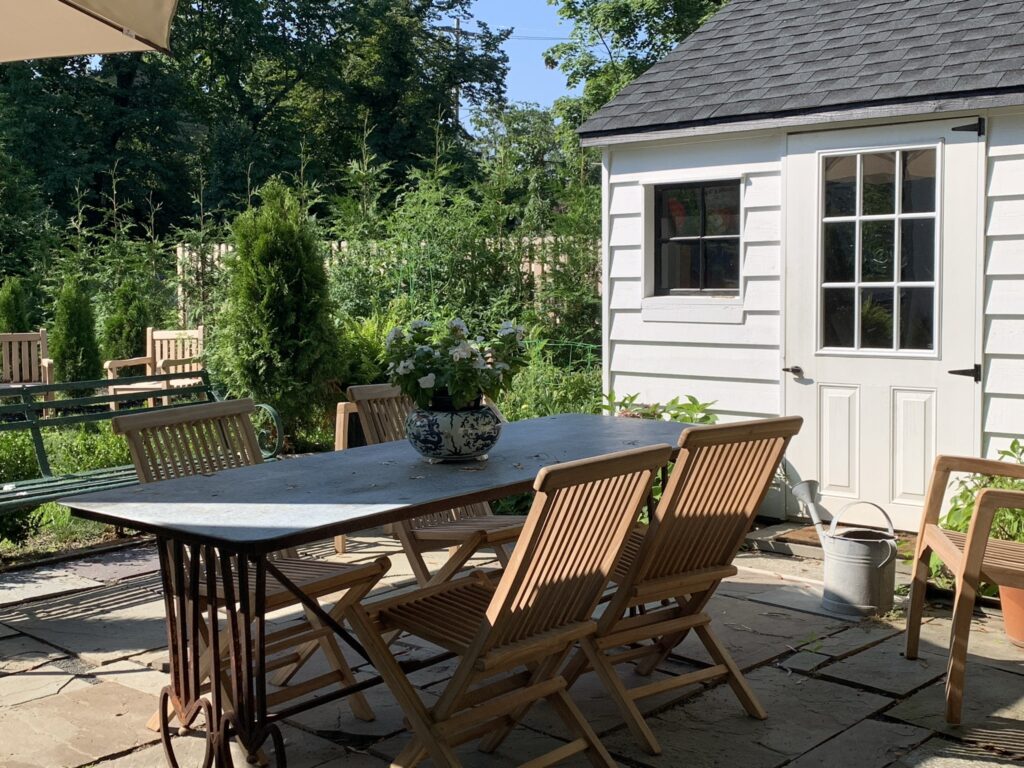 In the side yard there was just enough room for a a pocket size vegetable garden and a small lawn. We planted a hedge of arborvitae (never my favorite evergreen) but in a year or two it should give us less exposure to the street.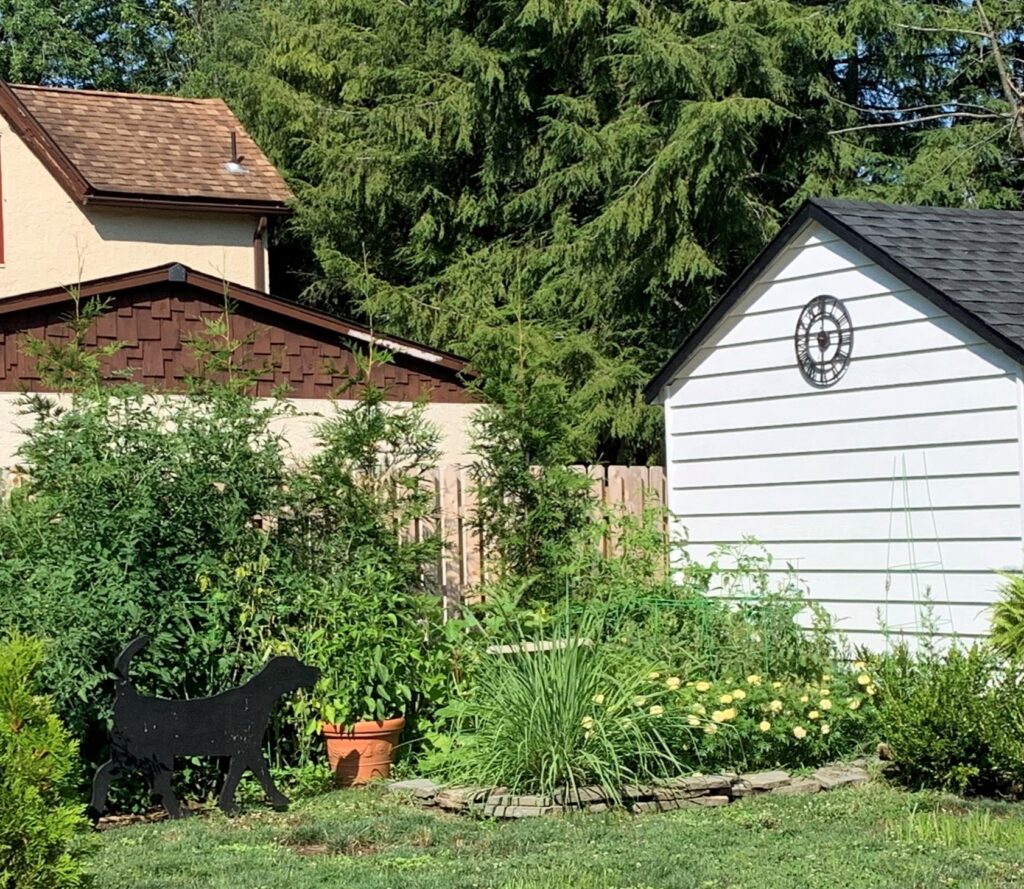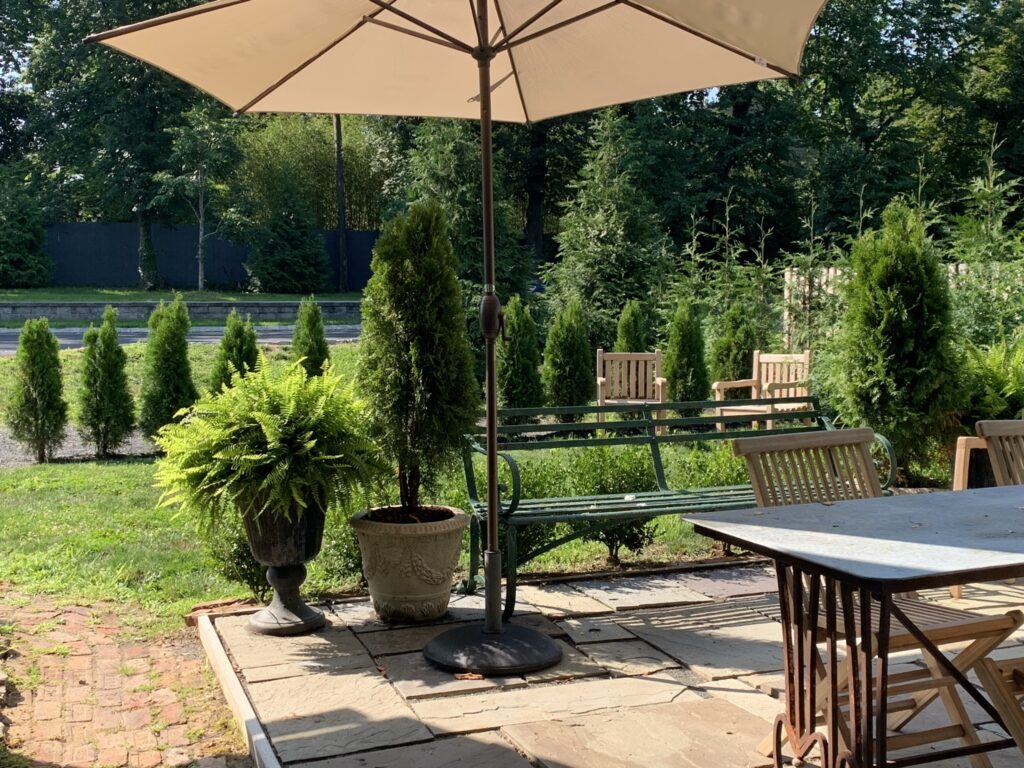 And finally, we made sure to include an area in the front of the house to perch and enjoy the moment.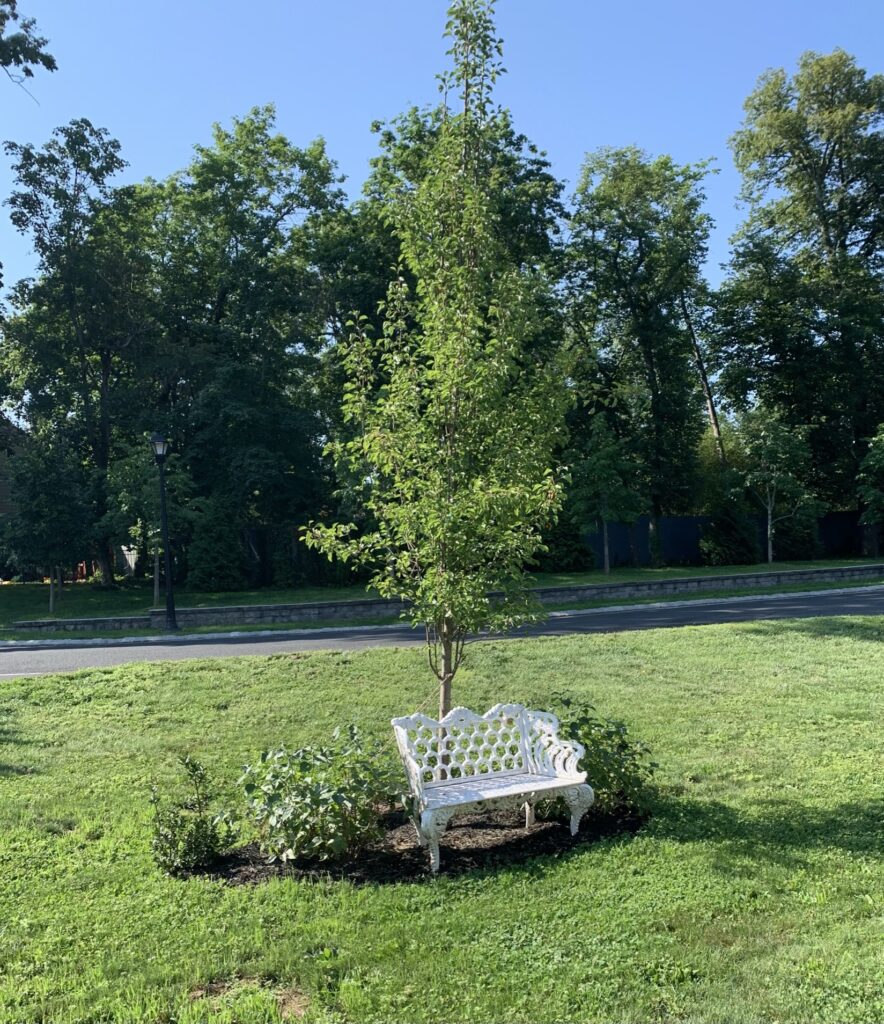 As we all know there is nothing is better after a long, summer day than an ice cold glass of wine and a fabulous meal dining al fresco. This summer I've become very fond of spatchcock chicken. All white meat gets too dry and all thighs is getting boring so spatchcock gives you a bit of both. Actually spatchcocking a chicken is beyond my skillset so I buy my chicken already split from Sickles Market.  I've had great luck with this recipe from that accomplished tastemaker–and master gardener herself– Martha Stewart.
Full disclosure, we jazz up the marinade with a splash of maple syrup and a teaspoon or two of Coleman's Mustard (it's a British thing) but you can't go wrong following Martha's version exactly.
Grilled Spatchcock Chicken with Dijon and Rosemary