I could never understand when my customers would downsize; who would give up five bedrooms and a couple of acres for a patch of grass and neighbors literally on top of them?  But then it happened to us.  Not overnight, but gradually.  First one kid, then the other went to college. Then one went to grad school; the other got a job–in Houston.  Even when the first got a job in NYC, she never came home that much.  Meanwhile the dogs died but the lawn, the taxes, and the upkeep on the house kept growing, and growing.
After the hurricane, when our waterfront home was one of the few on our street that did not flood, we sold our house to a neighbor with small children and a boat and a hankering for the life that only those who live on the water share.  It was time for us to move on.
So we moved to Red Bank and a 2000 square foot apartment with, for the first time in our lives, new everything–plumbing, electric, appliances and bathrooms…because when we renovated British Cottage in 2005 we added an apartment above the store.  Part of the structure dates back to the late 1800's so we removed the old ceilings and exposed the beams so the great room has a vaulted ceiling and we took down all the walls so that the kitchen, dining and living area are all one great room.  At the same time we added a large master bedroom and bath, guest room and bath/laundry room.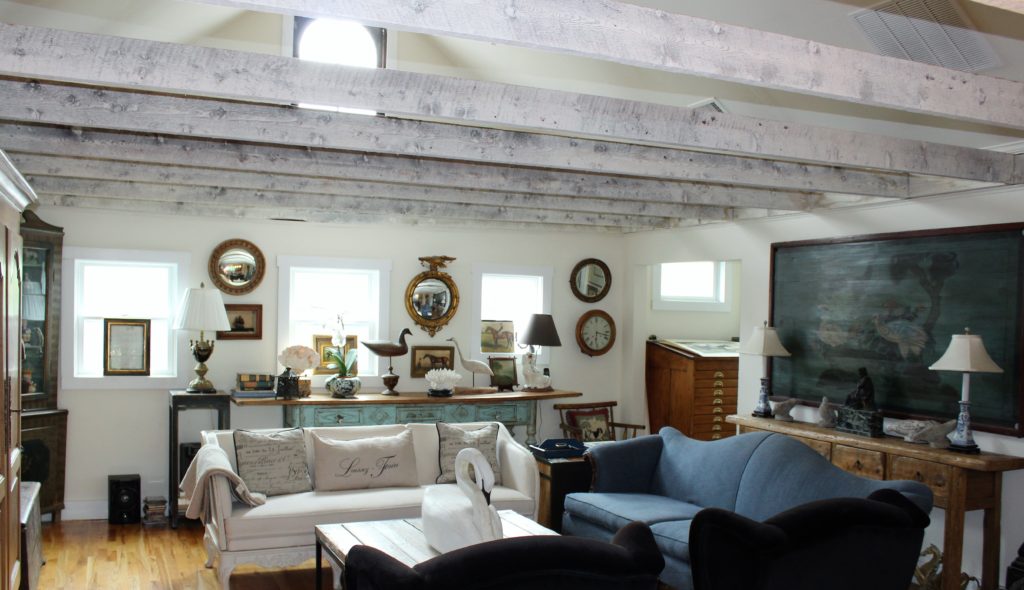 The biggest challenge to moving was culling our furniture collection.  Part of the fun of having a five bedroom home, at least for us, was in the furnishings.  When we first moved to the apartment our daughter said we looked like we were hoarders but gradually we have pared and re-pared and I think, while certainly not minimalist, we are adequately furnished.
The test was this weekend when for Father's Day our son and his two and a half and five year old sons came to visit for five days…would our empty nest be a welcoming abode or a nightmare for the young 'uns to navigate?
Fortunately it turned out to be the latter.  With two couches and two armchairs centered around an enormous "Bricklayer's Coffee Table" (for those of you not in the know this was invented by the guys whose innovative furniture designs helped take Restoration Hardware from a frumpy collection of brownwood furniture to the height of chic over the last decade), there was plenty of space   fire trucks and cars around the perimeter of the room.  Because the coffee table was made from already scarred planks of vintage wood, there was no danger of damage from the boys running vehicles and occasionally each other over the surface.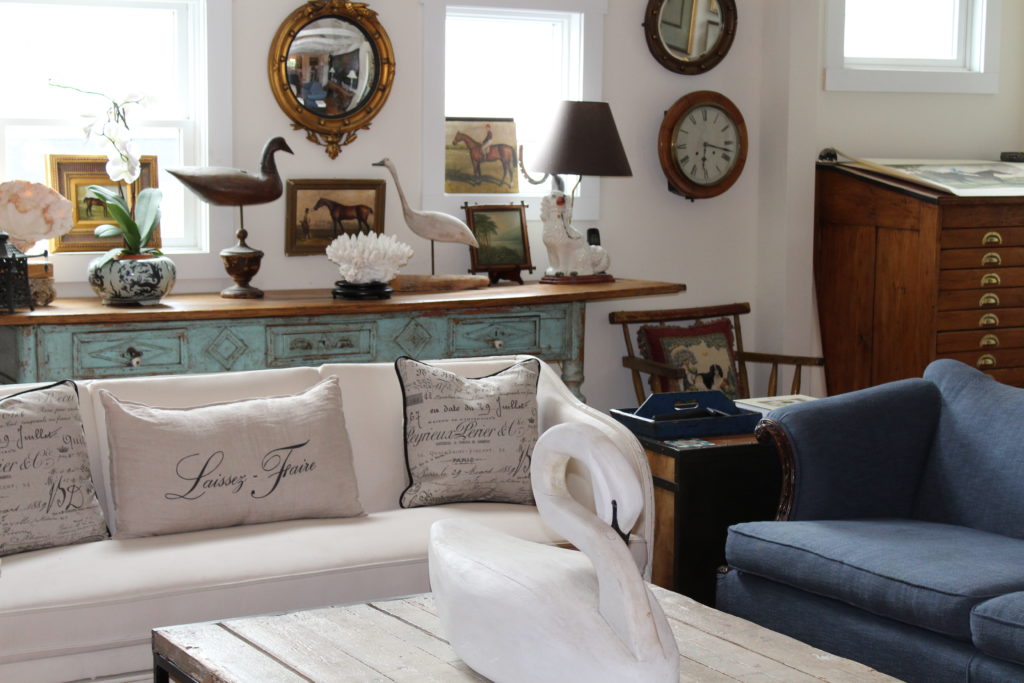 Same with the couches,  both are vintage and then some.  One is a Gustavian settee we bought when we used to shop for antiques at Green Square in Denmark.  That is upholstered in a sturdy white canvas material. The other, an ancient Chippendale style sofa we picked up at a second-hand store twenty five years ago,  is on its third re-upholstery, this time in a dark denim cotton blend that is virtually indestructible.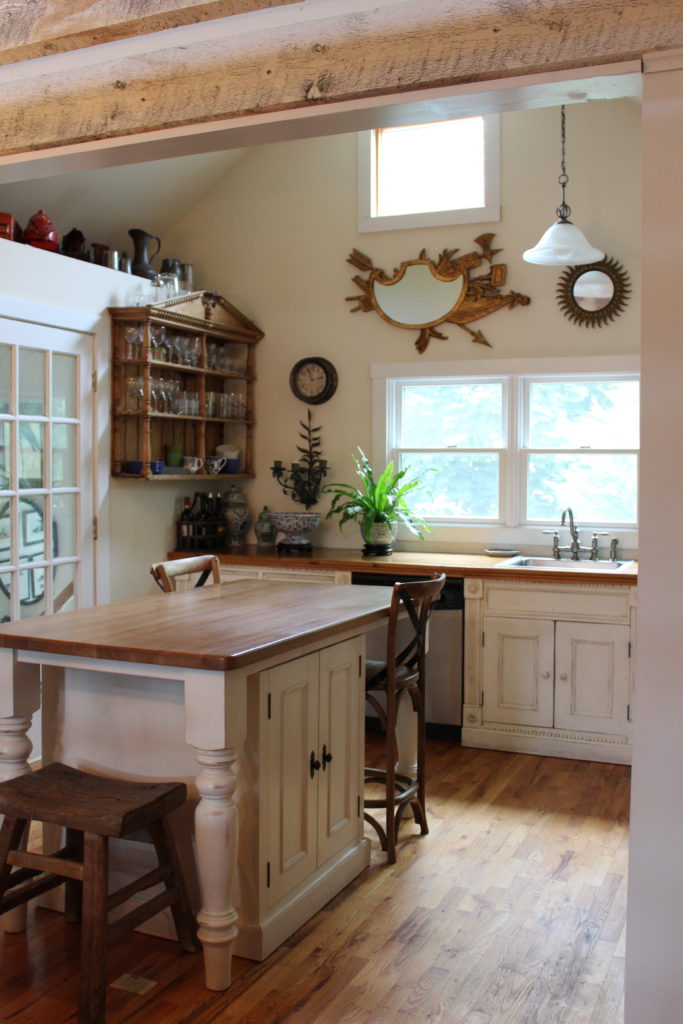 We are fans of the unfitted kitchen; especially when the kitchen is open to the rest of the living space.   There are only lower cabinets and we had them made at the factory in Hungary that builds all of our custom furniture, in the same style as our British Cottage hutches.  In the center we designed an island that proved the perfect spot for our young guests to dine.
Besides the open plan, what makes this apartment so appealing is 9′ ceilings in the new part that give an airy quality to the entire space.  Even though our bedroom is a good size, with ample space for our British Cottage kingsize bed, it just feels spacious, which I think is important when there are two sharing one room.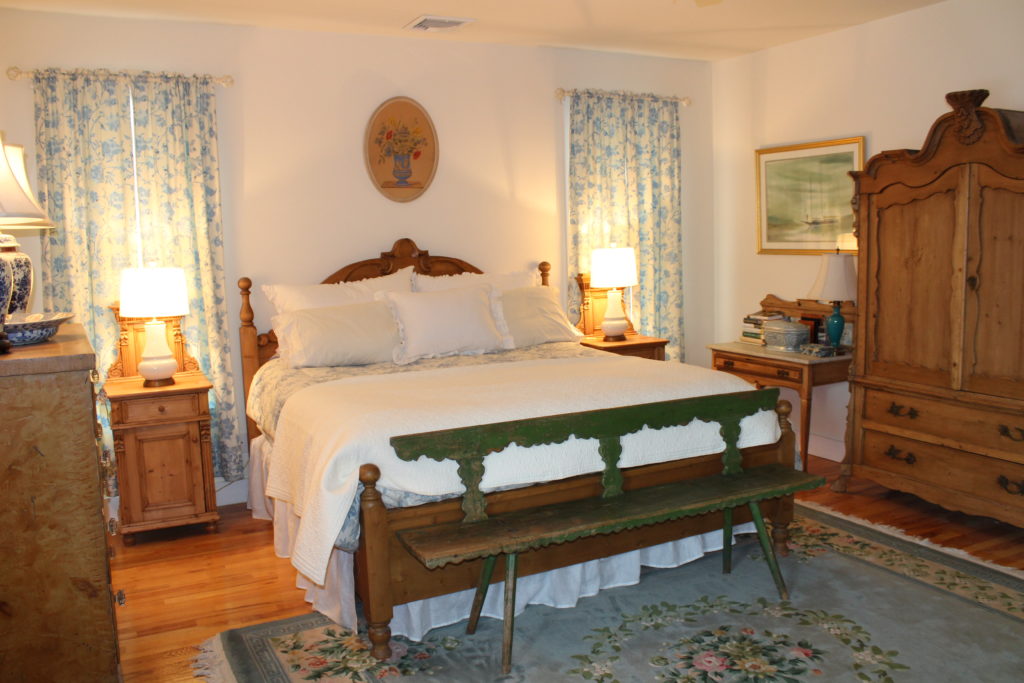 There is even room for a sitting area in an alcove overlooking Chestnut Street; so while not a waterview there is always something to see when looking out the bay windows.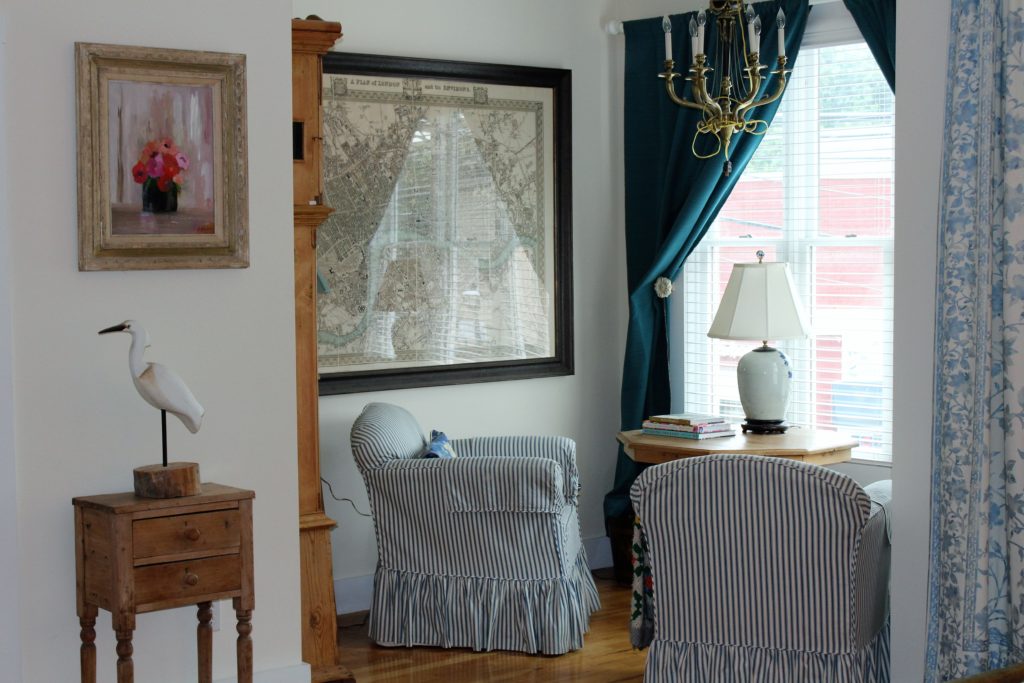 Maybe my favorite room is the master bath.  Not the least bit opulent by today's standards, just a simple, tranquil, open space.  Designed for us by the Hutchinson's of Matawan Kitchen & Bath, with a soaking tub and an enclosed shower, plain white subway tile and the same hardwood oak floor we used throughout the house.  We made the vanity by sinking two overmount sinks into a British Cottage cabinet base, then added an antique armoire for towels.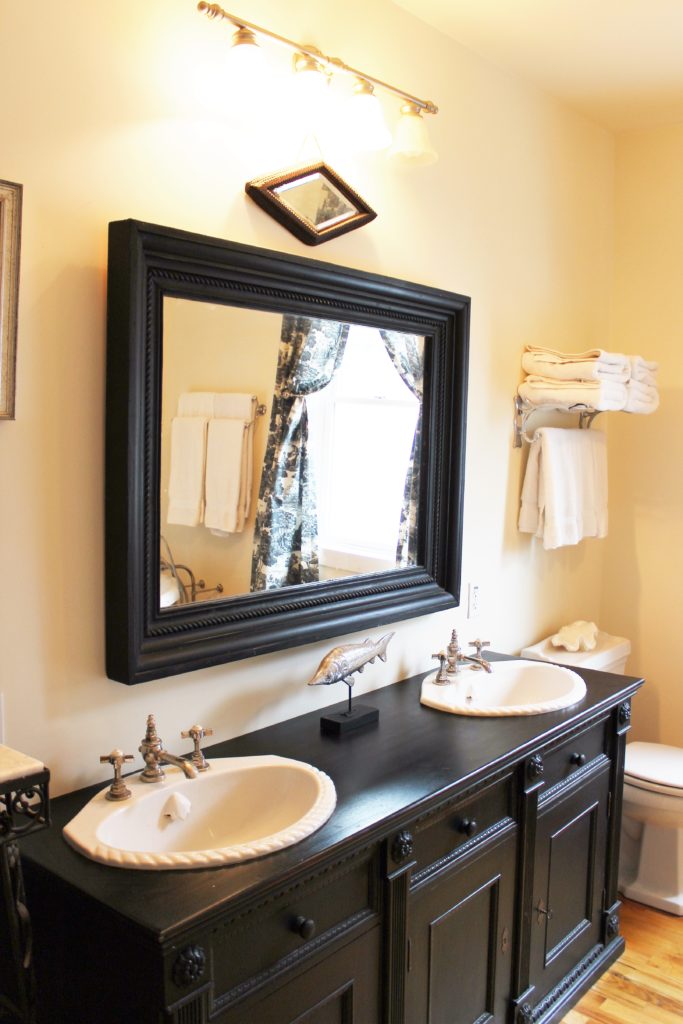 Even though we probably have more stuff than the average bear; it all seems to work out.  Nothing too precious, or if it is then it was up high beyond the reach of little hands, and a great time was had by all.  Same time next year?