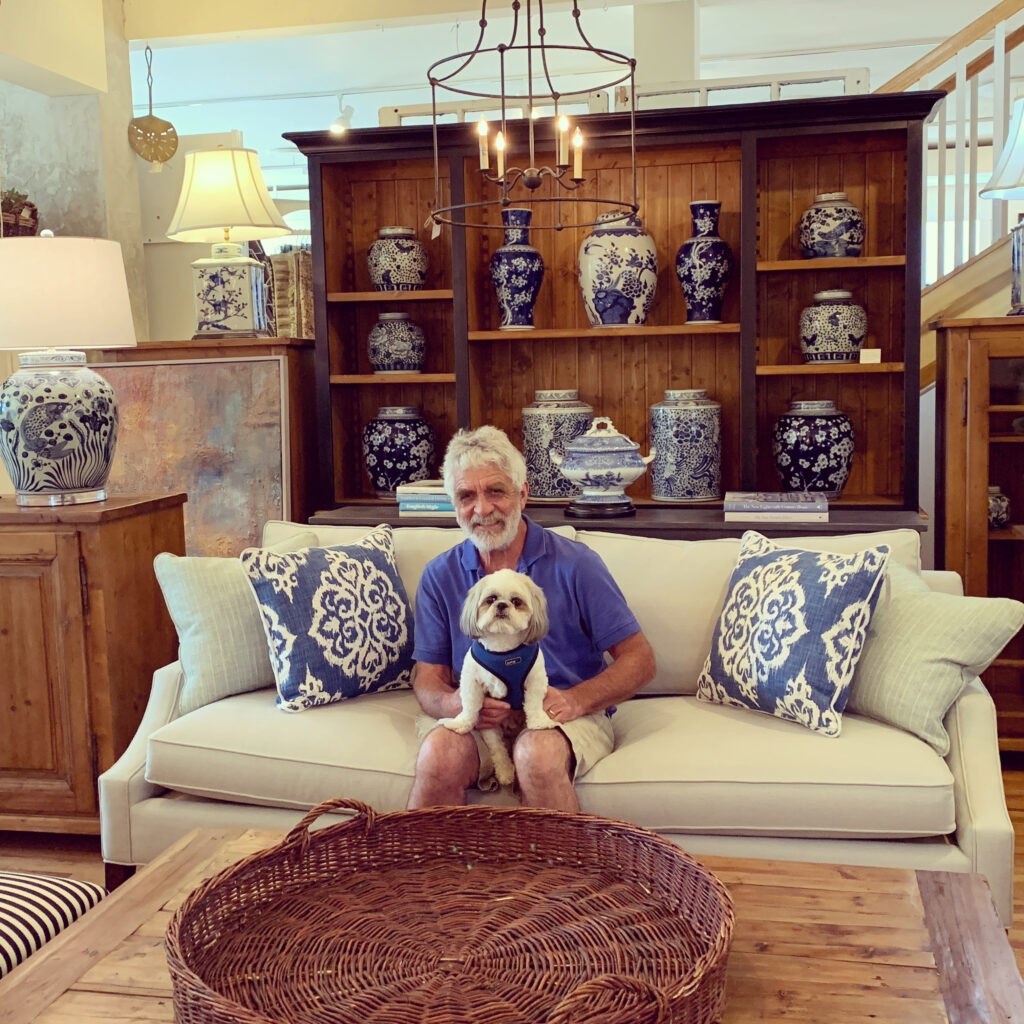 Spring 2020 was a blur. Locked down, shut out, not home bound because I still worked my regular hours (sort of) you'd think by now I'd be all organized and ready and raring to get going but mostly I feel like I need a nap. Fortunately Keith and Bentley are much more energetic!
And the good news is that British Cottage is officially open to the public again and we can get back to doing what we love most, schmoozing, and, hopefully selling some stuff. We have tons of new products which should get your creative juices flowing and inspire you to new decorative heights. We can't wait to hear about all the interesting projects and plans you've been making to refresh and renew your homes.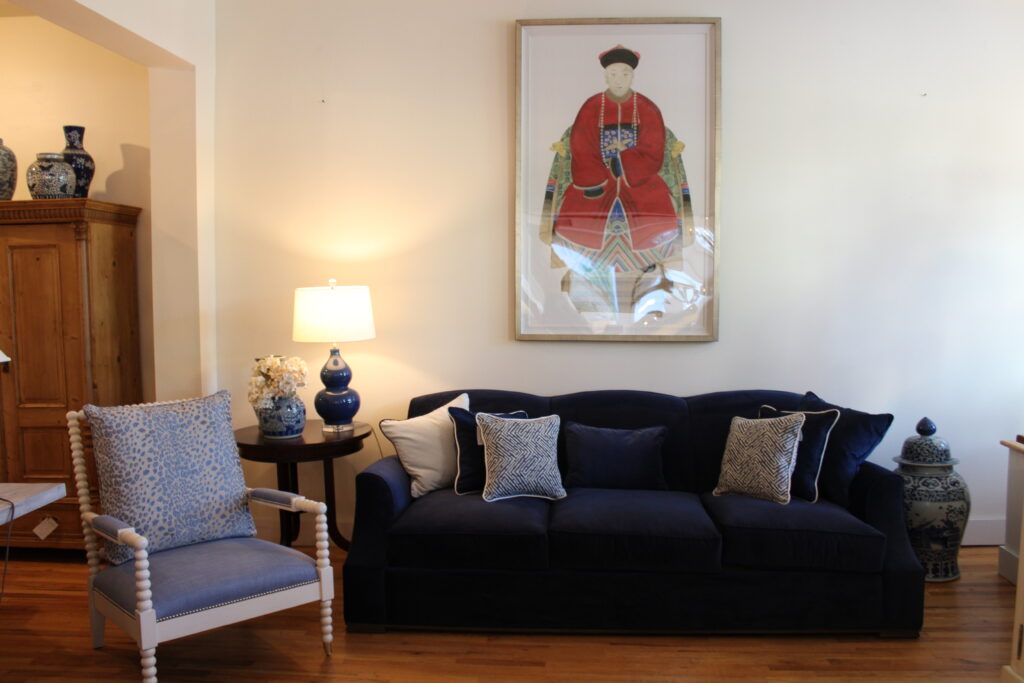 Fortunately too, I have lots of new recipes. But the one I want to share first is an oldie but goodie, Chocolate Mousse Pie. Keith's cousin Mark, who is now pushing fifty, was the first to make this when he was about ten and since then it has been a family favorite. I hadn't made it in years until this Mother's Day when feeling a bit underwhelmed I thought I deserved a special treat–and it was well worth the effort.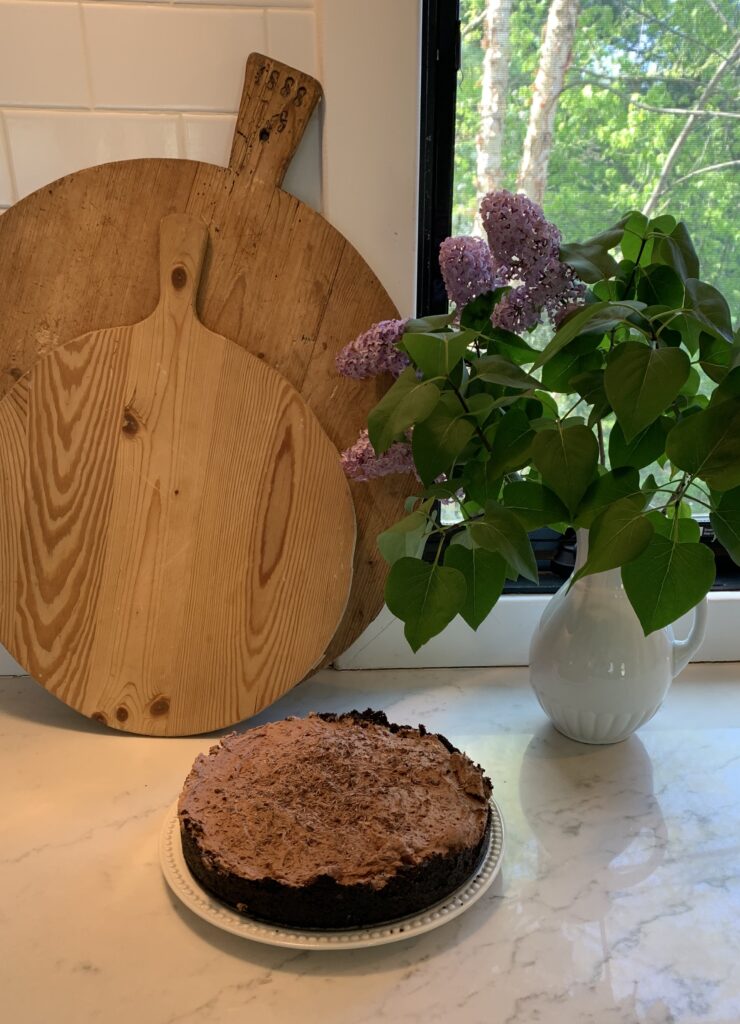 The original recipe came from Bon Appetit and it is is by far the best Chocolate Mousse Pie I've ever made, or eaten. The secret ingredient is the much revered (or reviled) Oreo Cookie and the best thing is there are no eggs involved here, so one less thing to worry about in these oddly fraught times…the notes in italics are mine.
YIELD

Serves 8 (More like 12)
INGREDIENTS
Crust

21 Oreo cookies
1/4 cup (1/2 stick) unsalted butter, cut into pieces, room temperature

Mousse

12 ounces semisweet chocolate, finely chopped (buy the best chocolate and add a handful or two extra and you won't be sorry)
1 teaspoon vanilla extract
Pinch of salt
3 3/4 cups chilled whipping cream
1/4 cup sugar

Chocolate shavings (optional)

YIELD

Serves 8 (Really more like 12)

PREPARATION

For Crust:

Preheat oven to 350°F. Butter 9-inch-diameter springform pan with 2 3/4-inch-high sides. Finely grind cookies in processor. Add butter and process until mixture is evenly moistened. Press crumb mixture onto bottom and up sides of prepared pan to form thin crust. Bake crust 5 minutes. Transfer crust to rack and cool completely.

For Mousse:

Combine chocolate, vanilla and salt in processor. Bring 1 cup cream to boil in heavy small saucepan. With processor running, gradually pour hot cream through feed tube and process until chocolate is melted and smooth. (It is easier to just add the chocolate mixture to the hot cream in the pan and not have to wash out your food processor twice). Transfer mixture to large bowl. Cool to room temperature, stirring occasionally.
Beat 2 cups cream and sugar in large bowl to stiff peaks. Fold into chocolate mixture. Pour mousse into prepared crust. Chill until set, about 6 hours. (Can be prepared 1 day ahead.)
Beat remaining 3/4 cup cream in medium bowl to firm peaks. Transfer to pastry bag fitted with medium star tip. Pipe rosettes of cream around edge of cake. Garnish with chocolate shavings.