Baked Artichokes, Shrimp, Mozzarella, and Scallops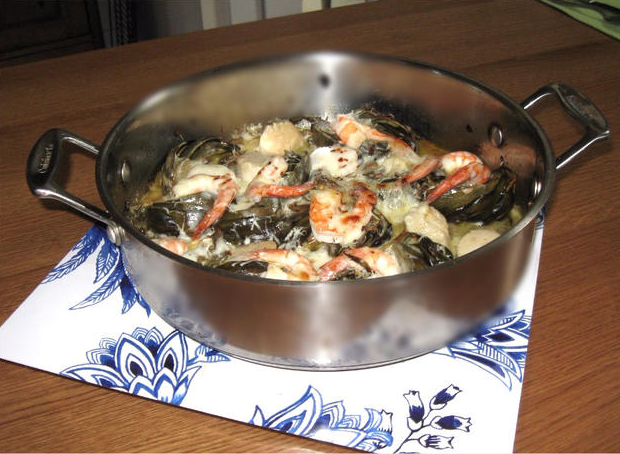 The late Marcella Hazan is often credited with being the godmother
of Italian cooking in the United States.  Of course I didn't know that when I picked up her Classic Italian Cookbook in the discount bin at Barnes and Noble and that evening made possibly the best Chicken Cacciatore ever.  I only found that out years later when I read an interview with her in the NY Times food section that included a recipe for Baked Artichokes, Shrimp and Mozzarella I have treasured ever since.  But with a tweak–or two.
        Here's my version:
Baked Artichokes, Shrimp, Mozzarella–and Scallops
Figure one artichoke per person.  Fill a bowl with cold water and the juice of a couple of lemons.  Peel off the tough outer leaves of the artichoke–maybe a few more than you think–then snap or cut off the top part of the remaining leaves.  Cut  into  quarters  and  pull out the fuzzy bits in the center.  Cut the quarters into halves or thirds and add to your bowl. (In theory the lemon juice prevents the artichokes from getting brown on you
but I find they still get a little discolored but not to worry).
Glug a fair amount of olive oil into a large saute pan, add a couple of chopped up cloves of garlic and a diced up shallot or two if you happen to have some handy.  Marcella says to saute until nut brown and remove-I leave the bits in the pan and then add my artichokes which I have drained well and dried a bit so they don't splatter in the hot oil.  Add all the salt and pepper you want now.
Turn the artichokes so all sides are covered in oil and cook on medium/ low heat for five minutes.  Then add some water to partially fill the pan, cover and simmer until tender.  This takes anywhere from twenty five to 40 minutes depending on how hot your pan is to how big your artichoke pieces are. (Test hearts with a fork stab to get an idea of doneness).
Marcella says to put your artichokes into a buttered pan, I usually leave them where they are and add some butter–like half a stick because I like
a buttery artichoke flavor.  If you are feeling healthy I think you could skip the butter entirely.  Anyway spread raw shrimp evenly across the top (devein but leave the tails on for flavor).  And then I add scallops–cut into halves if they are on the robust side–because Keith won't eat shrimp and I have to make this recipe.
Now here Marcella says to top with buffalo mozzarella, some parmesan, and a couple of tablespoons of butter cut into bits and sprinkled on top, then cook in the upper third of a preheated 450 degree oven for about 20 minutes.  I usually cook it cheeseless in a 400 degree oven for twenty minutes and then up the temp to 450 and add the cheese for about 5 minutes until it melts.  (I skip the butter because I have already gilded that lily).
Whichever way you go–watch that mozzarella carefully because it is really easy to overcook it.  Remove from heat.  Let rest and serve warm with lots of crusty bread to sop up the juice and lots of napkins because you just have to use your hands to get to the artichokes properly.  And if you left the tails on the shrimp it just makes sense to pick those up with your fingers too.
Buon appetito!