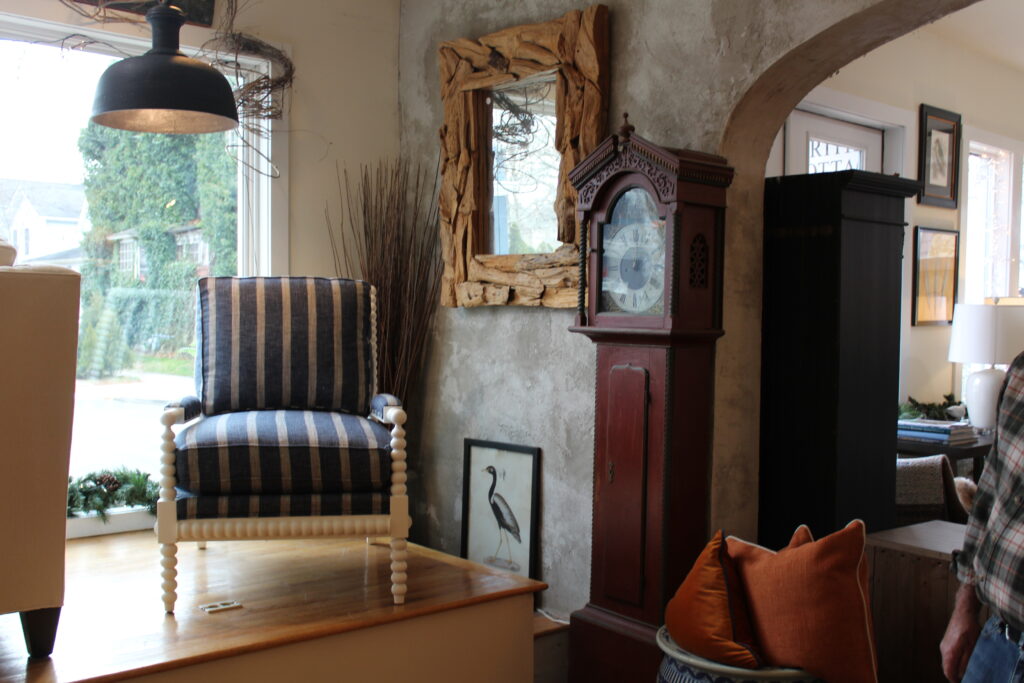 The Bobbin or Spool Chair
While 2020 will not doubt be remembered as the year time stood still, happily we made some progress here at British Cottage. One thing we did was go long on the Bobbin Chair. You've seen it at the store from time to time and you see it in books and magazines all the time.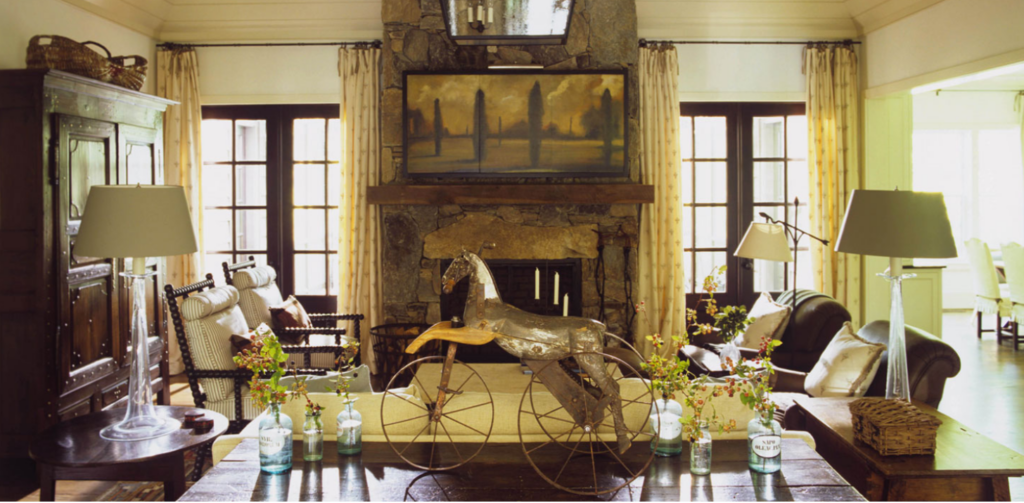 Like in this gorgeous room by Barbara Westbrook. The Bobbin Chair is derived from the heavy, lathe-turned furniture common in the 1700's that over the ensuing centuries evolved into something significantly lighter and far less medieval looking. Some of you might have seen a spool bed in your grandma's house, but other than that this style did not get much play until this particular style chair worked its way into the twenty first century mix.
I love them. We get most of ours from Hickory White Furniture, the higher end, designer-driven division of Sherrill Furniture in Hickory, North Carolina. They sit like a full-blown upholstered armchair but look much lighter, and the wood frames provide architecture without looking unfinished, like those silly deconstructed armchairs Restoration Hardware was flogging several years ago.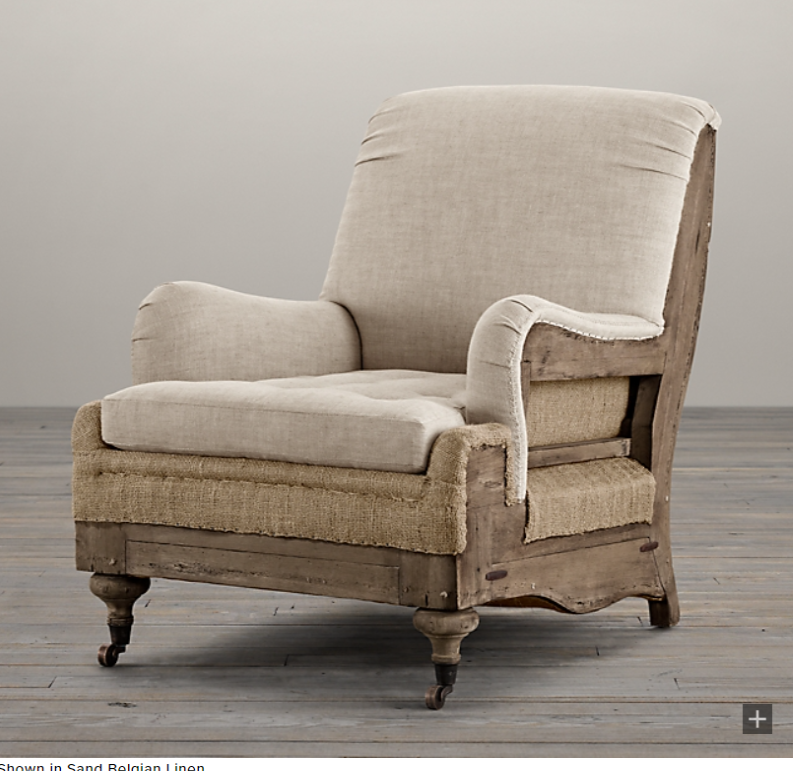 In contrast the Bobbin chair is pretty and graceful. Don't you just love how they look in this gorgeous room by Erin Gates?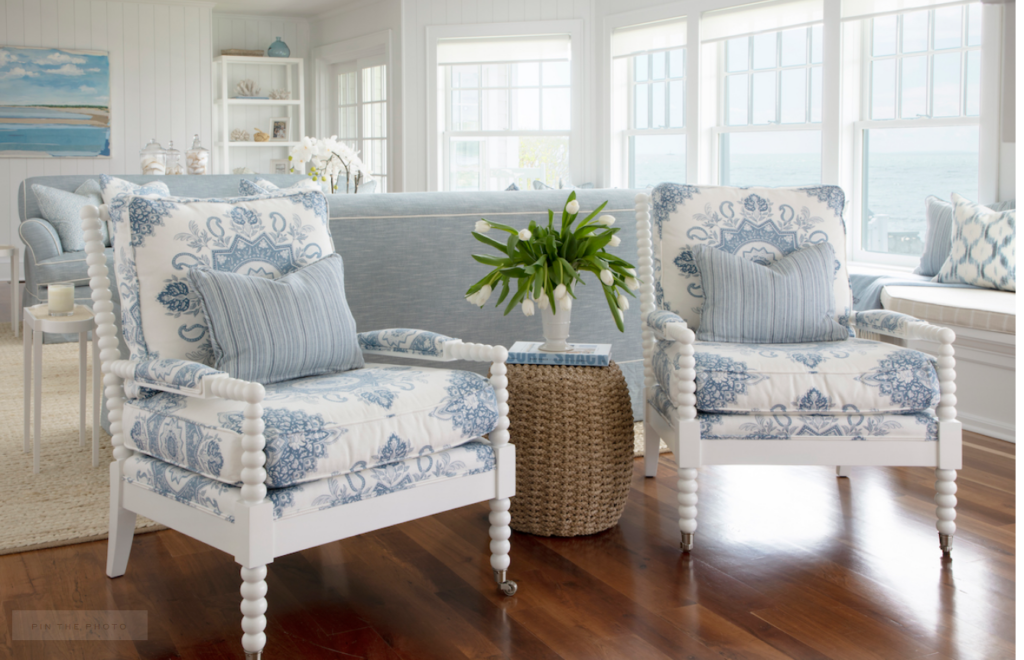 In the fall we did them in a bold, blue animal print in a dark, practically ebony finish: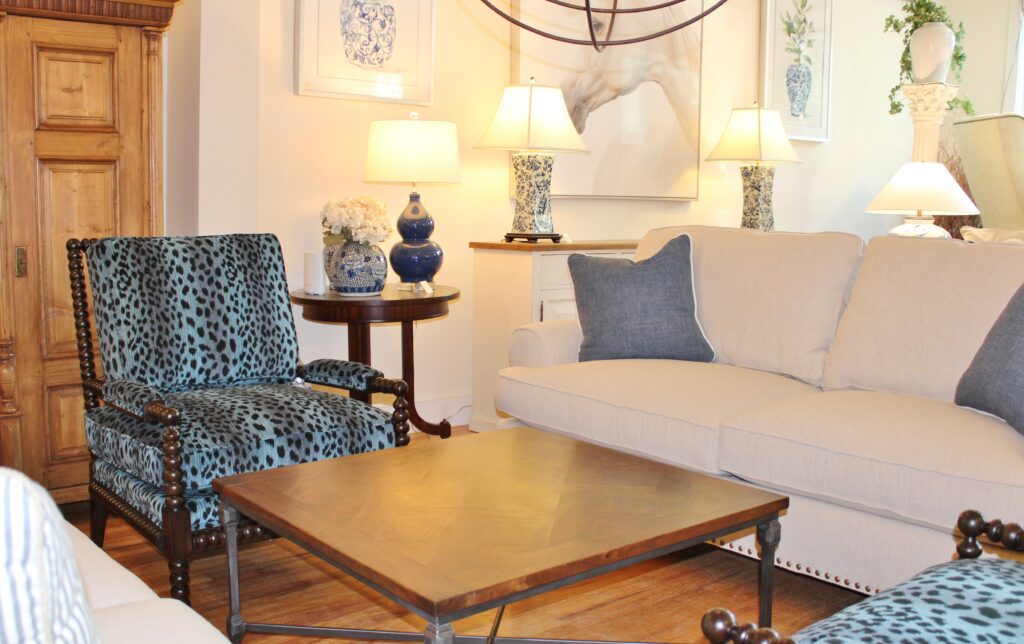 And from our December shipment this bold, geometric print with a white frame:
And just last week this snazzy version in a dark walnut finish and a geometric ogee pattern fabric arrived.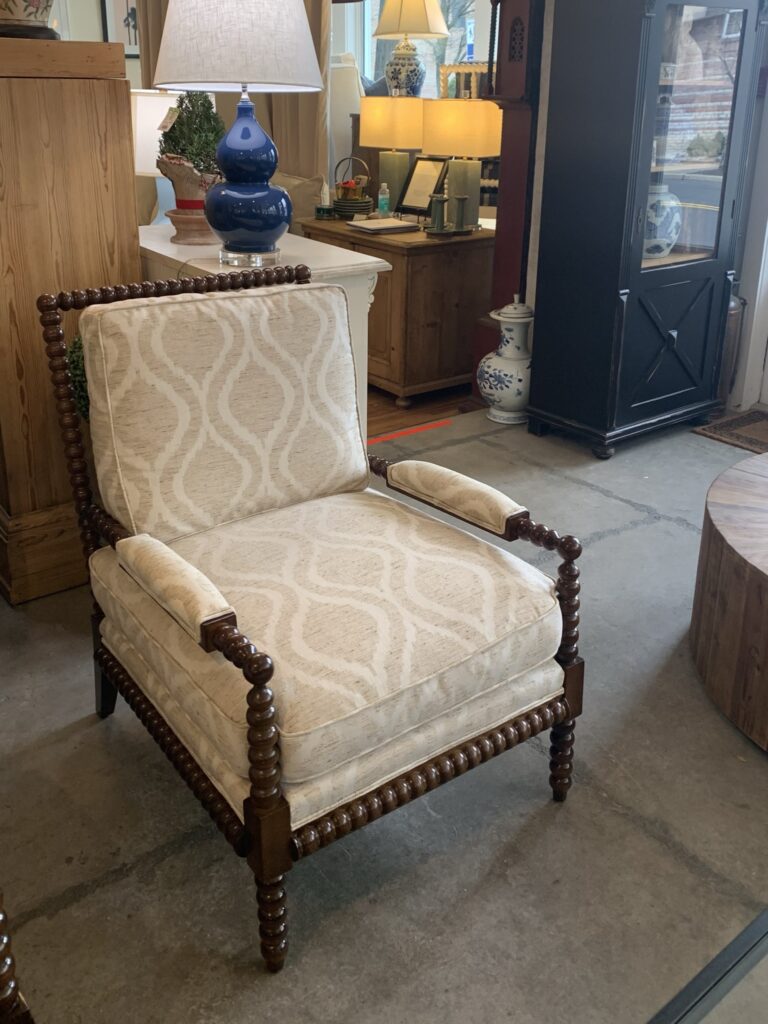 Along with this one in a Lillian August striped fabric: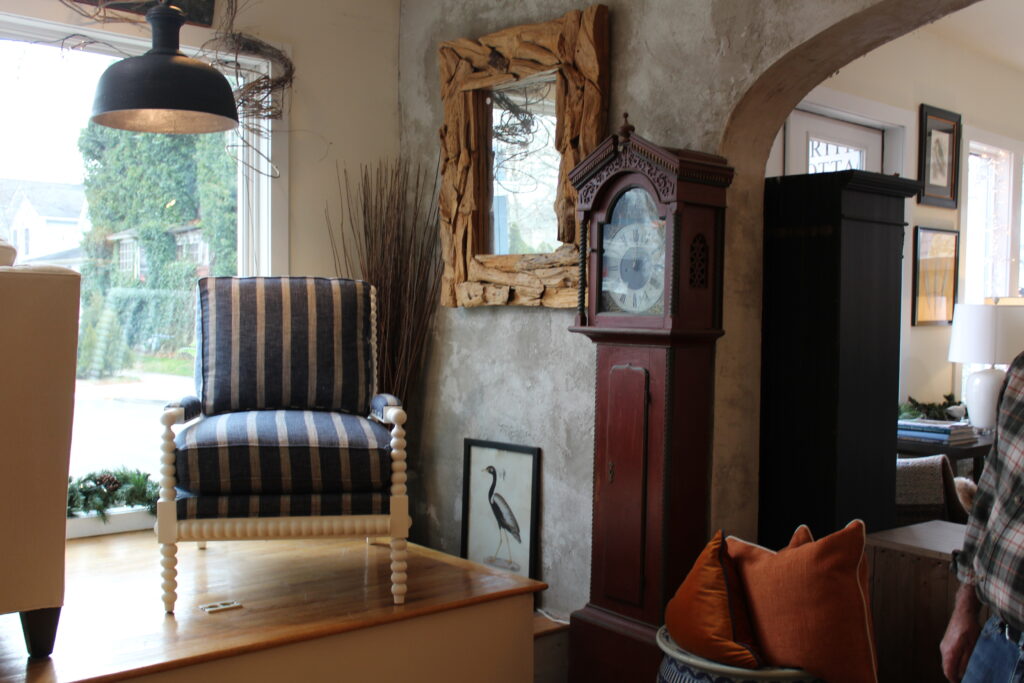 Make sure you come in soon to test one out–before they get sold. While we are happy to order one–or two–for you in the fabric and finish of your choice–we are equally as happy to sell off the floor. 
Meanwhile I have to hurry home. Can you believe it someone is coming to dinner? (Don't worry, she had the vaccine.)
TURKEY CHILI:
I plan to make Turkey Chili–and before you all start whining and saying really, you are starting off the new year with Turkey Chili–just hang on a minute. Our daughter popped in for two weeks at Christmas and established herself as family chef. Who was I to argue? After nearly 10 months of home cooking I was ready to hand over the mantle. Although when Laird said it was Turkey Chili for dinner I was first seriously underwhelmed, then concerned when I arrived home at 5:30 and saw she had not even started to cook.
I needn't have been. This goes together lickety split and tastes scrumptious. Here are her notes:
As the instructions say, "a combination of dark and white meat really adds depth and richness of flavor, so try to find a mix, but all white meat (or a mixture of ground beef and turkey) will yield a stellar batch too." We went with ground white meat – with a bit of ground beef thrown in for good measure!
I didn't use chicken broth (because we didn't have any). Instead, per the comments, I didn't drain the beans and also added a little turkey broth. Also I dislike kidney beans, so we had pinto and black beans instead. And no bay leaves, because they were not in the cupboard. No jalapeno because I forgot to tell Dad to buy it. Green bell pepper instead of red. 
But otherwise, mostly followed the recipe, at least in spirit! And it's so fast! 
INGREDIENTS
1

 

tablespoon olive oil

2

 

pounds ground turkey, white and dark combined

2

 

cups coarsely chopped onions

2

 

tablespoons chopped garlic

1

 

large sweet red pepper, cored, deveined and coarsely chopped

1

 

cup chopped celery

1

 

jalapeno pepper, cored, deveined and finely chopped

1

 

tablespoon fresh oregano, chopped, or 1 tablespoon, dried

2

 

bay leaves

3

 

tablespoons chili powder

2

 

teaspoons ground cumin

3

 

cups canned diced tomatoes

2

 

cups chicken broth, fresh or canned

 

Salt and freshly ground pepper to taste

2

 

15-ounce cans of red kidney beans, drained

2

 

cups shredded cheddar cheese

1

 

cup sour cream (optional)

 

Sliced lime for garnish (optional)
PREPARATION
Heat the oil over high heat in a large heavy pot and add the turkey meat. Cook until lightly browned, about 5 minutes, chopping down and stirring with the side of a heavy kitchen spoon to break up any lumps.
Add the onions, garlic, sweet pepper, celery, jalapeno pepper, oregano, bay leaves, chili powder and cumin. Stir to blend well. Cook for 5 minutes.
Add the tomatoes, chicken broth, salt and pepper. Bring to a boil, reduce heat and simmer, stirring occasionally, for 15 minutes.
Add the drained beans and cook, stirring occasionally, for 10 minutes longer. Serve in bowls with cheddar cheese, and sour cream and lime wedges, if desired.