Philip Mitchell Design
Mark Sikes
Alexa Hampton
Barbara Ostrom
Bunny Williams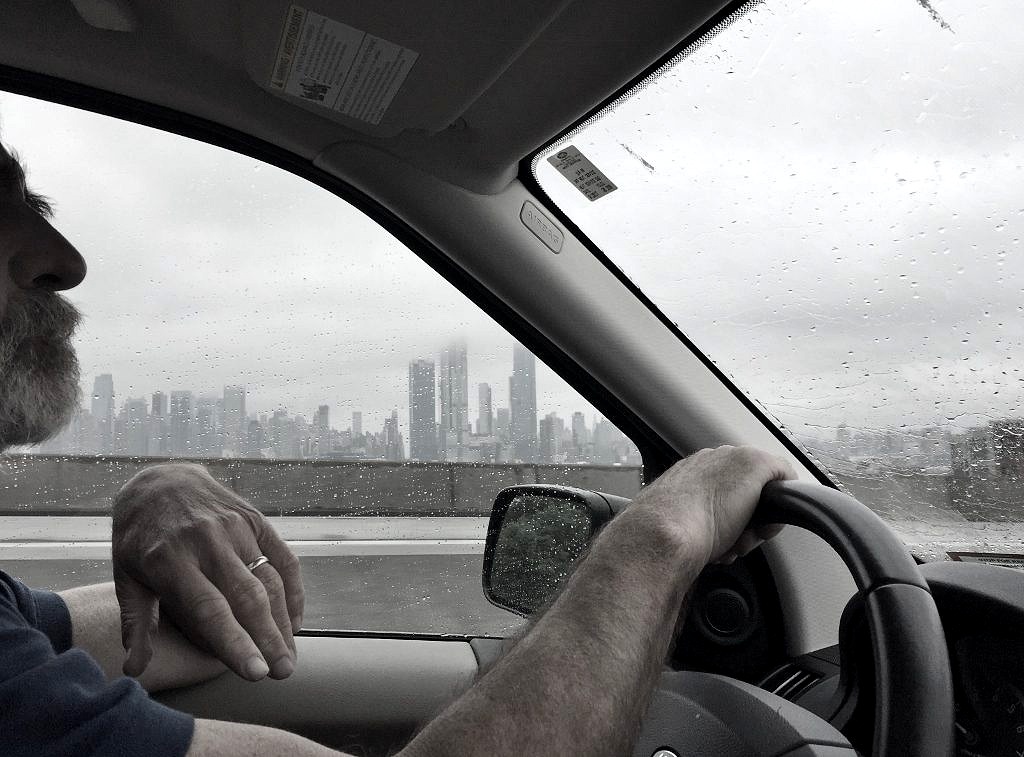 For a while I've been off showhouses not being a huge fan of modern, slick interiors in garish colors, or the reverse, all grey minimalism. But this year's Kips Bay Showhouse had three of my favorite interior designers: Mark Sikes, Alexa Hampton and Bunny Williams / Elizabeth Swartz on deck…so Keith and I motored into the city on a particularly bleak Sunday in late May.
Located on East 76th street between Park and Lex in a 51 million dollar townhouse that is the largest on the NYC market today (read all about it here: (Upper Eastside Mansion for Sale), this showhouse had seven floors and countless rooms featuring the talents of the creme de la creme in home decor today. So for your forty dollars you basically got a master's class in design–not bad.
We started in the foyer–you could have sworn you were in Paris–then stepped into a spacious elevator that zipped us to the top floor which was entirely dedicated to an in-home spa space. Crazy.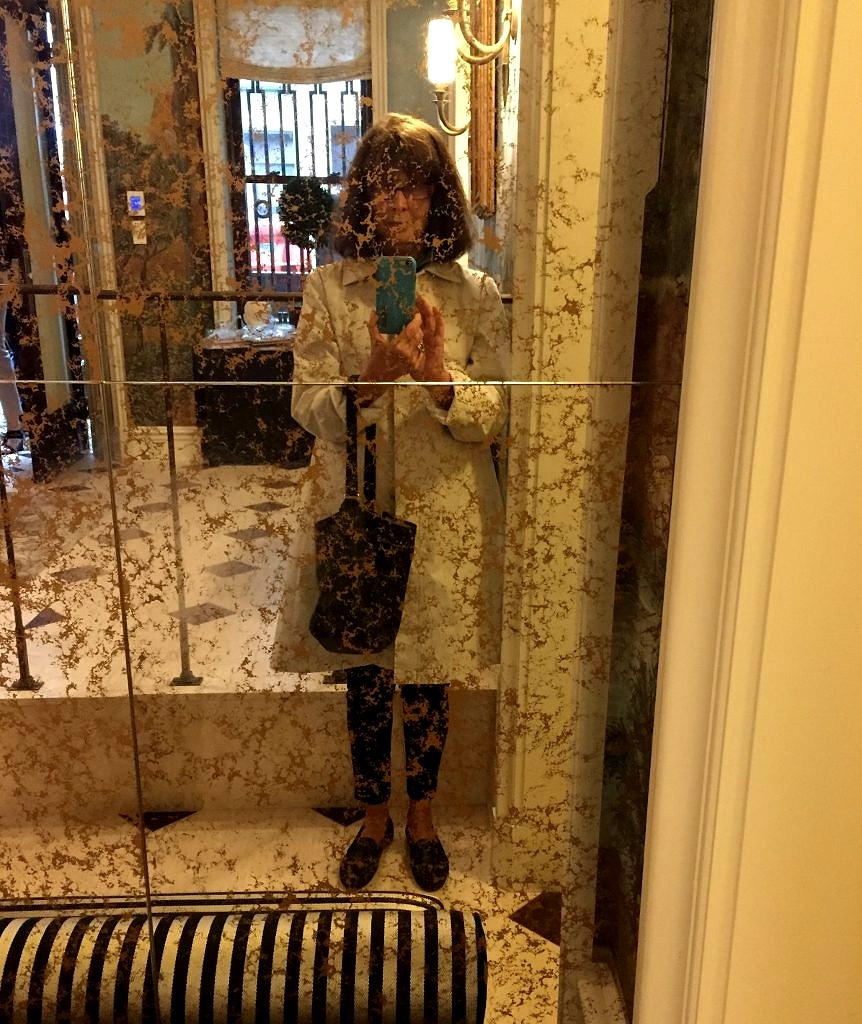 On the floor below that was our highlight of the day: the Drawing Room by Philip Mitchell Design. OMG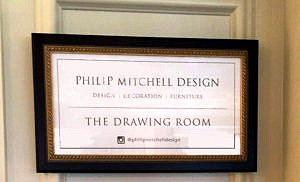 Just when I had practically convinced myself that my days as a retailer were numbered because the upcoming generations don't collect things, don't want things, don't need stuff–Philip Mitchell's Drawing Room was the bomb. Anchored by a massive navy blue sectional festooned with a plethora of toss pillows bordered by a seemingly random selection of art, it was love at first sight.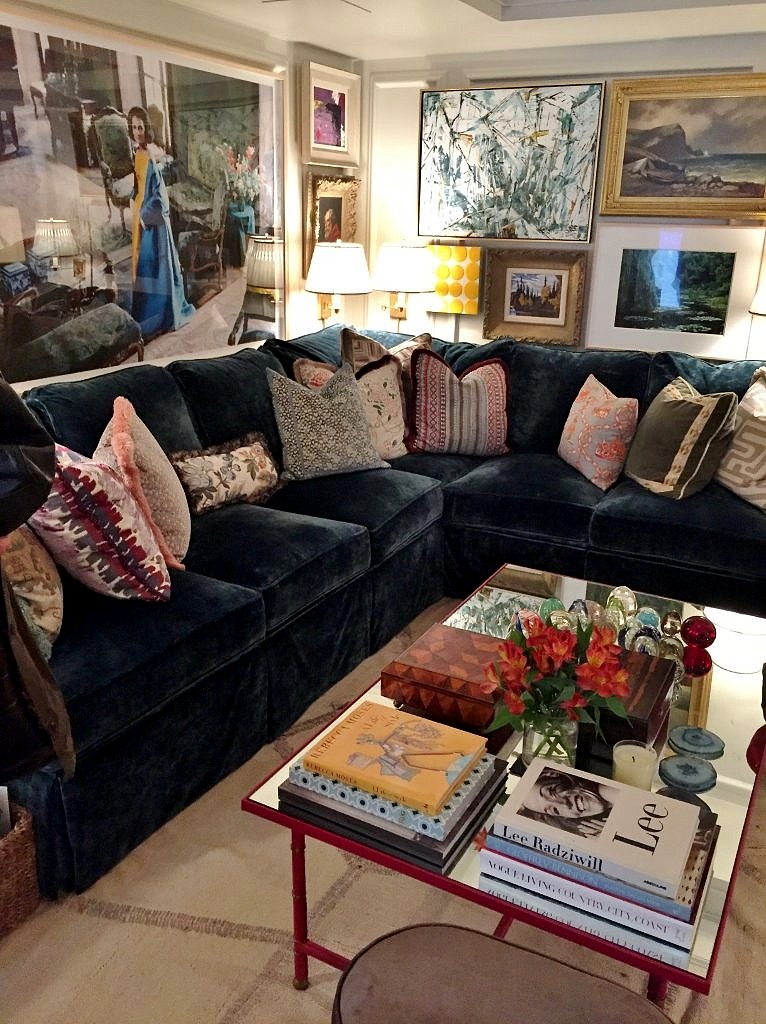 And it kept getting better. Everywhere you looked there was more, and, impossibly better, accoutrement. I've always loved the Bunny Williams bar set up in her Connecticut house and this was to rival that. Then there were the overstuffed chairs, flanked by baskets filled with books and magazines, flanked by ottomans, flanked by tables, flanked by–you get the picture. I could just see myself sitting in this chair, feet elevated, sipping a Gin Fizz, devouring a juicy novel.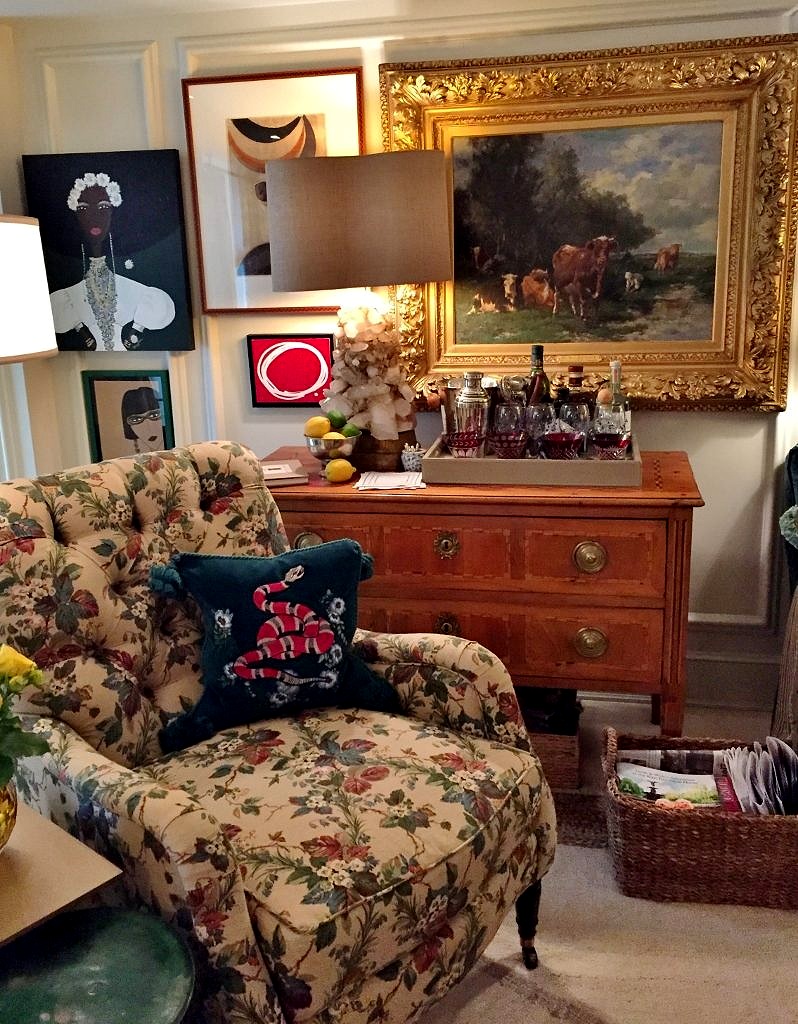 Coffee tables were all piled high with collections (note to self– take all unpolished antique brass candlesticks out of purgatory stat), more books, even plants. Who said orchids were so over? Note too all the stools and benches encircling the coffee table practically begging you to put your feet up and enjoy the flow.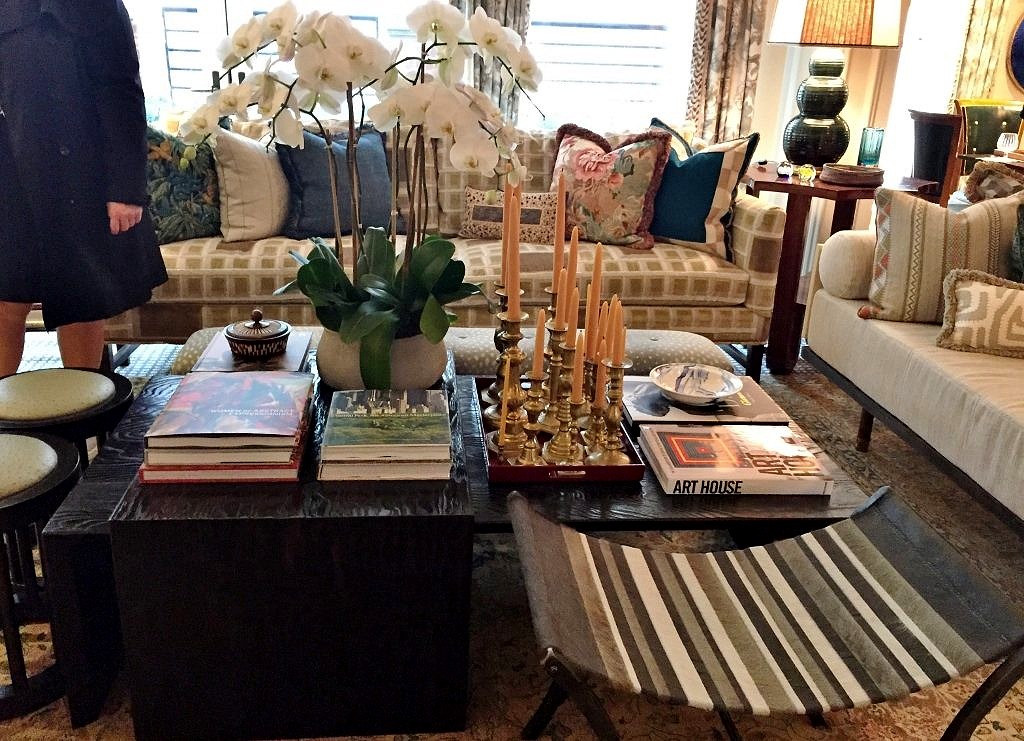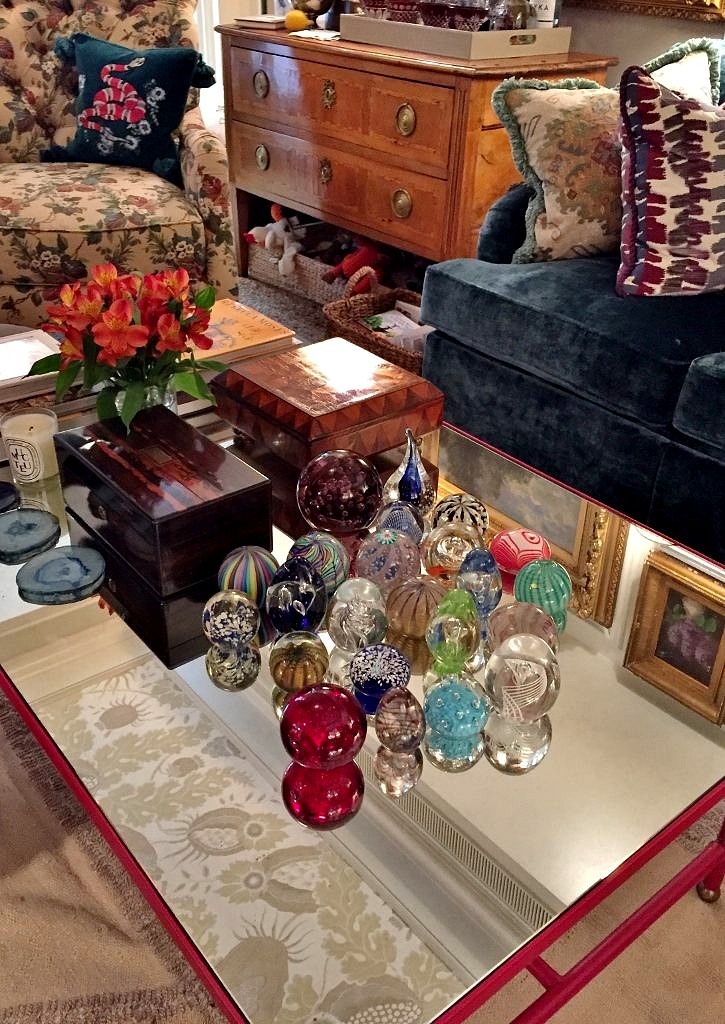 Everywhere you looked there was more to see and enjoy. Game table. Check.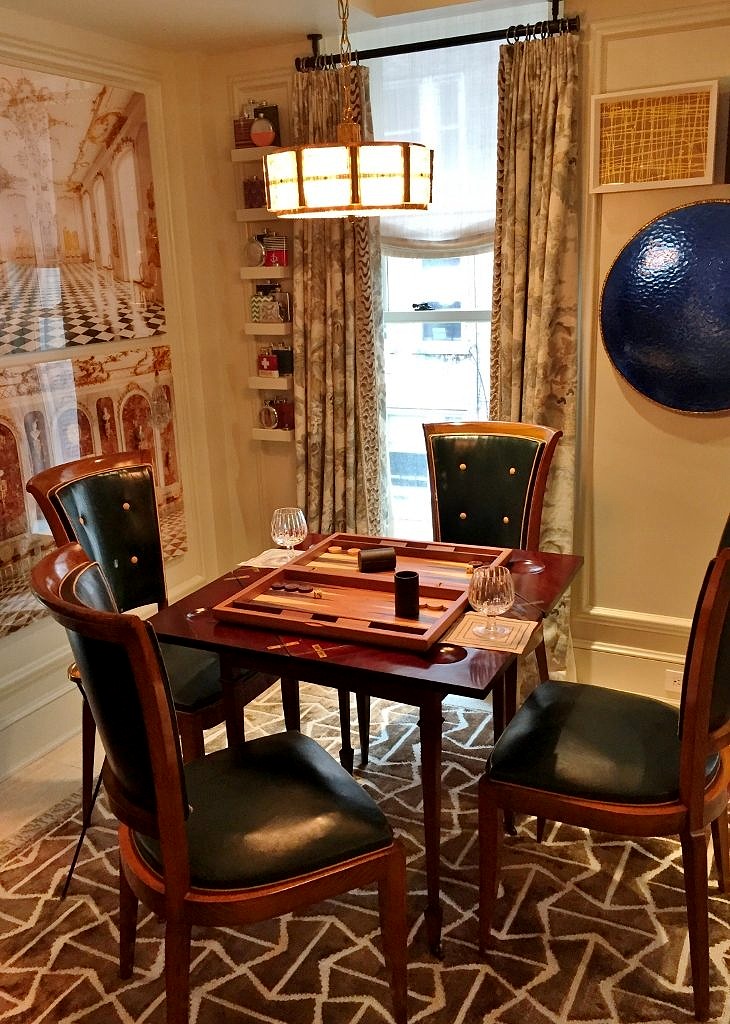 Cozy corner with wicker chairs. Check.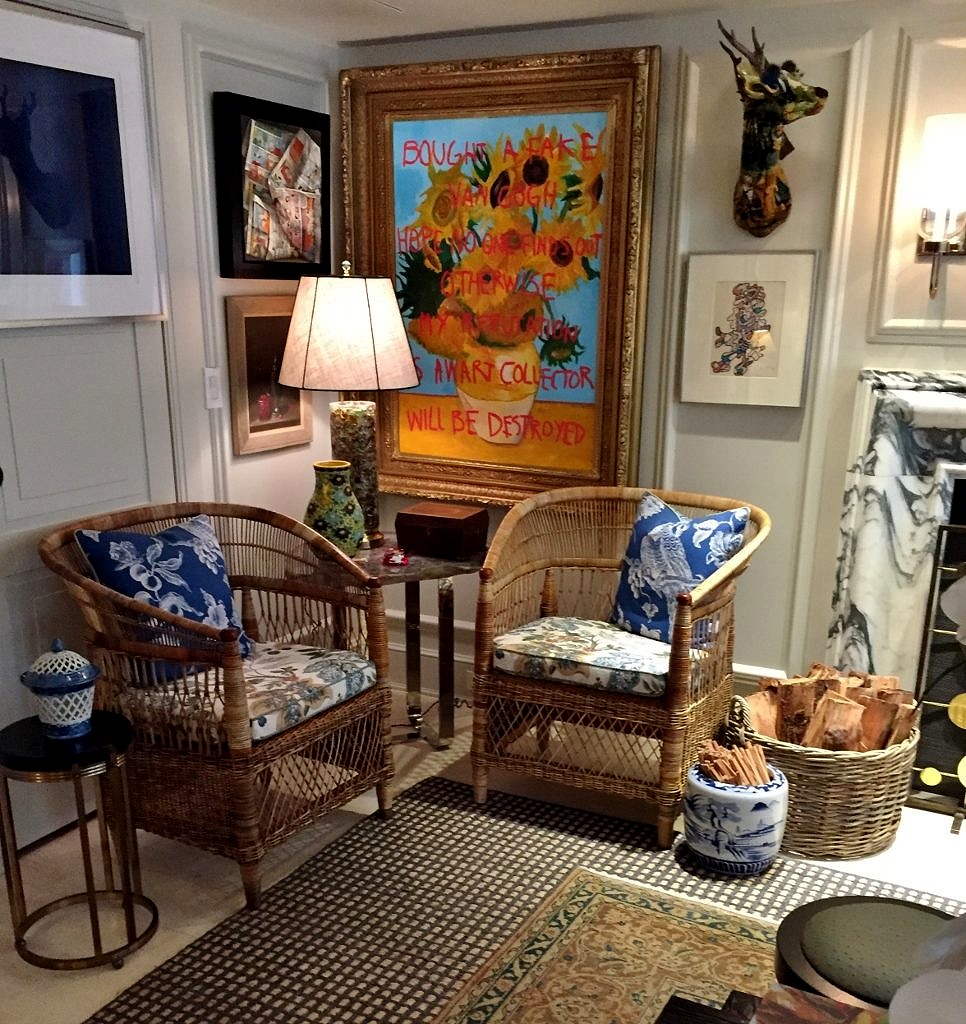 Tall shelf nestled in alcove filled with blue and white porcelain. Check.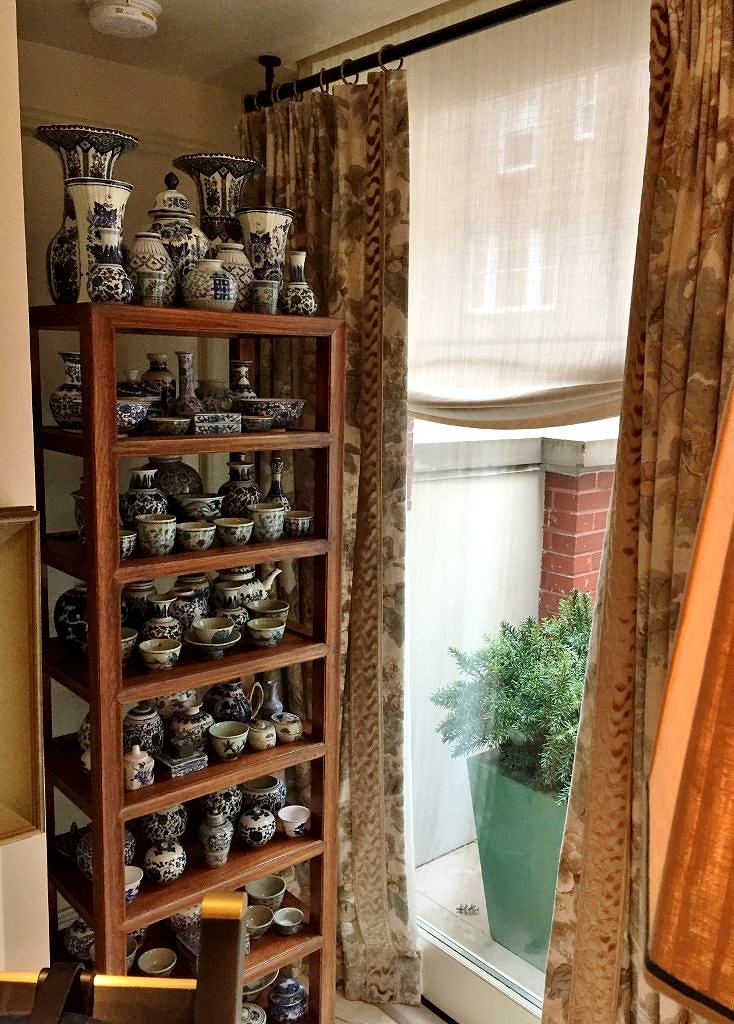 Vintage dog bed. Check.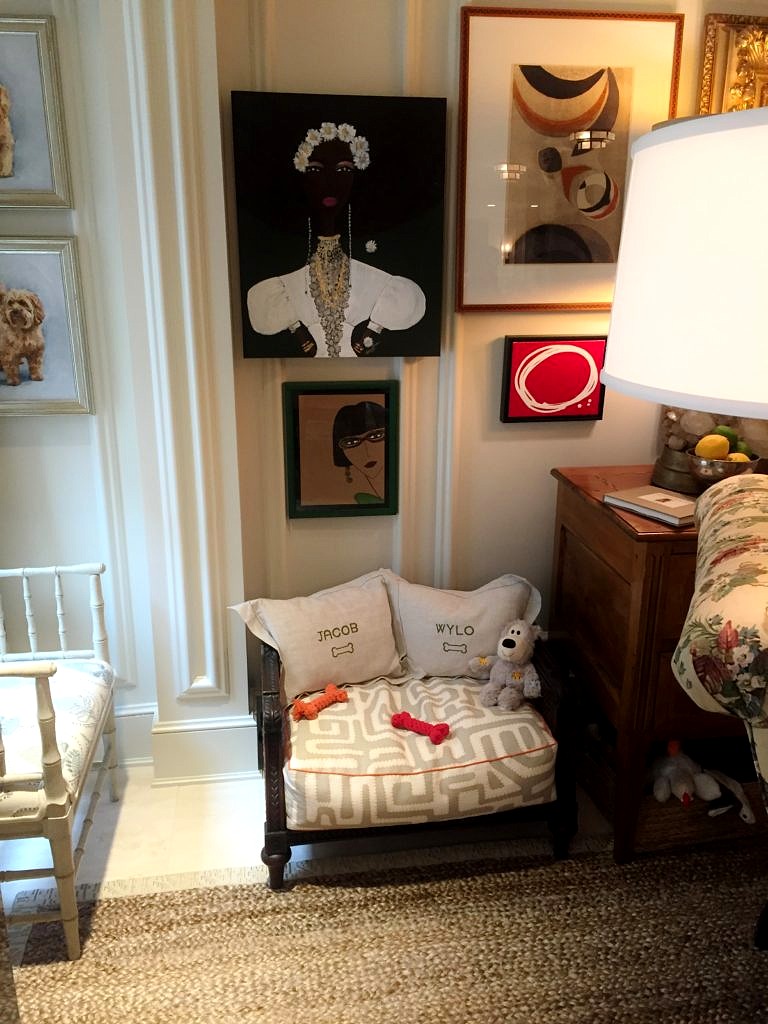 I could go have stayed there forever but there were seriously another twenty or thirty rooms left to peruse so off we toodled.

Mark Sikes was up next.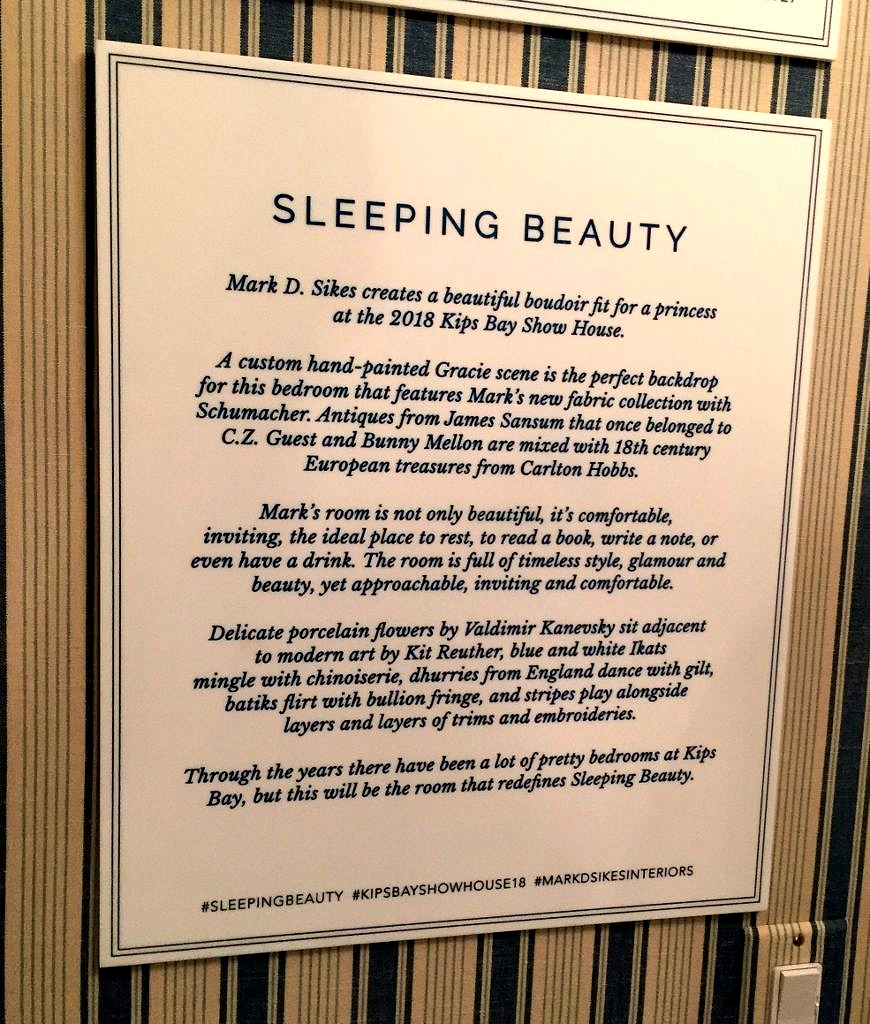 Part of Mark's shtick is his adoration of iconic beauties and he rolls with the idea that one of those lovelies has this totally gorgeous bedroom. It worked for me, not an iconic beauty however, but still a lover of blue and white, fab wallpaper, incredibly detailed soft furnishings, vintage objets d'art and antique furniture.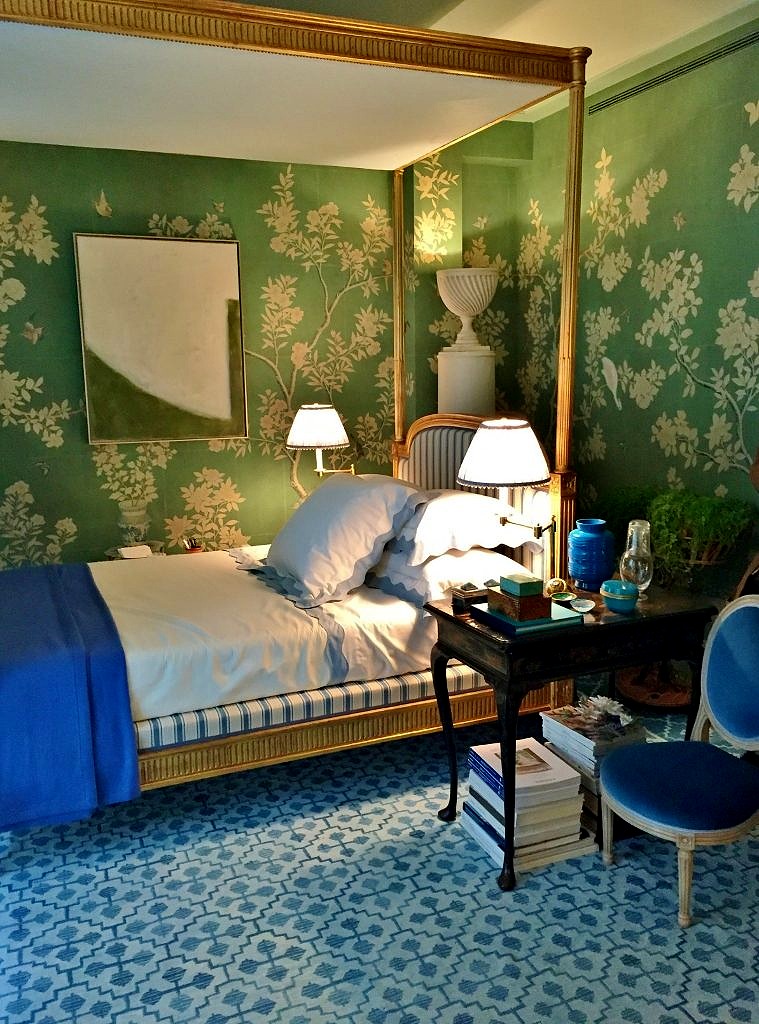 The four poster bed was gorgeous, and I love how the base is upholstered to match the headboard and footboard.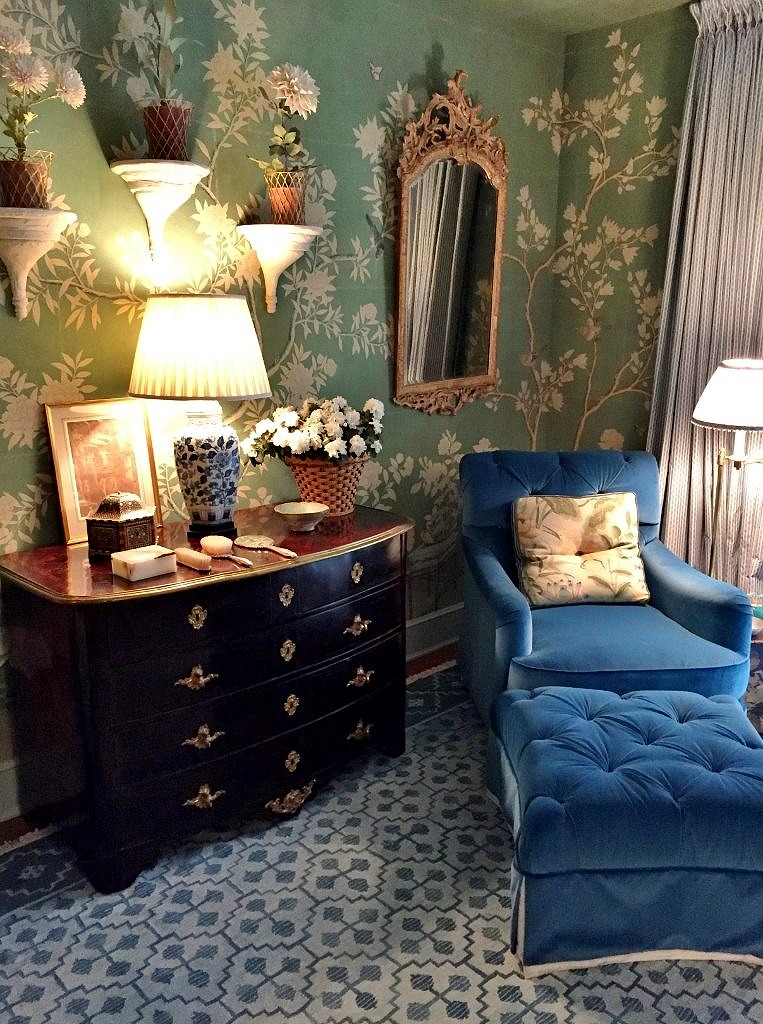 Pops of royal blue abound, and just imagine sinking into this upholstered velvet armchair after a glam evening out on the town. I'm not really a huge fan of complex window treatments but l was bowled over by this pinch pleat swag curtain that probably has a proper name–probably French–c'est tres jolie in any case.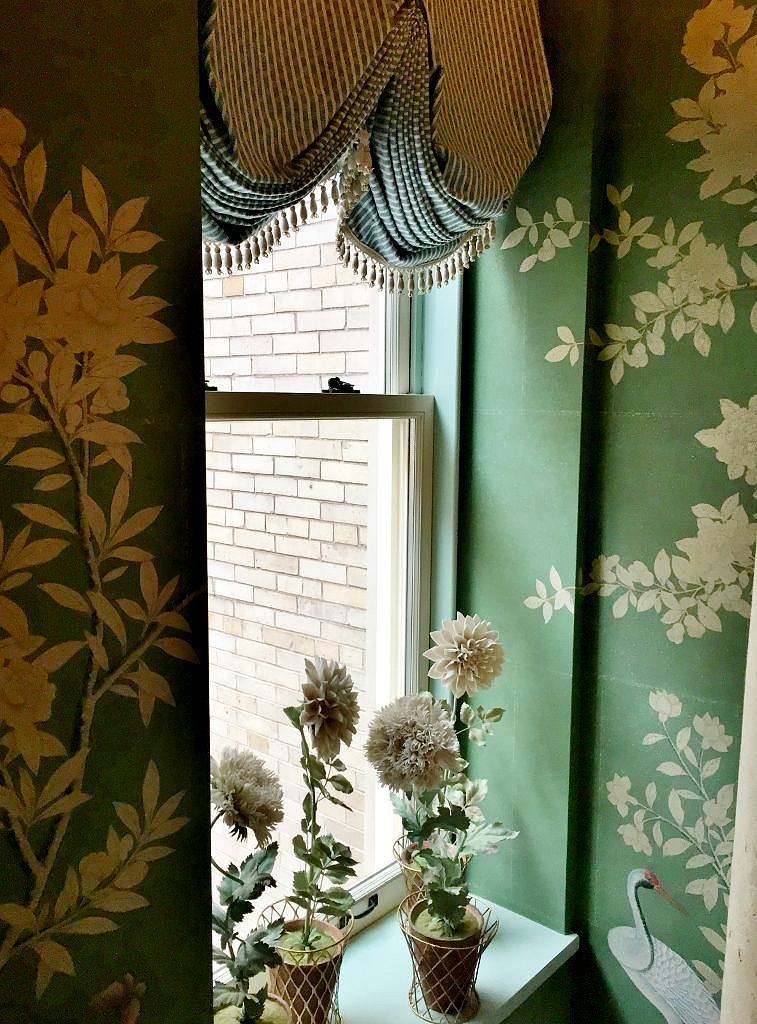 Mark used a contrasting fabric as a shower curtain and skirt for the bathroom vanity which I gather is all part of his new fabric collection for Schumacher. Well done!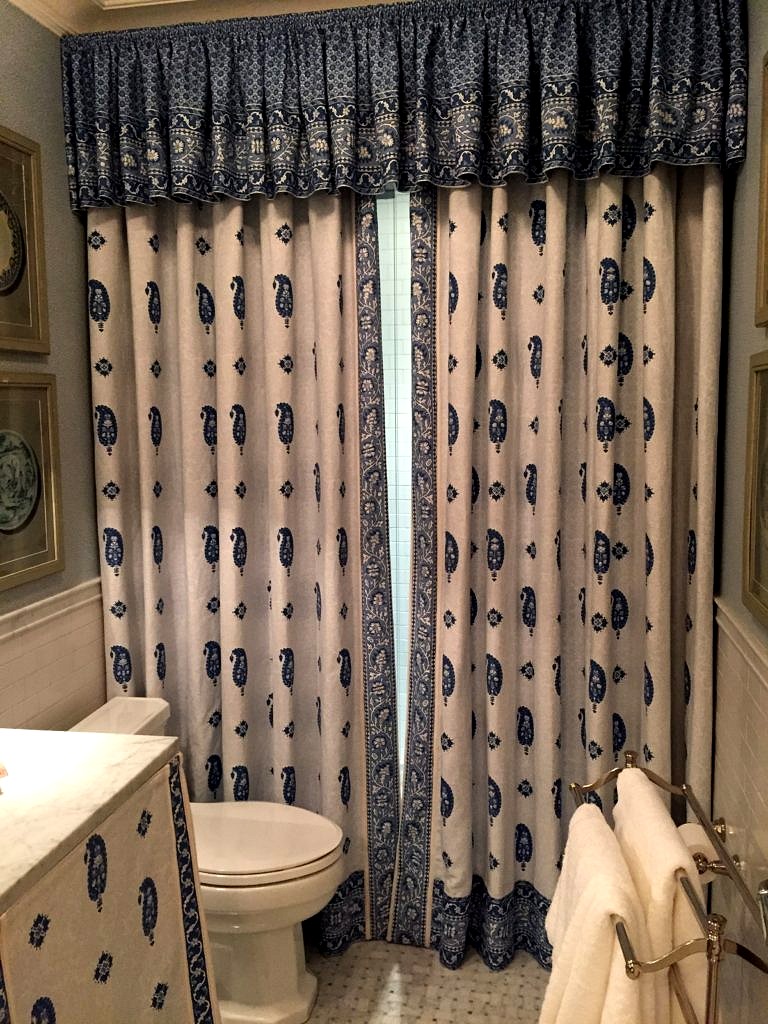 We hated to leave but Alexa Hampton was waiting–not really–but her room was the next on our A list. Alexa has been on our British Cottage radar ever since we fell in love with her collection for Hickory Chair last spring at the High Point Furniture Market. Rich in color and texture, sophisticated and inspiring; we couldn't wait to see her Kips Bay living room.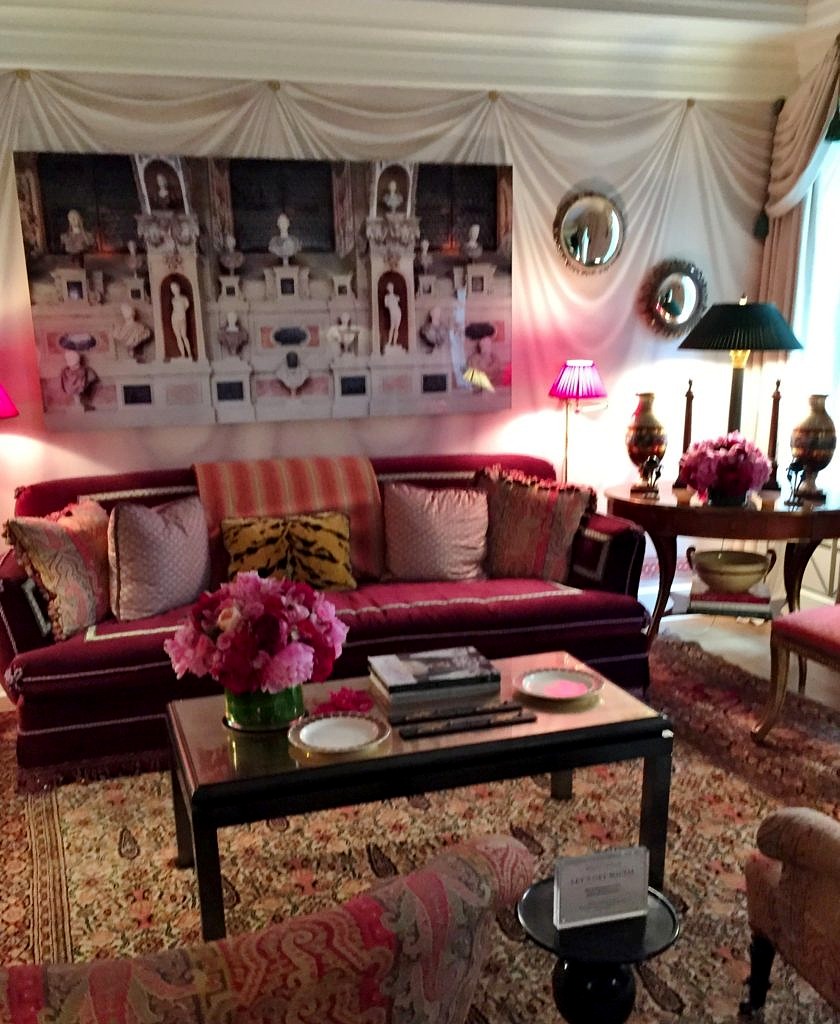 Decorated to the nines and terribly chic, I get it; but sadly it could not make my heart sing.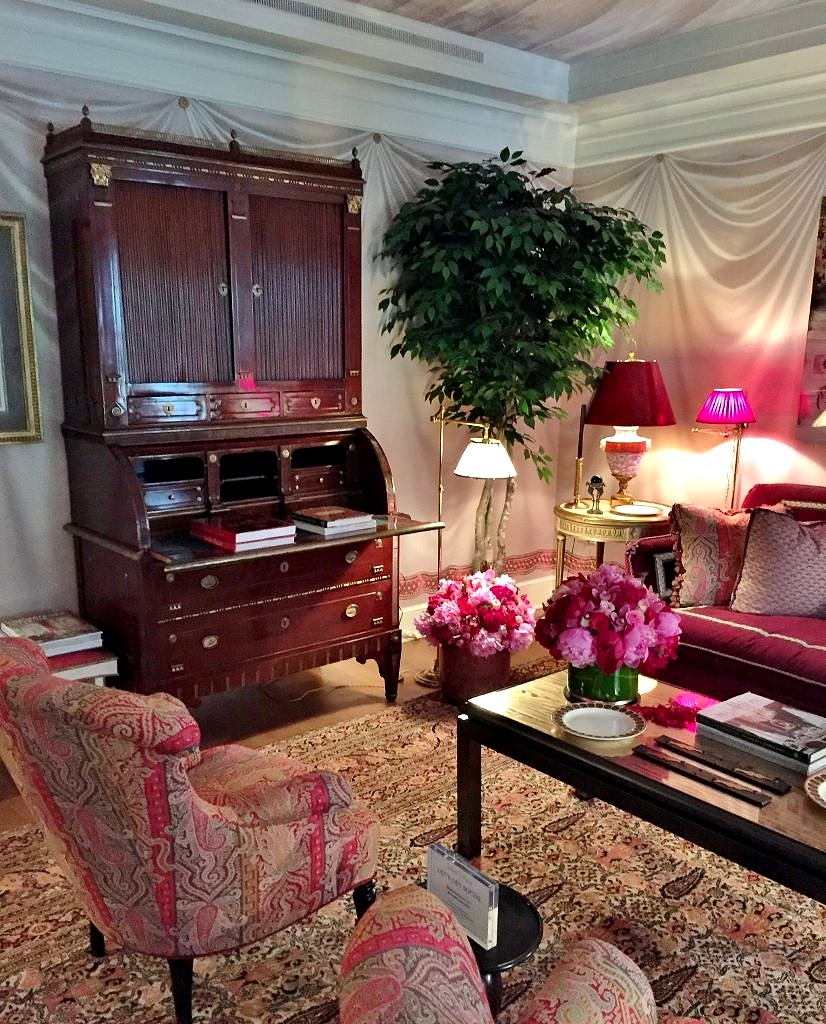 Definitely my fault because I am not very fond of red. And that is all I see here. So even though I love love love the secretary, and all the attention to detail…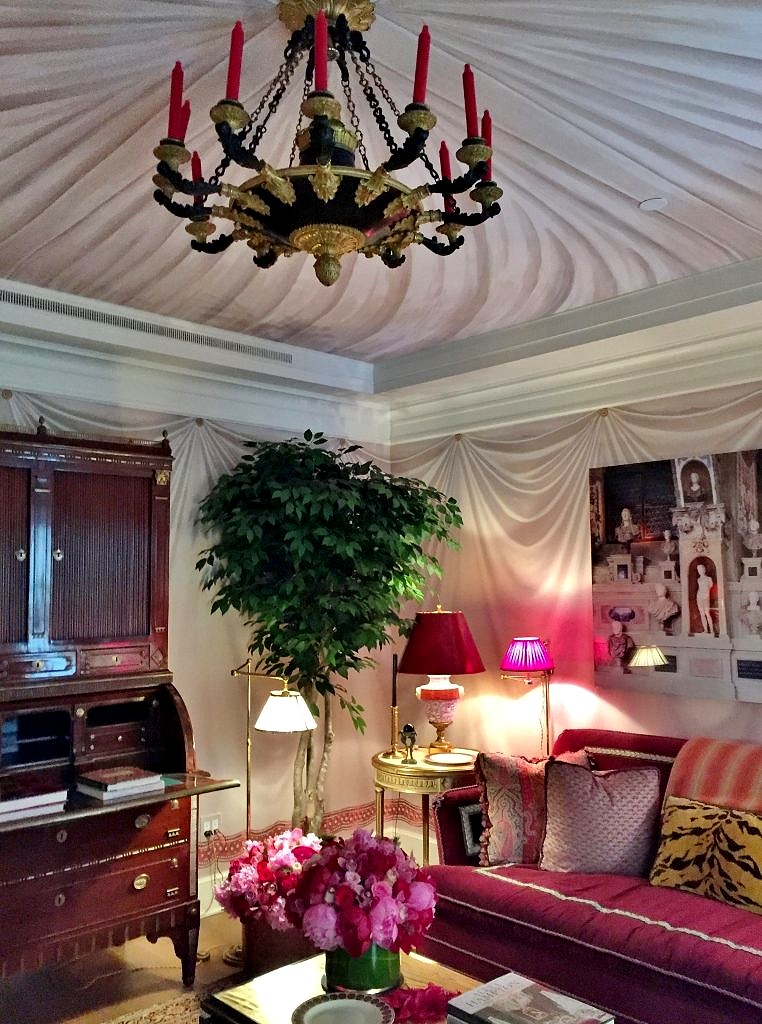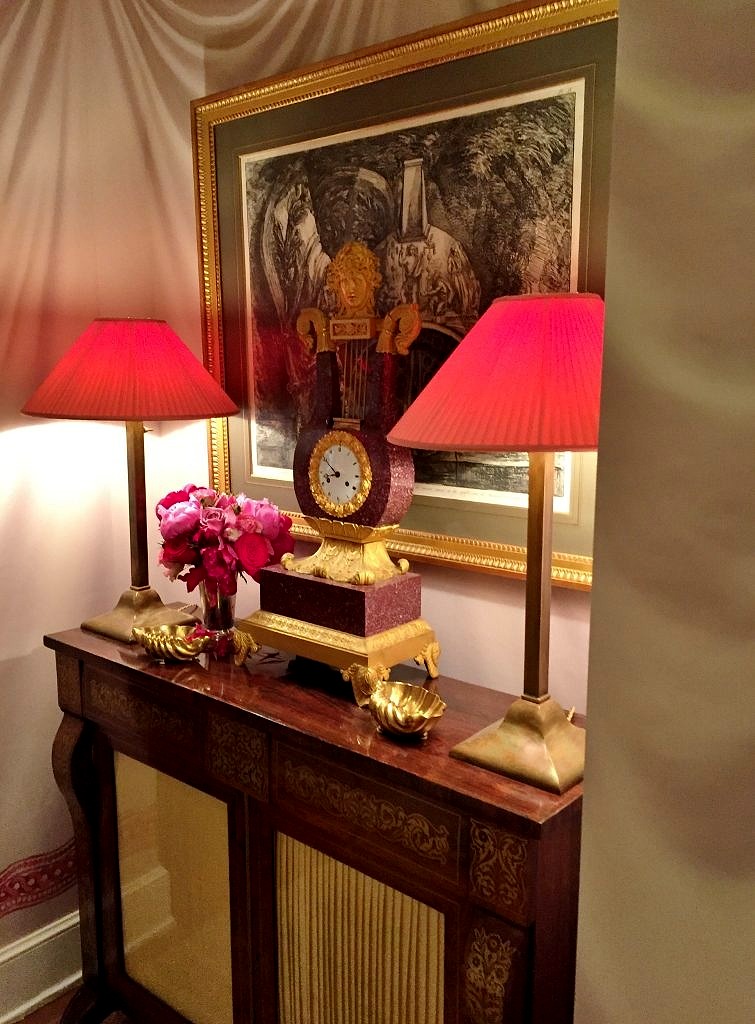 In the end it was all too fin de siecle for me–but I embraced the opportunity to see a master's work. I had to marvel at the artistry that created the tromp l'oeil painted tented walls–and ceiling! And the vision and creativity of the designer to put this all together.
And that is the point of showhouses (beyond of course the charities they support). You get to actually see and experience a variety of decorative options. Some may be out of your comfort zone or beyond your budget. But you get to get the idea.

Take Barbara Ostrom's dining/living room. Noted for her over-the-top decor she did not disappoint here. (We first met Barbara at the initial Stately Homes by the Sea Showhouse in Rumson. She was probably the best-known designer on the roster and created a most opulent and stylish dining room–think Versailles, while we poured our heart and soul into the decor of a minuscule bedroom upstairs in the servants' wing.)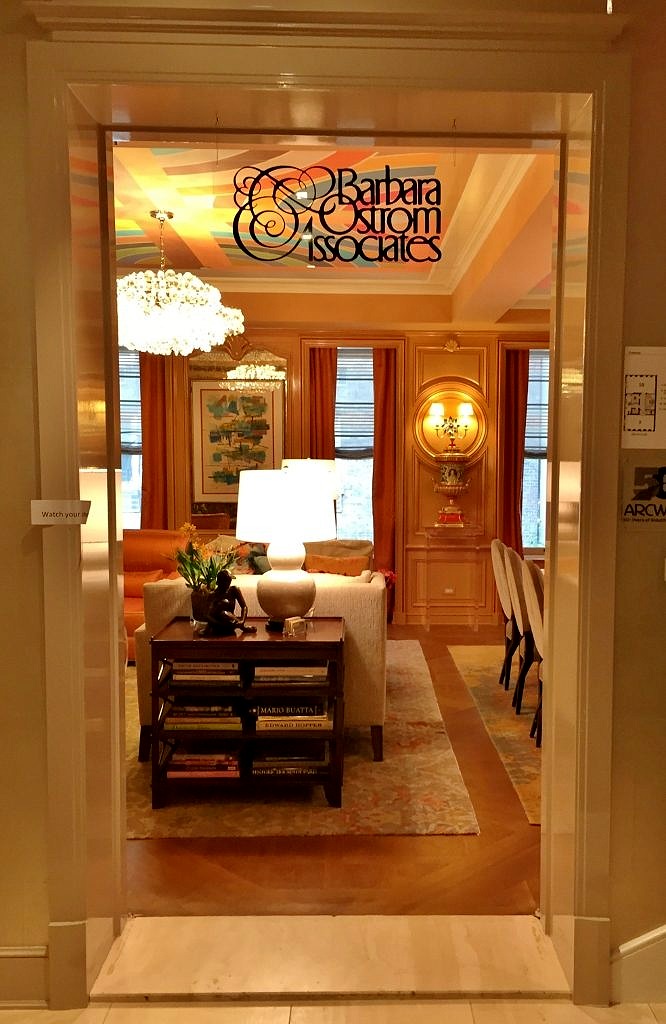 I loved the placement of furniture and all the objects in her room, which I think may have been intended as a formal dining room, but Barbara being Barbara threw in a living room as well.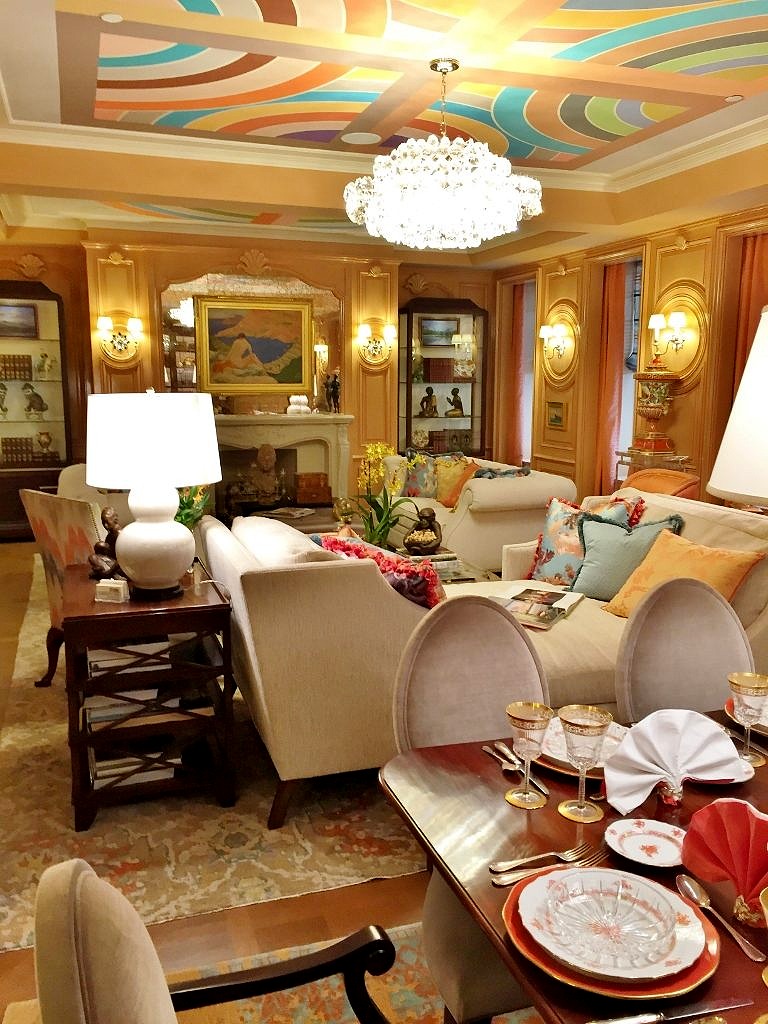 The dining section features a beautifully set table–another Barbara-ism. And note the Andrew Tedesco mural on the ceiling. Like many of the Kips Bay designers the ceiling was treated as a "fifth wall" and it was literally a highlight of the entire room.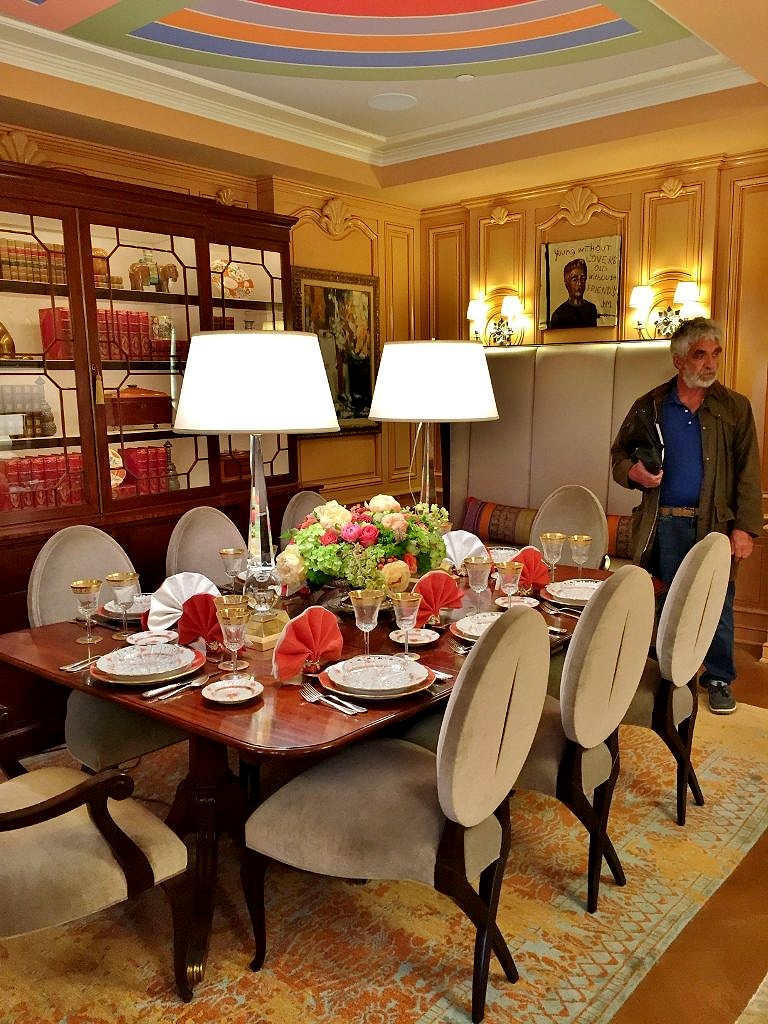 And speaking of stuff, Barbara is fearless when it comes to decorating a room. The paintings are from all periods, including one by John Mellencamp, while the bibelots range from the Han dynasty to the present day. As always the color palette is on the vibrant side; in this case high gloss peach from the Farrow and Ball archives.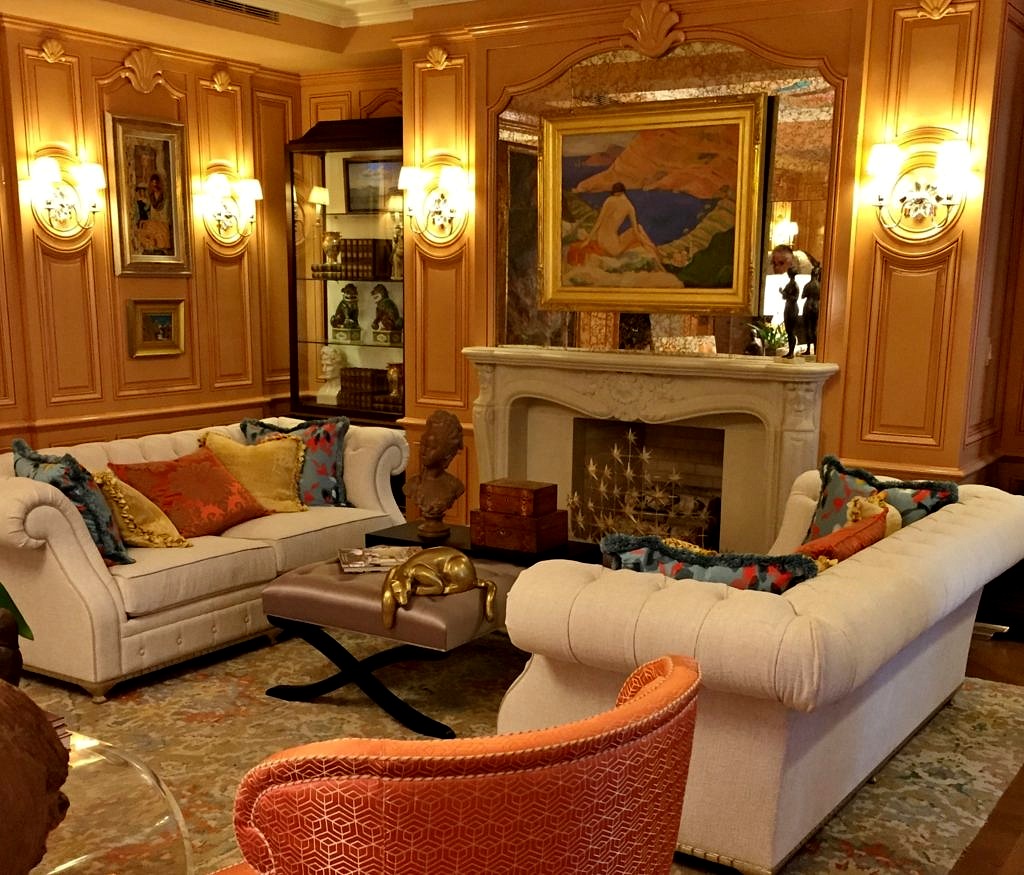 But I am sure if you are still reading you are wondering if I am ever going to wrap this up. Let's end with Bunny Williams, co-chairman of the 2018 Kips Bay Showhouse and designer par excellence.
Bunny and her partner Elizabeth Swartz designed a room that was not a fantastical representation of anything–it looked to me like what I think a real life mogul would have in their real life living room in their 51 million dollar mansion off Park. Sophisticated, sleek, expensive, but still relaxing. A place to loosen your tie, plop your feet up and wait for the butler to bring your slippers and serve you a martini made just the way you like it.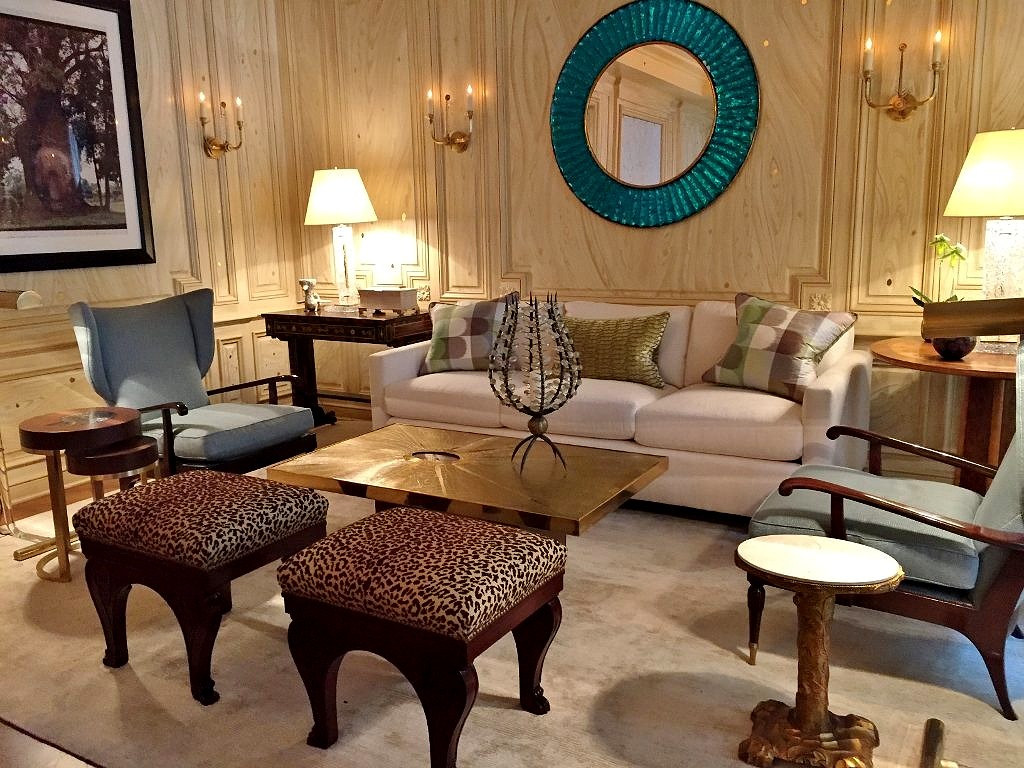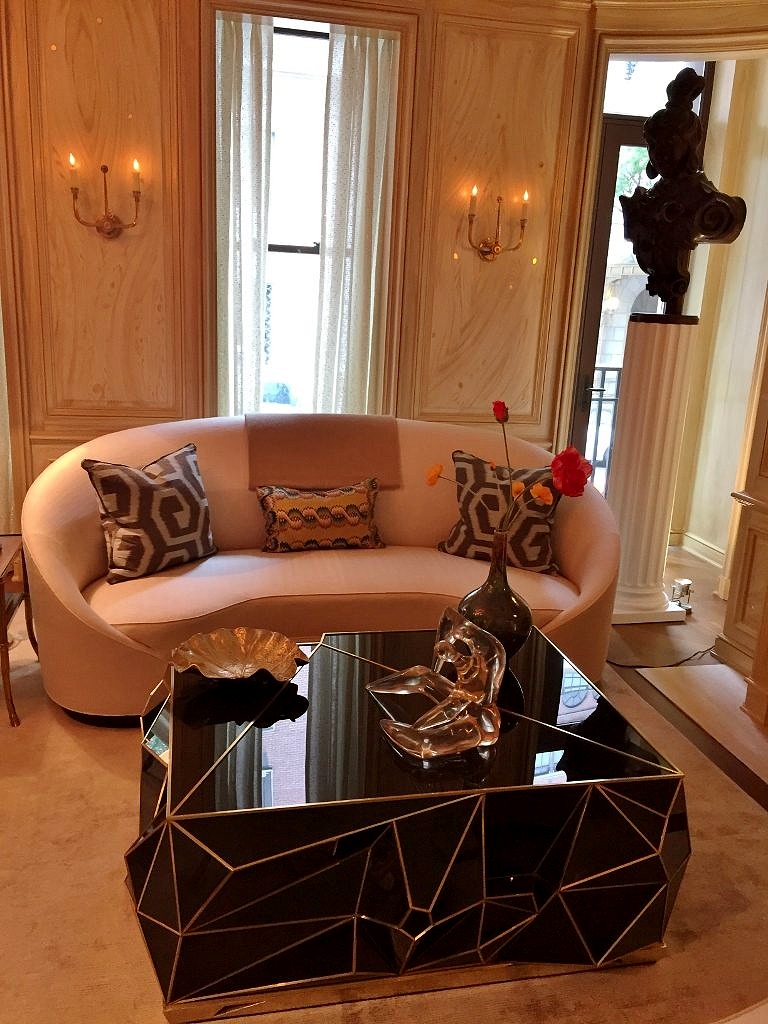 There were two comfortable seating areas, fabulous art on the walls, a mixture of antique and contemporary furniture and some pops of color but nothing too too.
Except maybe this. It was a showhouse after all.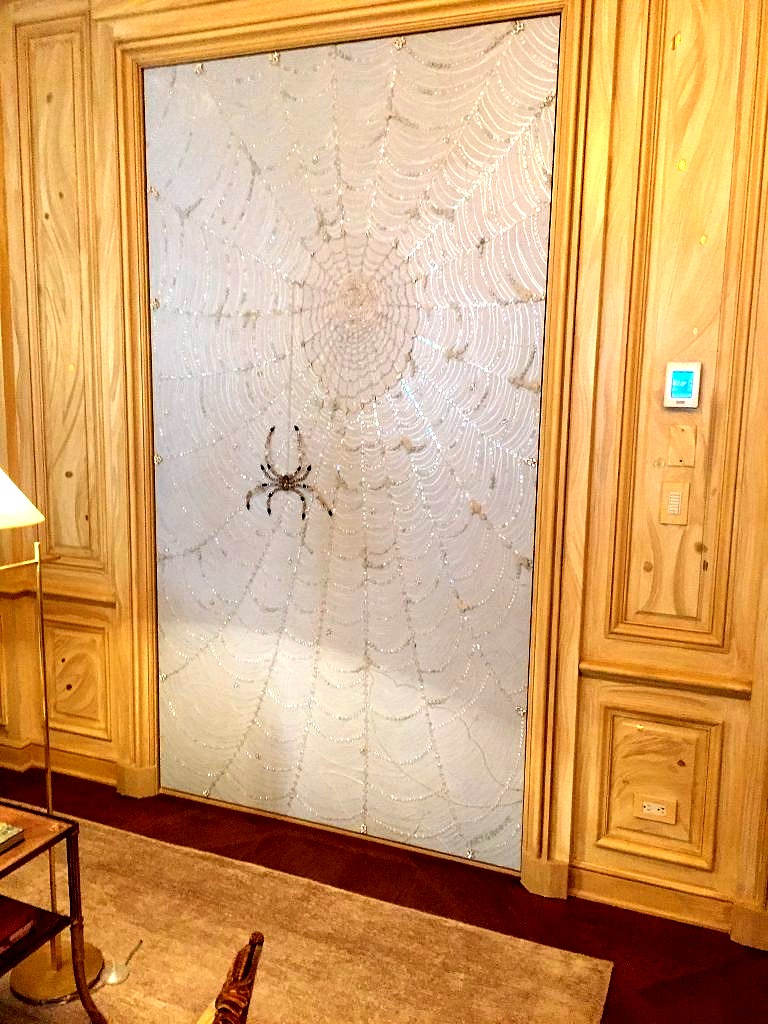 You can read about all the other fabulous Kips Bay Showhouse 2018 rooms here: Architectural Digest Gallery Tour

Quiche Lorraine
Meanwhile I just have to tell you about our brunch. You simply cannot go to New York on a Sunday and not have brunch. We didn't have plans and fortunately stumbled upon a Belgian Brasserie at 240 East 75th Street almost immediately. Honestly it did not look the most engaging of venues, but it was drizzling, we were parched and famished so in we went.
The good news: the interior was spotless, our server excellent and the food terrific. I had my own mini Quiche Lorraine while Keith had French Toast from heaven.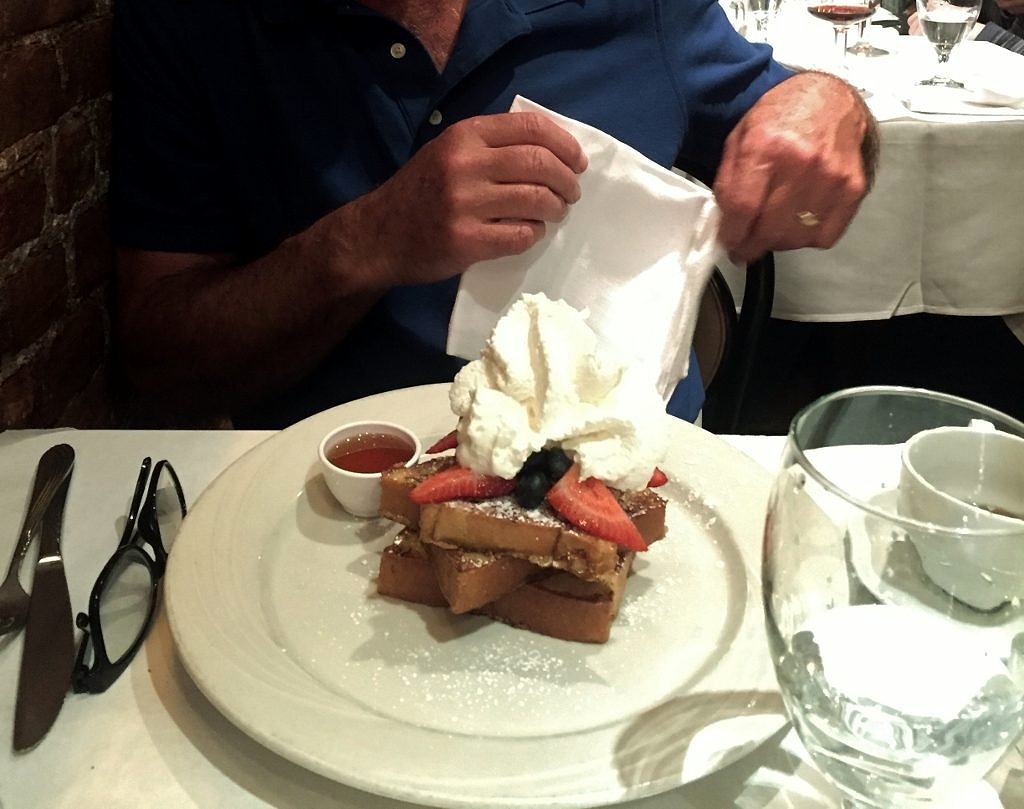 B.Cafe (Belgian Brasserie)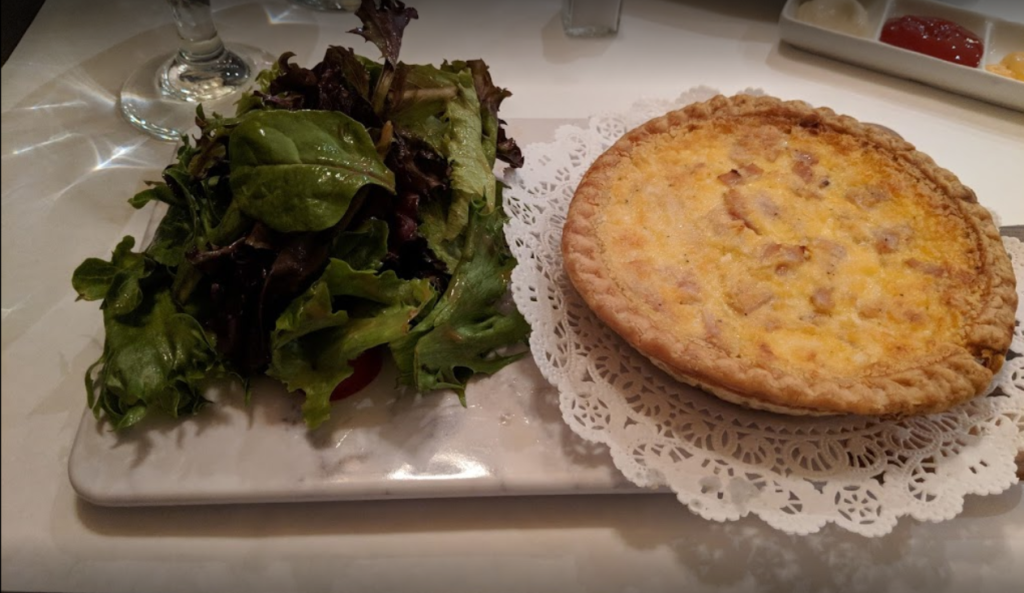 I always include a recipe in my blogs and seeing as I already featured Challah French Toast

I think it has to be the quiche. My problem is although I love quiche I'm not very good at making it. Here is a recipe

from Epicurious that might change that. However, I would use ham instead of bacon, like they did at the B. Cafe.
Quiche Lorraine
1 Pre-Made pie Pastry for a 9 inch single crust pie
12 slices bacon
1 cup shredded Emmental cheese
1/3 cup minced onion
4 eggs, beaten
2 cups light cream
salt and pepper to taste
PREPARATION
Fry bacon until crispy.
Chop bacon and combine with cheese and onions, then place mixture in pie shell.
In a medium bowl, whisk eggs, cream, salt and pepper then pour into pastry shell.
Bake for 15 minutes in preheated 425 degree oven. Reduce heat to 300 degrees and bake for 30 more minutes.
Let stand 15 minutes before cutting