Maine Home & Design Contest
Martha Stewart
Loi Thai
Skillet Cod with Clams, Corn and Parsley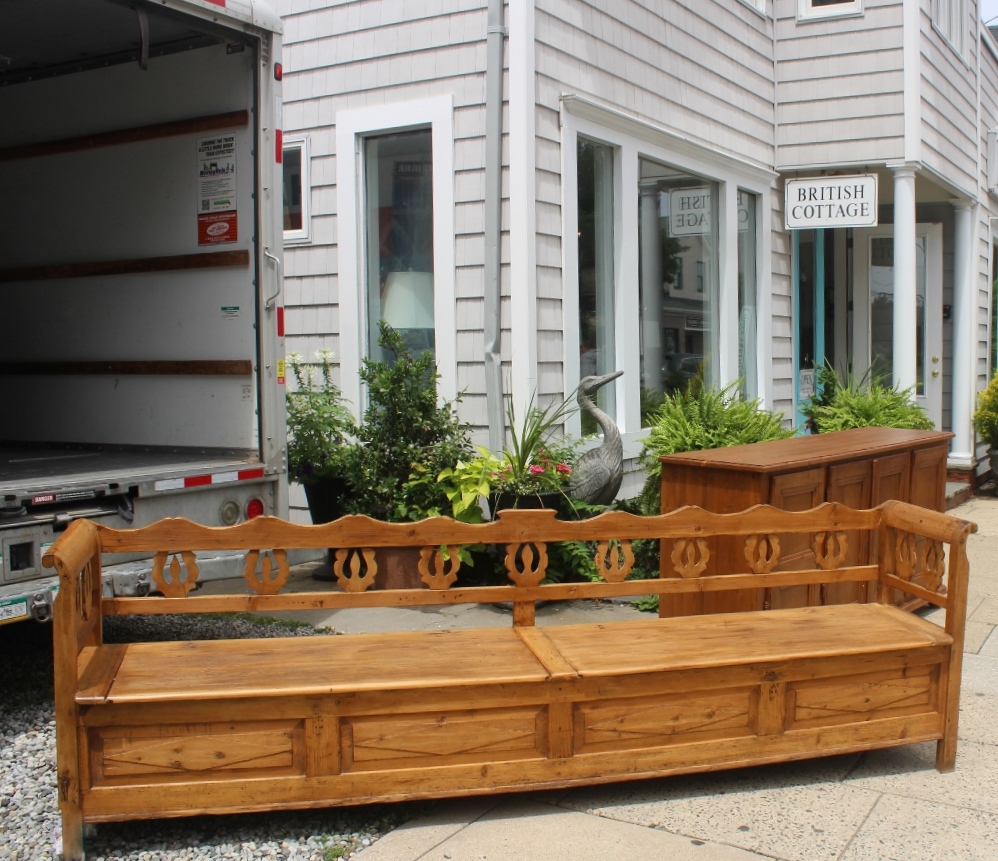 We barely had time to unpack the New Shipment of antiques and custom furniture from our factory in Hungary in late July, when it was time to whoosh up to our Maine cottage for the best two weeks of the summer.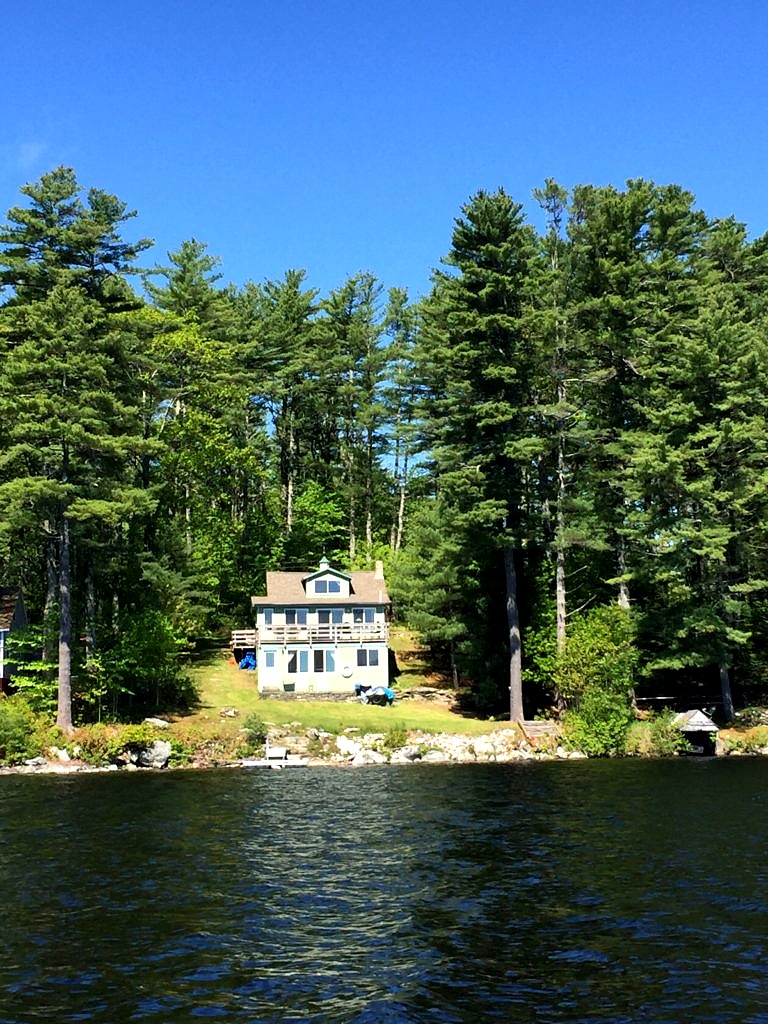 August promises so much: warm water temperatures, delightful breezes, bright skies, and the tastiest fresh food from the farmer's market and the local lobster and fish co-op. It's the best time for family visits because the kids, and adults too, can be outside all day running around like lunatics and swimming like fishes–then sleeping like logs at night.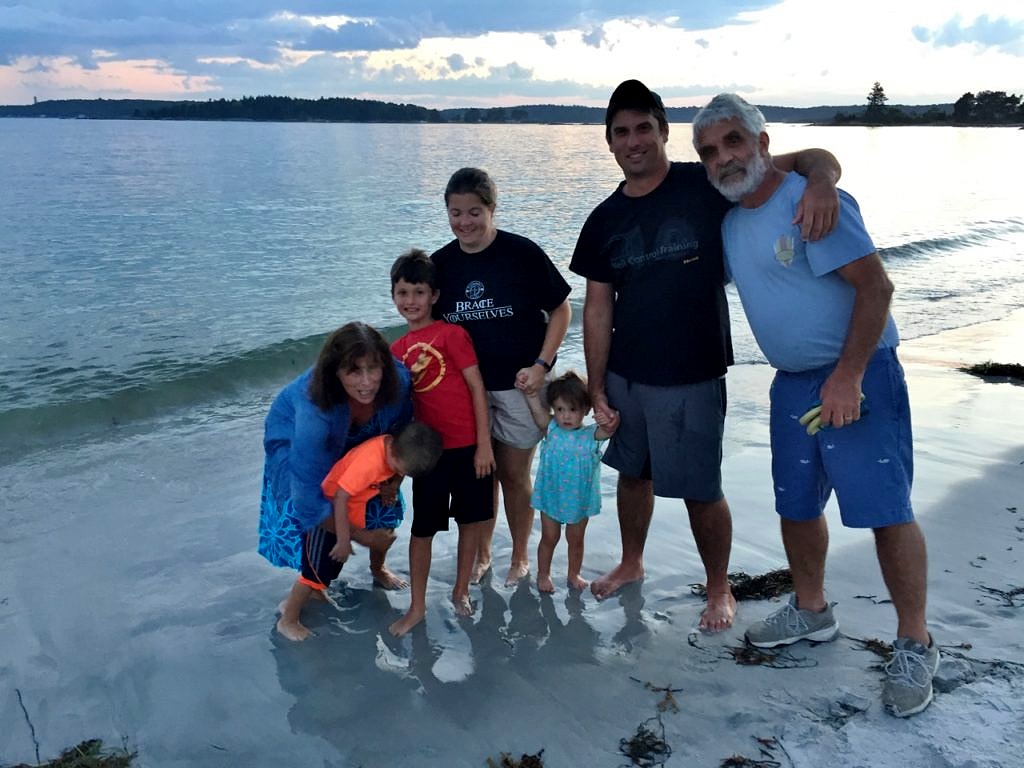 At least we did. A long time ago a customer with a vacation home he inherited from his father told me his dad's secret to successful hosting: Never give up your own bedroom. No matter what.
Ours is totally British Cottage Style, albeit with a bit of bling. The chandelier is an antique, and the sconces are from Currey and Company. The vintage white king size bed is by British Cottage, leaving just enough room for one of the robust antique pine chests of drawers we import from Hungary. Comfortable, serene and a perfect refuge for when the going gets tough– or the young 'uns get going!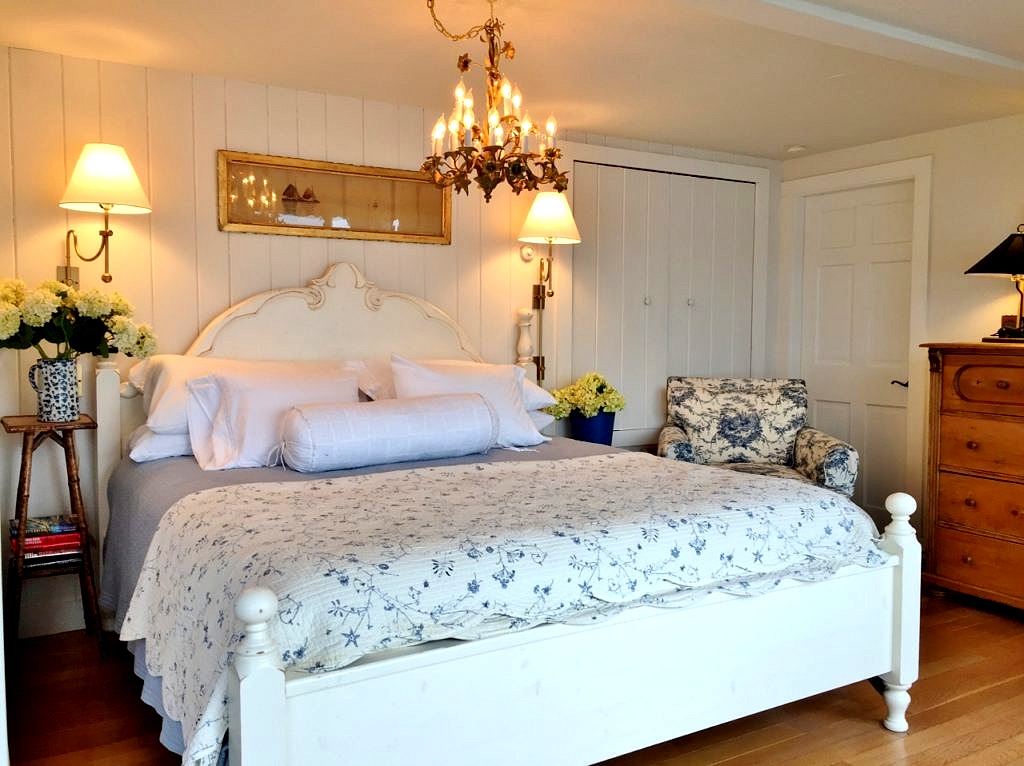 We were also looking for a similar sense of comfort and style in our living room. Below is the photo I entered in the Maine Homes by Down East design contest in May. Judges include Martha Stewart and my Instagram favorite, Loi Thai, owner of Tone on Tone Antiques in D.C. and fellow summer Mainer. You can see all the entries here: Maine Homes Design Contest. (For the record I am not expecting a win–I just wanted to get a little skin in the game!)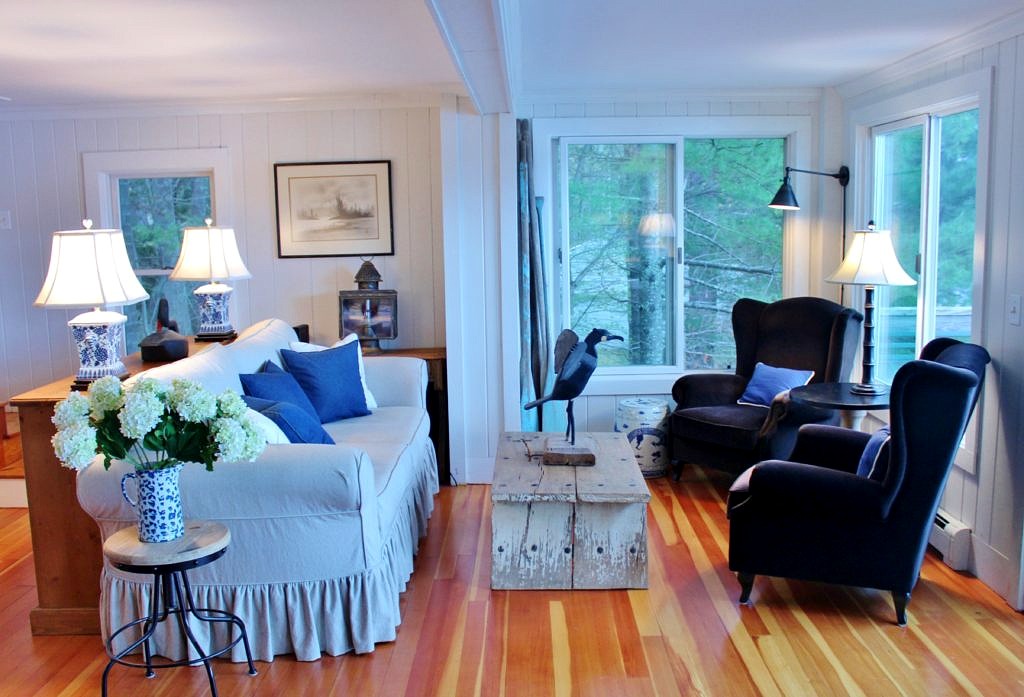 Our sofa is from Best Slipcover, the first upholstery company we carried. I love the concept of a slipcover,especially when pets and children are involved. Luckily I had a second slipcover made before we parted ways and the sofa got schlepped up to Maine. When all our young guests departed we tried on the new look and I am happy to report it was an instant success. I'm so over the ruffles (what was I thinking?) and love the waterfall skirt and weltless seams. It looks less cottagey which is not necessarily a bad thing. (Note to self, buy a steamer.)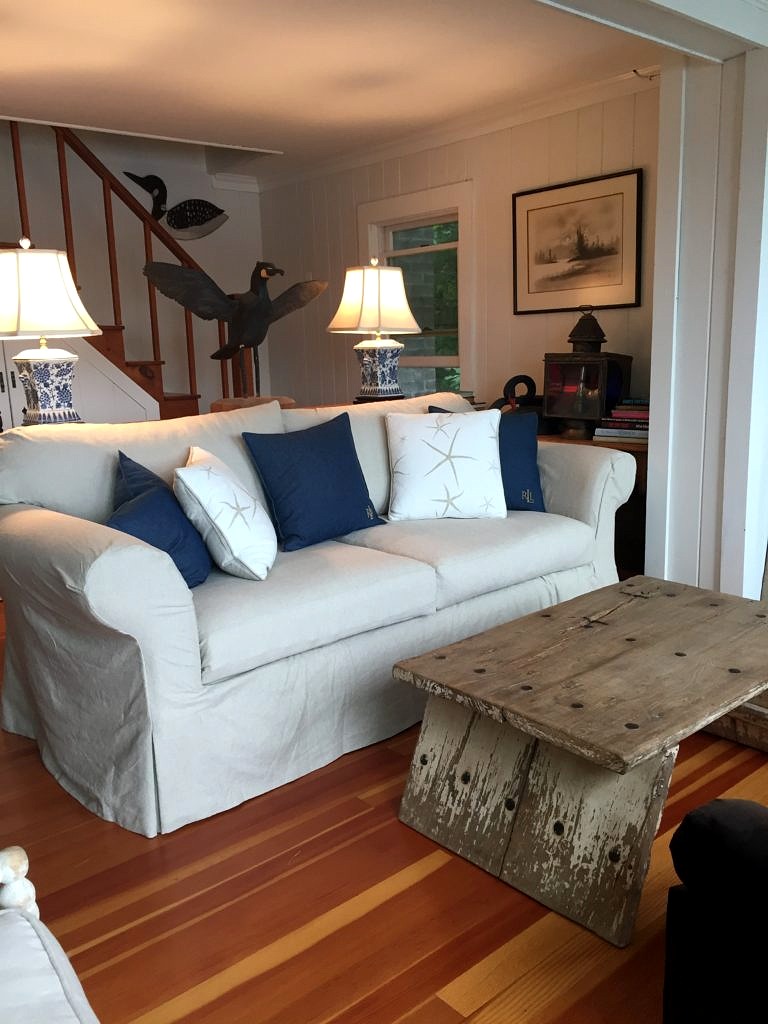 While some people believe a vacation means no cooking I think meals are much more fun to prepare when there is a crowd to enjoy them and help with all the prep–and clean up. Al fresco is always the best.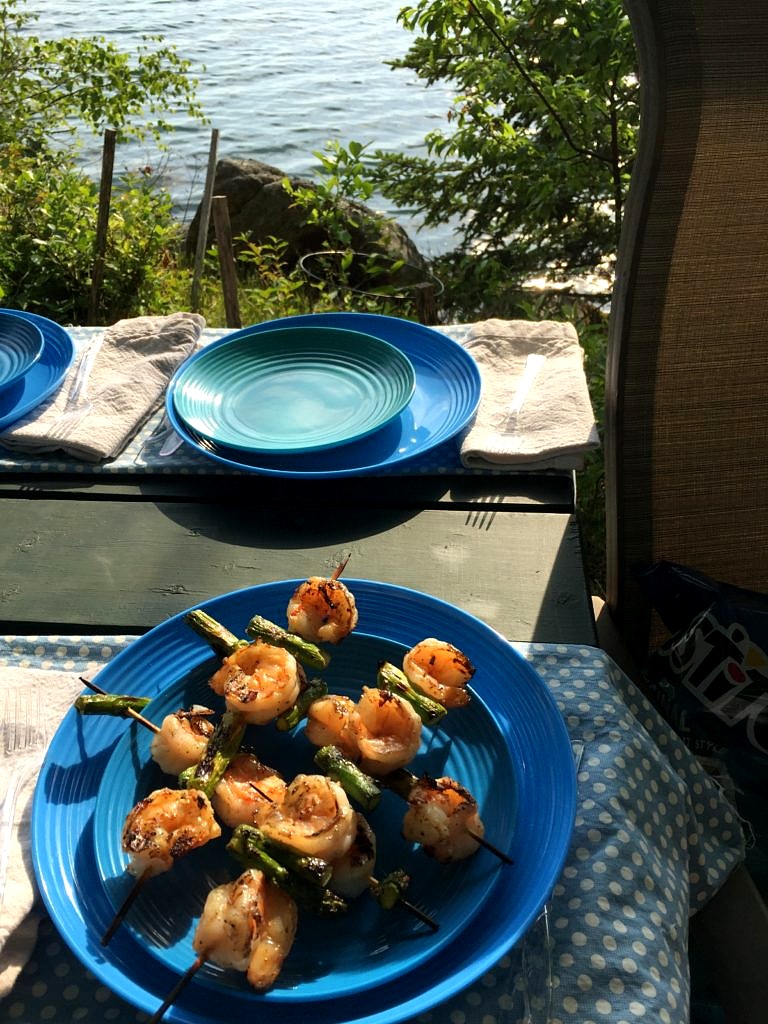 Lobster works anytime anywhere.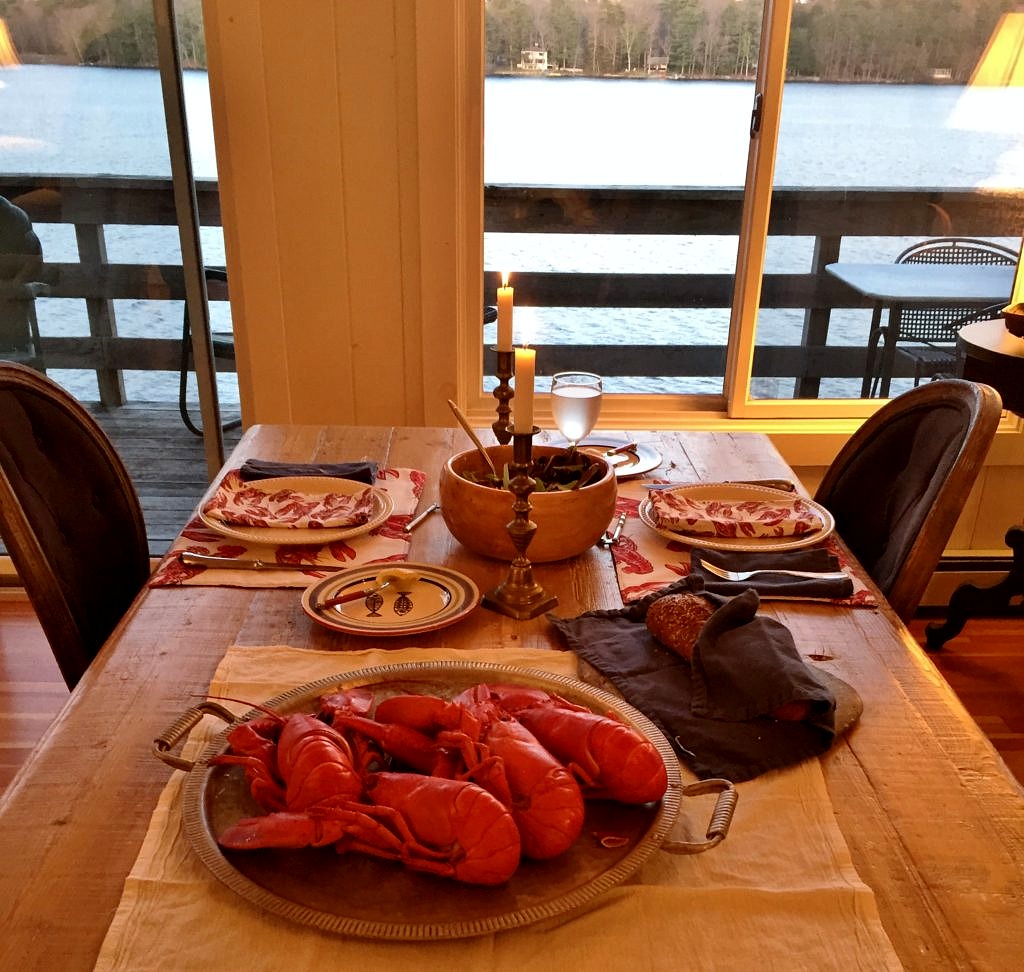 But the best dinner I had all month was from the August Bon Appetit and is a made for Maine summertime dish. I love clams and almost never cook them but this recipe will change that. Just make sure to double up on the ingredients because everyone will want seconds!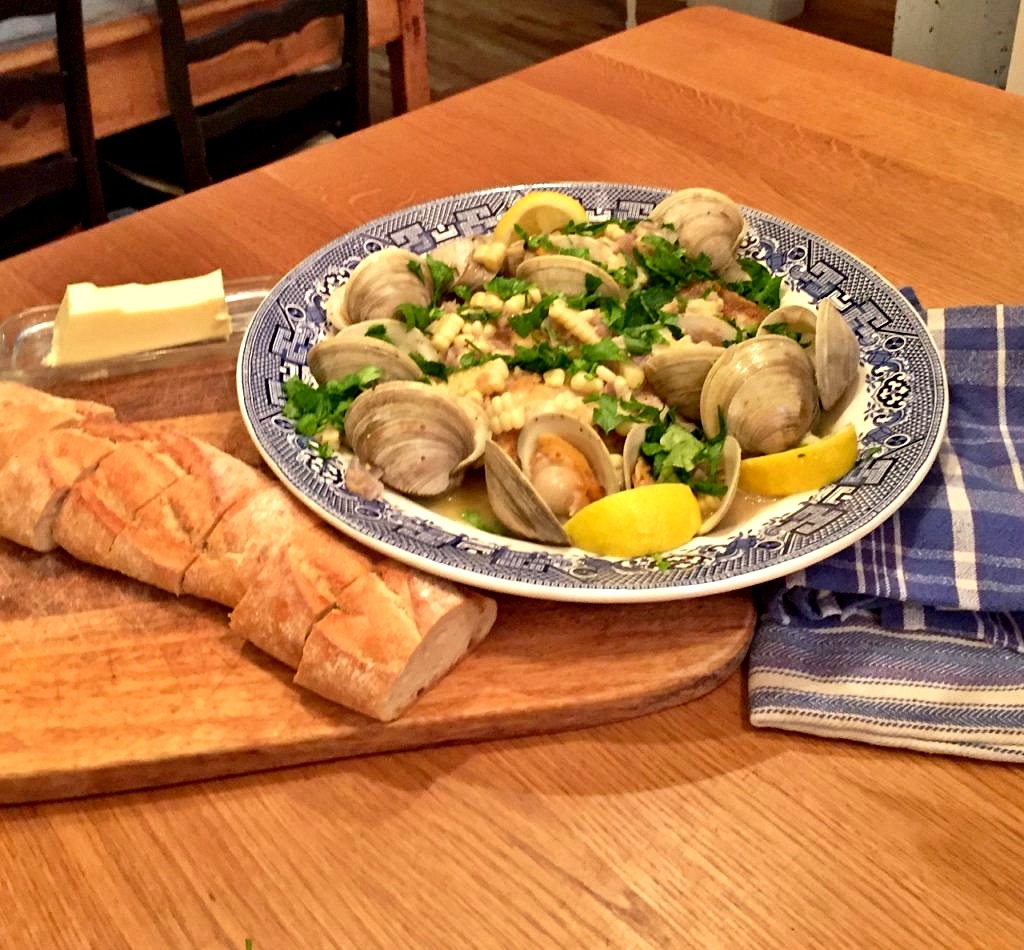 Skillet Cod, Clams, and Corn with Parsley
INGREDIENTS
1¼ lb. skinless cod fillet, cut into 4 pieces, patted dry
Kosher salt, freshly ground pepper

⅓ cup all-purpose flour

4 Tbsp. extra-virgin olive oil, divided

1 large shallot, finely chopped

⅓ cup dry white wine

12 littleneck clams, scrubbed

2 medium ears of corn, kernels cut from cobs (1–1¼ cups)

3 Tbsp. unsalted butter, cut into pieces

¼ cup chopped parsley

Lemon wedges (for serving)

Season cod all over with salt and pepper. (You can skip this step; I find the clams are salty enough.) Sprinkle flour over a large plate and, working one at a time, press side of fillet where skin used to be into flour to thoroughly coat. (Coating the cod with flour before cooking prevents the flaky fillets from tearing; any bits left in the pan will give body to the clam mixture.) Tap off excess and set on a platter, flour side up.

When buying a big portion of cod or other skinless fish, you'll often end up with the skinny tail end. Keep it from overcooking by folding the tail end underneath itself to create a piece that's closer in thickness to the rest of the fillets. Then proceed to cook it as you would any other piece. (This is a really good tip!)

Heat 2 Tbsp. oil in a large nonstick skillet with a tight-fitting lid over medium. Cook cod, floured side down, shaking skillet occasionally to prevent sticking, until flesh is opaque and starting to flake around the sides and underside is golden brown, 5–7 minutes. Carefully turn cod over and reduce heat to low. Cook until cooked all the way through (flesh should be completely opaque), about 2 minutes (thinner pieces may go more quickly). Place on a platter, golden side up; take care not to break up the delicate fillets.

Turn heat back up to medium, pour remaining 2 Tbsp. oil into the skillet, and cook shallot, stirring often, until tender and golden, about 2 minutes. Add wine; cook until almost completely evaporated, about 1 minute. Add clams and cover skillet. Cook until clams open, about 5 minutes (some clams might take a few minutes longer). Uncover skillet and transfer clams, discarding any that didn't open, to platter with cod.

Reduce heat to low and add corn and butter to skillet. Cook, stirring until butter is melted, the sauce is thick and glossy, and corn is tender about 3 minutes. Spoon corn mixture over fish and clams. Top with parsley; squeeze lemon wedges over. The end.