It's not over until they take the Porta John away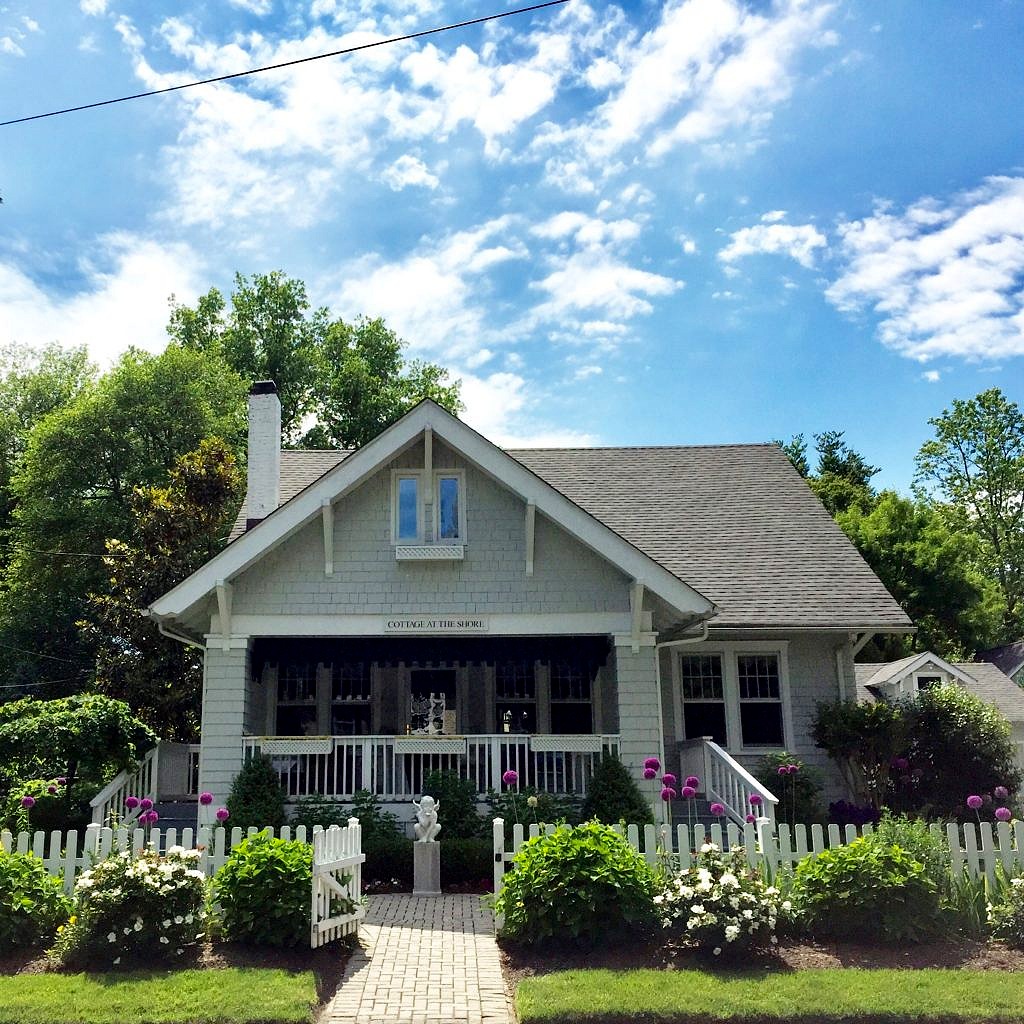 So finally we are nearing the end of our ninth month working on our Fair Haven Fixer Upper. It all started on a whim–which led to a project that has ever since consumed most of our free time and energy–even invading our sleeping–or rather not–sleeping anymore hours. The good news is I can safely say, as we head into the final stretch, it has all been worth it. (Keith's perspective might be a little less sanguine…)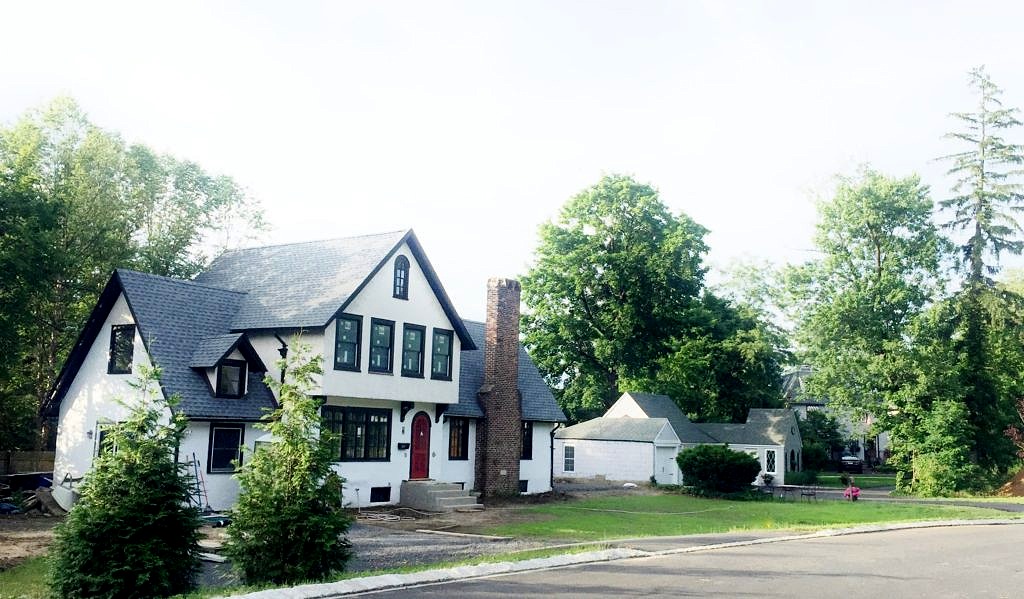 Often when remodeling things seem to drag on and on and then, all of a sudden, you jump into warp speed. In the last month or so we've gotten new front and back steps, tiled, sheetrocked, painted inside and half of out. The new flooring was installed and the old flooring repaired. Then, when that combo effect looked terrible in the wide open kitchen/dining area, we went with all new hardwood. More time, more money, but sometimes you have to bite the bullet.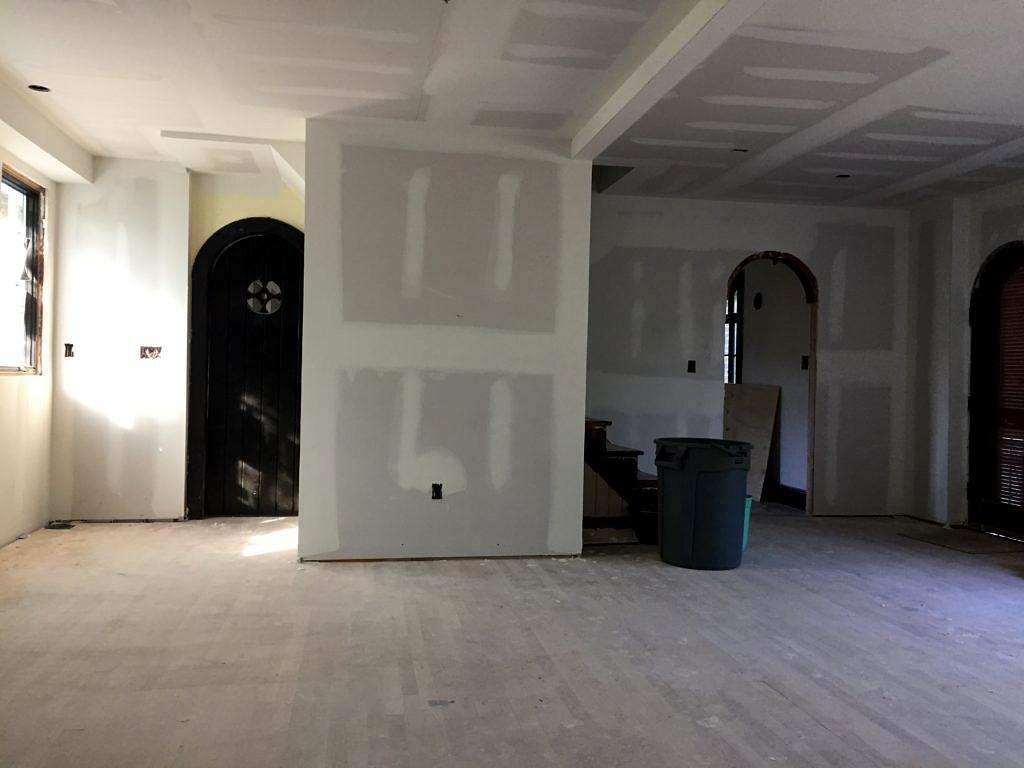 Fabulous Antonio tiled the bathrooms, all in subway tile. I pondered other options but in the end went with the super plain vanilla kind. It just made life easier not to have to think about all the millions of other options.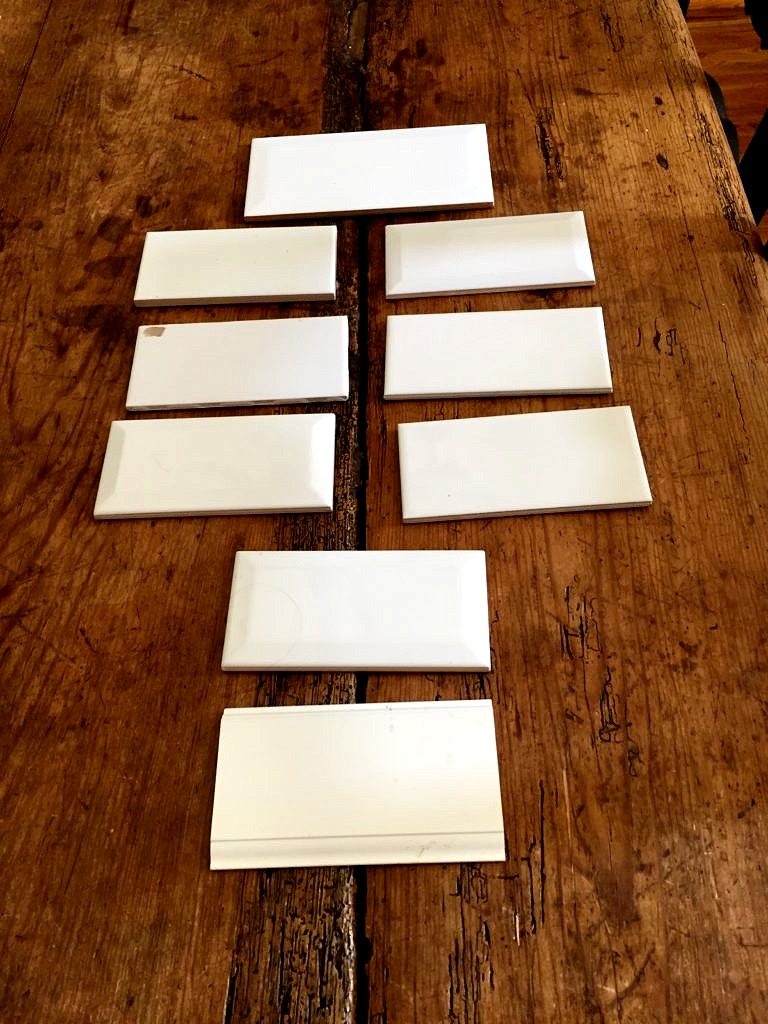 Alth0ugh, to be honest, I still spent a crazy amount of hours considering which of a half dozen different brands of white subway tile I liked best. I went with the one priced in the middle–which looked just like all the others. Here it is in the new master bath. (For those of you familiar with the house–this is where the door to the second floor balcony used to be).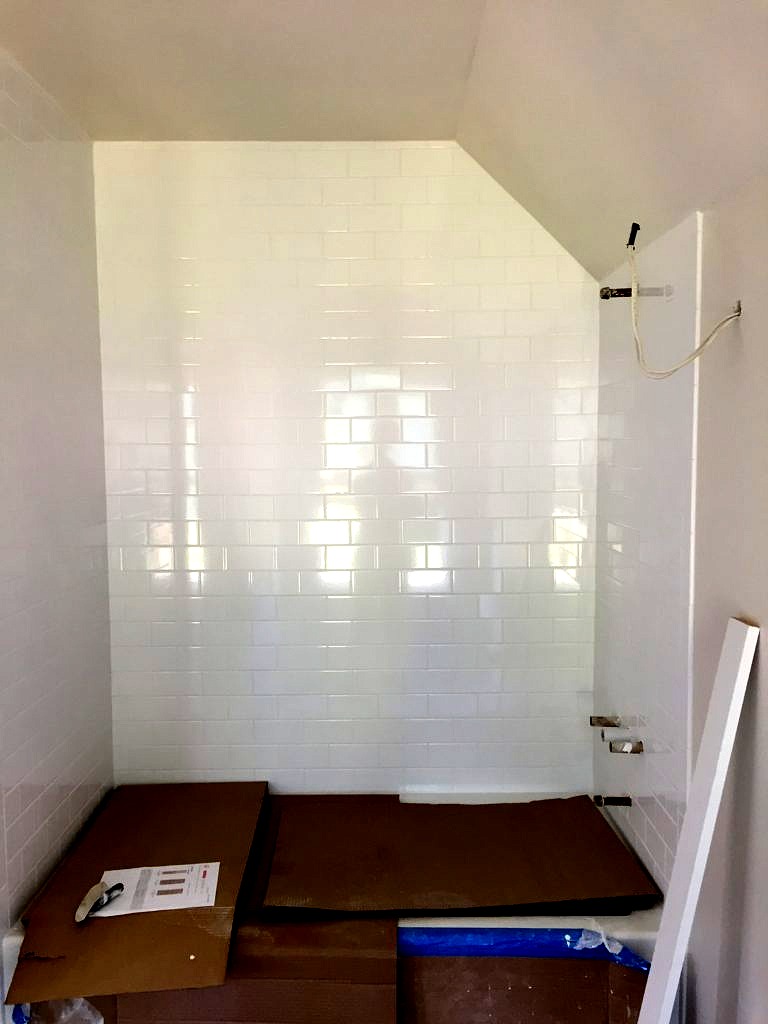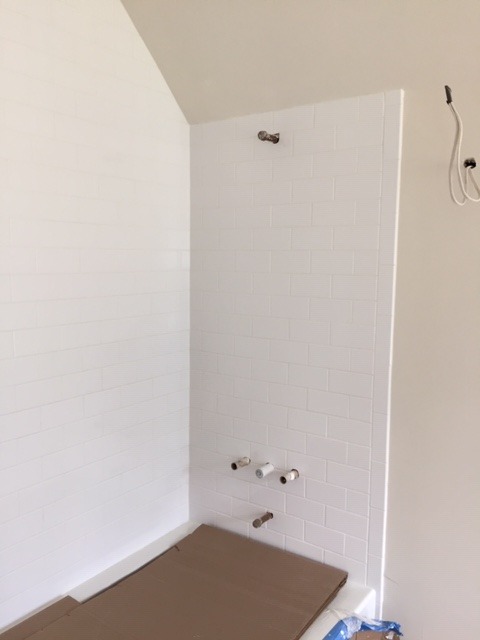 The Red Bank Cabinet Co , (who are actually down the street from the store in Tinton Falls) made and installed the kitchen cabinets. Like many of you I imagine, I fretted and pondered and poured over images from Houzz and Pinterest for hours and hours and then opted for shaker style cabinets in white…which is all I ever wanted from the beginning. When will I ever learn to stop second guessing myself? Cliche, overdone, so what, who besides me really cares? (Certainly not Keith, he is like, just pick the cabinets already). Anyway they look fresh, crisp, clean and classic. Perfect.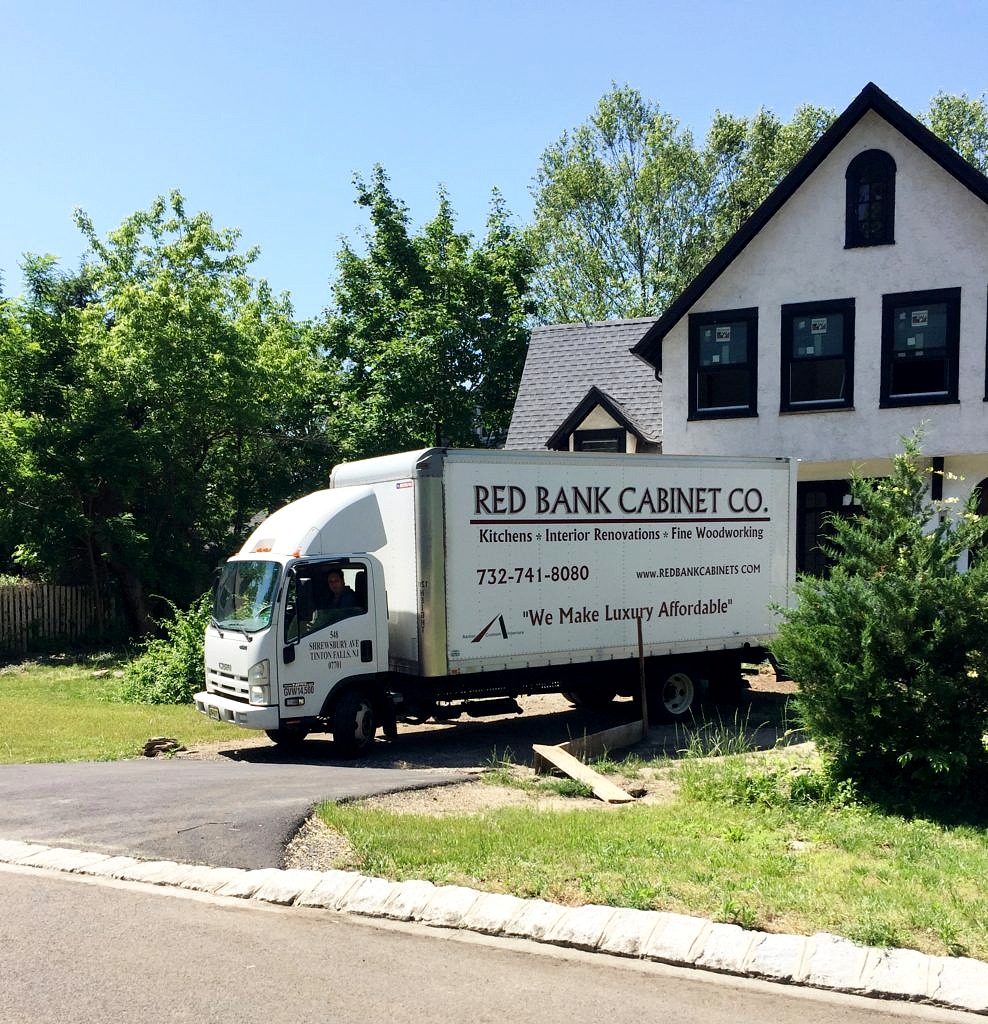 I selected quartz countertops at Bedrock Granite–also just down the street from British Cottage at 803 Shrewsbury Avenue. All my life I wanted marble countertops and now, when I finally had the chance, I choked. The fact is while I love cooking, I am not so devoted to the clean up part…How could I possibly rationalize paying more for marble when I knew I wouldn't lift a finger to maintain it? Sometimes you just have to be honest with yourself. So quartz it is.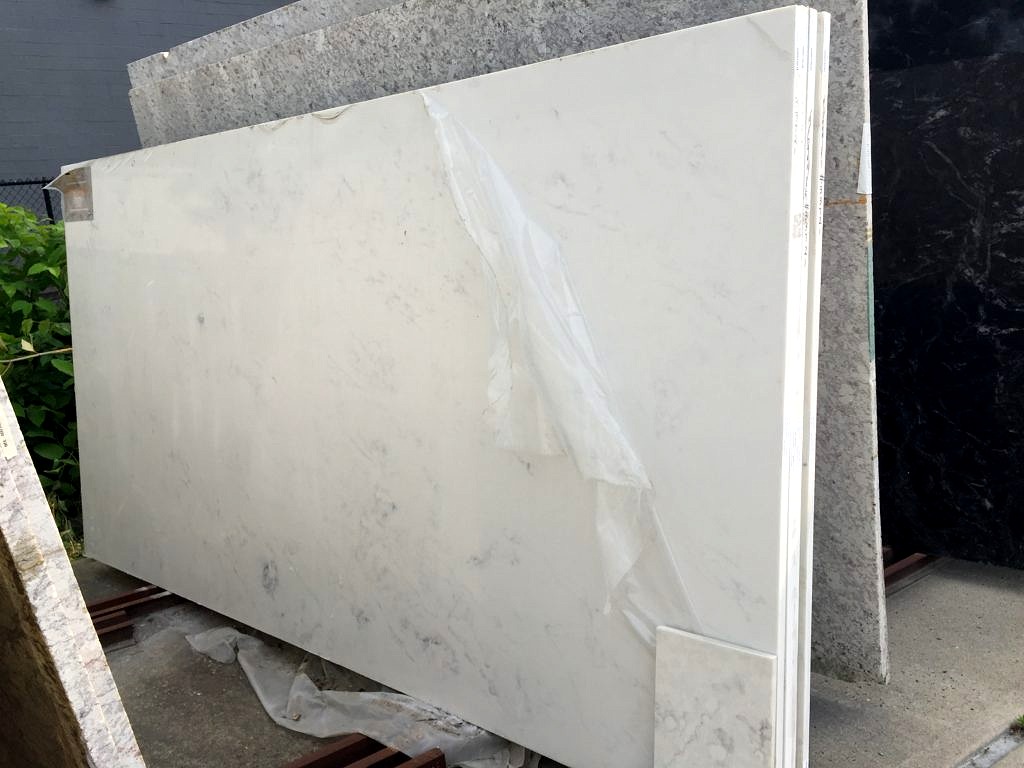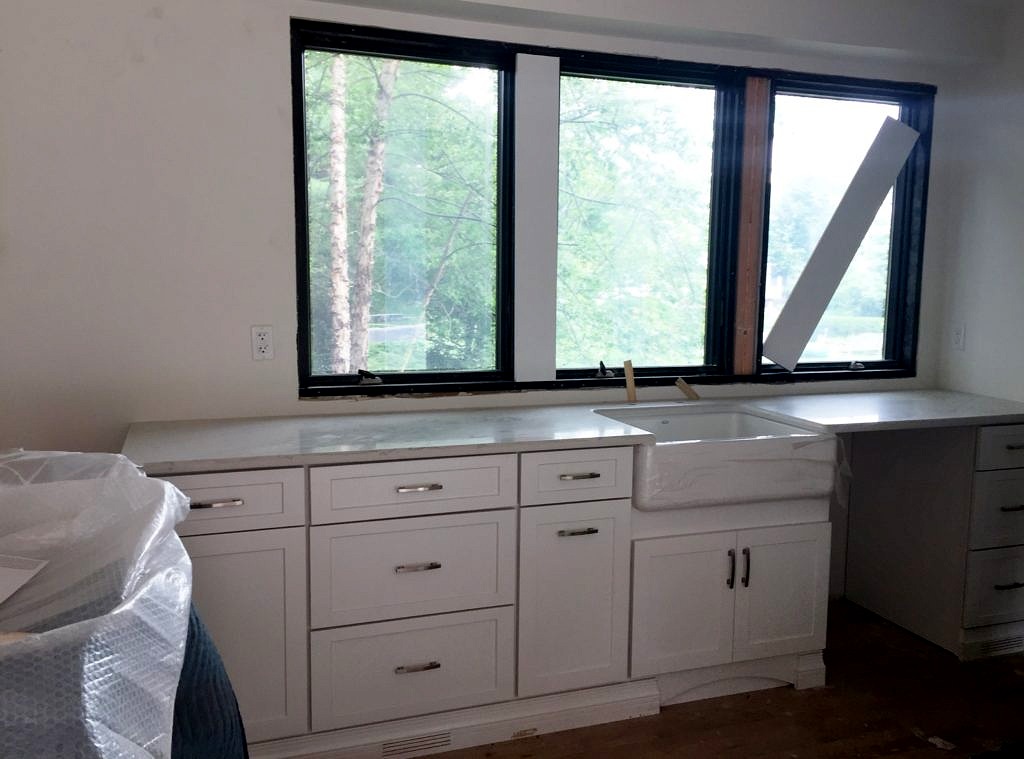 Meanwhile we pondered about what to do about the outside. We had hills of weeds too deep-rooted to pull, patches of poison ivy and a lumpy landscape draining every which way but out. So after calling numerous excavators, and not getting a call back, (or if we did, an estimate we could live with); Keith and I, along with our fearless mason, Mike Papa, who channeling his inner Zeitgeist as the Master of the Machine Universe, dug, crunched, dragged, scraped and basically moved tons of dirt while we raked up and discarded all the brush. It was a long day but between the three of us we managed to get the whole property graded.
Actually it was an exhausting bone-crushing day but well worth it to have a whole yard unchoked by weeds, bermless and relatively level. And then, after many truckloads from the fab folks at Rysers, gravel instead of mud in our driveway; sheer bliss.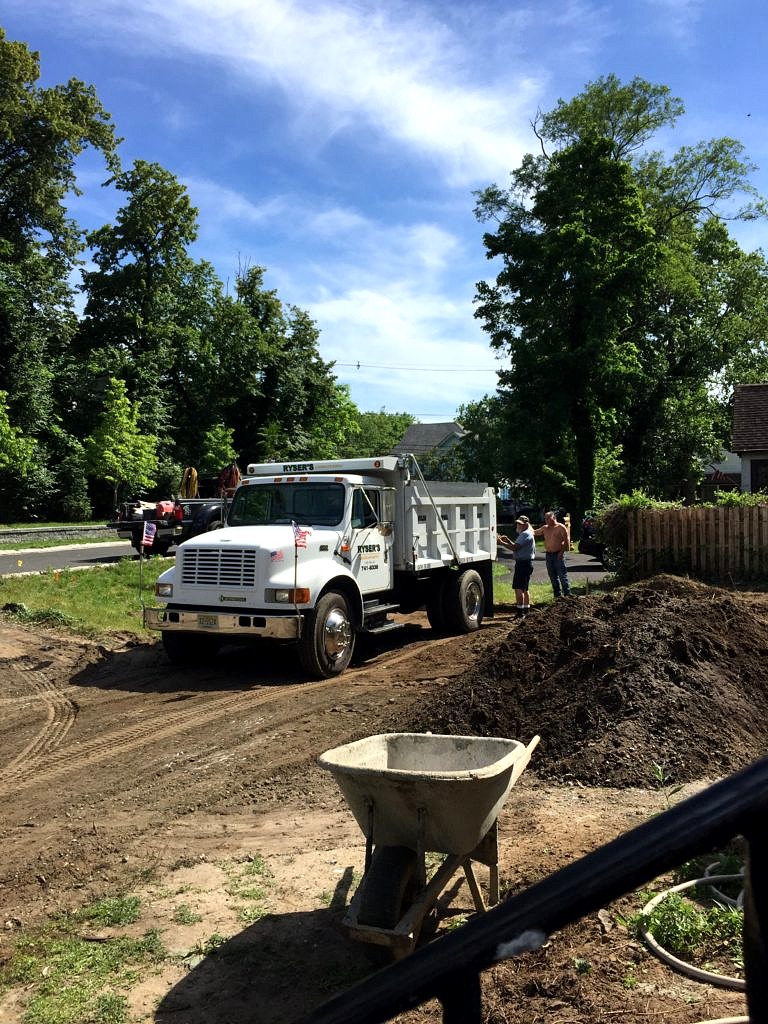 Last week most of the interior trim and doors were installed. This week brings more trim, the kitchen countertop, overhead lighting, appliance and plumbing fixture installations. After that the floors get sanded and finished and we're in. Let's hope.
Meanwhile, after all this digging, raking, and wheelbarreling we were starving. No matter that salad season is upon us, all anybody wanted was a hungry man kind of dinner. This recipe from Ina, the wiz, Garten was perfect. It is enough for two meals–possibly three–and well worth the effort. (Needless to say I have tweaked this quite a bit mainly because I never have all the correct ingredients, (like heavy cream or whole milk, so I just add a bit more butter)… but clearly Ina's way is the very best).

Pastitsio
Tomato Meat Sauce:
3 tablespoons good olive oil
1 1/2 cups chopped yellow onion (1 large)
1 pound lean ground beef
1 pound lean ground lamb
1/2 cup dry red wine
1 tablespoon minced garlic (3 large cloves)
1 tablespoon ground cinnamon
1 teaspoon dried oregano
1 teaspoon fresh thyme leaves
Pinch of cayenne pepper
1 can (28 ounces) crushed toma-toes in puree
Kosher salt and freshly ground
black pepper
BECHAMEL:
1 1/2 cups whole milk
1 cup heavy cream
4 tablespoons (1/2 stick) unsalt-ed butter
1/4 cup all-purpose flour
1/4 teaspoon freshly grated nut-meg
Salt and freshly ground black
pepper
1 1/2 cups freshly grated
Parmesan cheese
2 extra-large eggs, beaten
2/3 cup Greek-style yogurt, such as Fage Total
3/4 pound small shells
Directions
1.
For the sauce, heat the olive oil over medium-high heat in a large pot.
Add the onion and saute for 5 minutes.
Add the beef and lamb, and saute over medium heat for 8 to 10 minutes, until it's no longer pink, crumbling it with the back of a wooden spoon.
Drain off any excess liquid, add the wine, and cook for 2 more minutes.
Add the garlic, cinnamon, oregano, thyme, and cayenne, and continue cooking over medium heat for 5 minutes.
Add the tomatoes, 2 teaspoons salt, and 1 teaspoon pepper and simmer, stirring occasionally, for 40 to 45 minutes. Set aside.
2.
Preheat the oven to 350 degrees F.
3.
For the bechamel, heat the milk and cream together in a small saucepan over medium-low heat until simmering.
In a medium saucepan, melt the butter.
Add the flour and cook over medium heat, whisking constantly for 2 minutes.
Pour the warm milk and cream mixture into the butter and flour mixture, whisking constantly. Continue cooking, stirring occasionally, over medium heat for 5 to 7 minutes, until smooth and thick.
Add the nutmeg, 1 teaspoon salt, and 1 teaspoon of pepper. Stir in 3/4 cup of Parmesan cheese, 1/2 cup of the tomato and meat sauce, and allow to cool for 10 minutes. Stir in the eggs and yogurt and set aside.
4.
Meanwhile, cook the pasta in a large pot of boiling water until al dente.
Don't over-cook because the pasta will later be baked.
Drain and set aside.
5.
Add the pasta to the meat and tomato sauce, and pour the mixture into a baking dish.
Spread the bechamel evenly to cover the pasta and sprinkle with the remaining 3/4 cup Parmesan cheese. Bake for 1 hour, until golden brown and bubbly.
Set aside for 10 minutes and serve hot.
Serve with a green salad and a nice bottle of something red and enjoy!