So we talked about how the change of seasons can be a reason to clear the decks and clean out the clutter, especially when we are talking about summer when less is more. Like bikinis, miniskirts, and muscle tees–bare just feels better in the summer.
But, let's face it, for many of us that ship has sailed and we are far happier rocking a mumu these days–yet the good news is our homes can still benefit from a serious dressing down. When I was a kid we actually had different slipcovers for summer and winter. In winter they were a chocolate brown, a color I loathe to this day, and in the summer they were a leafy, green flowered chintz which I adored.
Switching slips is probably not an option for most of us–but you could change the toss pillows. Stash anything velvet or wool in the attic and treat yourself to a vibrant cotton print. Do the same with your throws. Put those fleece blankies away now and break out the linen.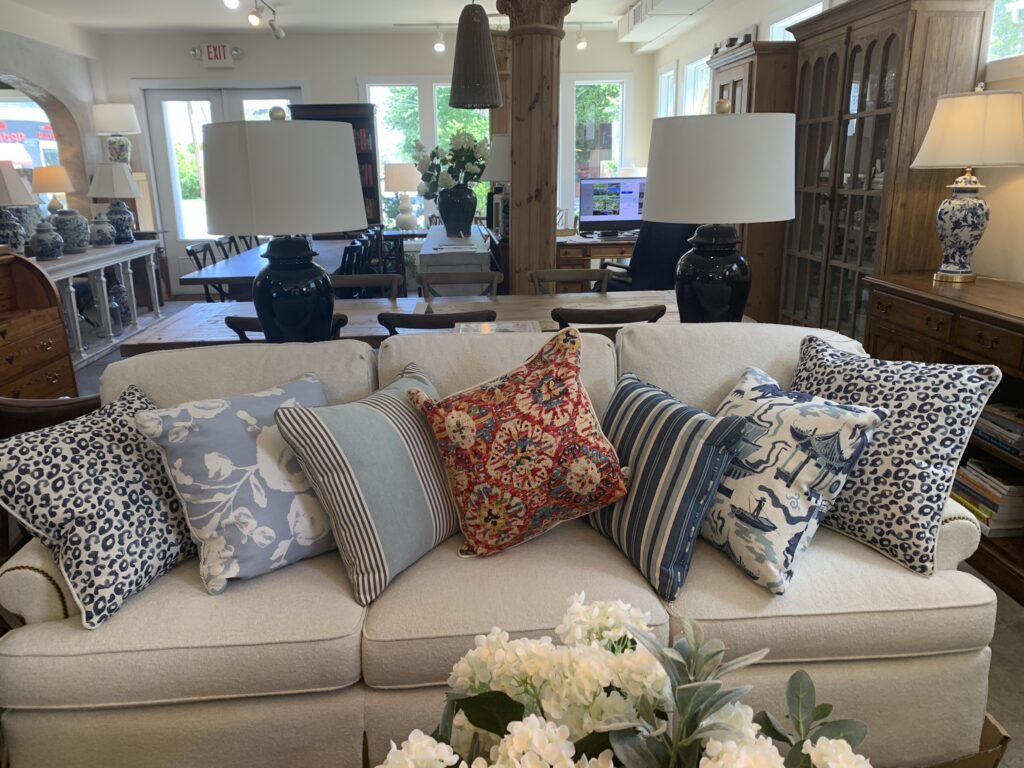 If your hardwood floors are in decent shape, roll up your area rugs and put away your vacuum cleaner for the summer, especially if you are at the beach. It is so much easier–and cooler to do a quick sweep with the broom.
Treat yourself to new cloth napkins and wicker placemats and, suddenly, setting the table will be less of a chore. Even better, set the table outside. Sure it is hot out there–but that's the point of summer. Embrace the heat now because that yard will be snow-covered before you know it.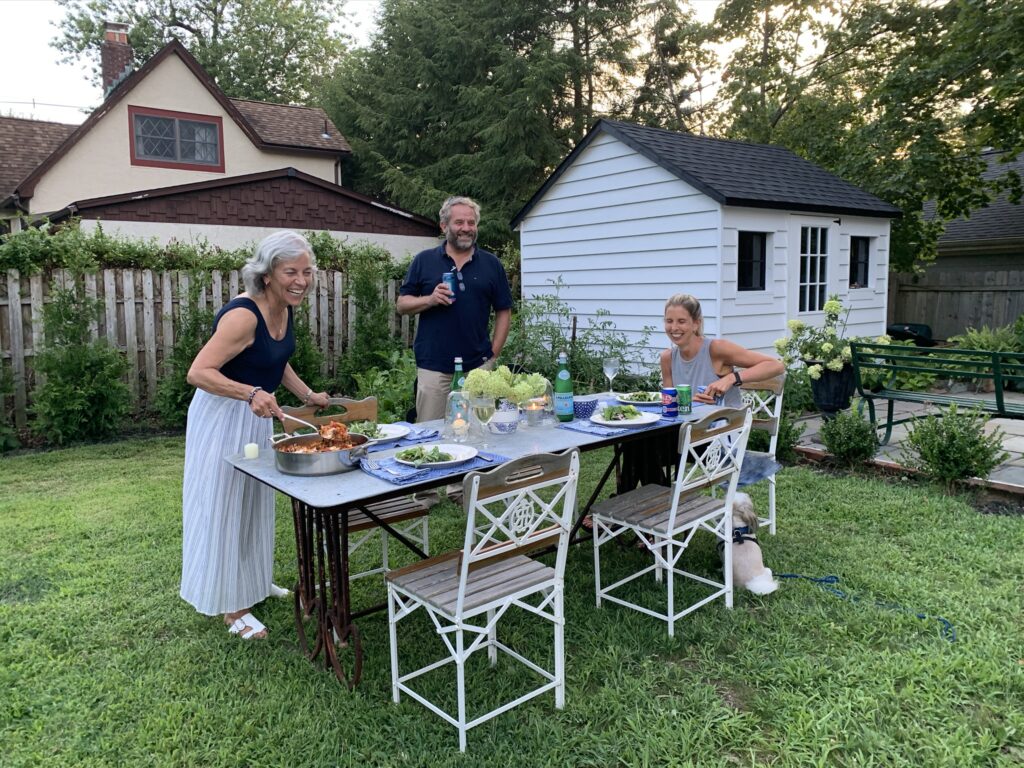 And you'll need some flowers, hopefully, vibrant and colorful–but just plain old green branches work to bring some of that natural lushness outside–in. The fancy word for this is biophilia and Biophilic Design is all about incorporating nature into our indoor environment.
Natural elements in the home actually help lower our blood pressure and decrease tension. It just makes sense; creating a calming space with a visual connection to nature can't help but improve our wellbeing, health and productivity. Actually there is a whole other blog here, easily, discussing biophilia but I will leave that for another day. Right now it is time to focus on dinner.
I love salad for dinner but it is a hard sell for Keith. Growing up in New Jersey when it really was The Garden State, and way before air conditioning was the norm, we ate salad all summer: homegrown tomatoes topped with tuna or chicken salad, chef's salad, pasta salad, carrot salad, fresh from the garden lettuce topped with blue cheese dressing salad…yum.
Keith is unconvinced. It could be because he is from England where it never got warm enough to make salad a pleasant way to beat the heat. I'll never forget the summer Keith's brother and girlfriend were visiting and one day, when we were discussing what to have for dinner, she actually started to cry. She could not tolerate one more night of a cold meal–she wanted meat, roast meat, cooked potatoes–and gravy. I said knock yourself out.
And she did. Even though it was easily 100 degrees in our kitchen she made a pork roast, along with a veritable mountain of potatoes and seriously buckets of gravy. And guess what? They ate every last mouthful! But I digress.
The one salad we both agree makes a great summer dinner is Cobb Salad. It takes a little planning because you need to have a ripe avocado and some bacon in the house but that's about as challenging as it gets. If you want to be fancy you can marinate the chicken beforehand. (If you're lazy like I am just use whatever bottled Italian Dressing you have in the fridge). You can also cook the chicken on the grill which is nice–but you must never, ever skip the bacon. Add a loaf of crusty bread to the mix if someone you know can't live without a starch and it's all good. Enjoy!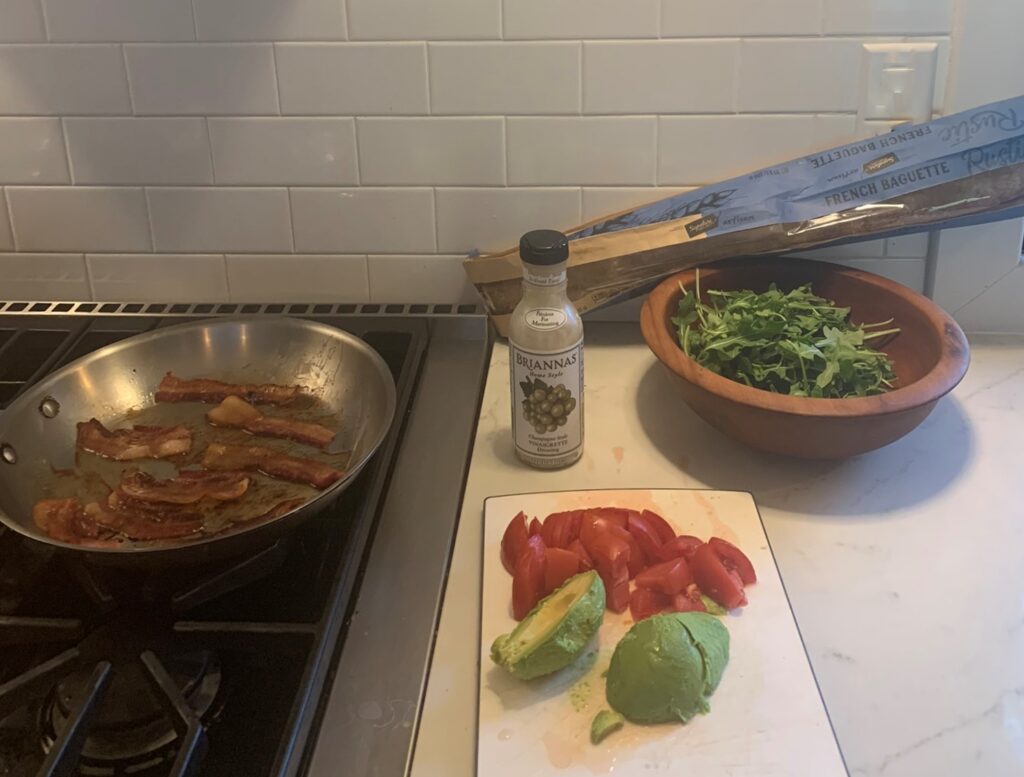 You can easily broil or saute the chicken in minutes but it is always a win if you can outsource that chore–especially if it is really hot–and get someone else to cook it on the grill.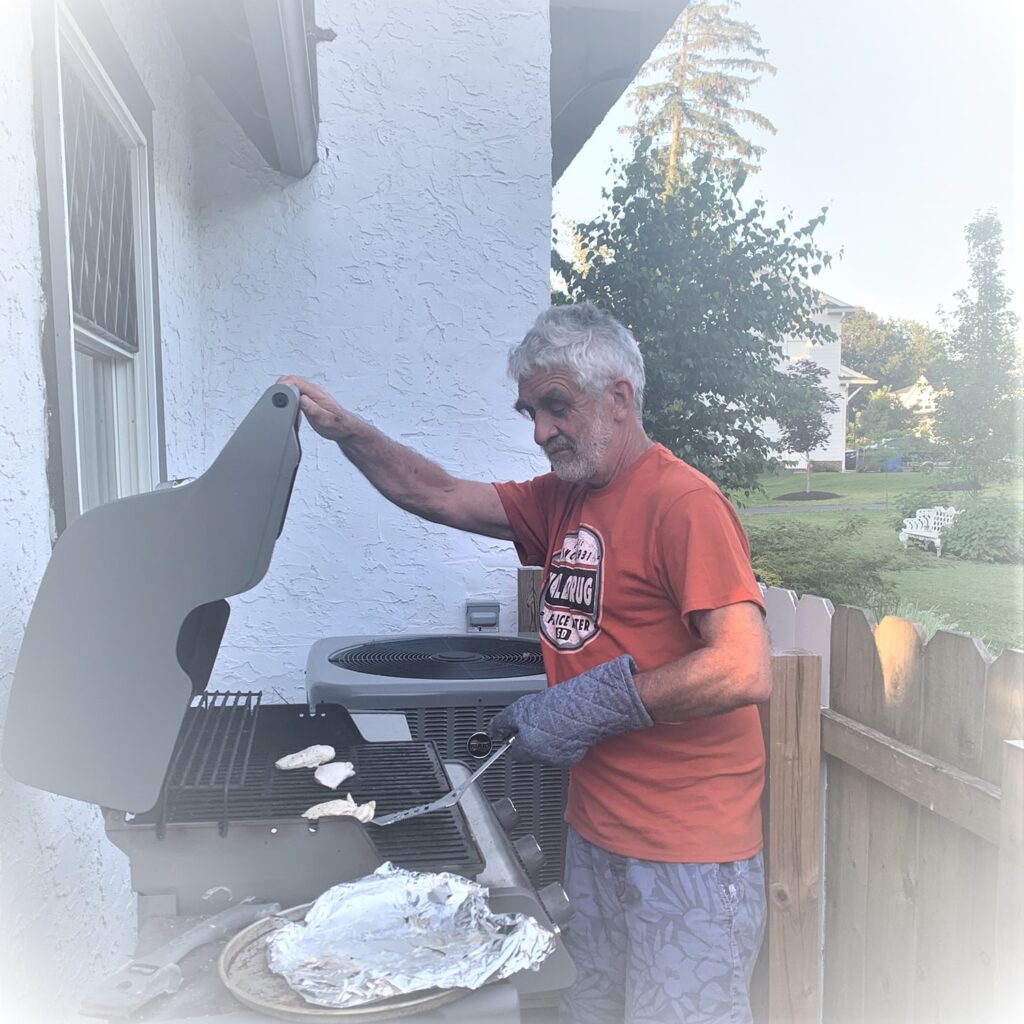 Meanwhile toss the lettuce (or arugula ) with the vinaigrette. Place on a platter, add the bacon and bitesize pieces of avocado and tomatoes in separate rows–do not mix–top with feta. C'est tout.