Like most visitors to Maine it was love at first sight.  I was 16 and working for the summer as a mother's helper for a local Rumson family and they carted me along with them to their summer place in Prouts Neck. Most famous for being home to Winslow Homer, it is a glorious peninsula composed of rocky crags on two sides and a sandy crescent on the third.  My little charges and I spent our days on the beach and climbing the cliff paths that circled around the neck, and it was a summer I will never, ever forget.       
A similar thing happened to my sister when she first got to Maine, but she was her in twenties and smart enough never to leave.  She landed on the Pemaquid Peninsula–just far enough north not to be completely overrun with tourists, but still filled with the requisite amenities that make Maine so delightful: a lighthouse, fabulous ocean vistas, lobster pounds serving the freshest and best seafood imaginable, estuaries, tidal pools, and even a sandy beach.
       We visited her many times over the years, and finally when we were empty nested we took the plunge, sold our family home, repaired to our apartment over the store in Red Bank (always the plan when we renovated a decade ago) and bought ourselves our own Maine cottage.
       As much as we love the ocean views, we opted for lakeside because our little lake (which is technically a pond because, or so I've been told, it is just shy of the required five miles) warms up enough so we can comfortably swim all summer.  Biscay Pond is just the right size for sailing in our little boat,kayaking, paddle boarding or running our little outboard to our hearts' content–without the fear of being swept out to sea!
       Naturally given the nature of our business, having our own home to furnish and decorate just adds to the pleasure of living in Maine. The first thing we did, and I know this is going to cause a lot of groans, was paint all the original knotty pine paneling Benjamin Moore's China White and all the fir trim White Dove…. Yes, sacrilegious in some minds, but fully supported by legions of Scandinavians  who know how best to live in northern climes.  White makes smaller spaces live larger, reflects light and makes the day brighter and me, and happier.  (And we all know that when mom is happy–everyone's happy.)
       Next we stripped the floors to a natural pine.  I love light floors because they hardly show the dust or dirt or wear and when they do one swish of the mop and they look as good as new.  With two small grandboys and a third sibling on the way, we want to make all of our visitors feel welcome and not fret over natural, and heaven knows with small boys around sometimes unnatural, wear and tear. You never know what they will get into or up to!
       We had new kitchen cabinets made for the galley style kitchen, mostly because there were too many for the space and the wood was an ugly brown. These cabinets were made at the factory we use in Hungary to build all of our furniture so we knew they would be top quality. During the install we were able to double the insulation in the walls and enlarge the window over the sink–I am all about waterviews when washing up. And yes, the cabinets are now white so the whole area looks larger and so much more inviting than before.
       Decorating was a challenge because there is only one room on the main floor for cooking, dining, and living.  We had to have a large farm table, after all, we are British Cottage.  Even so, the one we chose has a metal base so it doesn't look so massive, even though it is 96″ long and can seat twelve–squished–but still,  the more the merrier!  Our chairs are upholstered in black linen; not the fabric you would think of for a lakehouse but I thought they would have to do double duty as extra seating when entertaining a crowd so they may as well be comfortable.  And what else is Scotchguard for?
       I think cheap couches are a false economy.  Usually, the fabric choices are awful.  And they can be really uncomfortable to sit on because the cushions are made of synthetic materials that are (besides being toxic) either too dense or too sloppy for relaxing properly–which is, after all, the whole purpose of a vacation home. So we have a really good couch, but we had two slipcovers made in a cotton blend that looks like linen and wears like steel.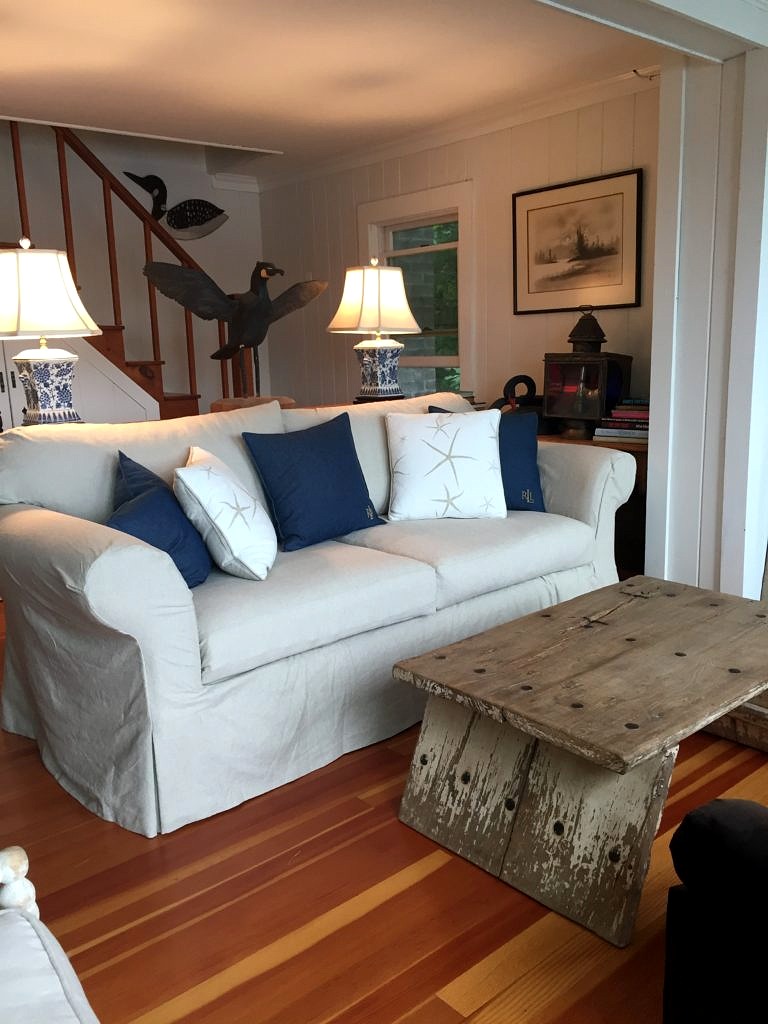 The armchairs in the room are…black velvet? I know but I thought we needed some drama and like the tie in with the dining room chairs. And who doesn't love that fabulous coffee table with traces of off-white paint made from antique doors? It looks great but can take a beating, just what you want for a vacation home. For accessories I mostly rely on a lot of lamps, everything from faux bamboo candlestick lamps to classic blue and white ginger gars, they literally light up the room and give it warmth. Are you sensing a pattern yet?  This is just our fabulous New Jersey Coast style–in Maine.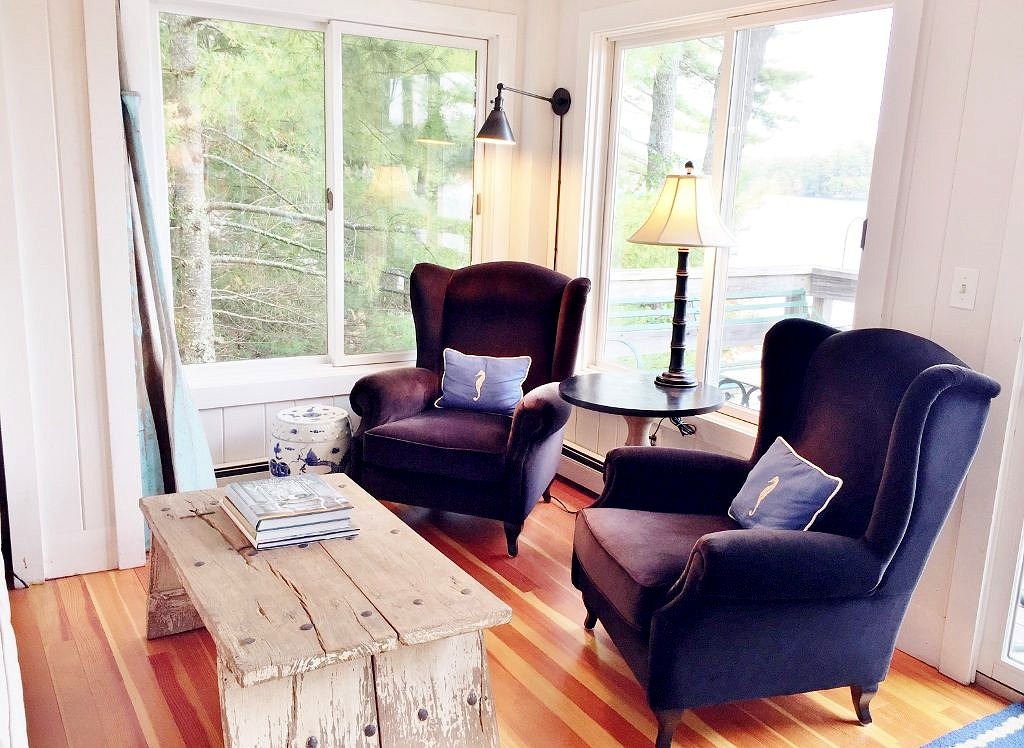 I try to use antiques when decorating as much as possible.  With furniture that has been used over and over again by family after family one more nick or scratch is not going to be the end of the world; it's just another part of the journey.  The whole point of decorating is to make your part of the world a little happier for you and your family.  If you get it right, they will come.
That's why the third floor has room for three beds tucked under the dormers; there is plenty of space for when the kids are visiting. Which is really what it's all about, isn't it? When no one is visiting I can channel E.B. White and write at the little desk by the window.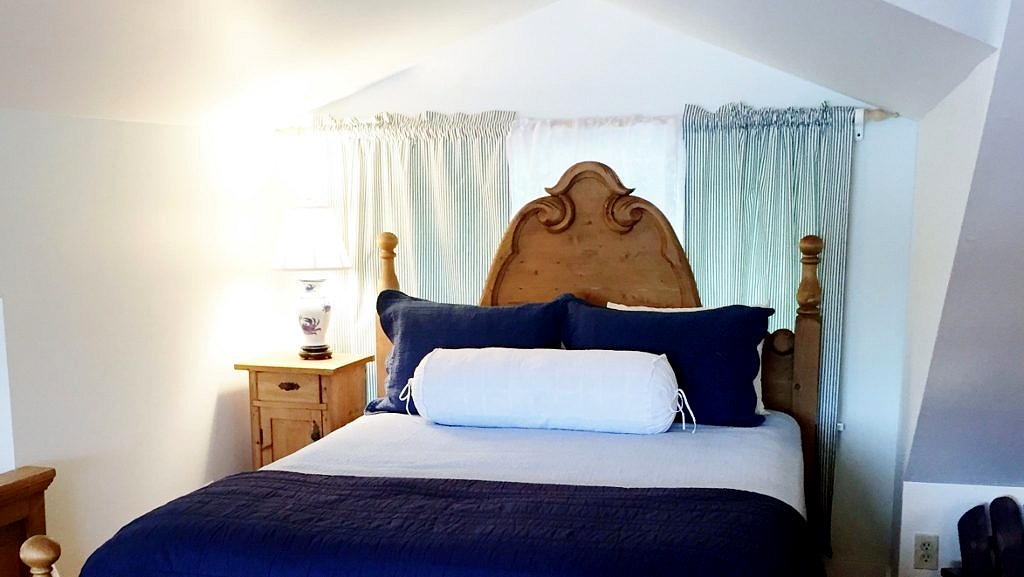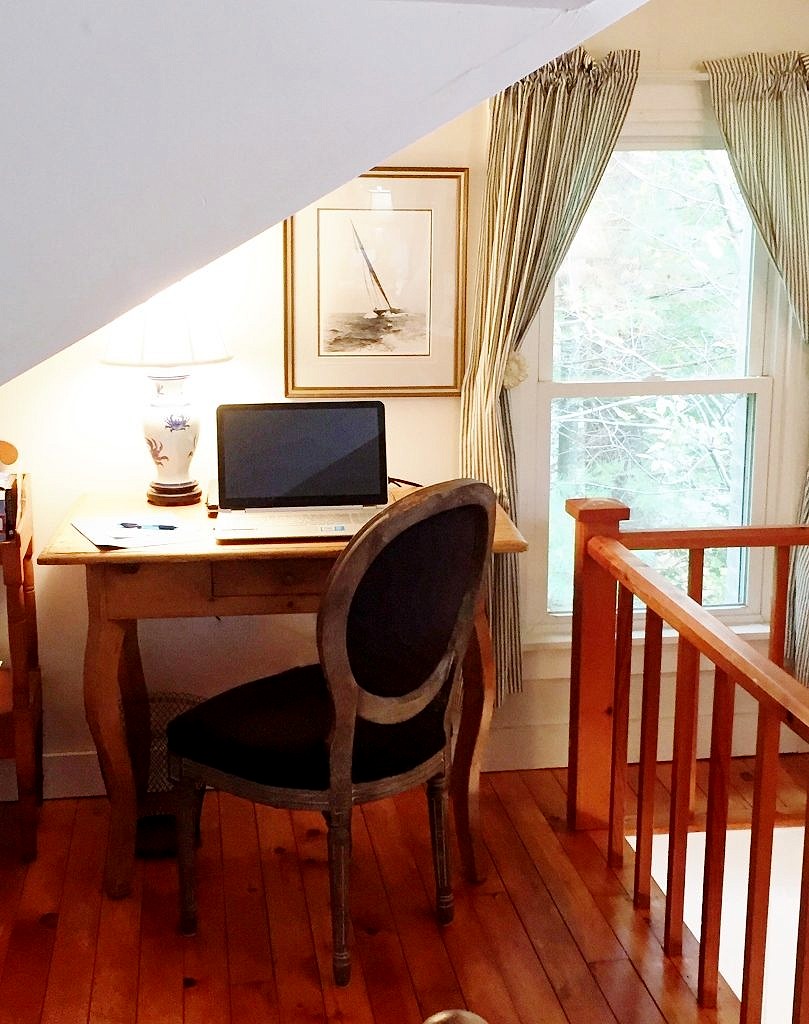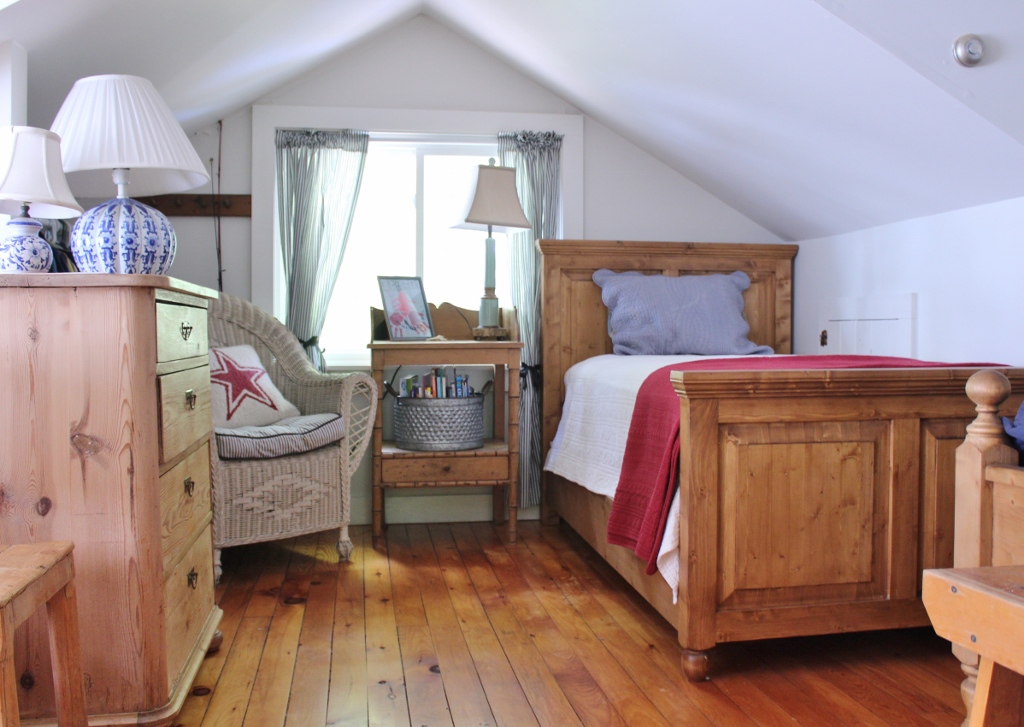 There is a another small bedroom on the main floor and then downstairs there is a master bedroom and bath with a Jacuzzi tub! I know, hardly roughing it, but I never said I was much of a camper.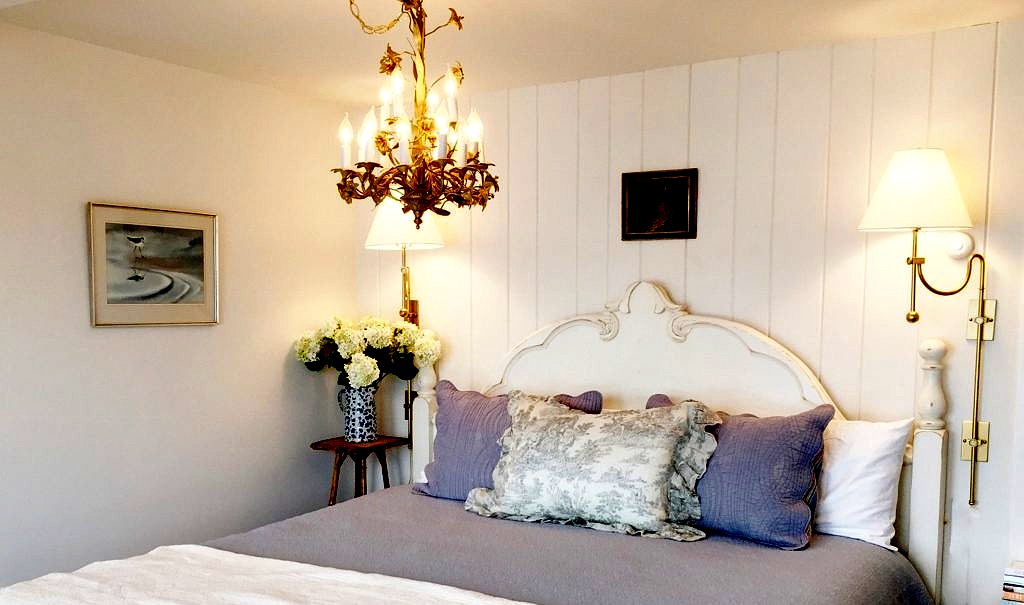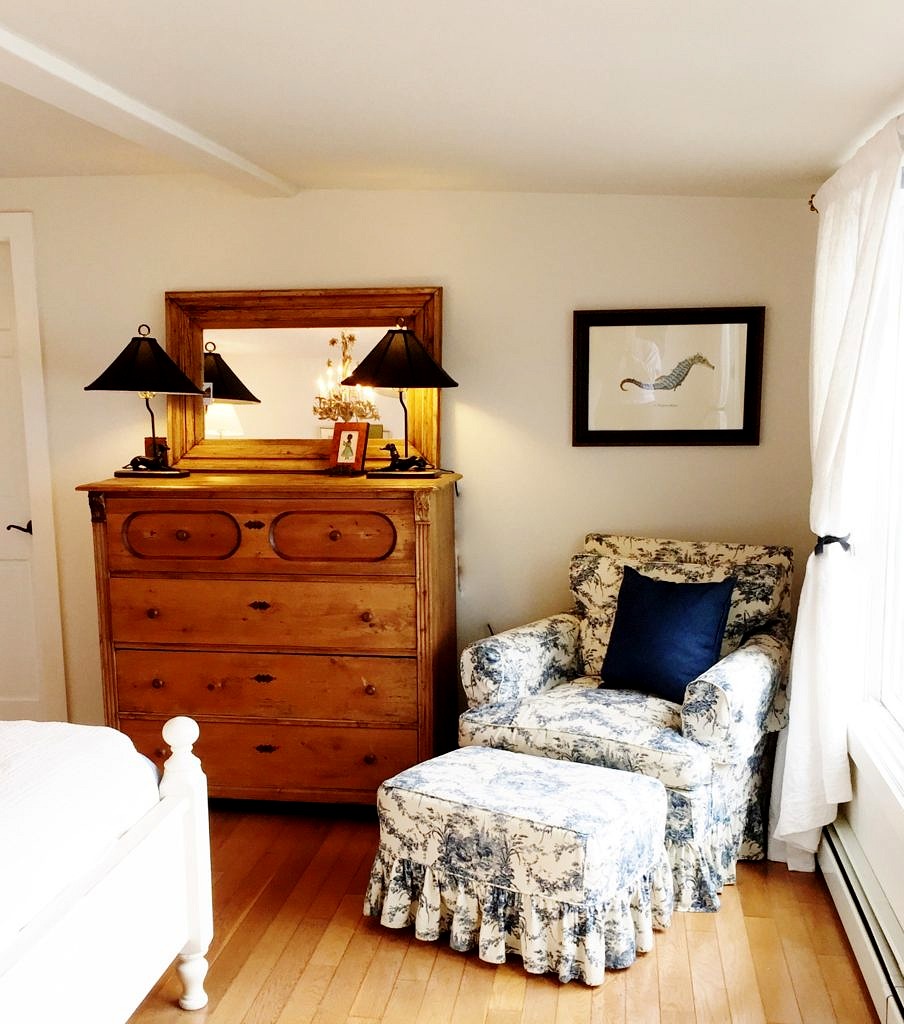 But eventually, it is time to stop whatever you are doing and come in for dinner. One of our favorite meals is fish stew and this is the best I've come across. It is from Kate Shaffer, owner of Black Dinah Chocolatiers in Westport, Maine; naturally I've taken some liberties but basically, it goes like this: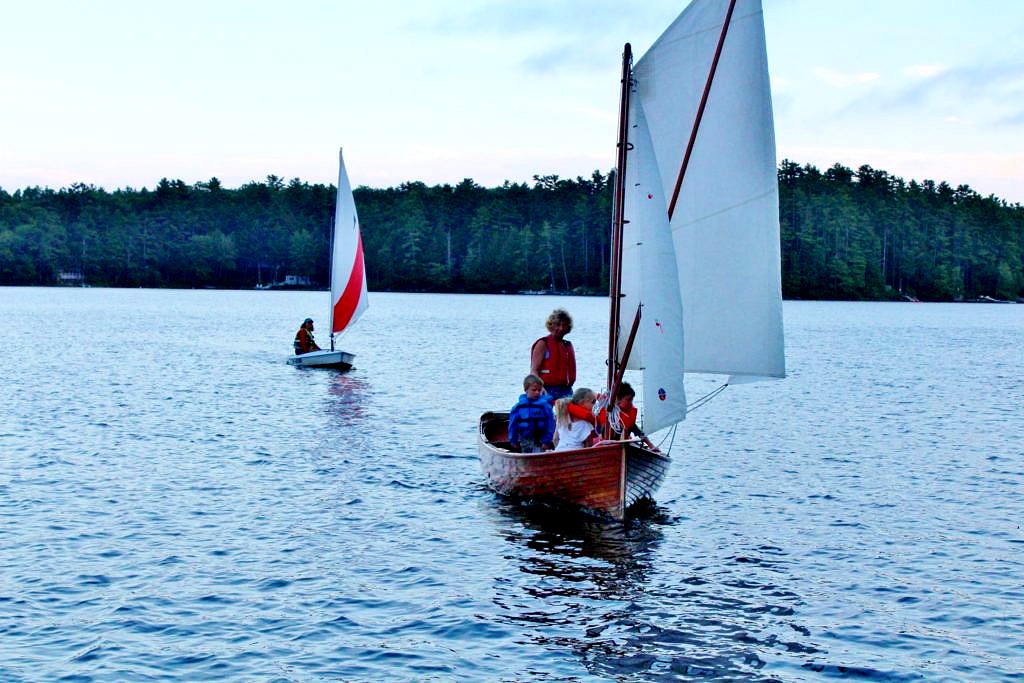 The World's Best Fish Stew
Heat a glop of olive oil in a large pot, the more decorative the better because this is what you will be serving from. Add a pinch or two of thyme, turmeric, fennel, saffron and crushed red pepper. If you don't have any of those on hand try some oregano or basil. Heat just for a few seconds then add a large yellow onion & 2 celery stalks chopped up and 4 cloves of garlic minced. If you have fresh fennel on hand and like the taste–add that. For me a little fennel goes a long way so I usually skip this step. Another step I usually skip is adding 1/2 a yellow pepper–only because I don't have any in the house. Then cook over low heat for about 20 minutes, stirring occasionally.
Add a 28 ounce can of whole tomatoes and their juice and squish them up a bit. Fill the empty tomato can half with water and half with white wine–this is the bit I like because it means it is time to start cocktail hour. Cook the mixture until it boils and then simmer for at least 15 minutes or as long as a couple of hours–the idea is to let those spices really season the stew.
Just before you are ready to eat and the stew has simmered and is very hot, add your fish. Any kind of fish works; I like a couple of pounds of cod or haddock the best. Then add whatever else you like. I generally splurge on 6 or 7 of the priciest fresh scallops and shrimp the fishmonger has on hand and chuck in a bag of mussels (make sure to take them out of the bag and scrub them first). Cook until the mussels open and serve with some fresh parsley and a loaf of good bread and the freshest butter you can find. Scrumptious. Thank you, Kate.