In August Keith and I sadly realized we would not be going to the High Point International Furniture Show that was held last week. We knew we would miss not only seeing what the big companies had to offer, but also buying the latest market offerings. So we made a plan right then and there to step up and create our own line for fall. Some of those items arrived yesterday and I am relieved, thrilled, and excited to say they look pretty darn good!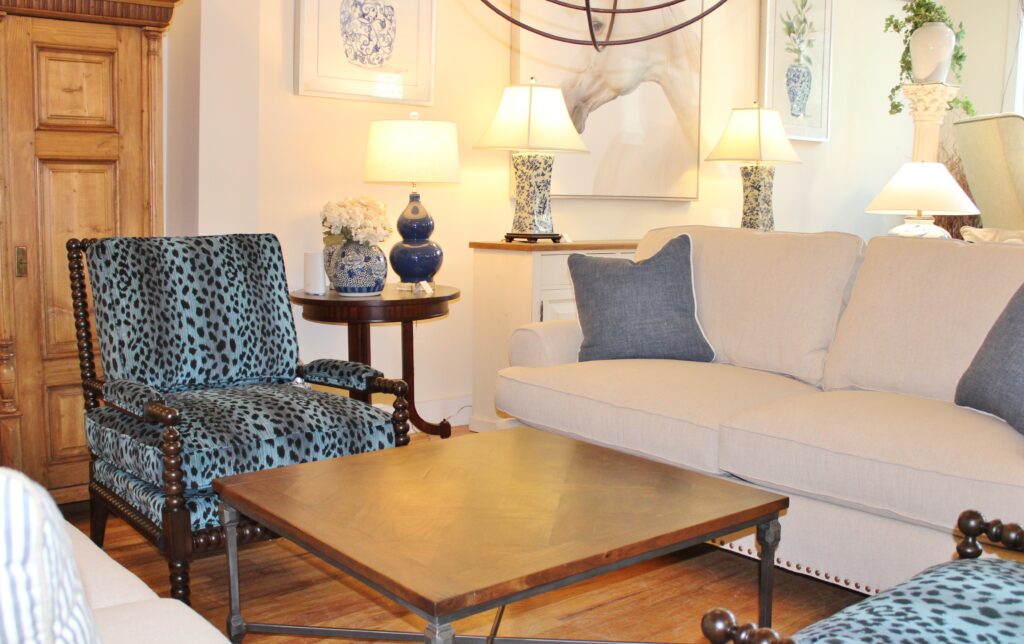 As usual, I went long on blue, and white, but added a dash of spice to the mix with this blue leopard print. The bobbin or spool chair is a decorator's secret weapon. It sits like a classic upholstered arm chair but the external wood frame makes it appear lighter–and possibly a bit more modern.
Meanwhile all the sofas are from the Hickory White Features program, which allows you to design your own custom sofas, sectionals and armchairs at a fraction of what you would normally expect to pay for high end, custom upholstery. In this case I chose an off-white performance fabric that looks like linen but is stain, odor and pet resistant.
One sofa has a fairly traditional sock arm (rounded), while the other has a wide track arm. Neither is skirted. You can buy these off the floor (in fact the sock arm is sold already) or design your own. There are literally hundreds of fabrics to choose from and we are happy to assist in any way.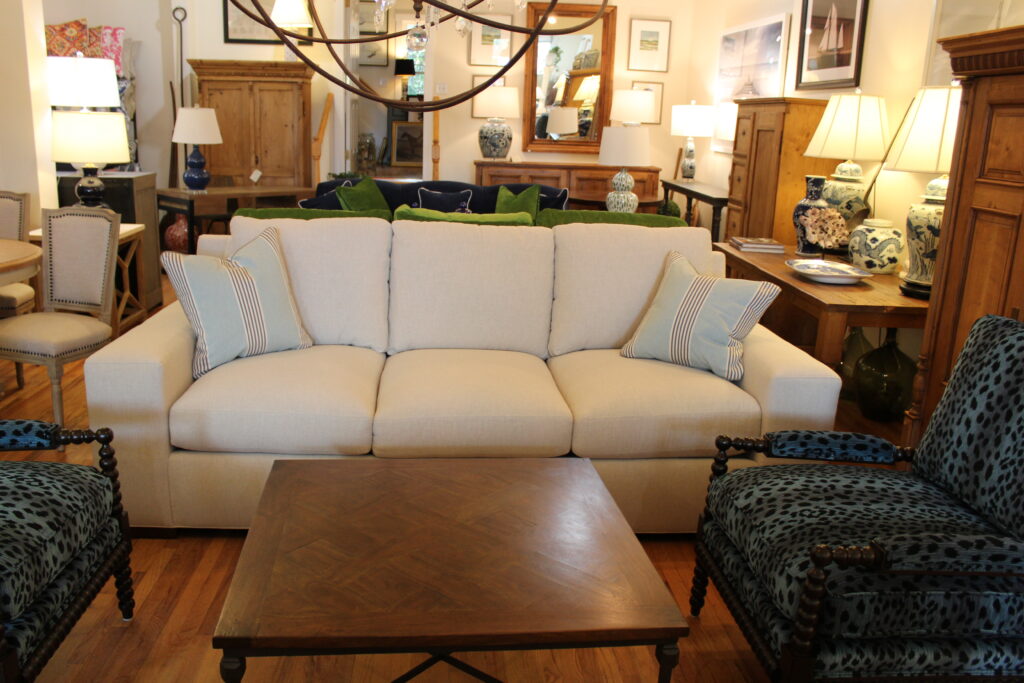 For example, let's say you are over beige, and grey and taupe and want to add some pizazz to your space. You could always do what we did; look for a color that would sparkle and pop and add some drama and life but still work with everything else. In our case the answer, we decided, was green. Not any green but that green that is the lime in your vodka and tonic, a true Kermit the frog green.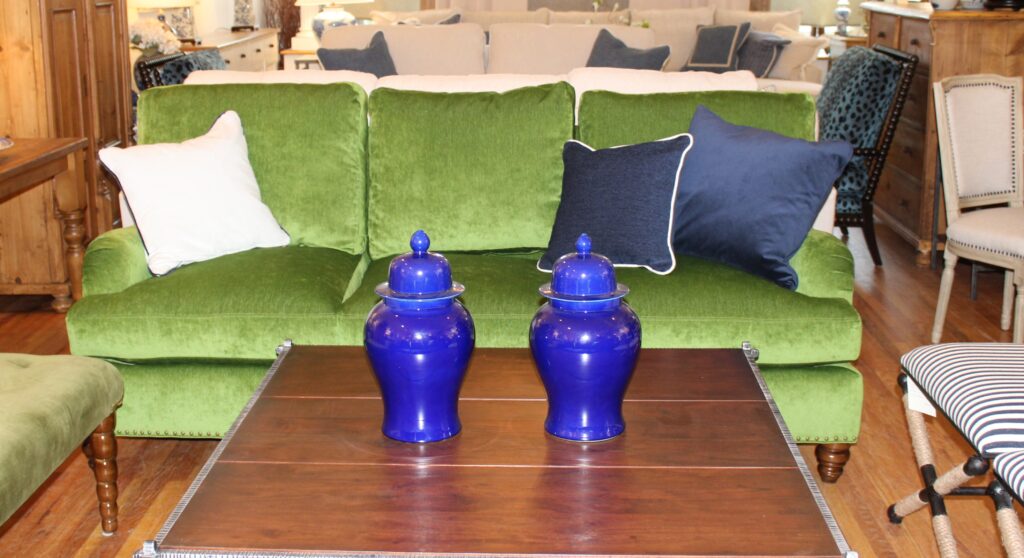 Then we added a couple of over-stuffed armchairs in bold floral fabrics for the fun of it. The chair in the photo below is from the Features program so fabric, arm, leg and back style are all custom.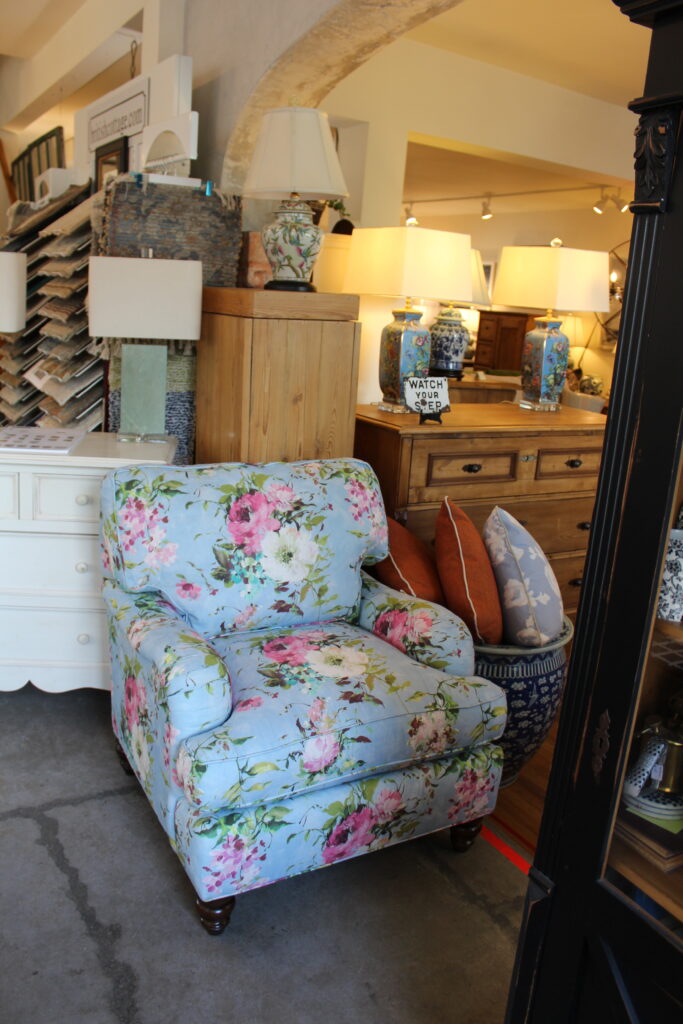 While this chair is one of the Hickory White classics, overstuffed and robust, and super comfortable, and even better, we added a swivel to the base. The fabric is from the Lillian August for Hickory White Upholstery collection and a bit of an upgrade but worth every penny.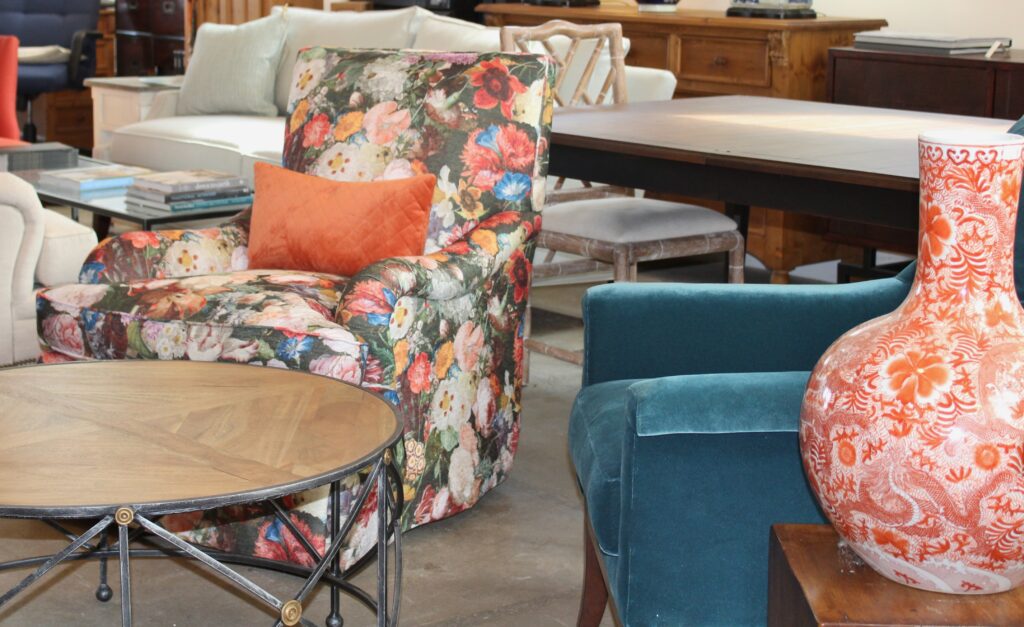 Beef  Stroganoff
And speaking of upgrades the original recipe for this two-pot meal called for hamburger but what I do (and advise you to do the same) is use fillet mignon which takes this recipe to a whole other level. You can make it in just a half hour and it serves 2 hungry people–or four with salad and garlic bread on the side.



Ingredients
2 tablespoons butter

2 shallots

1 pound  beef tenderloin, trimmed sliced 1/4 inch thick and cut into 1 inch pieces

8 sliced ounces fresh button mushrooms 

Freshly cracked pepper

2 tablespoons all-purpose flour

2 cups beef broth

8 ounces wide egg noodles

1/3 cup sour cream

handful fresh parsley for garnish (optional)
DIRECTIONS
Mince the shallots and add them along with butter to a skillet and sauté over medium heat for about one minute, or until the shallots are soft and fragrant.
Add the sliced mushrooms and some freshly cracked pepper to the pot. Continue to sauté until the mushrooms are soft (about five minutes). Add the flour and sauté for about two minutes more. The flour will coat the bottom of the pot and this is okay.
Pat beef dry and season well with salt and pepper. heat 1 tablespoon oil in a 12 inch heavy skillet over moderately high heat until foam subsides. Add beef in 2 batches and cook, turning once, until browned on both sides but still pink inside, about 1 minute per batch. With a slotted spoon, transfer to a plate.
Meanwhile add the beef broth to the skillet with the mushrooms and stir to dissolve the flour off of the bottom. Add the uncooked egg noodles. Place a lid on the pot and allow the liquid to come up to a boil. As soon as it reaches a boil, give the pot a stir, replace the lid, and reduce the heat to low. Allow the pot to simmer for about 7-10 minutes, stirring the noodles and replacing the lid every couple of minutes. After 7-10 minutes the pasta should be tender and most of the liquid absorbed. Make sure the liquid is simmering the entire time. If not, increase the heat slightly.
Once the noodles are tender, stir in the beef and then a minute or so later the sour cream. Roughly chop a handful of parsley leaves and sprinkle over top. The idea is to make sure the dish is hot without overcooking the beef.