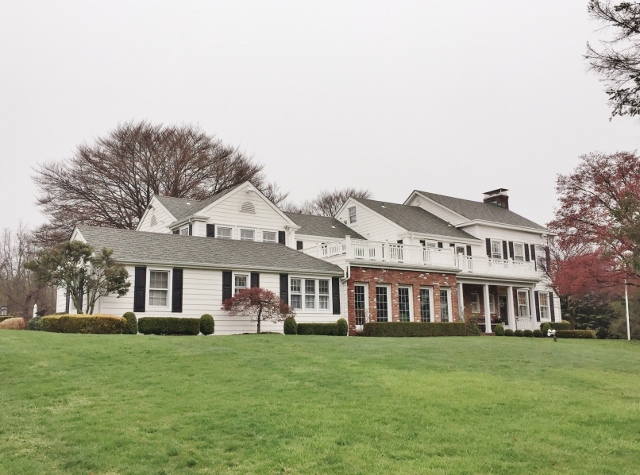 Built by German immigrants in 1840, Tip Top Farm in Colts Neck started out as a relatively modest asparagus farm, but by the mid-1900s it had become the country manse of the Chairman and chief stock holder of the National Starch Company. Now it is home to a thoroughly modern 21st century family.
Along the way there were additions; to the house, and property–at one point the farm was nearly 50 acres. Unfortunately there were subtractions too–in the 1980s the property was subdivided and all the farm-related buildings were razed to make way for the houses that sprouted up next.
Fortunately the main house stayed intact, albeit with a bit of tweaking; each of the owners has left their mark. In lots of ways the story of Tip Top Farm is like a historical novel, the various occupants and their fortunes and misfortunes, mirrored the economic and historical events of their time–Downton Abbey here we come.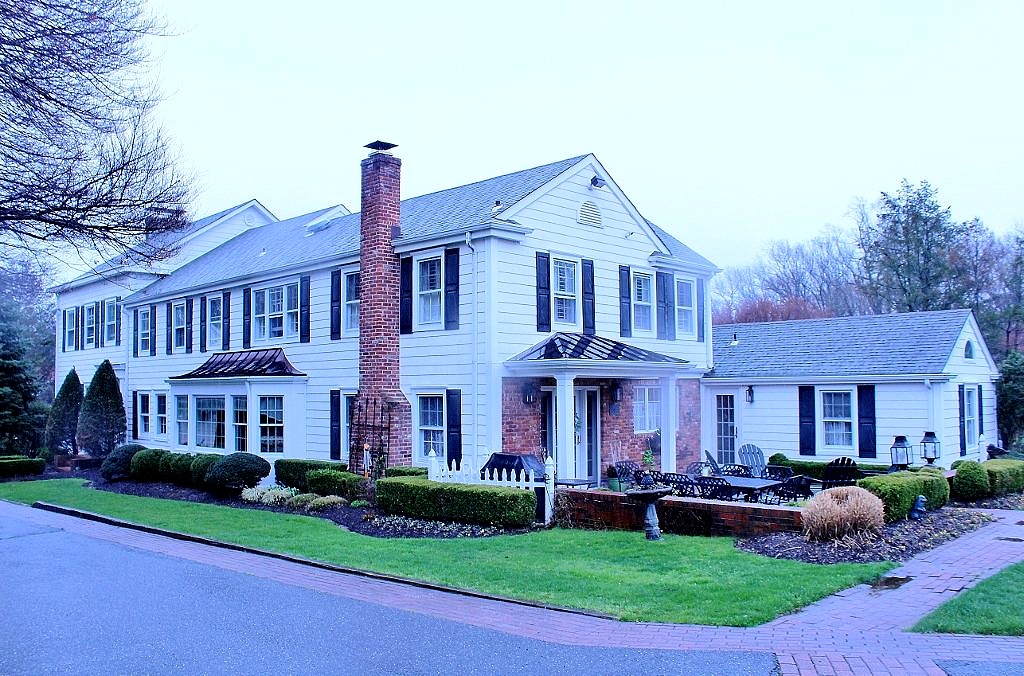 While walking through this house is like walking through a time machine; you would never mistake it for a museum. Even though they kept many of the original architectural details like thick crown molding, multiple fireplaces, hand-hewn beams and wide plank floors, over the the last 18 years the current owners painted, updated and transformed every single room– Happily stopping by British Cottage for furnishings and accessories each step of the way. What a relief to finally visit this fabulous home I'd heard so much about. And trust me it did not disappoint!
I'll start with the formal living room which is textbook ready for a lesson on how to make a room that is often all buttoned up and off limits–attractive–and cozy. The overstuffed furniture, working fireplace and centrally located flatscreen tv keep this room in play. There is no doubt it looks refined but comfort rules.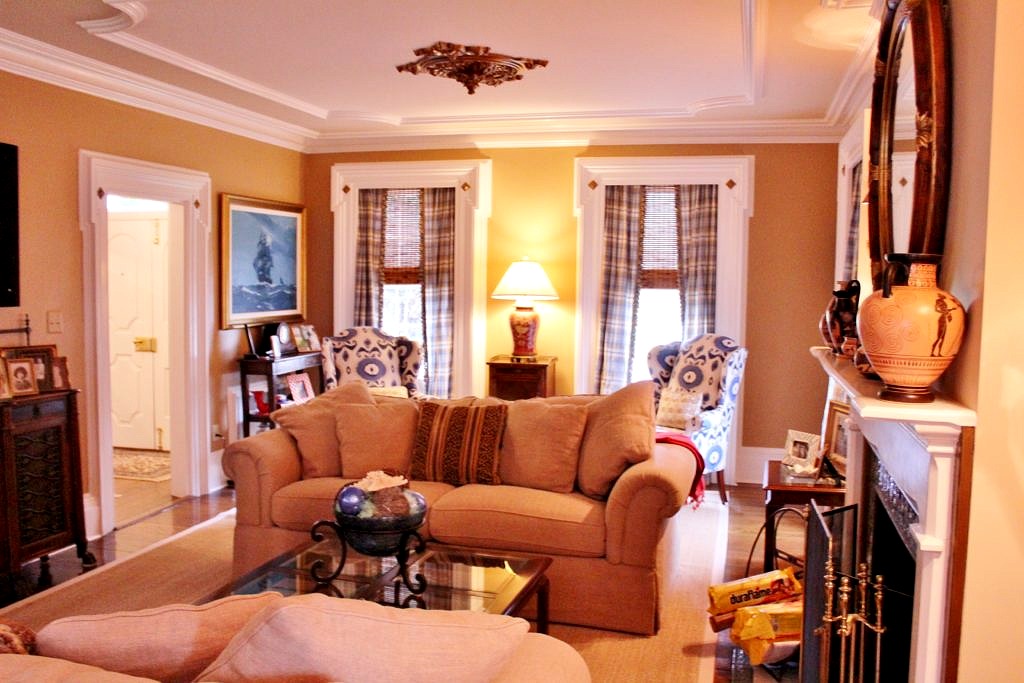 I liked how they anchored the television with an antique credenza, clustering the oft unlovely family photos below. These look great, and note how the vintage metal frames complement the tarnished brass feet and back railing of the sideboard.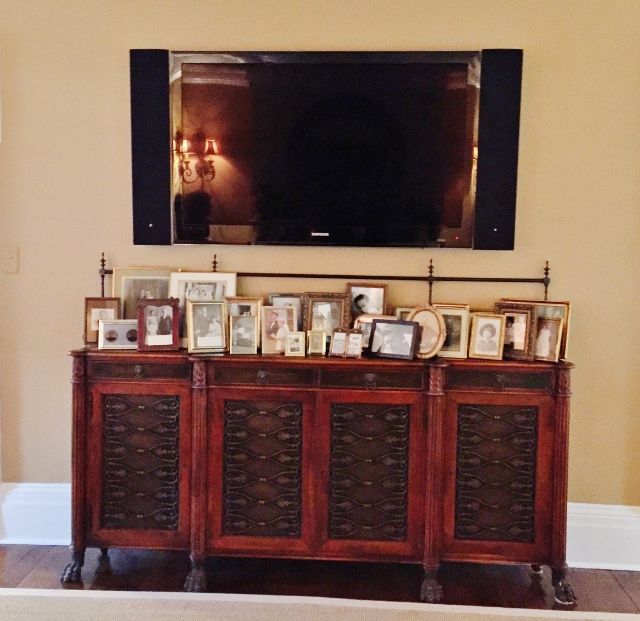 Next up is what was originally the library and now I would call it the family room. I was happy to be reunited with the oversized clock face we bought ten years ago for our Potting Shed from heaven in the second Stately Homes by the Sea Showhouse. Not many people would have thought to put it here, but you have to admit it does pack a punch. The pine bench to the left is nearly 10 feet long and neatly fills the space–as it did in our upstairs hallway until the homeowner spied it!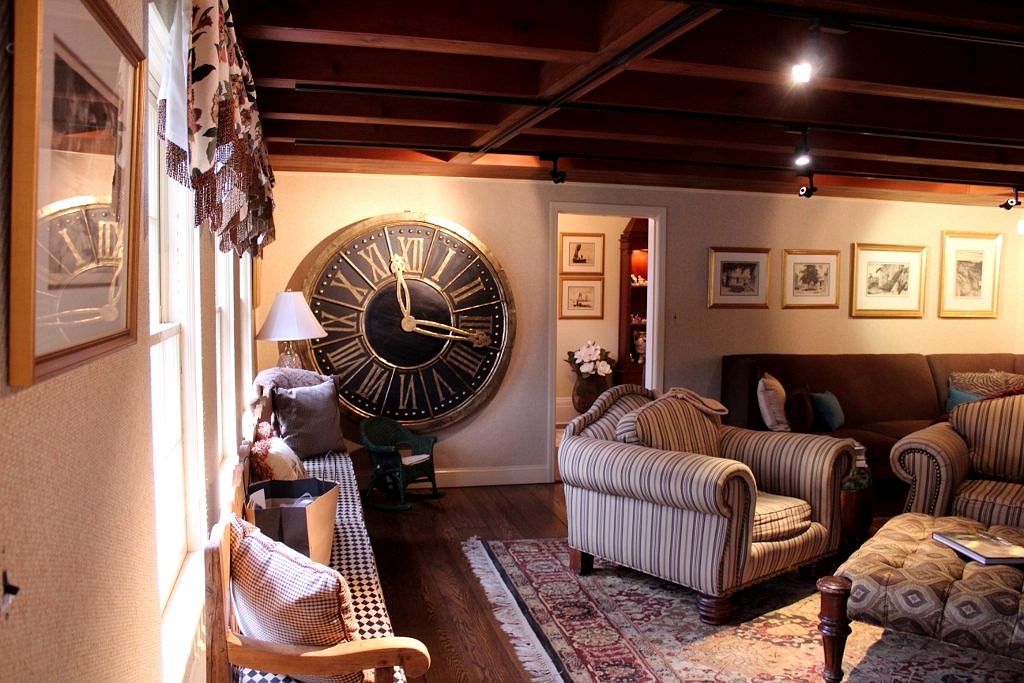 Next up is the dining room.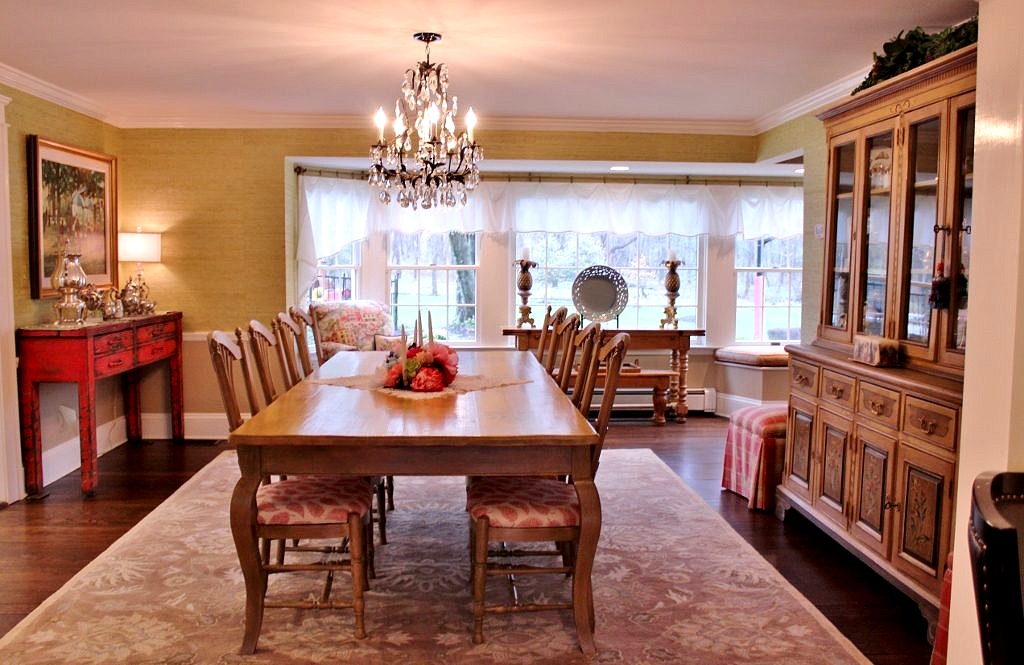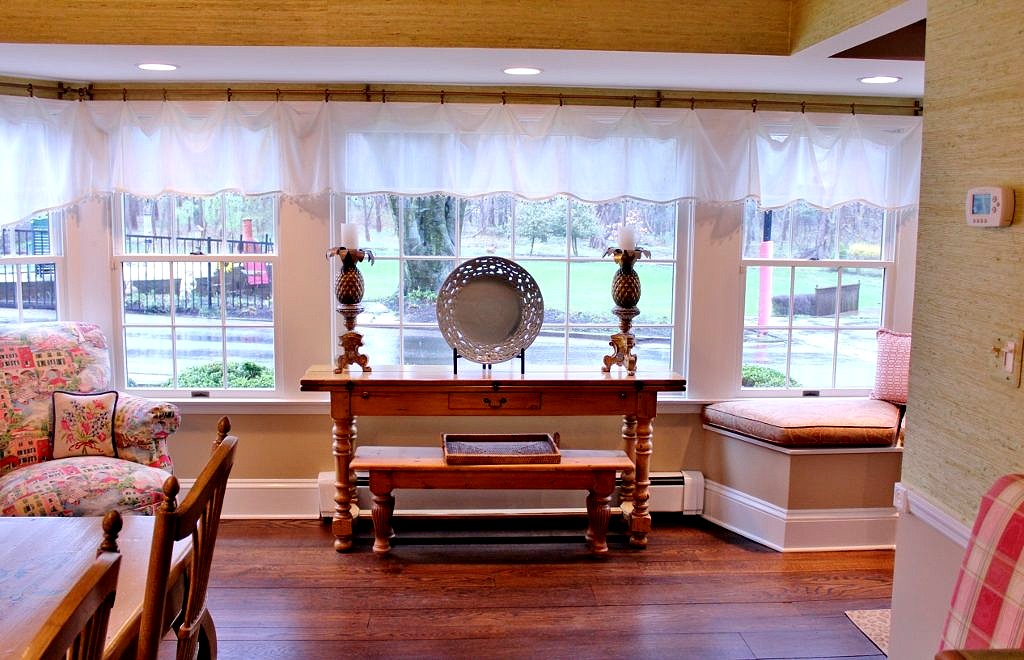 That is one of our fabulous flip top tables in the window. Closed it is the perfect console table but open it can sit eight. Everybody wants a more informal style dining table these days–but with a leaf–and mostly they don't exist. So the two or three times a year you need more dining space this extra table cracks it. Note that tucked under the console table is a bench for–you guessed it–extra seating.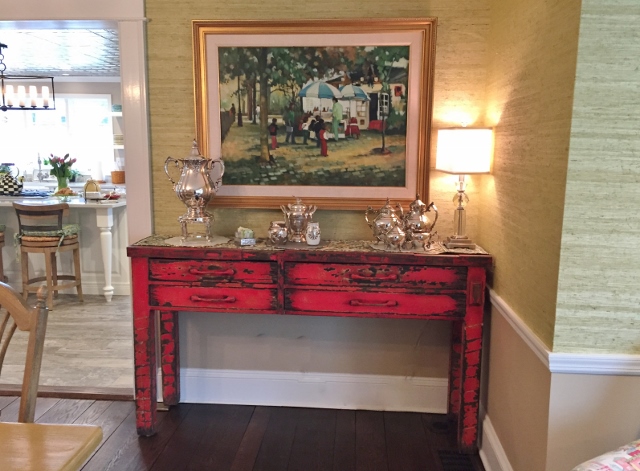 The red sideboard is another British Cottage find. Really distressed and on the industrial side so I admit I to being a bit perplexed when this went on the truck, but as you can see it is perfect for the spot.
Adjacent to the dining room is the bar/lounge/sunroom. Once a screened in porch, it is now a four season room with a wall of windows that really brighten up this part of the house. We bought the antique pine sideboard in England years ago and it is massive. By now you may be sensing a common thread -these homeowners are absolutely fearless when it comes to decorating.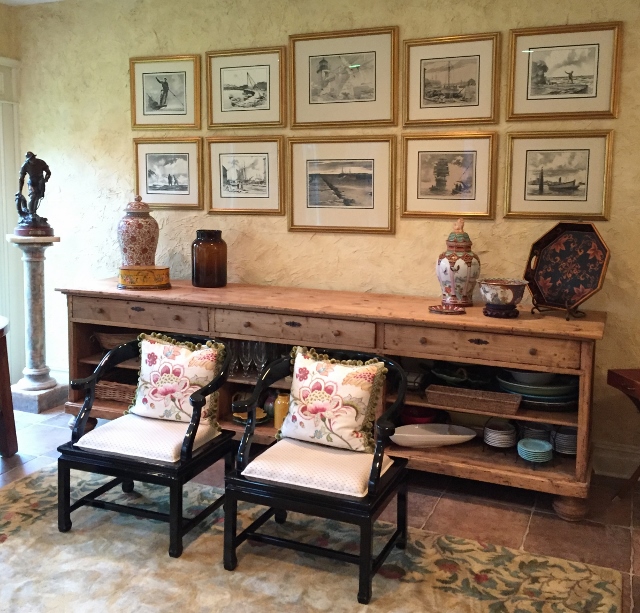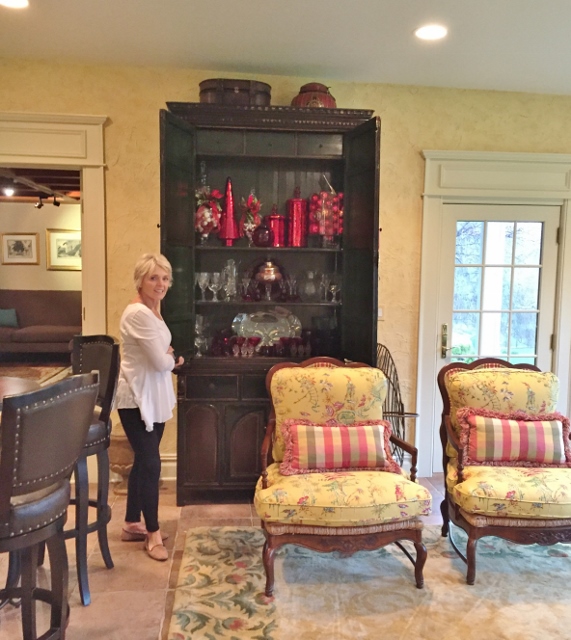 Another case in point is this most fabulous breakfront we found at Green Square Antiques in Copenhagen. It is an antique Scandinavian pine piece that the owners of Green Square had shipped to Poland to have lacquered. Then it was shipped back to Denmark and finally on to us in New Jersey; it is easily 8′ tall.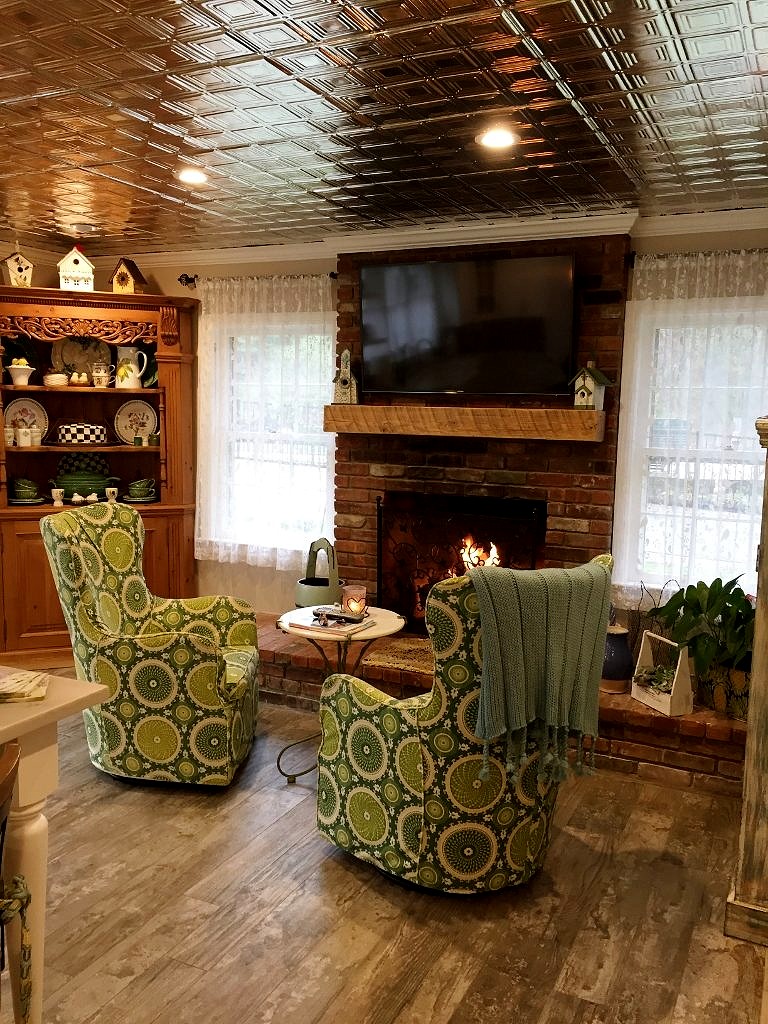 Finally I made it to the kitchen and the first piece of British Cottage furniture purchased for this home-the pine corner cupboard. Although the kitchen was totally renovated a few years ago, the cabinet stayed. I love everything about this room: the porcelain tile "wood" floor, the gorgeous tin ceiling, and the swivel chairs in a bold fabric.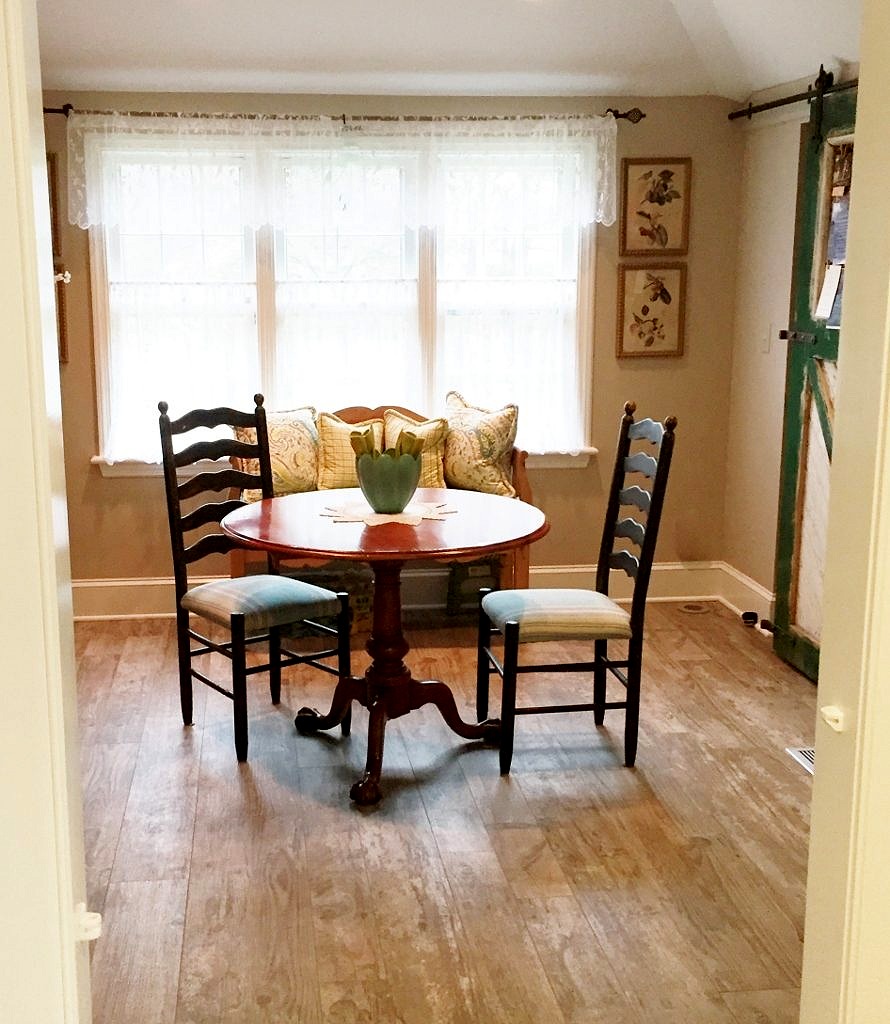 On the other side of the kitchen there is a breakfast room with a barn door concealing the pantry on one side. And custom cabinets on the other.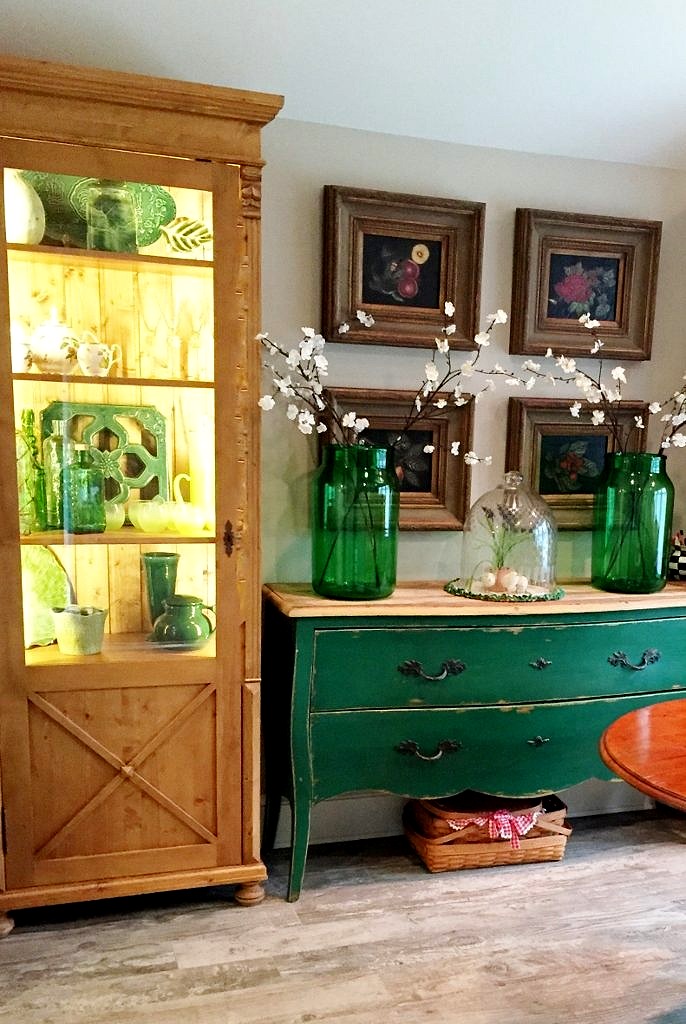 Instead of built ins for this breakfast nook/butlers pantry the owners had us make two cabinets to flank a painted pine chest with drawers. Note another decorating secret in action–you can be fearless with green because all greens go together. If you don't believe me think of a forest.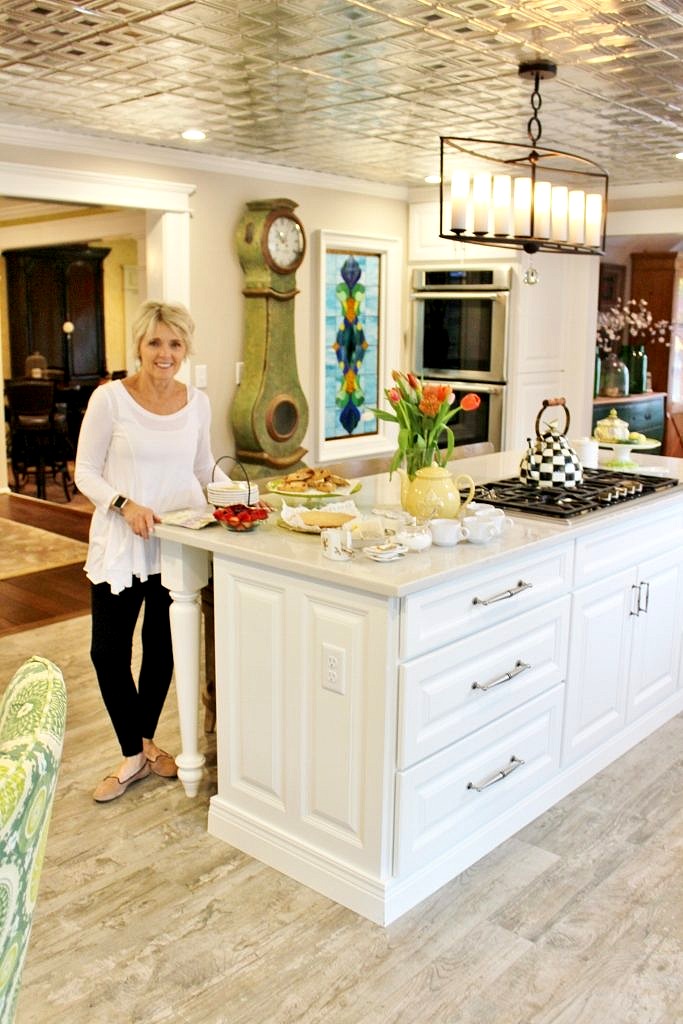 In the middle sits the nuts and bolts of the kitchen. But note how they still made room for some decorative elements. I'd completely forgotten about the fabulous antique Mora clock in original paint from Sweden…and couldn't believe I'd sold it. Darn. It is stunning.
But so was the rest of this kitchen. The stained glass window where a door once hung, the gorgeous marble countertop which is really Calcutta-Grey Quartz. (Information that makes reading to the bottom of this blog totally worth the effort. There are pages and pages written about whether to not to use marble in a kitchen…this is the answer.)
Recipe for Scottish Shortbread
While there was still so much to see and admire I couldn't ignore the refreshments any longer. Who would looking at this mouth-watering display? Strawberries and scones and homemade Scottish Shortbread. Heaven. Definitely time for a cuppa as my English mother-in-law would say.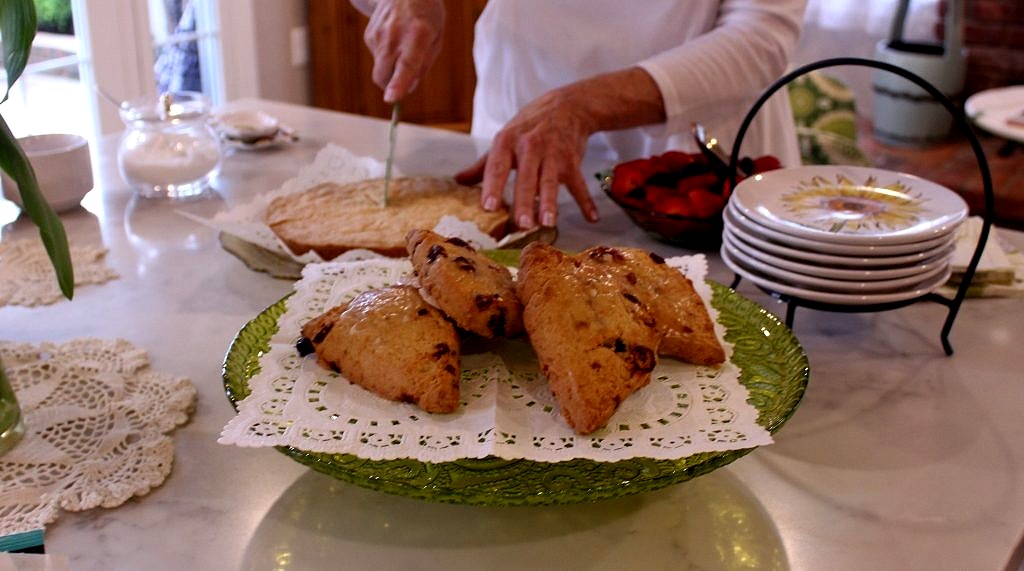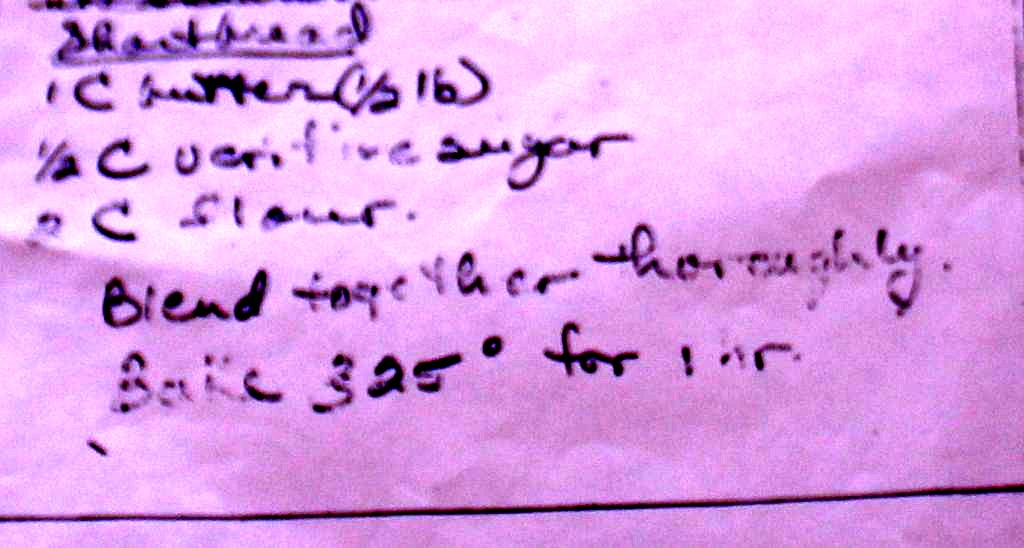 The original recipe from the owner's grandmother, in her handwriting. Short and sweet and totally delicious.
1 Cup Butter (1/2 Lb)
1/2 Cup Very Fine Sugar
2 Cups Flour
Blend together thoroughly.
Bake 325 degrees for 1 hour.