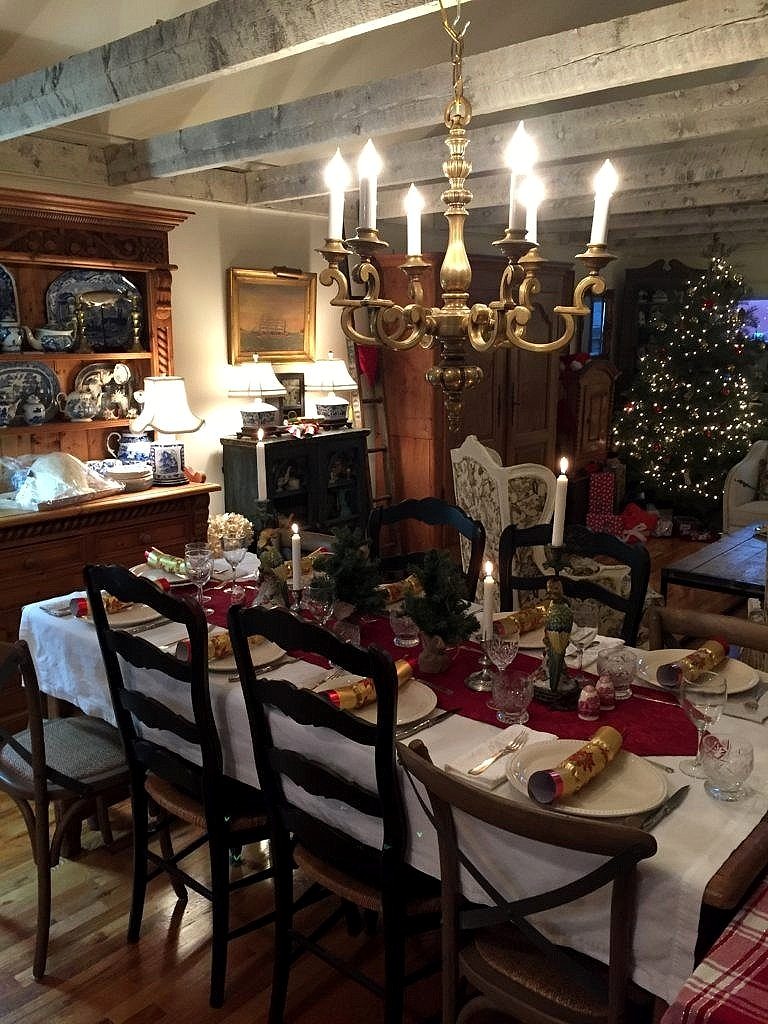 As we all know the holidays should be all fun and games; but often times it is easy to get struck down by the details so it is best to be prepared. First, accept you are not Martha Stewart; perfection should never replace fun.  Delegate, smile a lot and try not to sweat the small stuff.  You have all of January to be miserable.
Here are things to watch out for. The order doesn't matter, all these things will happen sooner or later unless you have escaped to a fabulous island retreat in which case stop reading and go for a swim.
Decorations: What goes up must come down.
You can do this the easy way or the hard way.  Because on January 1 you will possibly be hungover but definitely masterminding the clean up so keep that in mind from the start.  If you have a partner who likes to hang up miles of lights try not to engage or encourage.  The same holiday effect can be achieved with a modicum of white sparkly lights, the old fashioned kind, (steer far away for the LED type because they end up having a bluish hue) wrapped over a swag of fresh evergreen garland festooned with bows made by twisting florist wire around red ribbon over your front door. Tuck a bunch of freshly cut greens into the urns on the porch first making sure to remove and discard the now dead chrysanthemums left over from Halloween.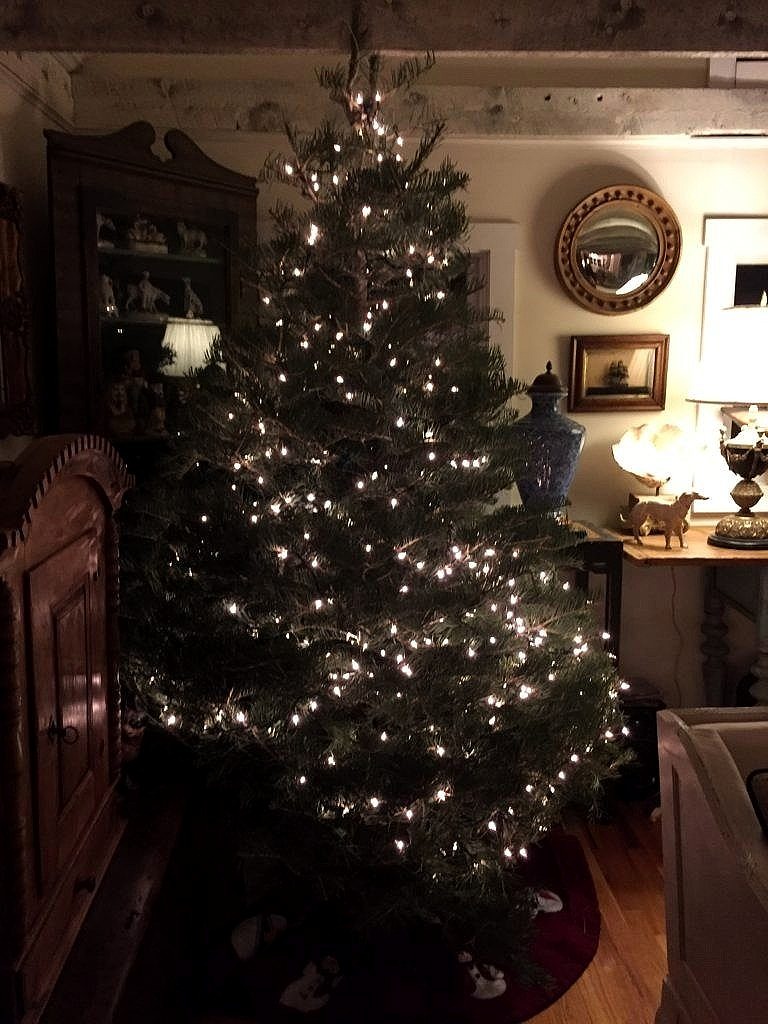 Same for the tree.  Fresh or fake–your choice.  I prefer fresh because it smells better and you can throw it out the front door on January 1.  Toss on a few strands of the aforementioned white sparkly lights,  no more than one box of ornaments, and call it a day.  One year I only did lights and I think is was our prettiest tree ever.  Less is more.
If you must, get a couple of poinsettias to brighten up the mantle or the table.  Once again the beauty of these is the clean up–simply toss when they begin to look bedraggled or it is March and time to let go.
Entertaining: Try not to
If you do, keep it simple.  One friend had a holiday party for years where she provided a ham and a turkey and guests were asked to bring something that could be eaten with their fingers.  Some years it was all desserts and some years it was all appetizers but nobody ever complained and it all got eaten.
If you have to have a sit-down dinner provide only one entree that can be prepared in advance.  For Christmas Eve we like to make lasagna.  Served with a simple and I mean from the bag green salad dressed up with a fabulous (and simple) Gorgonzola and Pecan dressing, along with a loaf of garlic bread you can sit down and enjoy a glass of prosecco–and the meal– without feeling you just ran the Boston Marathon.
Let the games begin.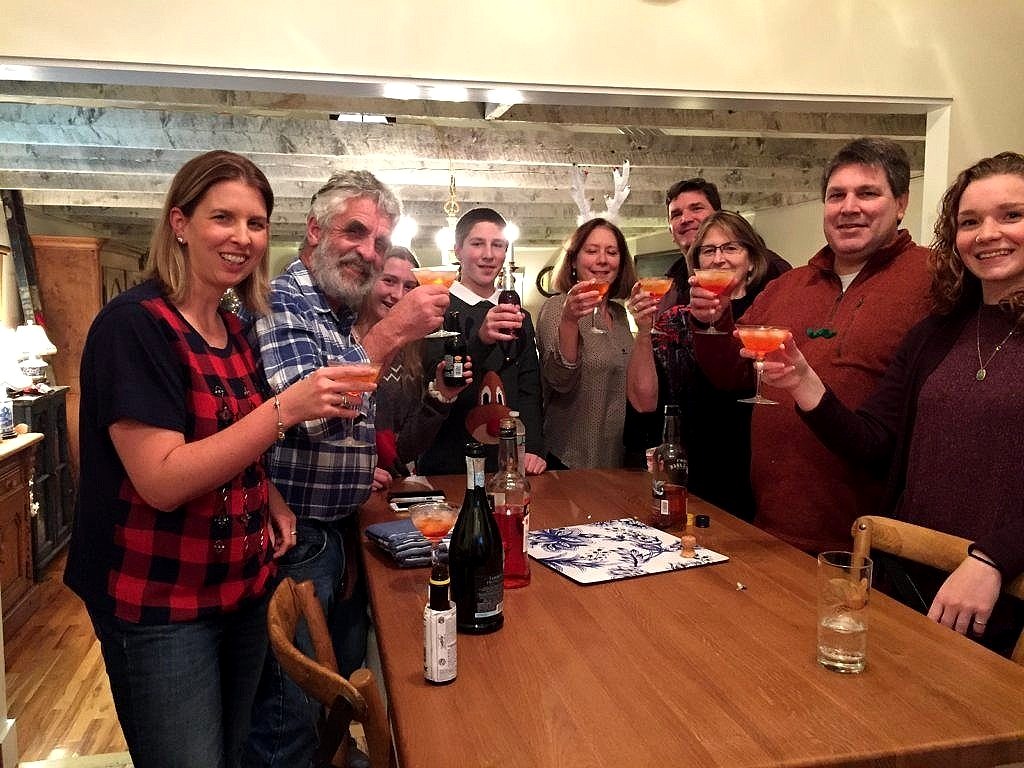 Best Lasagna Recipe
First take a Tupperware of frozen sauce from the freezer.
 If you don't know how to make homemade sauce it's time you learned.  Buy 3 or 4 large tins of canned whole tomatoes, chop up or squash and put in a pot with two onions quartered and a few cloves of garlic.  Toss in some hot Italian sausages in their casings and a pound of ground beef rolled into meatballs.  You don't need to fry, spice, bread or do anything to your meatballs.  After simmering for several hours in your sauce they will taste just fine.  Add some bay leaves, thyme and oregano and cook for several hours.  Eat what you want, served over spaghetti and freeze the rest.
Defrost your sauce and then put some into the bottom of a lasagna pan or any other oblong pan you can put in the oven.  Layer with no boil lasagna noodles–if you haven't used these before–you should.  They take one half hour and most of the pain away from making lasagna and they actually taste better!
Now if you are the prepared type you have already sauteed some sliced mushrooms with minced garlic, or you can just put a layer of raw sliced mushrooms into the pan.  Top with a mixture you have made of fat-free ricotta cheese, chopped spinach (if using fresh cook down first), parmesan cheese, one egg, salt, pepper, and nutmeg.  Then add a layer of grated mozzarella, a layer of sauce and start over again until your pan is full.  Top with a sliced up hot sausage or two and some more of that grated mozzarella and you are ready to rumble.  Cook covered at 35o for about 30 minutes and then uncovered for fifteen or so and let rest.
Adding the mushrooms, the spinach, and the fat-free ricotta keeps this lasagna from making you feel like you swallowed the proverbial lead balloon.  It is the holidays and it is important to reserve your calories for the extra alcohol required to maintain your equanimity in the face of all your nearest and dearest.