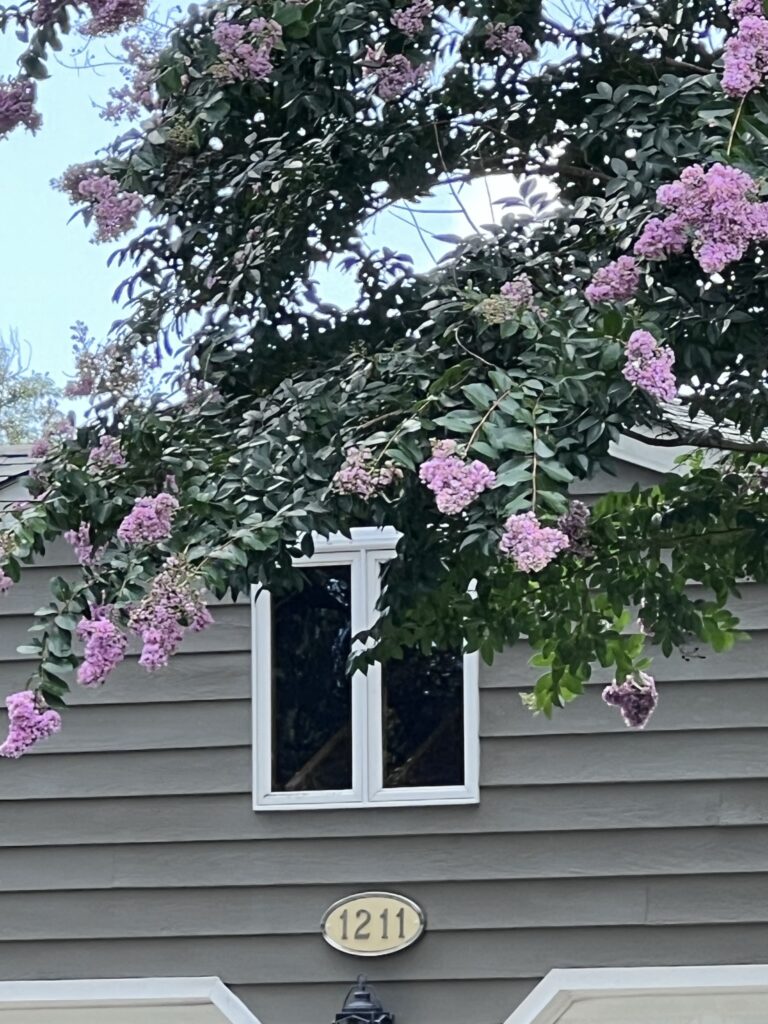 One of the upsides to downsizing is getting rid of the big yard and all the attendant landscaping chores, woes, and expense–though not for my friend. While she was willing to give up a few floors, scads of rooms and the Olympic-sized pool–the yard was not negotiable. Finally, after viewing dozens and dozens of listings, and a few wrong moves, she hit gold–green really.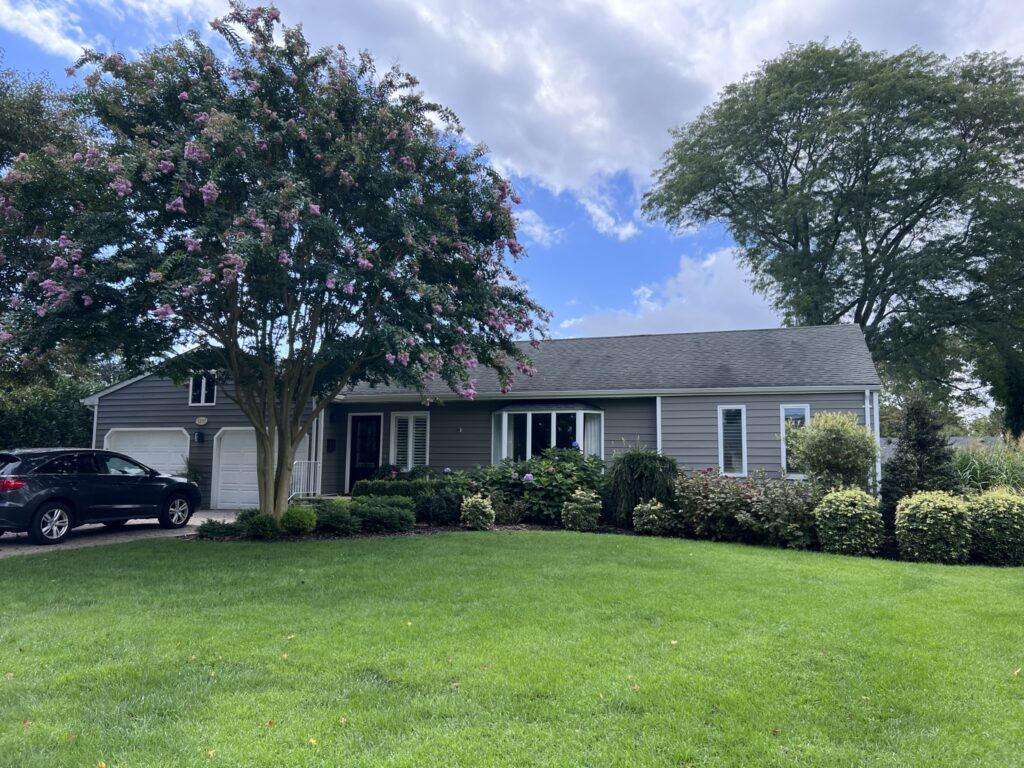 In, well almost in, tony Sea Girt this acre plus property with its senior friendly ranch style home had nary a shrub but, to one beholder at least, potential galore. Over the past few years, from the safety of the store, I have heard the saga of the plantings; extensive. The kitchen reno, a master class in geometry; as for the bathroom remodels–let's just say budget busting–but worth every penny. Or so my friend said. Finally, I was invited to go see for myself.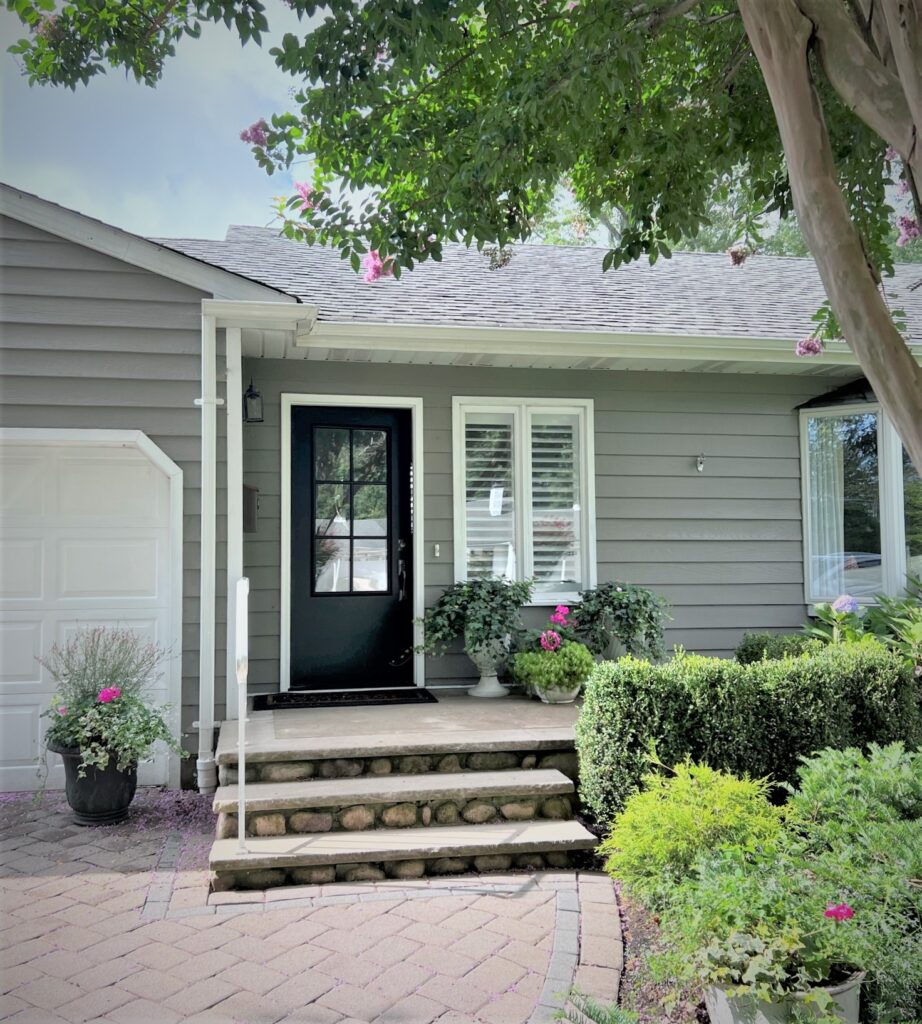 Upon entering the house the first thing I noticed was the British Cottage cupboard in the foyer from our French Country Era–say early 2008. I think it was employed as a server in one of their former dining rooms but certainly now it is more than up to its job front and center here. With the addition of a mirror (the first of many featured throughout this home) wrapped in brass and a table lamp in the same metal, an engaging entryway is achieved with a minimum of fuss–and most importantly in this case–space.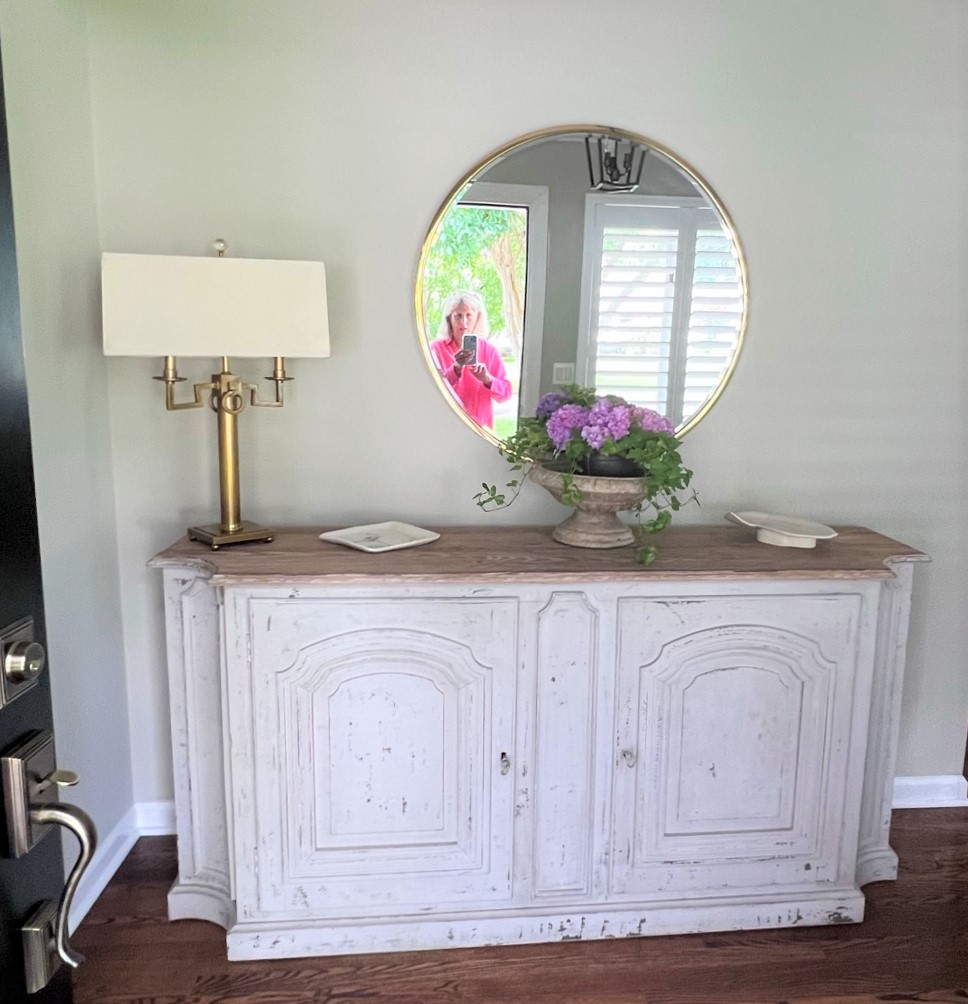 Because two steps later you are in the living room.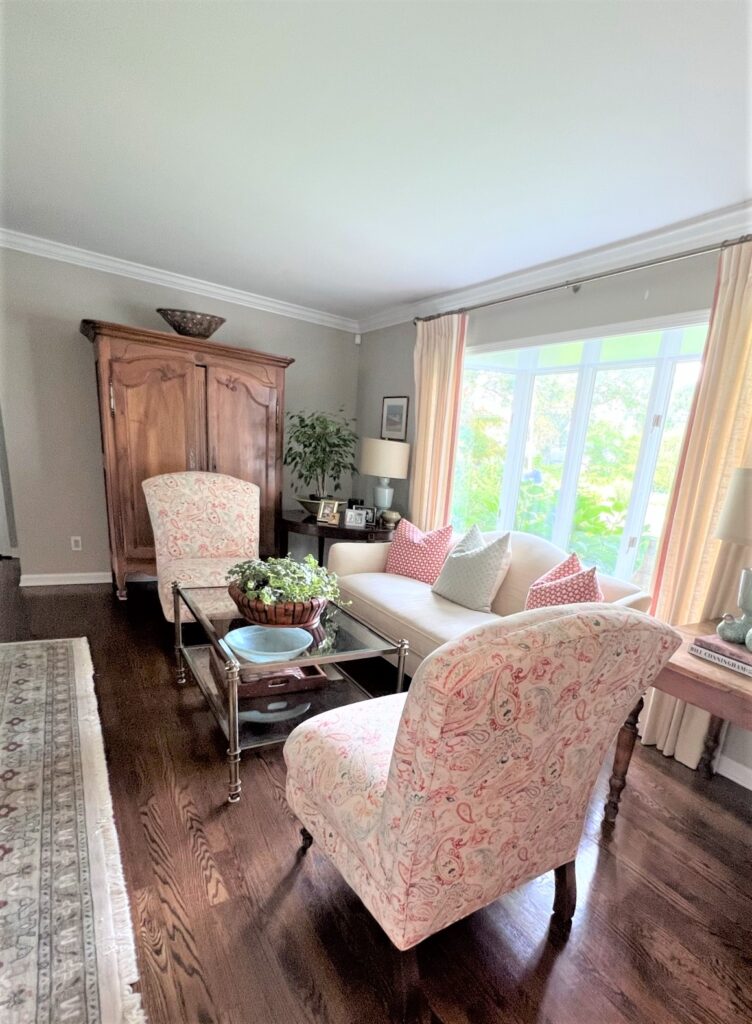 When a space is tres petite in scale, the temptation is to use all tres petit furniture but the bold move, for the win by the way, is to introduce a few oversized pieces to the mix–like the fairly massive French armoire in the background and this gorgeous antique pine table pictured below.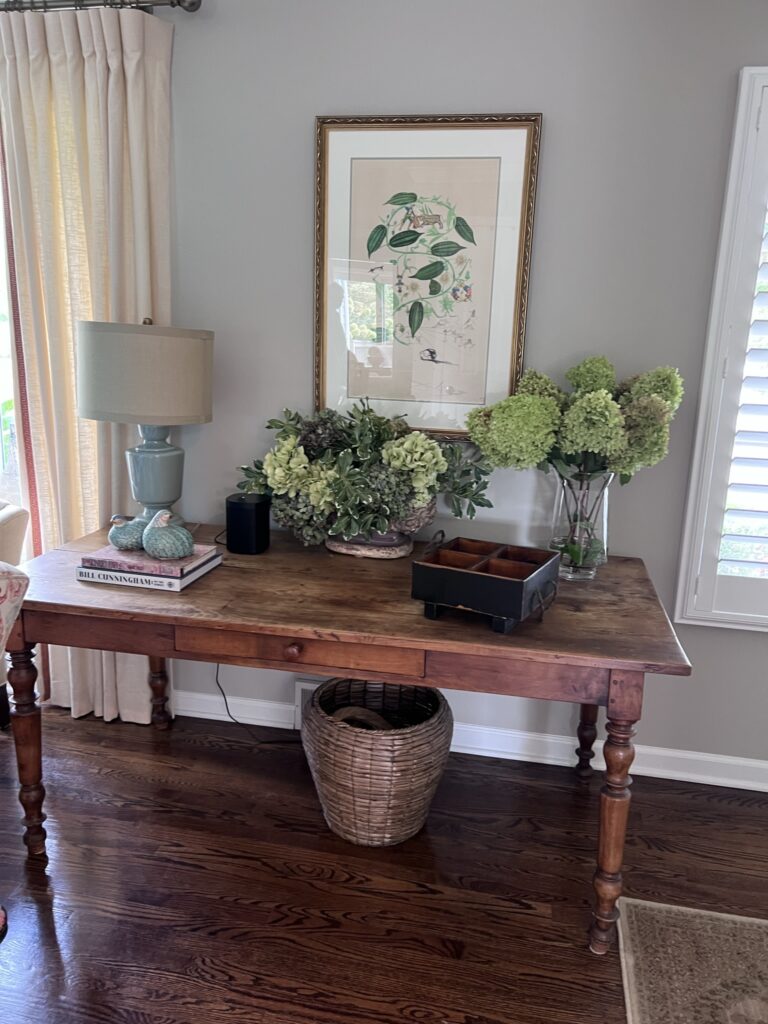 You're barely through the living room when the dining room is upon you. Dining room you scoff. Who needs a dining room when space is at such a premium? Basically anyone over the age of 50 is the answer. We like a space out of the kitchen where dirty dishes can be forgotten; a dedicated place of beauty where we can feature our gorgeous linens, polished silver and lovely china, linger over drinks, over dessert, or over just about any darn anything we choose!
Make sure to note how the oversized mirror enlarges the room visually, a great trick when space is tight.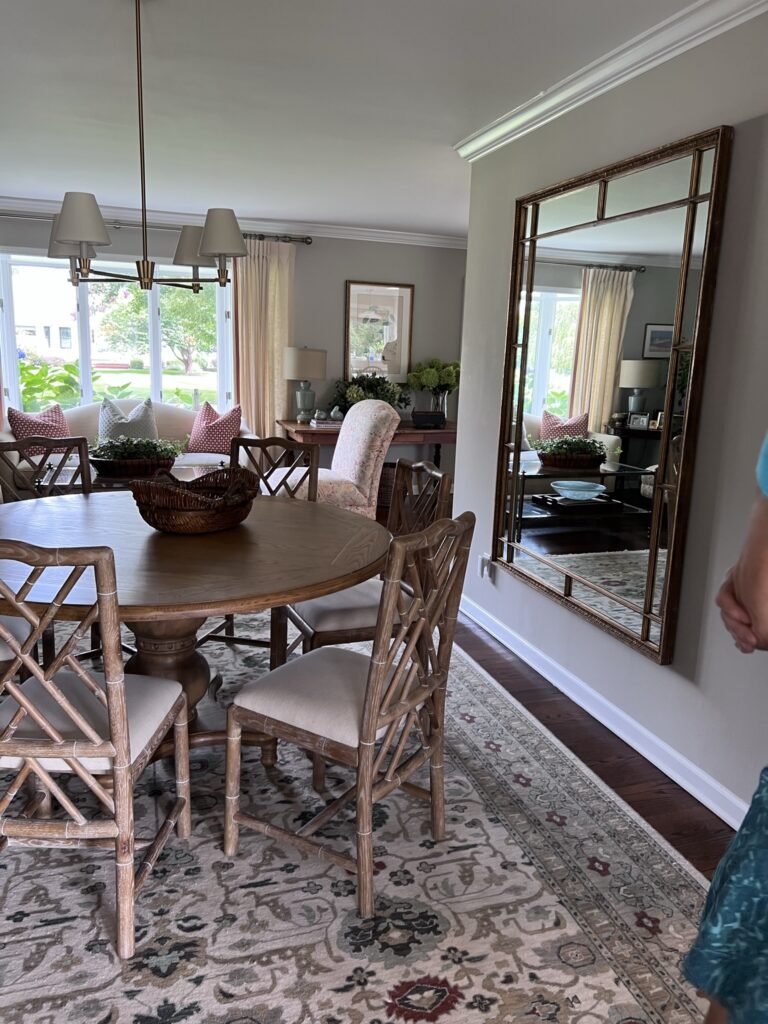 When downsizing there is an unwritten rule to never buy anything new. But sometimes the furniture from the first, second, or even third house simply does not fit the new one. In this case the space just cried out for a round table and we (British Cottage) were happy to deliver. In a warm oak, with faux bamboo chairs, also in oak, dinner parties are happily back in the picture.
Next up is the family room. Pocket sized, anyone with less bravado would have tacked a tv to the wall, set up two armchairs and called it a day. Not here. Here we have not one, but two sofas, two robust upholstered wing chairs, and, and a massive (well sort of) pine breakfront for the television from yours truly (this was for house number 2 I think).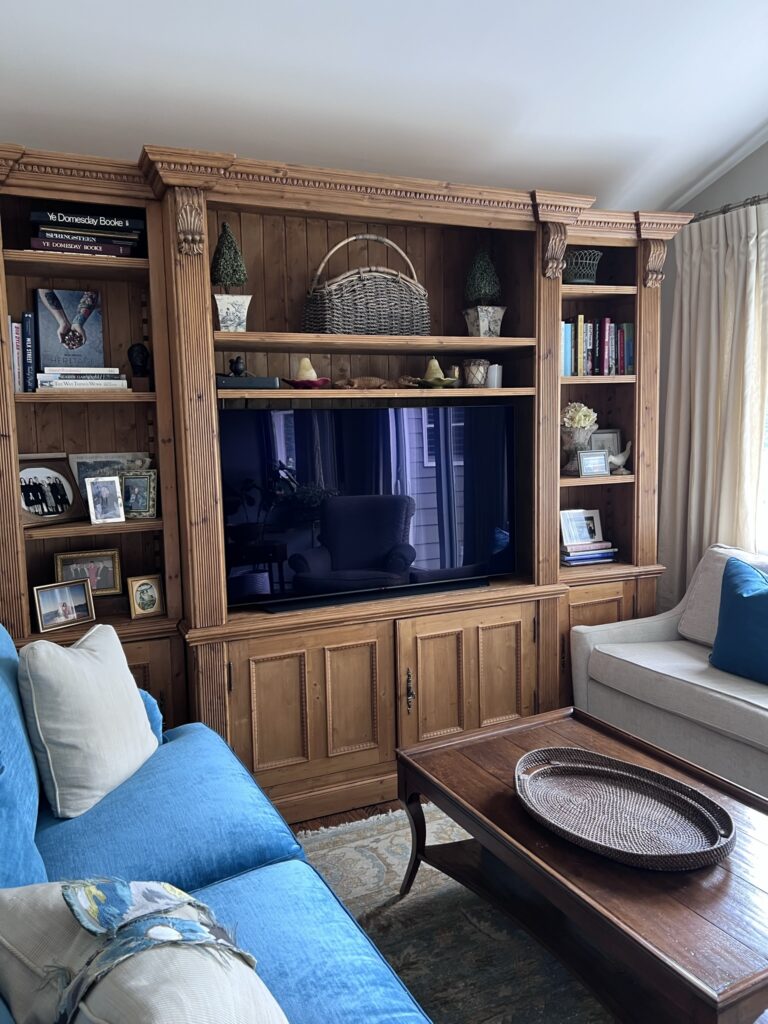 The wing chairs in question have also been around for numerous moves and have seen better days but made of flexsteel and beloved by the man of the house they are, yet again, en route to the upholsterers. I like the tone on tone animal print that reads as a neutral and balances the boldness of the teal on the Hickory White mid-sized sofa (another new purchase) that fortunately fits like a glove–measure, measure and measure again is a good thing to remember when every inch counts.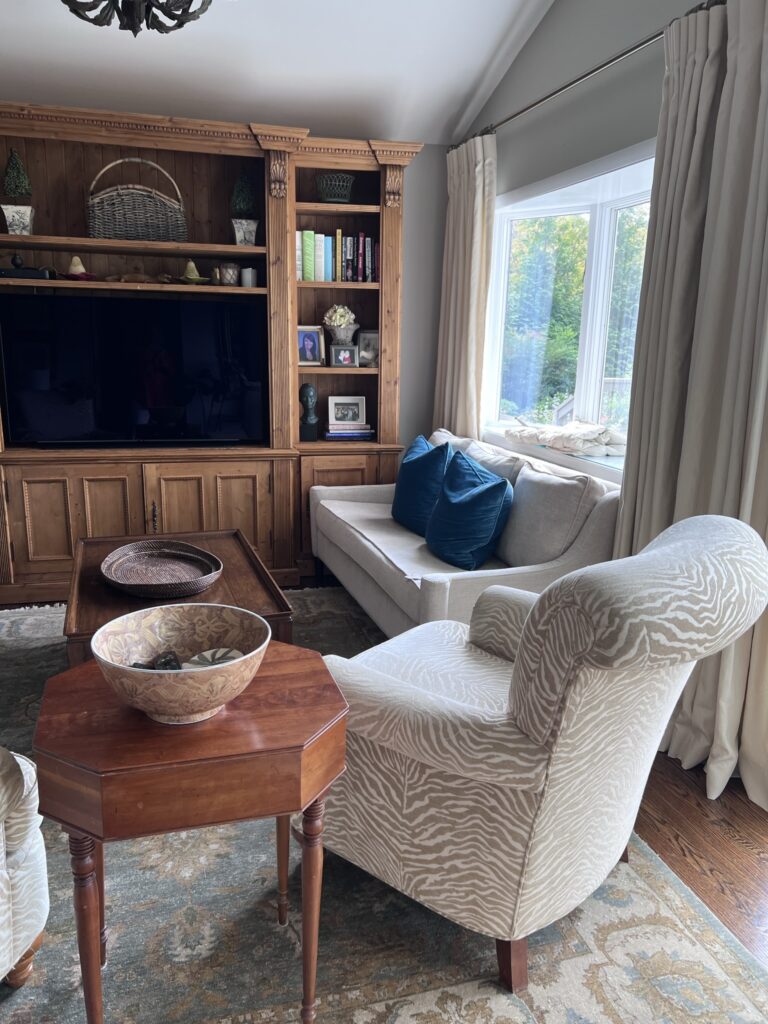 There are three bedrooms with three dressers from British Cottage and two British Cottage beds (from the good old days when we used to manufacture our own line of bedroom furniture in England). They were bought, I think, for their Spring Lake house and were a perfect fit for that cozy coastal beach home–and even better–twenty years later they still are for this one.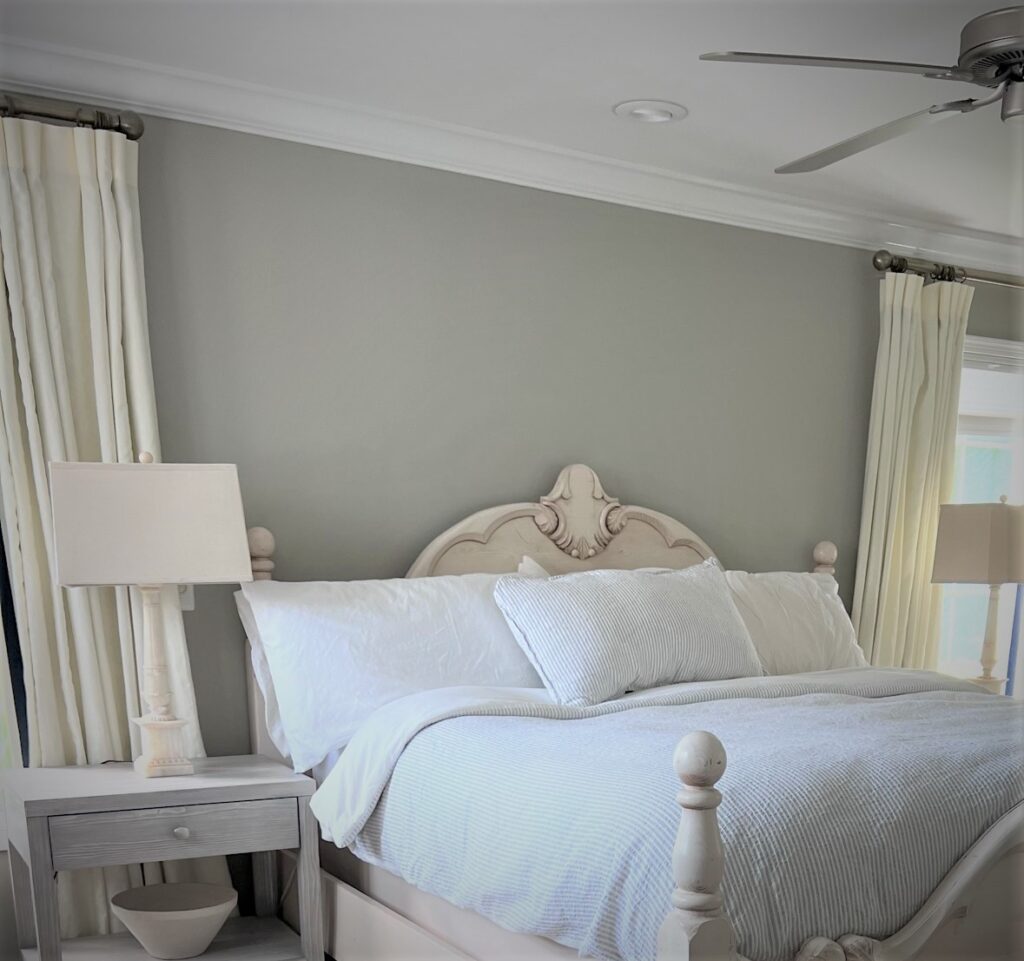 We used to make them in either an antique white or natural pine.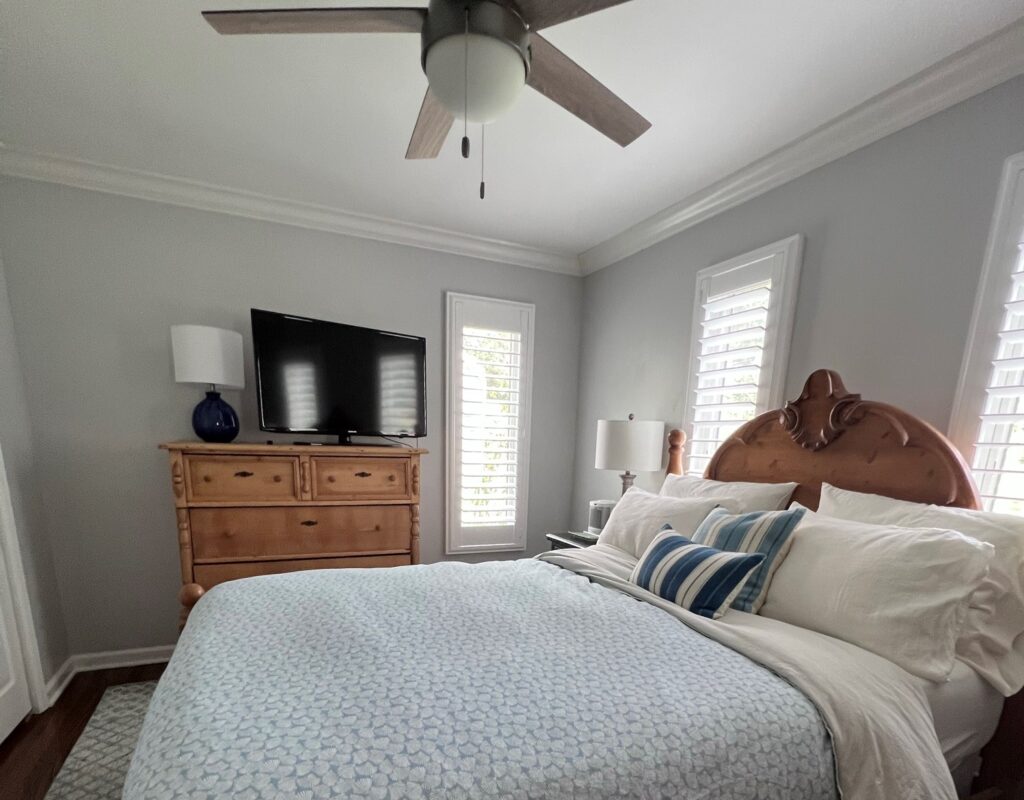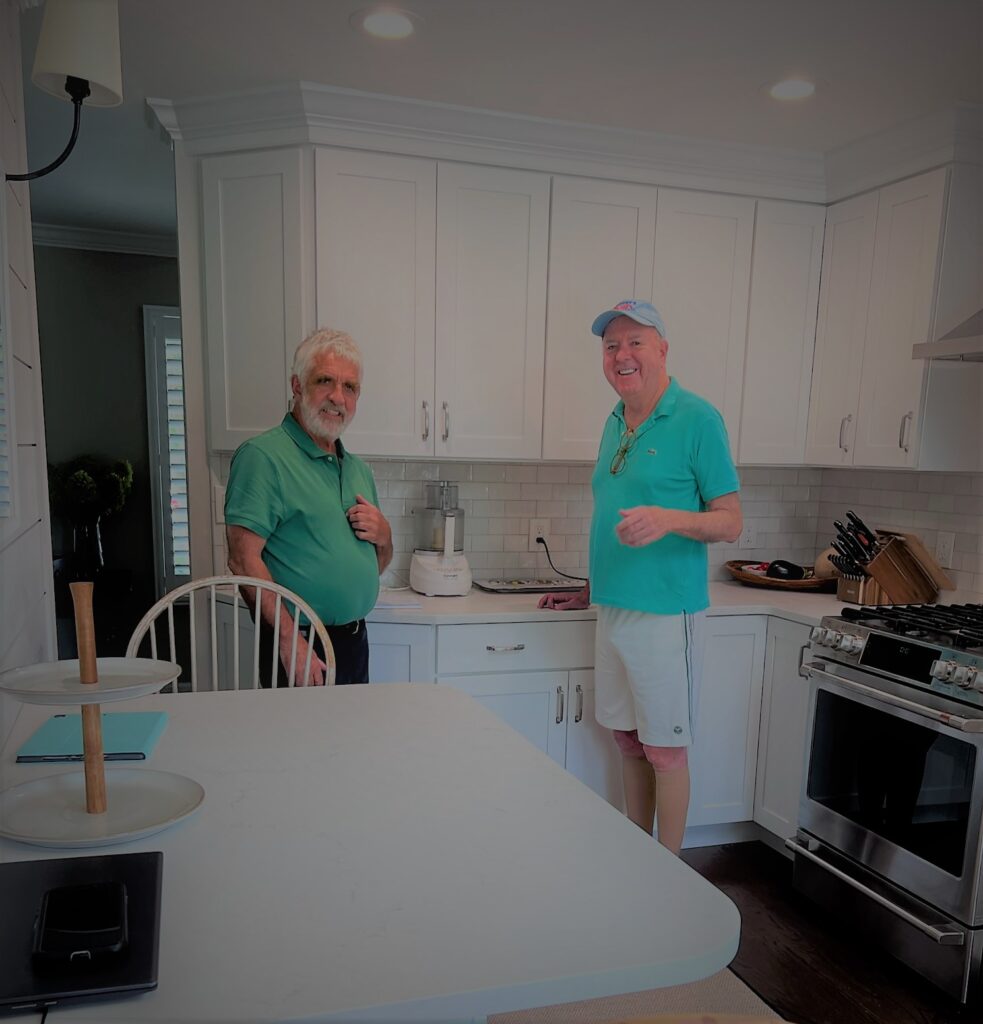 Pecan Sour Cream Coffee Cake
Preheat the oven to 350 degrees F (175 degrees C). Butter an 8×10-inch baking dish.
Make the topping: Mix pecans, white sugar, brown sugar, melted butter, cinnamon, and salt together in a mixing bowl until thoroughly combined and all components are coated with butter, 3 to 4 minutes.
Make the cake: Whisk flour, baking powder, baking soda, and salt together in a medium bowl.
Mix sugar and butter together in a large bowl with a spatula until well blended. Whisk in eggs, one at a time, until thoroughly incorporated. Whisk in sour cream and vanilla. Gradually whisk in flour mixture until flour is just incorporated; do not overmix.
Spread 1/2 of the batter over the bottom of the prepared baking dish, then sprinkle with 1/2 of the topping. Carefully spoon remaining batter over topping, then sprinkle with remaining topping; very gently press topping into batter.
Bake in the preheated oven until a bamboo skewer inserted into the center comes out clean, 30 to 35 minutes. Let cool slightly before serving